Iceboaters are used to rapidly changing conditions, be it close racing around a weather mark or switching regatta sites at the last minute because there's a better piece of ice a few hours away. When it became clear that the pandemic would cause the cancelation of the 2021 International DN Ice Yacht Racing Association World Championship scheduled for North America in January, some American sailors decided to throw together a regatta for the fun of it.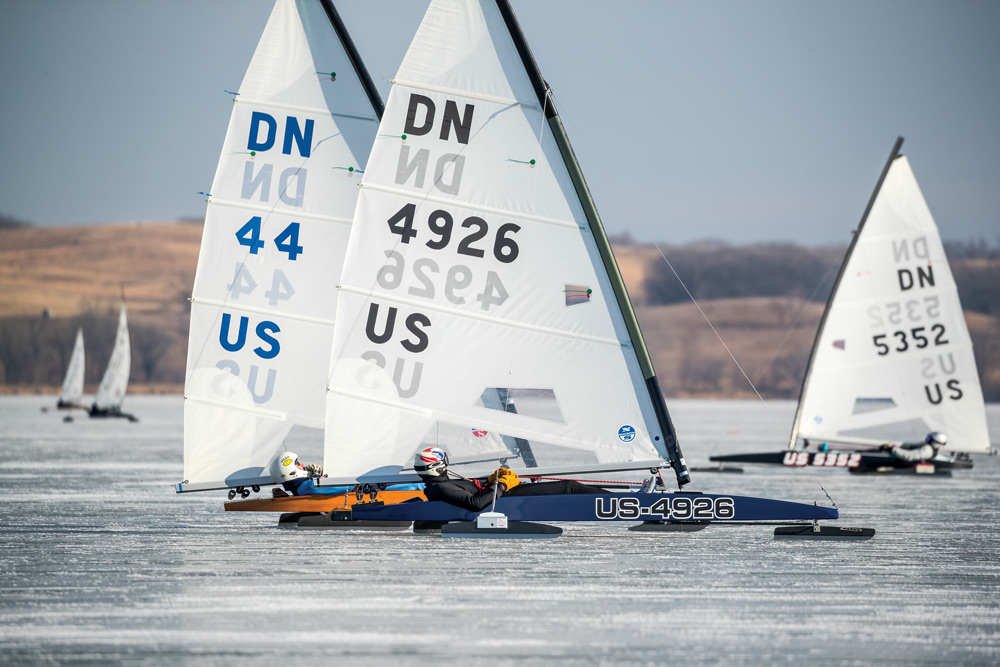 JH Peterson photo
DN class officials led by Vice Commodore Jody Kjoller organized an alternate non-ranking regatta event for U.S. sailors during the week that would have been the World Championship. Fittingly, the regatta returned to its roots in Michigan, the DN iceboat's birthplace. Experienced ice scout Dick Wollam knew to search beyond the half-mile of boat-breaking ice at the shore and found 10,000 acres suitable for racing on Black Lake, near Cheboygan, Michigan, at the end of January.
Iceboating is the original socially distanced sport. Competitors wear masks and gloves, and the 8-foot DN runner planks encourage plenty of distance. The race committee kept competitors informed throughout the event via text messaging. Two fleets raced for three days in cold conditions. The 52 registered sailors competed in either a gold or silver fleet, based upon their international ranking.
The top American sailors attended and the good conditions made for a competitive field and close racing. Michigan's Ron Sherry, a five-time DN world champion and 14 time North American champion, who is known for turning it on in a big breeze, won the first gold fleet race and set the pace for the rest of the regatta, winning six of the nine races.
Sherry said he used long, flat 100-degree runners suited for the frozen-popcorn textured ice. With help from Chris Clark and third place gold fleet winner Eric Smith, Sherry designed a new mast and plank during the summer.
"Sailing with the new mast and plank was different because both were on the softer side than what I've used before," Sherry said. "Usually, I lean on the boat pretty hard to keep from hiking and put a lot of pressure on the boat. The new softer plank and mast meant sailing at a higher angle.
"The boat was talking to me in a much more subtle way, and I had to feel for the boat's speed and height, powering through the snowdrifts and bumpy ice made the tacking and jibing angles much wider."
Racing a DN for the first time, University of Wisconsin collegiate sailor Samuel Bartel placed an impressive fourth in the silver fleet in a boat loaned by Madison, Wisconsin's Daniel Hearn.
"One of the best parts of the event was meeting so many new people that love the sport of iceboating. Everyone was kind and always available to help me out," Bartel said. "I think that iceboating is going to help improve my soft water sailing a lot. I'll enter into the soft-water sailing season with quicker reaction times, faster thought processing, and the ability to make good decisions wicked fast."
For Sherry, it was good to see relatively new DN sailors excelling on the ice.
"I'm proud that Eric Smith, who has been DN racing only three years, won a nationals level race. Eric took advantage of every possible sailing day leading up to the Nationals," Sherry said. "I sailed 17 days so far this season. It's a huge advantage to get out there and sail the boat; you only get better whatever level you are."
For complete results, visit www.idniyra.org/2021-us-nationals.