Packing a ditch bag when you charter provides peace of mind for this happy group of sailors
We didn't see the lone water bottle floating in the choppy seas as we departed Gallowsbay Harbor on the Caribbean island of St. Eustatius. Even if we had, we might not have realized it was attached to a line marking a lobster pot in the depths below. But we felt the tug and groan of the engine and swiftly throttled down, soon discovering a line wrapped around the port side propeller of our chartered catamaran. It was a doozy and required my husband Barry to jump overboard, armed with a knife from the galley and after a great deal of hacking, we were freed.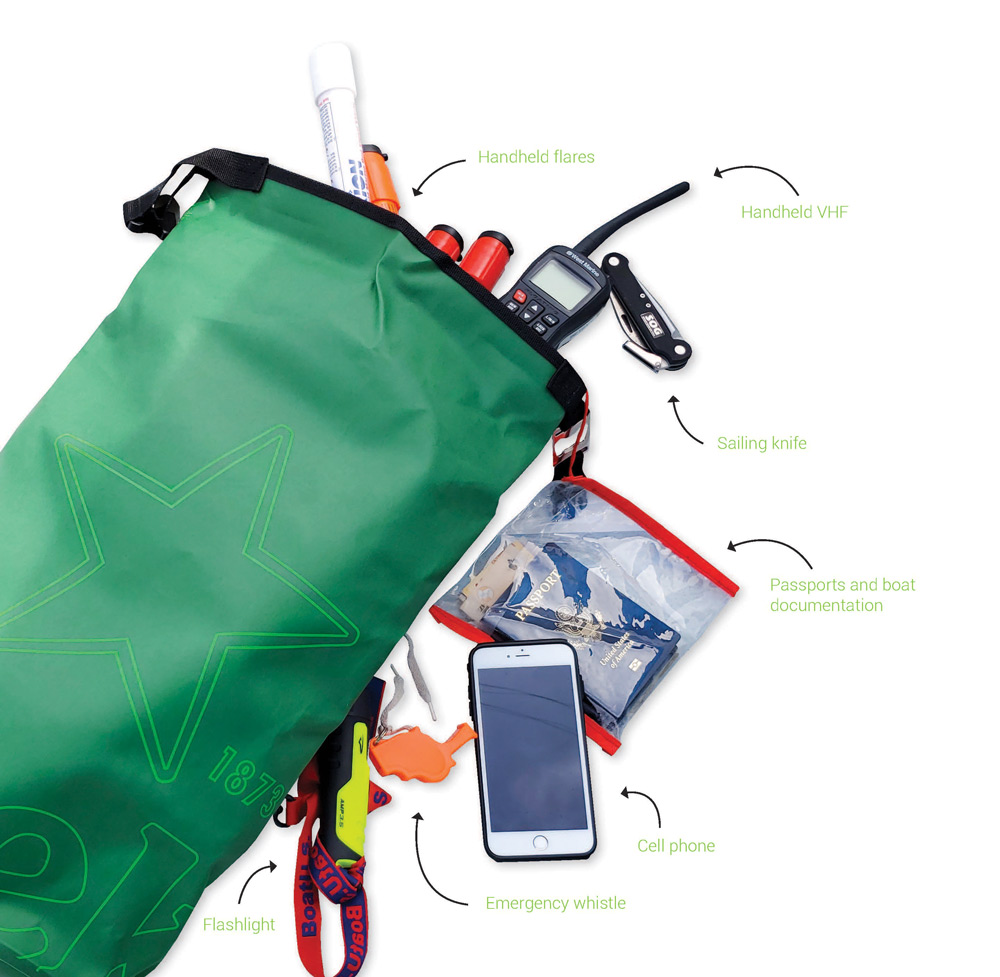 We realized after that moment that a wrapped prop can cause the drive shaft to get bent or yank it right out of the boat, essentially sinking it. After several inspections, we determined we were fine to continue on our way, but it wasn't without a bit of trepidation. What if things had gone sideways?
Our sailboat at home is fully stocked with safety and emergency gear, including an abandon ship bag, clipped to the companionway stairs, always at the ready. And when we do a long-distance race such as around Catalina Island or to Ensenada, Mexico, we supplement it with even more paraphernalia and provisions. We would never leave the dock at home without our ditch bag and yet here we were, about to sail 30 nautical miles from Statia to St. Maarten across some very rough and open seas, clearly unprepared for any emergency. In dozens of years and charters abroad, having a ditch bag never crossed my mind. Now it became top priority.
Fortunately, I always pack a dry bag to transport boat documents, passports and other things that tend to get drenched on a wet dinghy ride ashore. We turned that into our new abandon ship bag and roused our crew out of their vacation reveries for a serious talk on safety and procedures.
By law, charter boats are fully stocked with ample safety gear, and it's just a matter of locating it. Thanks to a thorough checkout at the charter base, we quickly unearthed the company's supplies, mostly burrowed beneath the settees in the main saloon. Charter destinations primarily involve a lot of island-hopping, and the companies typically don't allow you to transit between dusk and dawn. So we presumed any calamity would potentially be somewhat close to land and during daylight hours. It's not like we had to prepare for a 30-day survival at sea. But we did want to be safe, comfortable and most of all be able to notify help and aid in our rescue if the you-know-what hit the fan.
Ideally, a ditch bag should be large and waterproof and float once securely closed. A bright color is advantageous and reflective tape on the outside another plus. Inside, we stowed: flares, cellphones, signaling mirror, flashlight, whistle, snacks, sunscreen, first aid kit, boat documentation and passports.
In addition, we threw in the extra handheld VHF that I always bring on charters to communicate with crew who go ashore and added spare batteries. Likewise, (charter boats usually have terrific electronic navigation equipment and we don't tend to bring a handheld GPS if you have one, by all means, toss it in too. Pinpointing your location will hasten the arrival of help.
Life jackets that are normally stowed below in the cabin closets were relocated into the main saloon, one for each crewmember. Not only are they obviously personal flotation devices, but their bright orange color can attract attention as well when waved frantically overhead. A gallon jug of water was placed adjacent the bag for easy grabbing, but not inside, as we didn't want to risk it exploding and flooding our gear. Some extra line was nearby to help keep it all together once debarked. All these items remained accessible in the main saloon for the remainder of the trip.
Our go-to plan in the event the mothership foundered was to deploy the dinghy, even though charter boats have life rafts. We wanted the propulsion to get to the nearest piece of land or vessel. Being cognizant of where you are in relation to ports and anchorages is always advisable, as well as weather forecasts and currents. (The decision if-and-when to abandon ship is a separate issue altogether, depending on a lot of circumstances, and not addressed here.)
Once we had made our passage and were safely anchored in Simpson Bay, a more careful underwater inspection assured us everything was shipshape and primed for the rest of our journey around St. Maarten. We were able to carry on our vacation with abandon, knowing we had an abandon ship bag at the ready.