This new cruising cat has all the luxury features and speed performance of its bigger sisters in a compact, easy-to-handle package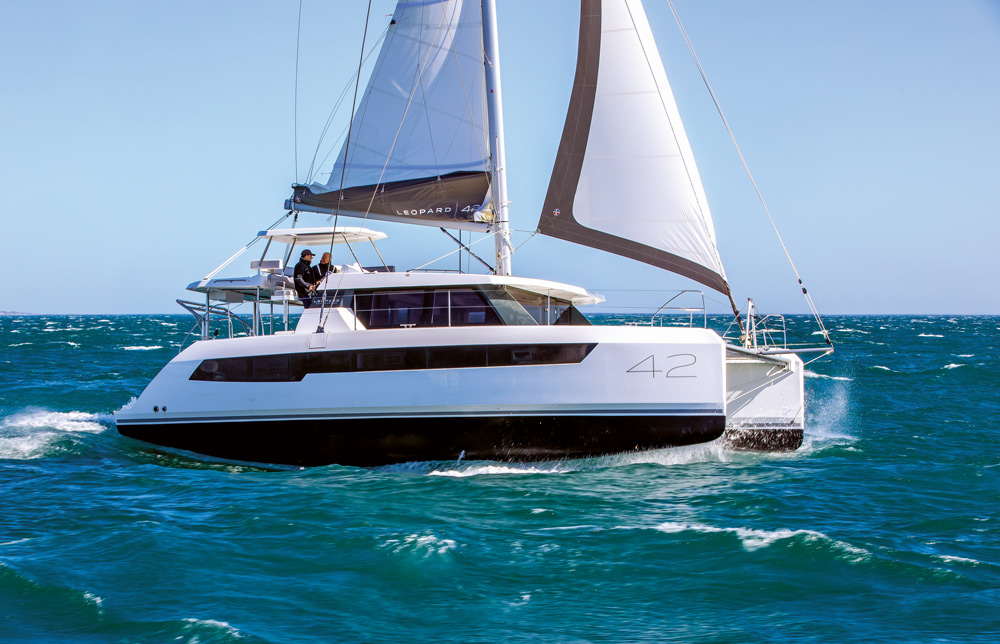 Full disclosure: I love Leopard Catamarans. I've "owned" several, admittedly only for a week at a time on bareboat charters, but that was enough to find them fun to sail, easy to maintain and very comfortable. The Leopard 42 is the newest cruiser to the fleet, and after a test sail off Fort Lauderdale, Florida, I found so many things I loved, I don't know where to start.
Oh, yes, I do. On the owner's version, the starboard hull is a luxurious private suite. In the oversized head forward, a washer-dryer combo has been placed near the shower. At first, that seemed odd, but then I realized it means I can arrive all salty or sandy or sweaty, throw my clothes in the washer, savor a leisurely shower (made possible with 174 gallons of water), and have clean clothes waiting. This is the one-stop arrangement I dearly needed when I was a bachelor.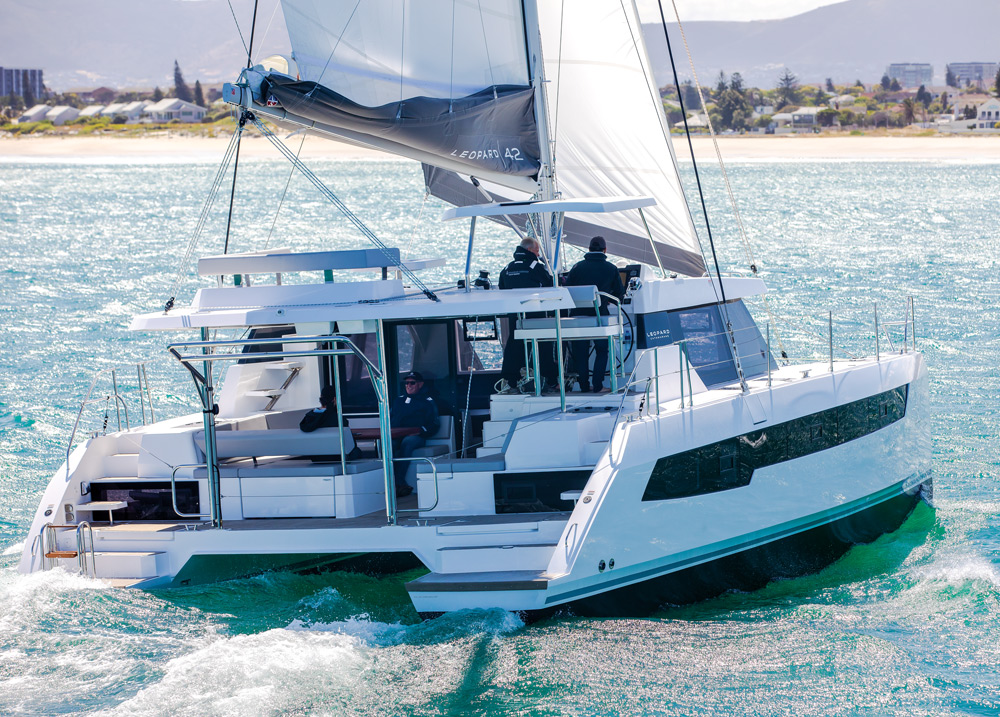 The Leopard 42 will also be offered for charter as the Moorings 4200. The boat is a development of the Leopard 40, but it really bears more DNA from the Leopard 45 and 50. With seemingly continuous side windows, it looks like the 50, but as my esteemed SAILING Magazine colleague, yacht designer Bob Perry, wrote in his review that he spotted a major difference—the springy and wider chine about 14 inches above the waterline. This doesn't affect the wetted area or drag, but it multiplies the interior room immensely. More about that in a moment.
The first thing you notice is the flybridge. What? A flybridge on 42-foot sailboat? Yes, indeed. This is one of the features pulled from the Leopard 50: an L-shaped lounge with table atop the hardtop. It's easily accessed by steps from the port deck and it would be the perfect place to enjoy a good sail followed by a sundowner at anchor.
It's right next to the raised helm, which has steps from the cockpit, and I like that the skipper is at deck level, making this ideal for couples cruising when you might need two people to handle fenders and docklines.