Take some motion out of the ocean for a good night's sleep at anchor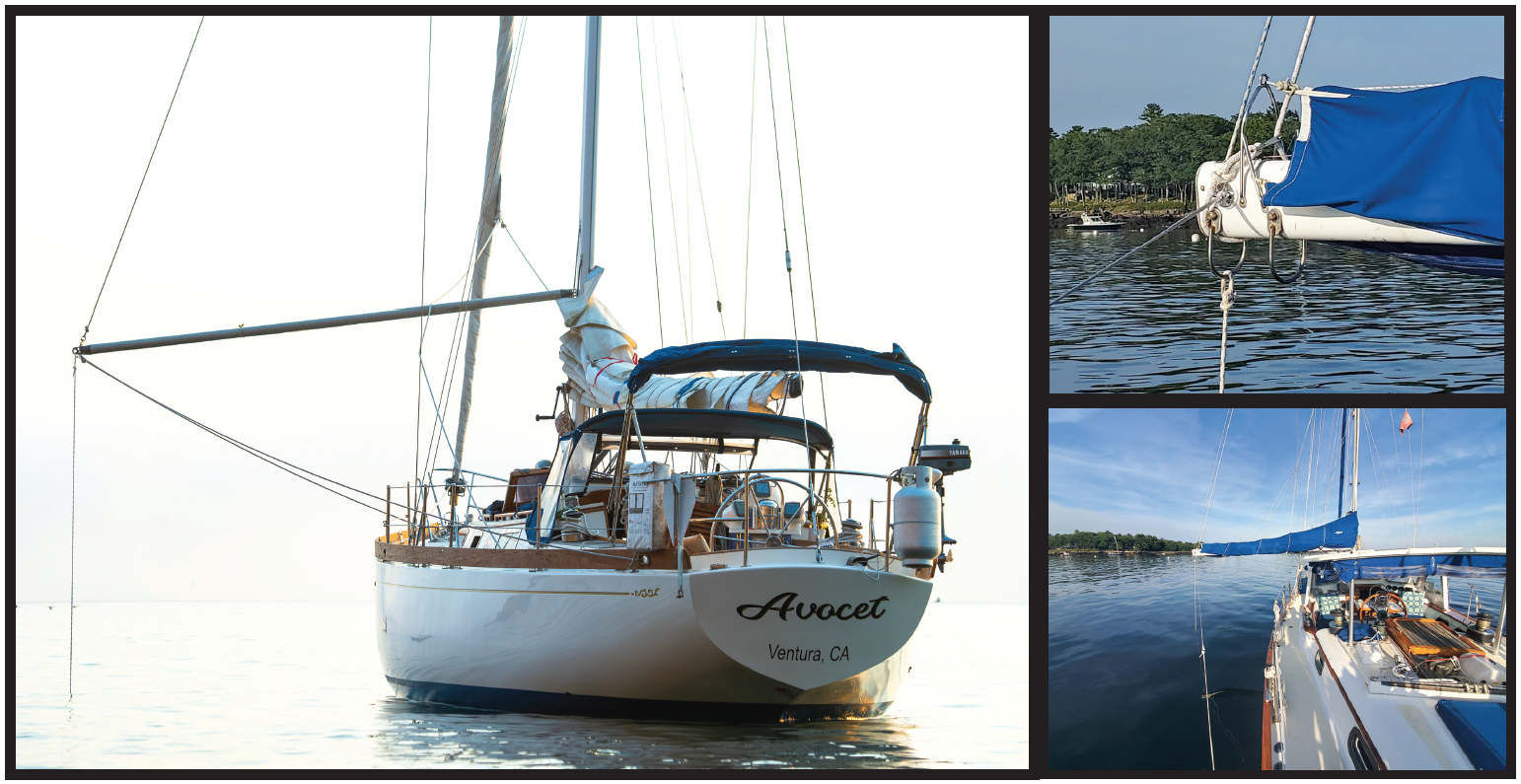 A circumnavigator and cruiser, Anastasakia said the system reduced the roll significantly in the various anchorages they visited, and is beneficial for full keeled and narrow beamed boats such as their own. Similarly, other sailors have taken a piece of plywood (protected with epoxy) and drilled holes in it before deploying overboard. This type of flopper stopper emphasizes resistance on the up roll, but may take more time to sink, which is an important part of the process, so consider adding additional weight such as diving lead beneath the unit for maximum efficiency.
Milk crates are a popular material to use as the base of a slightly more intricate DIY flopper stopper design. Users typically secure a piece of flexible plastic around the bottom of a milk crate, cutting an X to form four triangular flaps, and add weight to the frame using weights (zip tie dive weights to the crate or hang them below it). Just like the production models, the idea is the same: sink quick, rise slow. In fact, it is notably more effective than the 5-gallon bucket method simply due to the plastic flap element.
There are a plethora of DIY resources online that can primarily be found in cruiser forums, sharing all the details on home builds and best practices for this design. "It made flopping back and forth more bearable," Bruce Whitmore said, thinking back on his time aboard his 1977 C&C 27MKII.
"We had two, sometimes I would hang one off the stern and one off the whisker pole" Whitmore said. "Usually I just hung one off the end of the boom, swinging it as far off the beam as I could. We deployed them virtually every night around the Chicago area."
One of the most inexpensive commercial roll reducing units you can buy is Davis Systems' Rocker Stopper, which is a unit that consists of six lightweight styrene plastic cones that you pass a 3/8-inch nylon rope through, spacing at equal intervals. This unit can be deployed and retrieved in seconds thanks to its simple design that "nests" within itself. Like many of the flopper stoppers, the unit works best with added weight such as small mushroom anchors connected to the bottom of the line, under the cones to assist in the sinking process.
I've found that a similar cone-type system was moderately effective at keeping the boat comfortable, even more so when we deployed it off the spinnaker pole. If you are looking for quick, cheap and decent stabilization a cone unit like this may be a good option for you, especially at a price point of $15 to $30.
A hinged-plate system is a popular production design. These systems fold in the middle to sink, then snap flat on the up-roll to provide resistance. Forespar and Magma have units in this design, and sailing scientist Jess Reilly-Moman who conducted research and lived aboard a 1978 Cal 40 for years said she swore by the system as they sailed from San Francisco Bay to the East Coast through the Panama Canal.
"We stayed in a lot of bad anchorages due to the nature of my work, but found that using our Forespar flopper stopper in addition to a stern hook set provided much needed comfort," she said.
The Magma unit comes with its own outrigger to attach to the side of your hull which will help increase the efficiency of the unit. Although both units and the design itself are noted to perform well, they don't flatten completely and provide resistance quickly which can still leave some uncomfortable jerking motions as they work to cancel out the roll. Adding weight can help remedy this issue in addition to deploying off the hull using a spinnaker pole or the boom. They cost about $300 and up.
Our favorite roll reducers are those that share the same simple concept as the milk crates but are built more durably using stainless steel or aluminum frames. While preparing for a sail a few years ago, our dock neighbor John gifted us his invention to try in place of our plastic cones at Santa Cruz Island. We were a bit skeptical of the Everlasting FlopStopper since when assembled it was larger than our forward hatch and much larger than our previous cones, but we soon learned the size is definitely part of what makes it so efficient, and it quickly breaks down into a smaller stow bundle than any other type.
The FlopStopper is an underwater horizontal venetian blind that has slats that open on the descent and immediately close on the "up-roll" to create a solid platform with 8.4 square feet of resistance (nearly 50% larger than most models), dampening the side-to-side rolling motion of the boat. The delayed up-roll is significant enough to take the boat out of the wave pattern, so the boat "cancels" the next wave instead of rolling with it. Since the unit is made with metal, the edges can be a bit sharp which is something to consider when deploying, being mindful of the boat's hull. If a boat's design allows, it can be deployed right over the side or using a spinnaker pole method.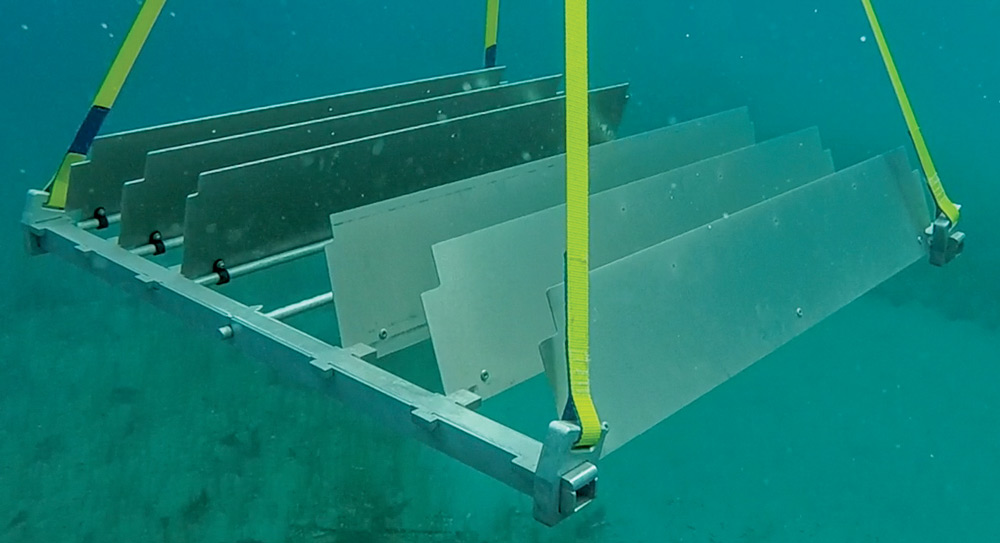 Tips for success
No matter what type of flopper stopper you use, they all work better when deployed off of an outrigger or pole due to the mechanical advantage of a lever. The effectiveness of the roll damper increases with the distance the device is from the centerline. Deploying two roll reducers is better than one, and can significantly help reduce roll if one is on each side of the boat.
When retrieving and storing a flopper stopper, do your best to rinse it with fresh water especially if the unit is composed of materials prone to rust or mold. Dry the unit thoroughly and keep it in a bag or wrapped in a towel to prevent damage to your vessel or the unit itself.
Many factors contribute to a successful flopper stopper installation, and if you have decided to fabricate one yourself, make sure that you do your research and have a solid understanding of the forces involved. Comfort doesn't have to be a trade-off for life afloat, and you don't need to lose any more nights of sleep. Consider adding a flopper stopper to your anchoring kit, it's a great investment in your future nights of sleep.