Perseverance pays off big
Sailors overcame hurdles J/70 on their way to great racing at the j?70 world championship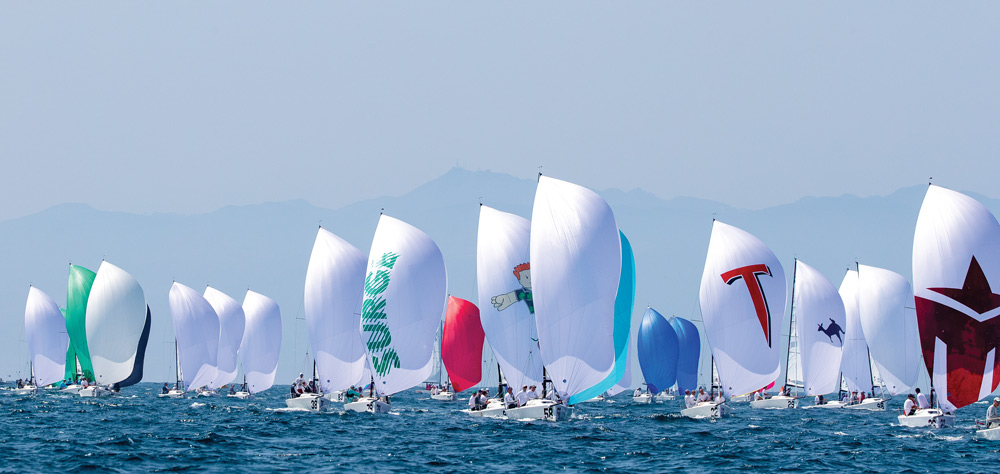 Sharon Green photo
When California Yacht Club tried, and tried again, to host the J/70 World Championship regatta, members of the Marina del Rey, California-based yacht club and neighboring organizations stepped through the year of pandemic postponements, protocol and obstacles to pull off a world-class competition.
"This event has been years in the making," said Chair Marylyn Hoenemeyer, who pressed on even as travel constraints and uncertainty threatened to disrupt the regatta. But in early August she prevailed, welcoming 62 competitors from 11 nations for five days of racing in Santa Monica Bay.
Hoenemeyer is an accomplished sailor and winner of both sportsmanship and service awards and knows how to rally the troops. She commended the resilience and determination of an army of volunteers from CYC, Del Rey and Alamitos Bay yacht clubs and US Sailing, which pulled strings to obtain travel clearances for international competitors and jury.
"It did take a village, a tremendous volunteer effort, to make this a success," Hoenemeyer said. "Our team of volunteers did a fantastic job in keeping all eyes on the target and it paid off."
Volunteers like Mary Stuyvesant were the fuel in the fire.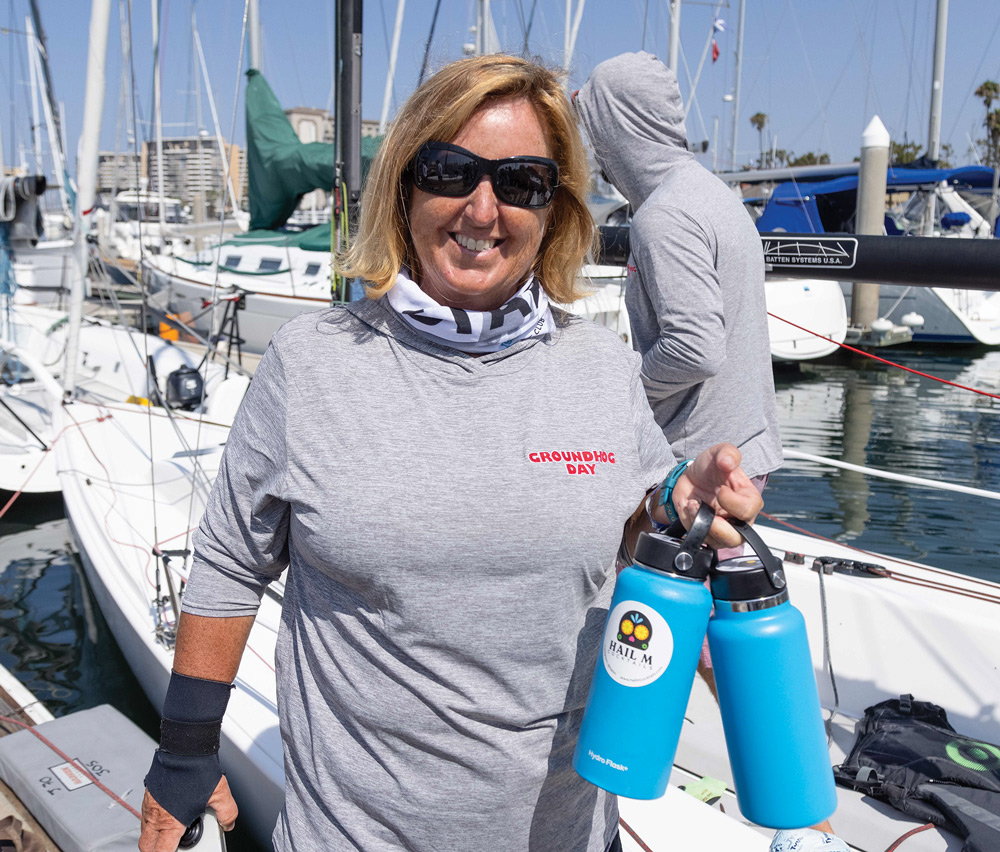 Sharon Green photo
"I was in charge of all the social media, brought in some sponsorship and did a little bit of racing during the day," Stuyvesant said.
In addition to organizing the cyber media team and nightly cocktail programs, she also did bow on Rich Festa's J/70 Groundhog Day.
"This is the fourth world championship I've competed in, and when you go to an event and experience a club really extending themselves, it makes it so much more fun for the racers," Stuyvesant said. "I wanted to ensure that CYC really delivered on that, for our guests."
"The international teams add an exciting element too," she said. "And even though there's really close racing and a lot of yelling at the mark roundings, everyone comes up to the club afterward for a good time and some drinks. There is great camaraderie!"
International teams hailed from Mexico, Brazil, Cayman Islands, Chile, Germany, Great Britain, Spain, Turkey, United Kingdom and Uruguay. And the span of sailors was far-reaching in other ways too. Competing were Olympians and Corinthians, families and strangers, men and women, young and old. Racing aboard Threatening Minors, which won in the One Pro division, were Jordan Janov, 15, Reddin Kehril, 16, Grant Janov, 18, Ryan Janov, 21, and Willie McBride, 30. On the opposite end of the age spectrum was octogenarian Peter Cunningham on Powerplay.
Cunningham traveled from the Cayman Islands for the regatta, but his team mates from Portugal were unable to enter the States, so he raced with a new crew.
"I ended up with a really fantastic team here, and a really great fleet: it's just terrific competition. With so many other regattas canceled, it was fantastic CYC was so persistent," Cunningham said.
At 80, Cunningham was the oldest competitor in the fleet.
"The wonderful thing about sailing is you don't stop sailing when you get old, you get old when you stop sailing," he said.
His youthful nature was evident as Powerplay returned to the dock each day gleefully blasting Lady Gaga and other techno tunes. It all added to the excitement and bustling atmosphere at CYC during the long-awaited event.
Racing had begun in light and shifty breezes, but on Day 2 the wind failed to materialize and racing was canceled. As one eager competitor quipped, it was a case of, "Hurry up and bake."
Despite fickle conditions, organizers managed one race on Day 3. Then it was breeze-on, with three wet and wild races for the fourth day of the regatta. With a half-dozen races under their belt, the event now officially qualified as a championship regatta, and players earned a throw-out score, shuffling the leaderboard once more. By the final day the top tier was packed tight.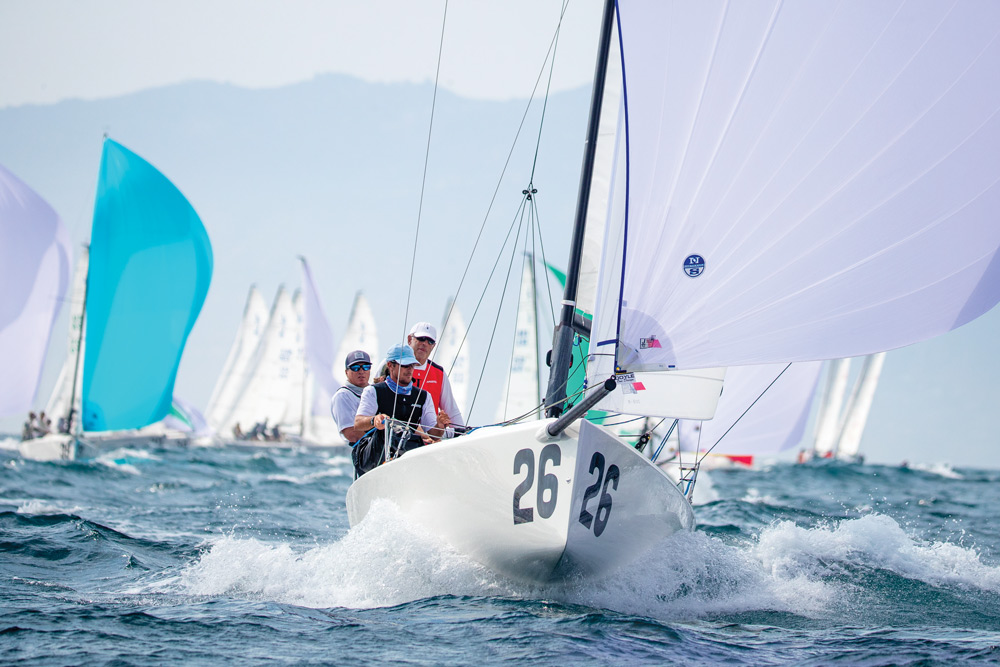 Sharon Green photo
"It was very cool that there were four boats who could have won this thing in the last race," said Peter Duncan, who triumphed aboard Relative Obscurity with his team of Willem van Waay, Morgan Trubovich and Victor Diaz de Leon. "To me that's really fun, exciting sailing," added the New Yorker, who captured his second J/70 World Championship title. "The competition was really great and close."
In the end, the top five finishers were separated by only eight points. Bruce Golison's Midlife Crisis took second, while Laura Grondin's Dark Energy finished third, edging out Brian Keane's Savasana by one point.
Winning the Corinthian title, in ninth place overall, was the Ducasse Sailing Team of Santiago, Chile. Consisting of Andres Ducasse and his four sons, they were disadvantaged at first sailing with a crew of five, instead of the standard four. Their victory was "amazing" son Francisco Ducasse-Soruco said, adding that the real win was in the experience, as they are in it for the long haul.
"The level is so good here, we trained and learned with a lot of good boats." Ducasse-Soruco said. "We hoped to finish top 10 and do better the next worlds and the next. Now we are shortening the average."
His brother, Andres Ducasse Soruco, added that the welcome had been warm and their time in California enjoyable.
"We're very happy and very proud. We did an excellent job with good results in such a competitive fleet!"
For complete results go to www.2021j70worlds.com.