Spice up a charter by throwing in some competitive fun
Sailing among so many pricey megayachts was both dramatic and daunting. St. Maarten is a hub for these grand luxury vessels. The availability of comprehensive services to maintain, repair, refit and haul out vessels 130-meters plus has helped earn the island that distinction. In addition, Princess Juliana International airport boasts a 7,500-foot runway that accommodates sleek private jets to Boeing 747s.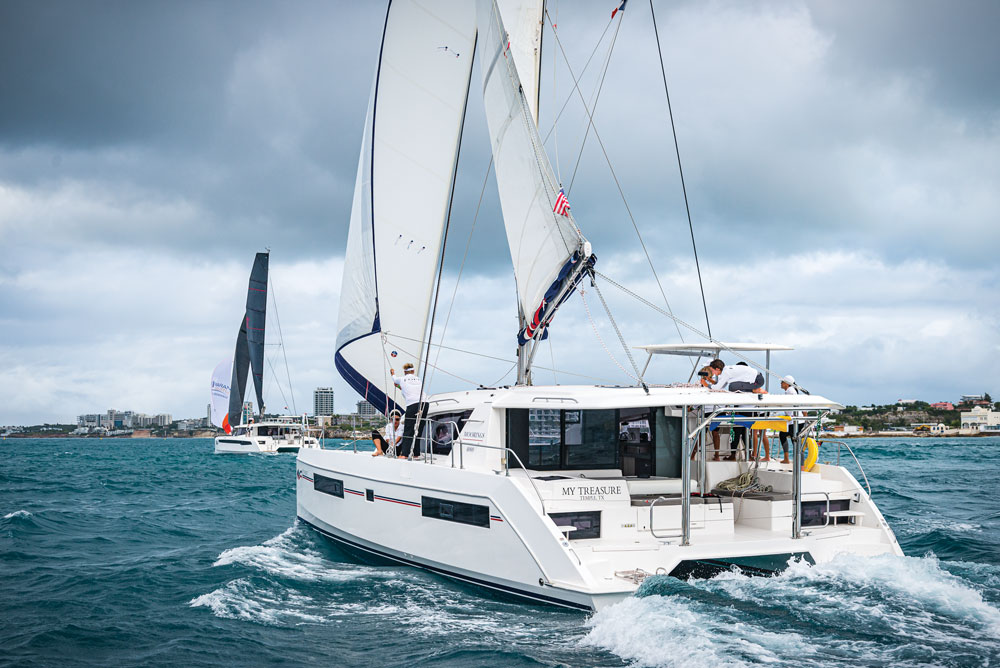 Laurens Morel photo
Taking care not to sail into the lee of a superyacht or beneath a helicopter readying to land, we raced west, but not leeward as one might think. The mountainous northwestern coast of St. Maarten funnels the wind and seas down the Anguilla Channel. Rounding Plum Point, we were head-on into the fury of the trades.
Our opponents took a long tack out, deep into the strait, to slingshot in. We tacked strategically toward shore, into flatter water with less current. But it wasn't enough to fend them off and they beat us by just five minutes.
Day 33 arrived, squally and dank, and the race committee called the same course. Our learning curve had been steep and our crew at the top of our game, however, so were our rivals. After an excellent start, where we shut them out at the top mark, we were amped. Soon though the five-foot-larger catamaran began making tracks, then once again split into the channel, where wind was gusting to 30 knots.
We continued to hug the shore, now knowing exactly where the cardinal mark was off Point Arago, and as we made our final move toward the tiny almost invisible buoy, our rivals on Amari appeared out of a squall line well astern. We still had half the race ahead of us, but bolstered by our lead, our team rallied through the rain and squalls to win the day and the overall honors in the Pirate Class.
Victory was silly, but sweet.
Once strangers, our team was fully bonded and jubilant, making the party at the club raucous and fun, with frosty Heinekens and a friendly crowd. Even more than the lovely glass obelisk trophy, our prize was having made new sailing friends from around the world, and the chance to be part of the action and not just spectators in this exciting new Caribbean race series.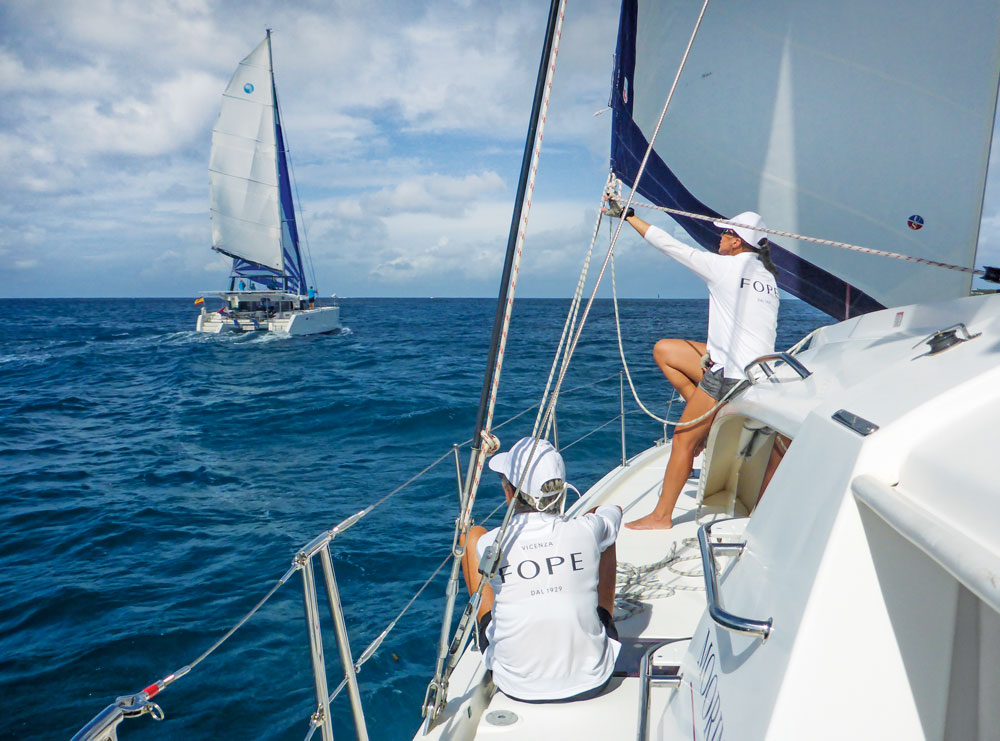 Betsy Crowfoot photo
The CMC has pledged to remain focused on multihulls and "what multihull sailors are looking for," Ferron said. It will cater to a mix of fast cats, conventional cruising boats, smaller daysailers and charter boats with courses to accommodate the abilities and desires of each individual division.
"We see the CMC as a multihull festival for every kind of multi from Mod 70 trimarans like Maserati, and at the same time, with courses that are shorter and less demanding for those with slower boats or perhaps less experience racing," Burzon said.
And the hopes are to return to pre-pandemic revelries like beach parties on Kim Sha with a tug of war, crab races, music and entertainment. "As Anthony McVeigh, overall winner of the CMC 2022 on 2 2 Tango said, 'The CMC is the happiest regatta in the Caribbean,' and we plan to keep it that way," Burzon said.
The Caribbean Multihull Regatta will be held again in February of 2023. Other events that feature bareboat charter boat divisions, for both mono- and multihull entrants, include: Grenada Race Week, BVI Spring Regatta, the Heineken, Antigua Race Week, and Jolly Harbour Yacht Club Annual Regatta. Check www.caribbean-sailing.com for a complete list of dates.
Charter companies may require an additional insurance waiver or fees. Read the fine print when booking, and enjoy!