The latest midsized cruiser from Jeanneau packs in great performance, cruising comforts and the latest innovations that make sailing easier
Under sail
I met up with Paul Fenn, Jeanneau's longtime marketing guru and the company's biggest cheerleader, at the American headquarters in Annapolis's Eastport neighborhood. The office was abuzz with news that the company was relocating operations to Florida, where its powerboat division Prestige would see more action.
New boats have that new-boat smell, but sailboats also have that new-boat feel, with brand-new sheets and lines and crispy dacron sails it was a pleasure to rig the boat.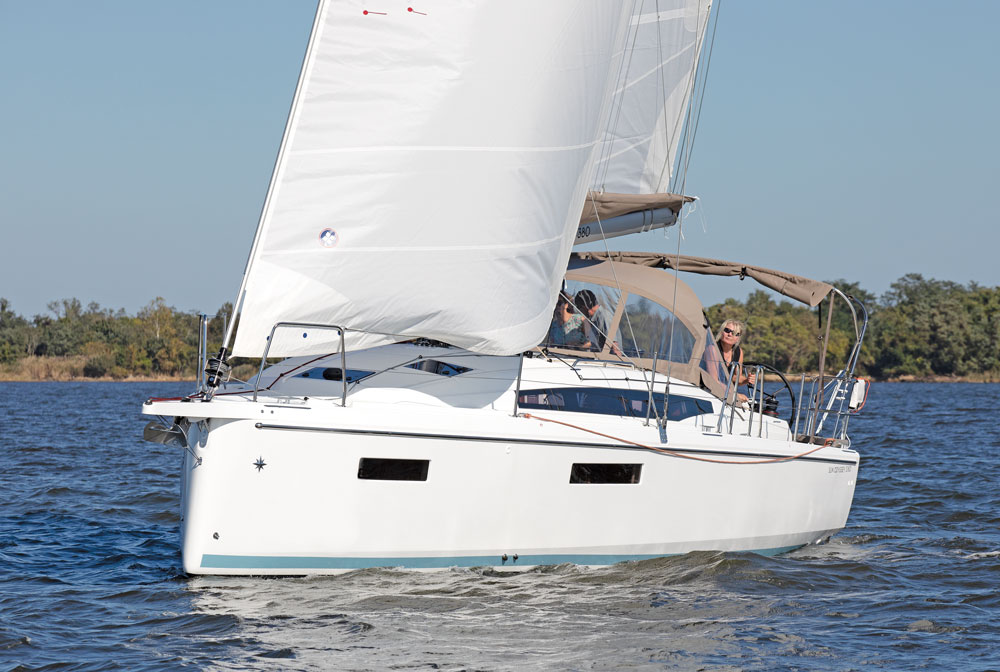 We headed out of Back Creek on a warm fall day. The wind gods blessed the week following the U.S. Sailboat Show, a time that historically features inhospitable sailing conditions. The wind was slowly backing to the southwest as a front was moving in. We trimmed in and set off down the bay, and you could feel that when the boat heeled, the chine locked in and the boat made tracks down the bay.
The main was easily adjusted with the German mainsheet arrangement and vang. Without a backstay, the optional square-top main would provide improved performance through the wind ranges, although the boat did not feel underpowered making a comfortable 7 knots sailing upwind in the puffy 12-knot breeze. Trimming the jib with the friction ring set up offered good control.
The boat turns on a dime and we quickly slipped through a tack and eased the sheets, and the boatspeed hit 9 knots. It would have been a perfect day to pop the optional downwind sail package for even more performance.
There is great visibility with the helms set far enough outboard to be able to peek around the bimini to glance up at the sails. The key to shorthanded sailing is having everything at the helmsman's fingertips, including the sheets. The 380 would make a great club racer.
The optional 40-horsepower Yanmar easily pushed the boat along at 8 knots with a fixed three-blade propeller. The slip was tucked away on the inside, which made for tricky maneuvering with the twin rudders, but a couple of well-timed shots from the optional bow thruster had the boat backing into the slip like a champ.
The Sun Odyssey 380 would be a perfect boat for a couple or a family looking to keep the sailing simple yet fun. It's nimble to sail, and with its well-designed and beautiful interior, you might never come ashore.
---
LOA 38'6''; LOD 36'9"; LWL 35'1''; Beam 12'3''; Displ. shoal keel 15,203 lb., Displ. 20,701 lb.; Draft shoal keel 5'3'', standard keel 6'6'', swing keel up 4'2'', down 8'10''; Water 87 gal.; Fuel 34 gal.
Base Boat Price:$256,500
Jeanneau America
105 Eastern Avenue, Suite 203,
Annapolis, MD 21403
---