Every summer schooners gather off the coast of Maine where sailors raise gaff topsails and fishermans and race a series of classic regattas that keeps maritime history alive
A schooner requires a lot of hands to operate and a lot of the times we are racing with family and friends and we find that each time it is a learning curve for us," Nathaniel Frary said. "The fisherman, a sail with four corners that is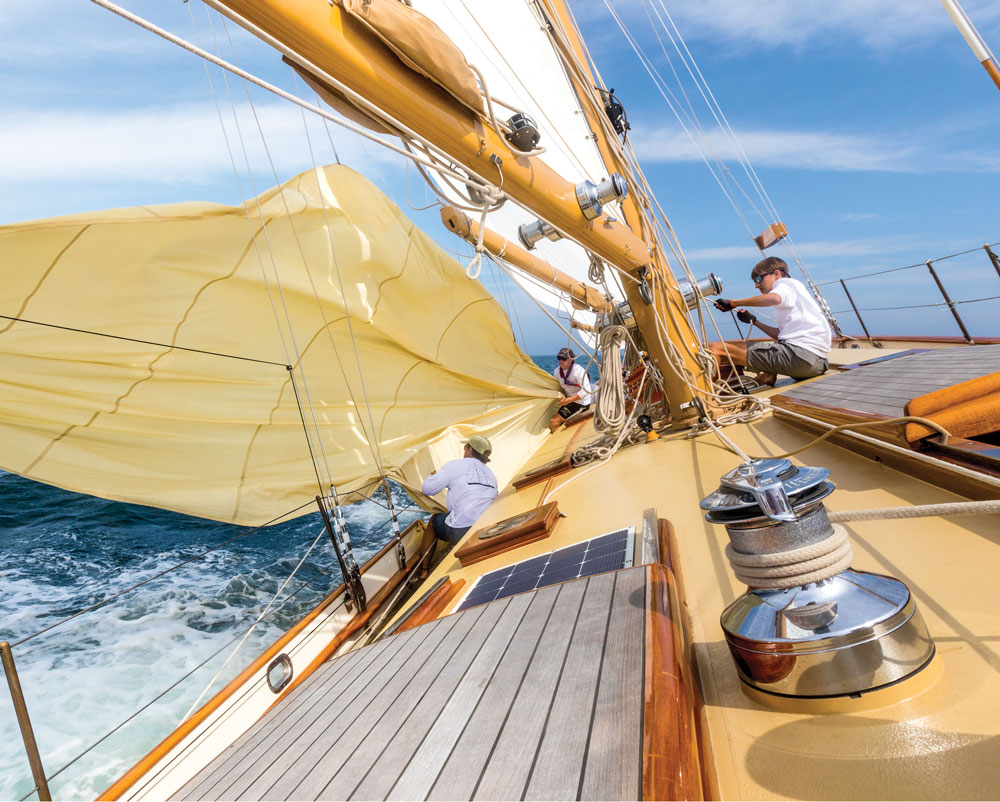 set between the main and foremast, is the perfect example due to the challenge of getting it up and down for every tack. On Narwhal, we need six people to strike the sail in a timely manner and relead the lines to set it just as quickly on the other side, making every tack a major team effort."
Narwhal, built in 1999, was based on the 1937 L. Francis Herreshoff design Mistral, a boat still sailing in Europe. Unlike Mistral, Narwhal was built with a gaff main and top masts, allowing her to fly a maintop, foretop and jibtop. Built of cold-molded cedar planks that are through-bolted to galvanized steel frames, she underwent a complete refit in 2021.
"Everyone who sails on Narwhal comes away with a sense of accomplishment, and a big grin for the moments of shear excitement when everything is working," Frary said. "We are endlessly tweaking sail trim, halyard tension and slot management because as soon as you make one adjustment, you might have to make three more."
After two hard fought days of racing the second place finisher was the 65-foot staysail schooner Lion's Whelp owned by Phineas Sprague Jr. Sprague has long been associated with the former and beloved Maine Wooden Boatbuilders show and he is the former owner of Portland Yacht Services. Sprague said the Shipyard Cup was very close racing for schooners.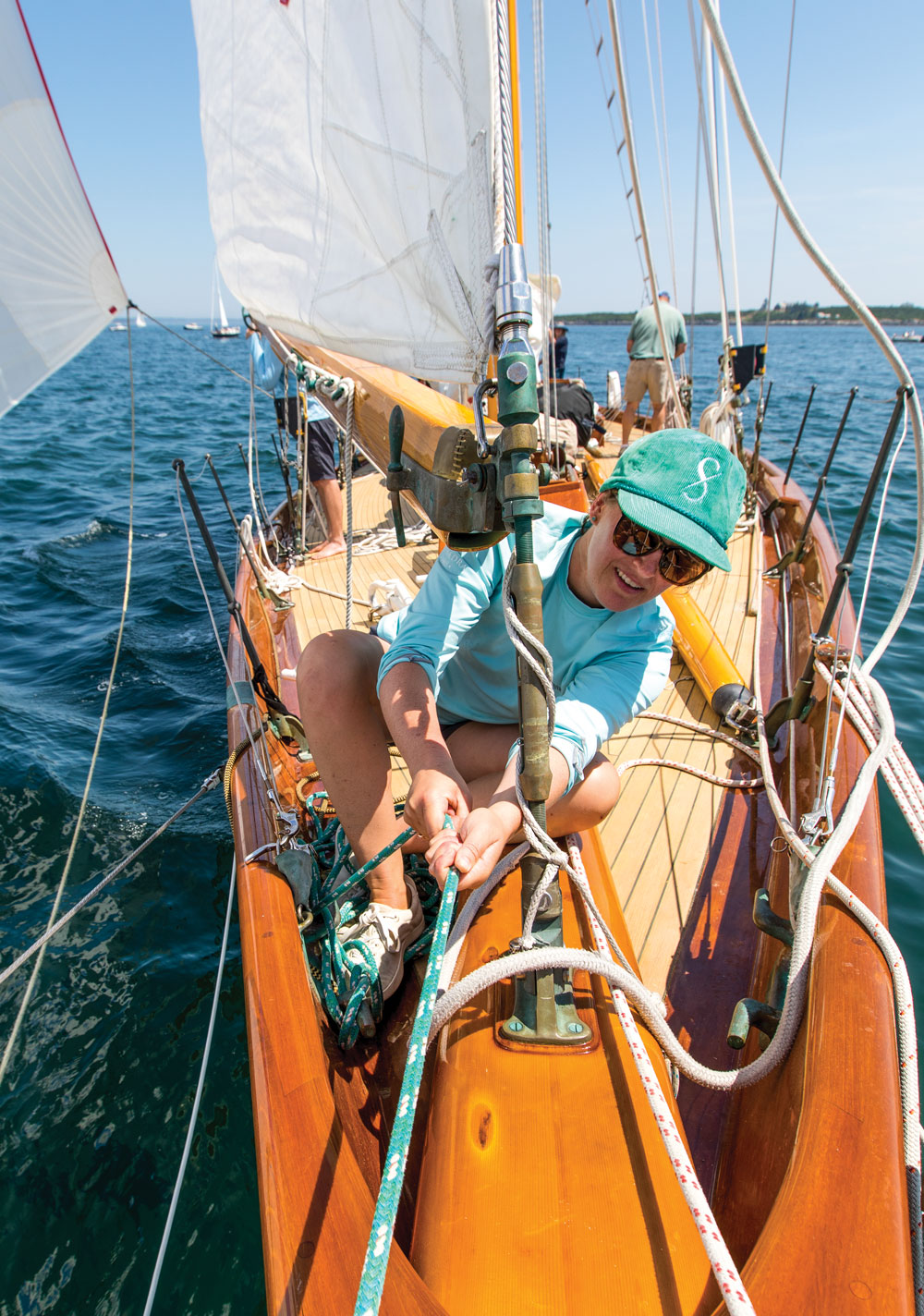 "What is great about this fleet is that we had schooners that were pretty well-matched. It was energizing for me as we usually deal with far larger schooners," Sprague said. "To have three boats of similar length racing closely, with lead changes and maneuvers based on great seamanship, luck, spotting the holes in the wind was absolutely invigorating."
Lion's Whelp was designed by John Alden and her construction started in California before Sprague purchased her and finished construction at his yard in Portland, finally launching her in 2001. With a Marconi type mainsail, she had the advantage on the windward legs, but Narwhal had the advantage off the wind with more sail area. The race courses were not set as true windward-leewards, which made the race more fair for the schooners not known for upwind prowess.
"We are a staysail schooner so compared to a gaff-rigged schooner we do point better but being slightly off the wind meant that for everyone it was all about who was sailing best and any one of the boats could clean the other's clock," Sprague said. "She is a wonderful cruising boat, but in the light winds in Maine's summer she can sail like a brick. Luckily on the second day of racing we had some great air and it allowed us to really be in the race the entire time. With the asymmetrical spinnaker we had some great reaches and we were always in contact with the other boats."
The top three schooners were only separated by minutes at the finish with corrected time factored in. The third-place finisher, the Mystic Seaport Museum and Francis Sutula's 75-foot Nat Benjamin-designed Rebecca of Vineyard Haven is also a particular favorite of spectators and sailors alike and was made famous by the book "Wooden Boats." Launched by the famed Martha's Vineyard yard of Gannon and Benjamin in 2001, Rebecca is reminiscent of boats designed by Nathaniel Herreshoff, John Alden and Olin Stephens. The smaller Freeport, Maine based 43-foot 1930s built John G. Alden-designed schooner Blackbird finished in fourth place.
"Having Narwhal, Lion's Whelp and Rebecca sailing together is a bonus. When racing, it gave us that pressure to handle the sails as if the devil was chasing us," Sprague said. "Sail handling and seamanship skills go into this level of racing, too, and we have learned to handle the sails quickly and efficiently."