Famous for his yellow Bahamian wooden racing sloops, Hughrie Lloyd builds each by hand from designs drawn in sand
In his yellow house up the hill in the tiny settlement in Exuma, Bahamas, 80-year-old Hughrie Lloyd rises each day and heads out back to his shop. On a sand floor, with no plans, he builds Bahamian wooden racing sloops by hand. If he needs more boatbuilding materials, he cuts buttonwood tree roots and other local hardwoods from the nearby swamps. He was born in this yellow house that overlooks Barraterre Bay where he still races his yellow sloops in sailing regattas on weekends.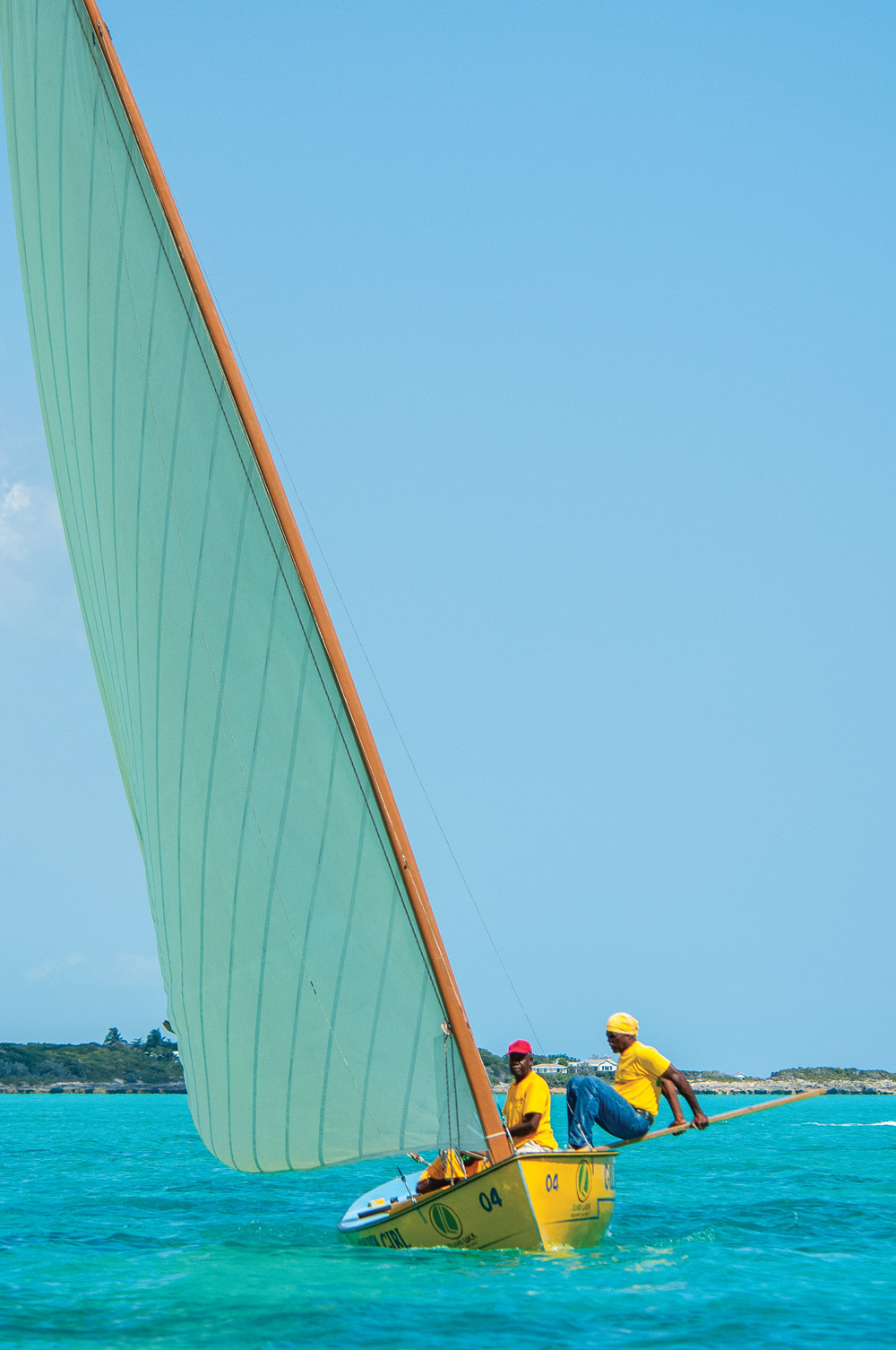 Jan Pehrson photo
I met Hughrie Lloyd at the 2017 National Family Island Regatta in George Town, the capitol of Exuma.
"They call me Shian," Hughrie said. "Why don't you drop by my shop sometime?"
After the regatta, my sailing partner Ken Kramer and I took Hughrie up on his invitation.
Following the Explorer Charts from George Town through narrow Rat Cay, we sailed our Morgan Out Island 36 Slowpoke to Barraterre Bay. Anchoring in just 4 feet of water after sounding with our lead line, we were the only boat in the anchorage off the mailboat dock. Because of their deeper draft, most big boat sailors do not go into this bay. We took the dinghy to shore and walked up the hill to Hughrie's yellow house, easy to find as it is marked on the Explorer Chart as "boatbuilder."
Hughrie was working in his shop, shallowing up the wooden sloop Warrior built by him in this same shop many years before. He said shallowing is eliminating deadwood so there would be a finer entry and the boat would go faster through the water. Drawing on Warrior's hull with a marker and sketching in the sand, he showed us where he was thinking of making his cut into the wooden bow. Like he has for half a century, Hughrie visualizes boat designs entirely in his mind, much like Mozart composed symphonies. Hughrie's wife sews the sails from his designs.
Hughrie needed more buttonwood roots of the right shape from the local swamps to rebuild the stem and ribs of Warrior, so Ken gave him an ax. Hughrie has always used power tools, although his power tools could be described as museum quality. Grinning and thanking us, he said "I'll go to the swamp and find a tree, if my chainsaw gives up I'll use your ax."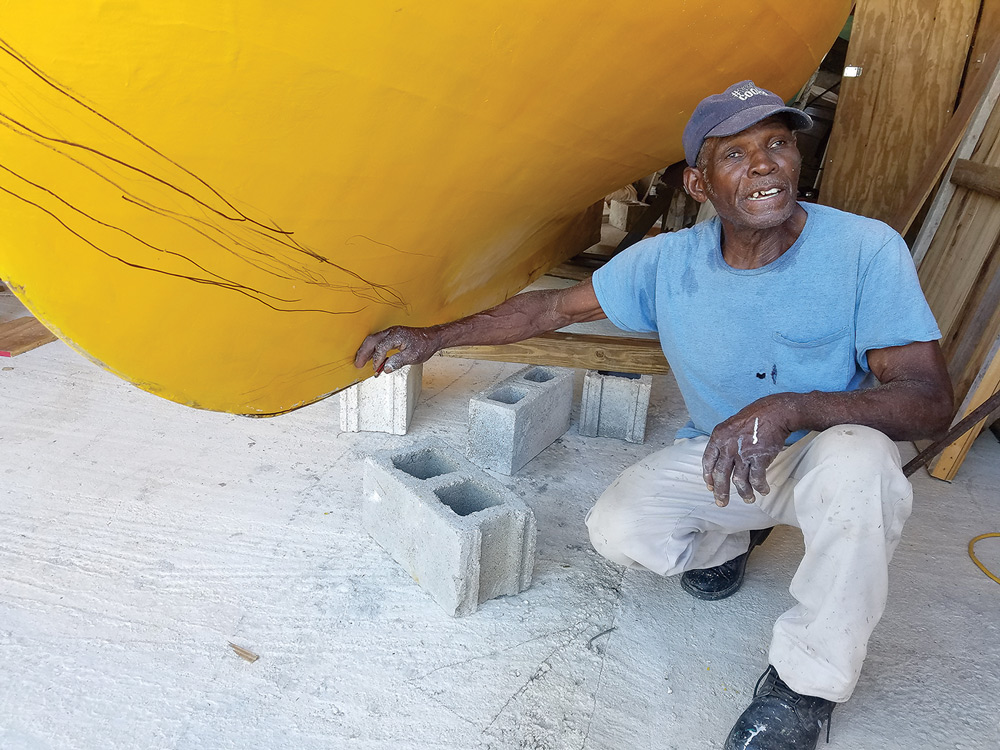 Jan Pehrson photo
Hughrie's father was a boatbuilder, but his boats didn't have the lines of racing boats. They were a bit rough, and built for fishing. But Hughrie was more attracted to racing and beautiful fast sleek boat designs. As a young man, he started racing with other people. One day he had a vision in his mind that he could build a fast Bahamian wooden racing sloop himself that was faster than any other boat. Collecting the necessary materials out of pocket, he showed up at a regatta with his very first boat and was successful. He's been building and racing fast sloops ever since.
Now that he's 80, he shows no signs of retiring. In the tradition of the Family Islands of the Bahamas, he is passing his knowledge on to the next generation.