Price and location shouldn't be the only considerations when looking for a home base for your boat



After closing the sale on our Mariner 31, Scandia Dream, we set out for the central coast of Southern California where we hoped to find a permanent marina, a daunting prospect, as it is one of the most popular cruising grounds on the West Coast. Given the shortage of available moorings, most marinas are rather selective about prospective tenants, and those we visited required a credit check, proof of liability insurance (with the marina as the beneficiary), a damage deposit and a payment history from a previous marina. Wooden boats, certain commercial vessels, and boats older than 35 years are often borderline, and every marina we inspected had a cap on live-aboards, although our final choice allowed us some degree of latitude since we live in Colorado some 800 miles away and can't just show up on a Friday evening, provision the boat and head for open water.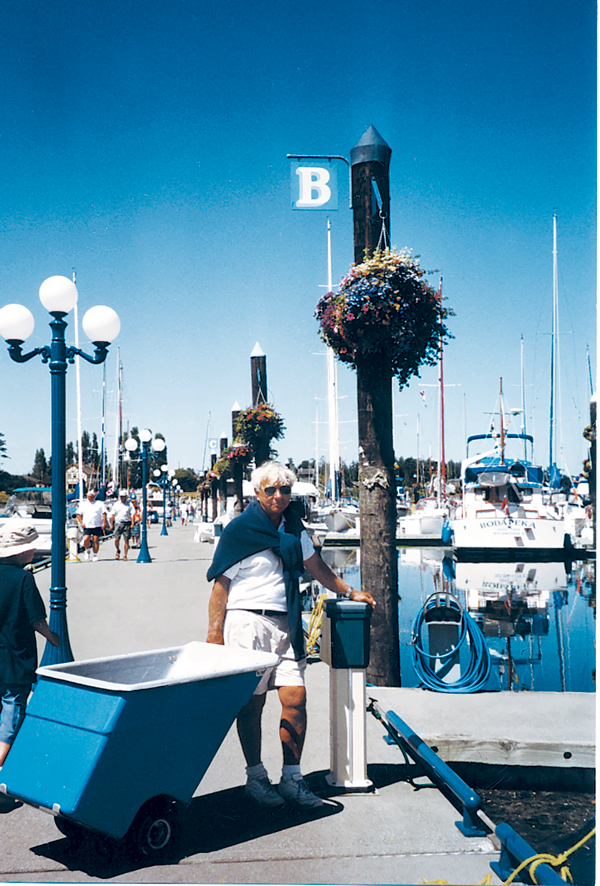 Like buying a boat, choosing a marina can be a series of compromises and any number of factors should be considered, including cost, location, condition and amenities.

Mooring rates
Mooring rates are determined by the type mooring, location, accessibility, availability, amenities, the age and condition of the marina, and, of course, the size of the boat. Larger yachts, catamarans and trimarans pose special problems because they usually require a side-tie or the end of a dock, and this necessarily limits availability. Slip rates may vary anywhere from $7 to $25 a foot, although modest and out-of-the way facilities might charge as little as $150 to $200 a month for a 33-foot boat.

On the other hand, upscale moorings might cost as much as $20 a foot or more, and anything more than 70 feet may cost between $1,000 and $5,000 a month, no matter where it is kept. In seasonal boating areas, such as the Great Lakes, prices can range from just under $1,000 for a 20-foot or smaller boat to $3,000 or more for a 40-foot boat or larger for the season.

Types of dockage and security
Every docking situation has a downside. Moorings are cheaper than slips, but they are vulnerable to the weather and damage from other boats or any other hazards. Yacht clubs have a dynamic social atmosphere, are family oriented, and offer food and beverage services and reciprocal privileges with other yacht clubs. However, they can be rather expensive if you factor in initiation fees and monthly dues. Private, residential moorings are usually in first-rate condition, but they afford very little privacy and most are rather expensive. Public docks are relatively inexpensive, but security is not always the best, and some are open to the public and passersby. Private marinas, which are the most numerous, may offer a variety of options, but overall quality, essential services and long-term stability will vary considerably, so you should check carefully before making a final decision. Finally, while dry storage is a viable option for seasonal boaters and usually costs half to one-third the price of a slip, most facilities have long waiting lists, and launch and retrieval can be expensive and time consuming.

In choosing the right mooring, security should be a high priority. Avoid seedy neighborhoods, unlocked facilities or marinas and parking lots that are not well lit or do not offer 24-hour surveillance. I remember looking at one facility that was so dark and spooky that my wife would not even leave the car, even though it offered slips at a fabulous rate.

Traffic and congestion should always be a major concern, not simply because some powerboaters like to trail a tsunami regardless of the location or conditions, but also because of the possibility of a collision-especially from inattentive or novice enthusiasts. This is one of the reasons we had little interest in renting a buoy or exposed slip.

Marina operators
I asked a number of Southern California marina operators and managers to share their perspectives regarding some of the concerns boaters should keep in mind when choosing a marina.

Michael Sereno, marina manager of Larsons Marina at Terminal Island in Long Beach, focused on the importance of a "knowledgeable staff, cleanliness and safety and reasonable rates." While he noted that a marina might offer any number of amenities, he felt that the most important would be easy access, clean, fresh dock water, dependable electricity, good security and safety, drug-free surroundings, a zero crime rate and protection from bad weather.

Kevin Ketchum, general manager of the six marinas owned by California Yacht Marinas, said a marina should be more than just a place to store one's boat. Customer confidence and convenience were absolutely essential, and, where there was mixed-use for parking, restaurants, services and the like, the needs of the boater should always come first. He also noted that a good marina will ask a prospect how they use their boat, because this could be a major concern in choosing the right facility. For example, some boaters are laid back and prefer a quiet atmosphere, others are vibrant and social and might enjoy various shore-side activities with other boaters. He also noted that while some boaters might use their boats on a daily basis and may require quick access to their favorite cruising grounds, others are long-term cruisers where access to nearby waters may not be nearly as important.

Doug Whitlock, general manager of Dana Point Marina, said that, along with the customary services, security and amenities, a good marina should provide plenty of secure, long-term, free boater parking and include quick access to open water. He also noted certain advantages in choosing a marina that was located near a secure, residential community with easy access to shopping.

Whitlock noted that waiting list and slip assignment policies can vary tremendously from marina to marina. At Dana Point, a slip cannot be transferred with the sale of a boat. In this regard, wait list applicants need not worry about individuals bypassing the wait list because a slip was transferred to a new owner after the sale of the boat.

Jeff Wheeler, general manager of Southwestern Yacht Club in San Diego said a yacht club could offer a number of advantages, including "camaraderie among friends with common interests, food and beverage service, social events, staff services and support, lower slip rent and reciprocal privileges with other yacht clubs." Wheeler said that a marina's safety equipment should include fire equipment, dock ladders, life rings and emergency pumps.

Maintenance and conditions
While a new or near-perfect facility with a long list of amenities will invariably charge premium rates that may be outside your budget, you should not put your boat at risk by choosing the oldest, cheapest marina available. Any facility with old docks, rotting planks, broken electrical connections and lights, an absence of locks and safety equipment, and loose or broken cleats is a guarantee of general carelessness and future problems. You should be especially wary of marinas that might be planning to move or remodel, since there is a good chance that you will lose your slip or be asked to move during the interim.

Industrial pollution can also be a problem. The marina where we bought our boat was located next to an estuary and a major power plant, and the particulates from the smoke stacks and from fertilizers washing down the Salinas River left a filthy scum on our boat's waterline and deposited soot on her decks and cabintop. In fact, the local power company sent us a monthly check to moderate the cost of cleaning our boat.

Amenities and accessibility
Certain amenities are absolutely essential. Electrical hook-ups are necessary adjuncts if your batteries are to remain charged, and fresh, clean water is also essential, if only to fill your tanks and wash your boat on occasion. You may also want to consider whether a facility has dock carts, dock boxes, private lockers, a dinghy dock, and private showers and laundry facilities. Some of the more upscale marinas and clubs may offer swimming pools, spas, and even tennis courts and picnic areas, but such amenities are likely to be accompanied by higher slip rates, an important consideration for anyone who is looking for a secure mooring or slip on a limited budget. You may also want to check whether a prospect is close to essential services such as a fuel dock and pump-out station.

A marina's accessibility should always be a concern. Some of the locations we checked required a tedious, two-day drive from Colorado, much of it on freeways and twisting two-lane roads. It wasn't long before I came to appreciate the problems faced by some of the Los Angeles locals who might have made last-minute plans to go sailing only to get locked in rush-hour traffic. In our case, we were lucky to find a marina that could be reached with only a moderate amount of congestion via US-91 south of Los Angeles.
Make certain that your marina has channels wide enough for easy access and egress as you make for open water or return. Our Mariner 31 careens to starboard in reverse gear and requires a good deal of space and extra help to back out of her slip. Given a narrow entry channel, this could be especially trying, as is the prospect of a busy exit channel or harbor where the likelihood of a collision with speeding boats may be a constant concern. Indeed, this is a major downside to our Long Beach marina, which is one of the busiest harbors on the coast. In fact, the charts and guidebooks warn all pleasure craft to stand clear of commercial vessels, especially giant containerships.

Finally, you may want to find something relatively close to shopping, especially groceries and block ice. A nearby chandlery might also be helpful, especially if you do your own maintenance and repairs. You may want to look at the neighborhood where a prospective marina is located, especially as it relates to your privacy and personal comfort. I knew of one marina that bordered a busy public boardwalk and shopping village, while another was close to a night club with live music that lasted nightly until 2 a.m.

Liveaboards may also be a concern-usually in the positive sense, since they are likely to help keep an eye on your boat. On the other hand, you should probably ask about the number of liveaboards in a prospective marina, especially since more modest facilities that are government sponsored are commonly regarded as a source of affordable housing. Indeed, a quick check of the general area may indicate something about the general character of a prospect, the risk of fire, theft and collision, as well as the prevailing attitude toward sailing and the sea. You might also note if the marina has a reasonable tolerant and congenial atmosphere, both with regard to its residents and with regard to management.

Fortunately, in our case, we found a well-maintained, secure marina that did not bankrupt us, and, while it is somewhat out of the way, it is economical and well managed. This has proved to be a godsend, and as we spend our leisure winter hours here in Colorado, we know that our beloved ketch in California is safe and secure and ready to take us on some grand cruising adventures come next summer.