Nicely appointed, spirited sailer mark this latest French cruiser
It's surprising how much you can learn about a boat in little or no wind. Usually boat tests are conducted in man-against-the-elements breezes, rail down and hauling bananas. When I sailed the new Beneteau Oceanis 50, however, we had just the opposite. In meteorological terms, the wind was diddly-squat. But here's the thing: the Oceanis 50 was actually fun to sail. Had this been a family outing on the water, it would have been great. The boat is very responsive to little puffs, the steering is light and ready to chase the faintest cat's paw, and there is enough sail area at 1,232 square feet to gurgle along nicely.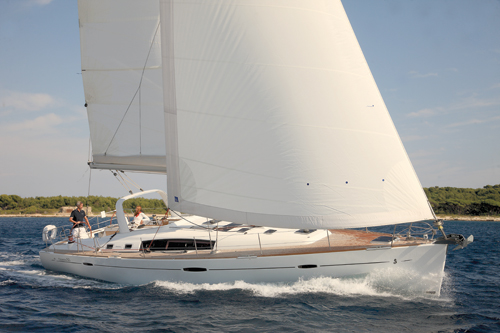 Trust me: In an afternoon breeze, every boat looks good. I once sailed a tubby double-ender touted as a world cruiser that, although it wouldn't have exceeded 5 knots if you pushed it over Niagara Falls, was just fine in a blow. No, the real truth is to be learned when cigarette smoke (lit only as a telltale and never inhaled) drifts up in languid circles. And I found that I liked the Beneteau Oceanis 50 a lot.

This is the fifth generation of the Oceanis line for Beneteau, and each iteration improves, based on owner feedback and design advances. The naval architecture team of Berret Racoupeau may not be a household name here in the States, but it have an impressive resume of designs for Wauquiez, Fountaine Pajot, Amels and, of course, Beneteau, where it has designed eight yachts.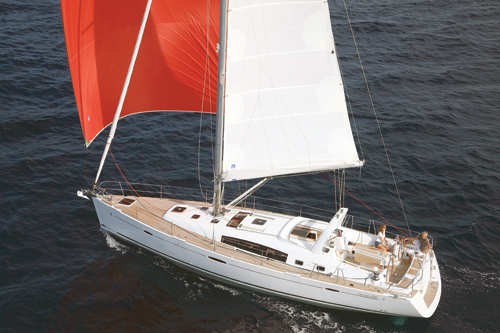 And, while I may not always be bowled over by some design features, Beneteau is building yachts by the thousands, which is certainly a sign of success. Besides, half the bareboat fleets in the world seem to be filled with Beneteaus, which hasn't hurt the boat's credibility one iota and has introduced a lot of skippers to these fine yachts.
The starting point for the Oceanis 50 is a very slippery (as I found in light airs) canoe hull with a choice of either a deep 6-foot, 10-inch keel or shallow 5-foot, 9-inch keel and a dead-vertical spade rudder. At dockside, her butt looks big … sorry, I meant its aft sections seem full. But that doesn't seem to hinder the boat from greasing along nicely and, when I looked at the wake when we did get going later, we weren't dragging any water along with us. So les architectes obviously got it right.
The profile is pretty too, with just enough sheer to make it yachty while keeping the gunwales well above water. The house is long and low, marked by a large and swoopy dark window and several smaller ports. The mainsheet is on an arch that gets it out of the cockpit and makes a great place to attach a bimini. The problem that the arch solves is the cockpit extends so far forward that there is no place to put a traveler. That big cockpit, however, is brilliant. The ergonomics are just right for leaning back against the high coamings, the folding centerline table doesn't hinder movement, and it even has a non-slip surface so you can stand on it to reach
the boom.

The 50 has a small coal-scoop transom platform, nicely teak planked, that poses the same problem found on many boats: how to get into the cockpit? Beneteau created a hinged "drawbridge" that folds out of the way for easy access from the transom, but still provides a full width bench seat for the skipper behind the twin wheels. Whether you're swimming or boarding from tender or dock, there's no problem. And, perish the thought, if you took a big sea that filled the cockpit, it would free of water quickly.
Dual wheels, like these big leather-wrapped Goiots, also create a problem of where to put the navigation instruments so they are visible (and their buttons can be poked) from behind each wheel but, here again, Beneteau solved the problem with élan. Tucked under the after end of the cockpit table is an optional pod the size of a Raymarine E120 multifunction monitor that swivels easily to face the skipper on either side. Simple. The engine gauges are recessed on the vertical surface of the starboard helm console (which also has the throttle/shifter) at about ankle height.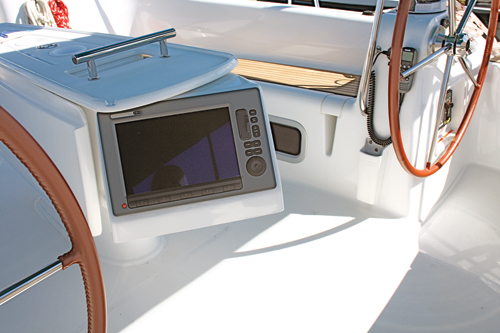 Our test boat, from Eastern Yacht Sales in Riviera Beach, Florida, had the optional teak cockpit sole and deck, which I think is both safer and far prettier than fiberglass nonskid. Atop the house was an army of line stoppers that are led on the port side to an optional electric Harken 46 and on the starboard side to a manual two-speed 46. A pair of self-tailing genoa sheet winches are well aft on the coaming, so the skipper could singlehand this 50.
Our test Oceanis had a Selden furling mast with Pryde main and furling jib, and a Selden rod-kicker vang that both supports the boom and holds it down. The standard mast is the furler, with an "I" measurement (genoa halyard to deck) of 53 feet, while the optional classic mast has an "I" of nearly 60 feet. Both have Spinlock turning blocks to lead the halyards and lines aft under the deck, which cleans the house and reduces tripping.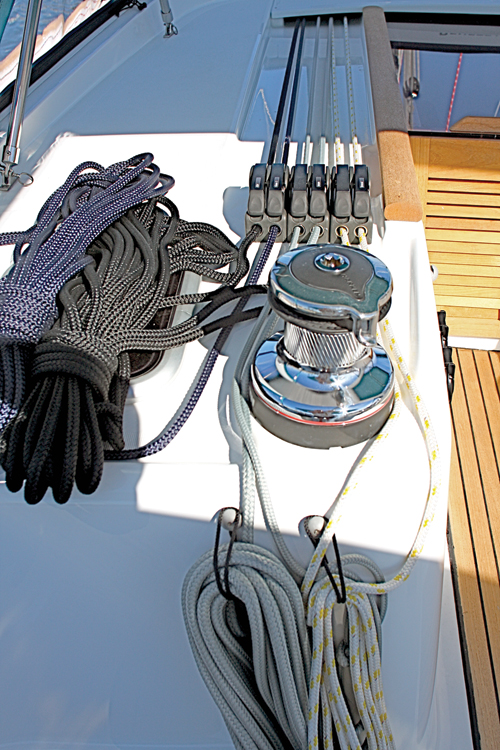 Forward is a vertical Lewmar anchor windlass with both gypsy and warping head, and the massive bow fitting incorporates twin rollers plus a chainplate for an asymmetric spinnaker.

Down below

Going below is safe and secure, with good handgrips and gently angled companionway stairs. Once there, you're surrounded by the serene beauty of a Paris penthouse, all warm woods and supple leathers. From the clean lines of the settee to the hidden spotlights in the overhead, well, I wouldn't have been surprised if Catherine Deneuve lived here.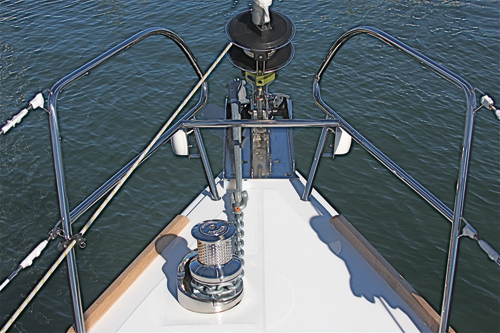 Immediately to port is the step-in galley, which has ample Corian counters for your croque monsieurs and all the usual amenities from the gimbaled three burner stove/oven to twin stainless sinks tucked under the companionway. I was impressed by the 3.7-cubic-foot, front-opening fridge and 2.8-cubic-foot, top-loading freezer. But the storage space won't overwhelm you, and the lower outboard lockers might be better drawers, since they're deep and hard to reach.
Opposite and just forward is a nav station with seat and chart table with fiddles to keep your pencils in place. Our test boat had a Raymarine C-90 in the cabinet next to the electrical panel, and there was chart storage under the lift-top table. The seat for the nav station wraps around into the saloon: perhaps it's a place to pull on your sea boots before going on deck.

The rest of the saloon is pleasantly conventional, with a U-shaped settee to port with folding table and two hassocks for added seating, and a settee with armrests to starboard. Headroom throughout is impressive at 6 feet, 7 inches, and adds immeasurably to the sense of openness.

Forward on our test 50 was the owner's cabin with an almost queen-sized lozenge-shaped berth atop a pedestal with a huge drawer. The cabin also has a desk/vanity, several lockers, and a half-height hanging locker. The en suite head is large, with a shower behind folding doors.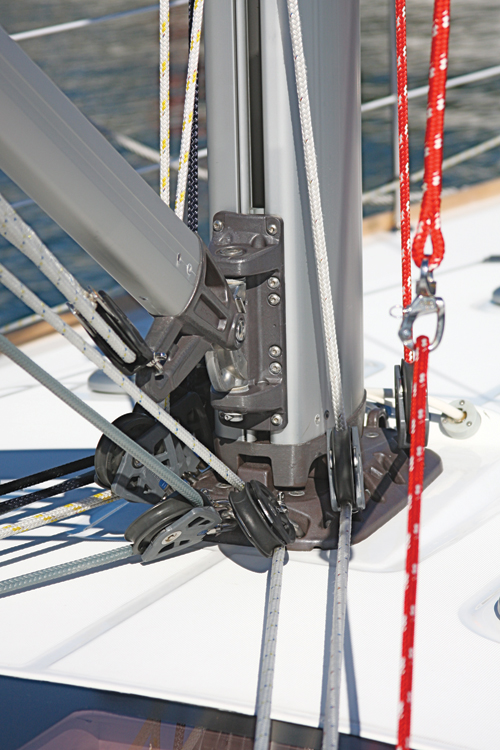 The aft cabin is equally large with another almost-queen berth angling from one corner. A vanity/desk is to port with seat, plus a couple of hanging lockers. There is private access to the day head, which is just forward to starboard, although you have to enter through the shower. This quirk, I suppose, is why it's the guest cabin rather than the master.
At this point, you need to know that Beneteau offers the Oceanis 50 with two interior arrangements for the U.S. market. Our test yacht was Version 1, which has just the two staterooms. Version 2 takes the after stateroom and splits it into two cabins, each with a larger berth but, obviously, less space.

That's why there is a second door into the galley on both versions. At first, I thought it was intended as a shortcut to the milk and Oreos but, on looking at the drawings, I realized that guests in the port cabin pass through the galley at bedtime. Leaving the door in the single cabin version seems a waste of space, and I'd walk a little farther for my bedtime snack to have instead a hanging locker or a full-height bureau with drawers.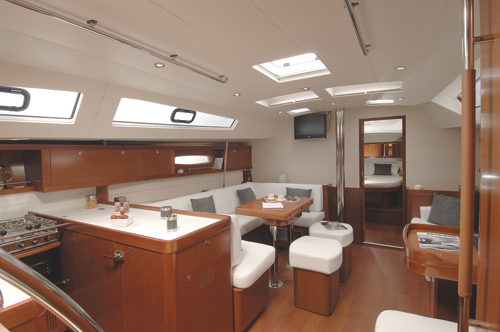 That said, the French offer two more versions that aren't being offered in the States for good reason. One divides both the fore and aft areas into four cabins, giving each a mini-head with a shower pan rather than a stall (this would be a fine charter boat). The second adds a fifth cabin to port with upper and lower bunks, giving the opportunity to sleep a total of 10 on a 50-footer, which is probably about six more than Americans could tolerate.

Power for the Oceanis 50 is a tried-and-true Yanmar 110-horsepower diesel that should last forever, since this is an easily-pushed hull that won't tax the engine. The power is transmitted through a three-bladed Max prop.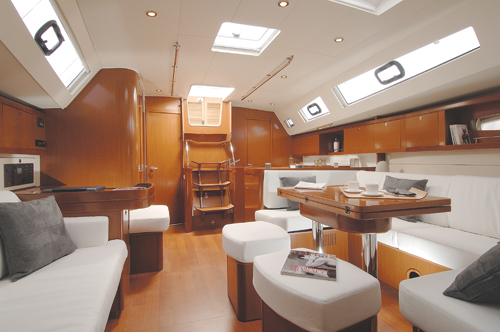 Access is acceptable, especially for the usual maintenance checks and the Racor filter, and I thought the engine was unusually quiet and vibration-free, although I didn't have a sound meter to confirm it. You're not going to be on a first-name basis with your fuel dock owner, either. This Yanmar just sips fuel and, at the sweet spot around 2,200 rpm and 7 knots, you're getting about two gallons per hour. With a rotomolded 62-gallon tank, well, don't expect Christmas cards from Texaco.

The Oceanis 50 is, at press time, the largest of the Beneteaus built at the Marion, South Carolina, factory and the company does a good job of it too.

There's no rocket science to the hull: it's well-proven solid fiberglass with a molded inner liner, and the deck and house are a glass-and-balsa sandwich. I liked the seamanlike way that all of the electrical wiring was bundled, secured and labeled, and the plumbing was to the same standards.

But wait, you say, what wood is the interior? It's Alpi. And before you make dog-food jokes, it's a pleasant mahogany-stained sorta wood. What's sorta wood? Well, it's sort of wood. The real name is Alpilignum and it's a reconstituted wood veneer.. And you thought only the gods made wood. It doesn't have flaws like real wood and that's the good news because, if you char a galley panel while flaming the crepes, you can replace the panel and match it perfectly.

All told, I loved the Beneteau Oceanis 50. It sails beautifully, is solidly and thoughtfully built, and finished to a high standard. There are a few uniquely French quirks but, hey, I don't like every glass of burgundy, either.

Take a close look at this one, and then start shopping for a beret.