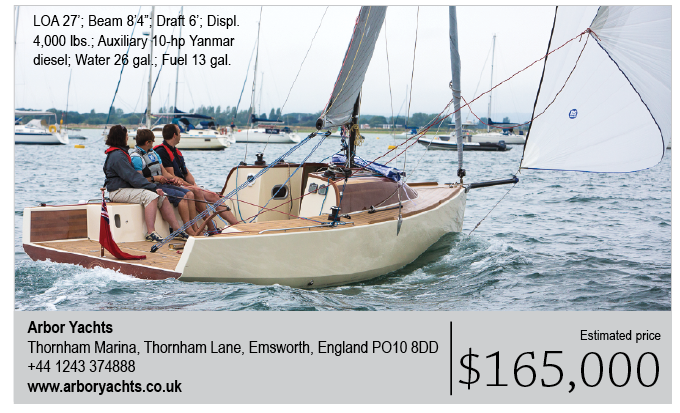 Appearances can be deceiving. From a distance the Arbor 26 looks like a modern, fast weekender with a nine-tenths fractional rig and the profile of an Open 60, but a closer look shows its inner beauty: The Arbor 26 has a finely crafted wood hull.
The 26 was built in the wake of Collective Spirit, the British sailboat formed from a patchwork of bits and pieces of donated wood memorabilia, from pencils to pianos.
Jesse Loynes, Collective Spirit's shipwright, founded Arbor Yachts with a specific vision.
"As Collective Spirit developed, we saw the potential of marrying a modern hull design and construction and the performance that brings, with a little of the style and elegance from my experience, to produce a yacht that is a pleasure to sail, to look at, and to own," Loynes said.
"We are building a yacht that you enjoy at every level of the experience. The design doesn't fit into the normal categories. Then we realized that perhaps it was simpler than that. She isn't a racing yacht, or a cruising yacht, a classic or modern, she is simply a sailing yacht."
Loynes, sailboat designer Simon Rodgers and Arbor Yachts' consultant Olympian Mark Covell didn't forsake sailing chops for aesthetics. The Arbor 26's SA/D is 27.35, which is well into the sporty range.
Designer Rodgers modeled the 26 after offshore sportboats, with a plumb bow, chine and wide, open transom. The Selden rig is carbon, with a fixed sprit that flies an asymmetrical chute or code zero. The jib tracks are set well inboard, right next to the cabintrunk.
Harken primary winches are mounted at the forward end of the cockpit, making for an extremely clean cockpit. There is a removable folding table for the cockpit and the engine controls for the 10-horsepower diesel inboard are mounted on the starboard side of the cockpit. Instrument displays are mounted on the cabintrunk. The traveler is recessed aft, and the tiller is mounted low in the center; there are no coamings and no backstay. The effect of this clear run aft from the companionway is pure simplicity.
That simplicity is carried belowdecks where narrow, striped planks of the cedar hull are exposed giving the four crew sleeping aboard a real treat for the eyes. There is one double berth and two singles, a head, stovetop and sink. There is a single, round hatch forward on the cabintop for light and fresh air. Sails are passed though the companionway.
Fresh air is a metaphor for the Arbor 26. Production boatbuilders work hard to combine performance and beauty, but that handcrafted combination in the Arbor 26 looks effortless.