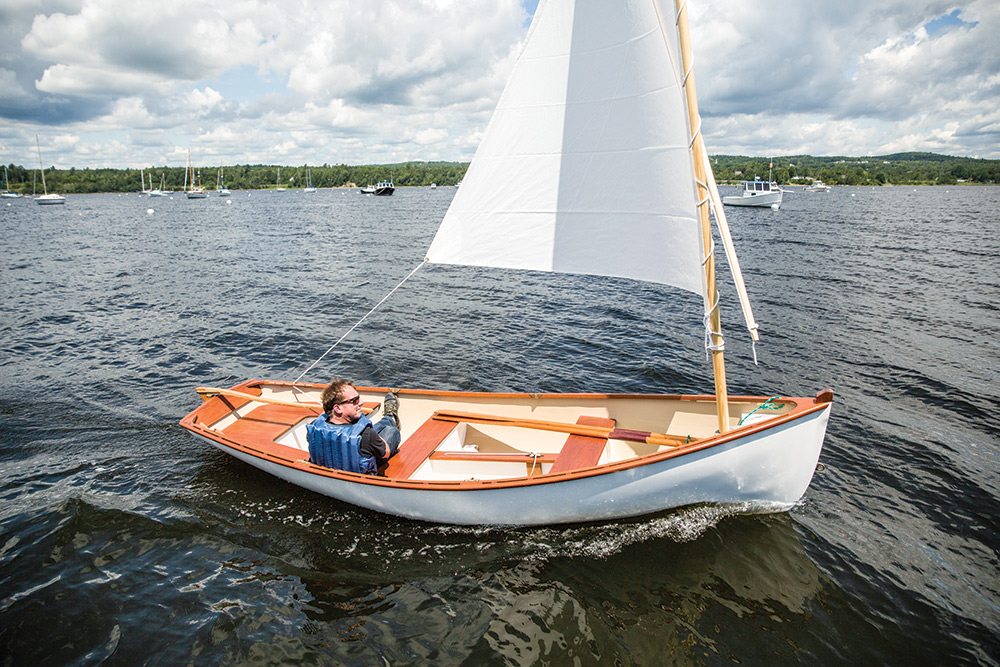 Maine is home to many artists whose inspiration is the sea and whose mediums of choice are teak, mahogany and fiberglass. This 14-foot beauty is, at first glance, a true child of Maine. The lines are curved and sexy. The hardware is custom built. The ropes are all three-strand, leading through bronze fittings and secured on handmade teak cleats. The woodwork trim is beautiful African mahogany and reflects the history of this fishing vessel.
But upon closer look, this is not a purebred vessel. Boatbuilder and designer David Roberts said the lineage of the Reach Boat is a traditional fishing vessel historically used on the inshore waters of Maine in all weather conditions. She is equally stable and efficient under oar or sail. The Reach Boat 14 is modeled after a 100-year-old hull stored by a small craft aficionado, but not seaworthy under any circumstances. Roberts used the derelict hull as a mold for his new design, keeping the lines and the history, but adding many new touches.
While originally launched for transporting fishermen and their catch safely, the current generation is an unsinkable pleasure craft. Constructed of fiberglass, the boat features a self-draining deck, making it safe to leave at a mooring with the plug out. While under sail, seats can be removed in order to stretch out on the deck. If the wind dies and rowing is the plan, put the thwart seats in for multiple rowing positions. The deck is clean, and built high enough to provide clearance and comfort. The space under the deck is foam-filled, allowing for the "unsinkable" adjective, as well as space for the centerboard trunk.
The barn-door rudder is shielded by the hull, and since the boat draws only 6 inches with the board up, it is ideal for gunkholing. The spars are hand made from local spruce and chafe points are protected with leather from a Maine tannery. The sprit sail design allows all spars to be stored within the length of the hull for easy transportation.
Launched this fall, the Reach Boat 14 sails, rows and plays well with others. A boat from another of Maine's many talented artists, and one that will turn many heads as well.
---
LOA 13'8"; Beam 4'3"; Draft 6" (board up) to 2'6" (board down); Displ. 235 lbs; Sail area 62 sq. ft.
Reach Boat 14
Gulf of Maine Boats
83 Cottage Street, Bangor, ME 04401
207-991-2774