Every summer schooners gather off the coast of Maine where sailors raise gaff topsails and fishermans and race a series of classic regattas that keeps maritime history alive
Schooners are like teachers, they never tell you all their secrets at once," said Steve Frary, owner and skipper of the 63-foot schooner Narwhal. "They want you to keep asking questions and experimenting, and over time they reveal what they like and what they don't like. If we get it right, they reward us handsomely."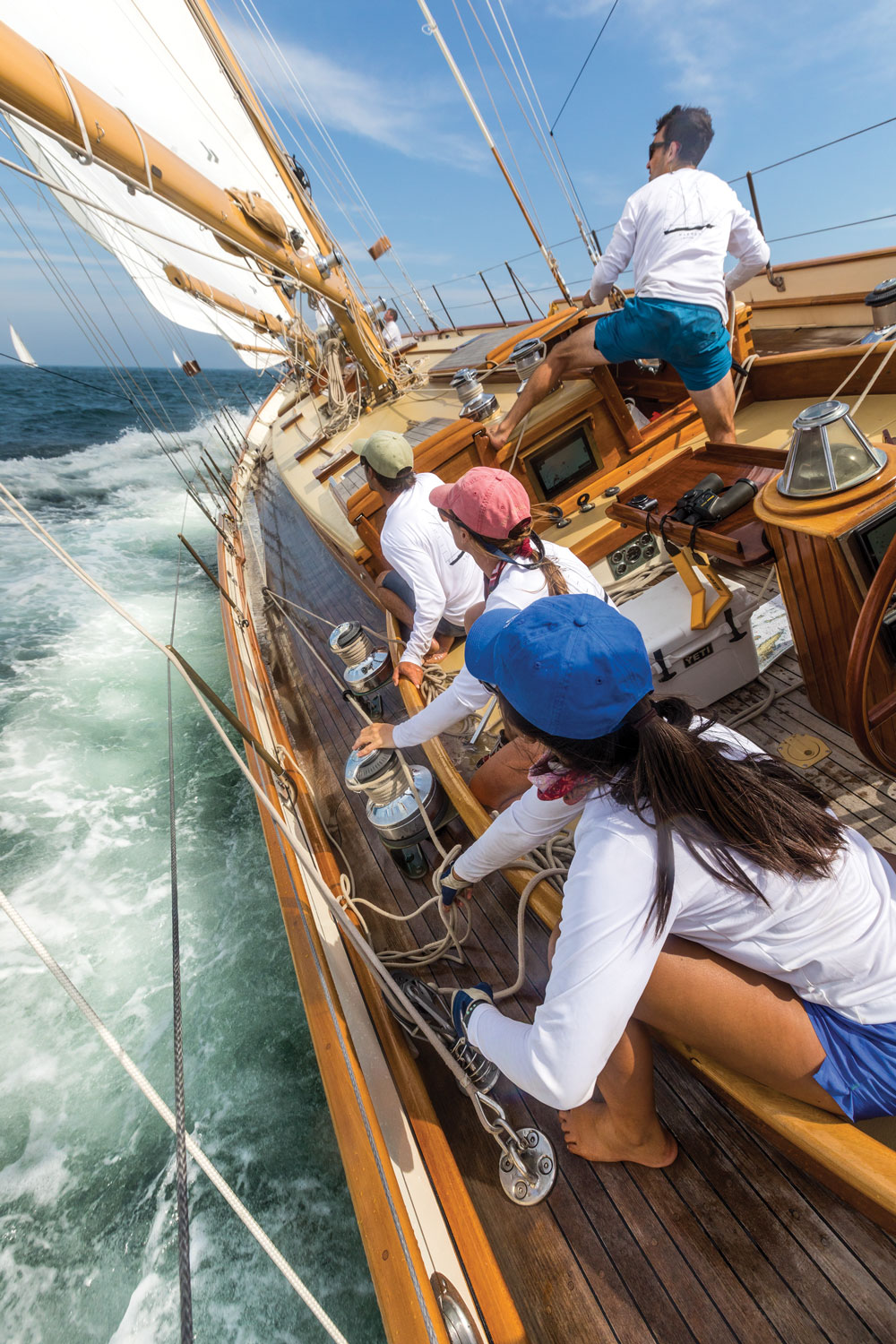 Every summer, classic yachts such as Narwhal flock to coastal Maine in late summer to compete in the Classic Yachts Challenge Series that includes the Camden Classics Cup, Castine Class Yacht Race, Camden to Brooklin Feeder Race and the Eggemoggin Reach Regatta. In July, the 48-year-old Boothbay Harbor Yacht Club Regatta added a schooner class to its classic yacht Shipyard Cup Challenge, creating more options for traditional competition. With input from the schooner owners and competitors, the race committee set a course that maximized the speed and performance for schooner rigs. This led to multiple lead changes and exciting mark roundings.
"It was a perfect schooner class for us, but it worked well for both the Marconi rigs like ours and the gaff rigs like Lion's Whelp. The ultimate competition is to pit these two types of rigs against each other and sail closely together," Frary said.
Over two days of racing, the regatta featured a building breeze into the high teens to low 20s with the schooner division on a race course set slightly off the wind. This proved ideal for both the gaff-rigged and staysail schooners. With the competitors on a level playing field, the emphasis was on boat speed, seamanship and maneuverability­­.
"We saw that Rebecca was carrying her fisherman to leeward of her foresail and the crew was able to set and strike the sail more quickly than we were because we were setting ours windward of the foresail," Frary said. "We were inspired to try their approach, and decided we preferred it and stuck with that plan for the rest of the regatta."
Narwhal flies seven sails, four lowers and three topsails. Frary said that raising and lowering the fisherman is the biggest job, but that the sail can add half a knot of boat speed or more. The fisherman is a classic sail which got its name from fishing schooners of the 19th century who would set the extra sail at the end of their fishing season to get their fish to market ahead of their competitors.
"With two jibs, a staysail, foresail, mainsail, main top and fisherman there are 10 halyards. I think we have the most sails and most complicated rig," Frary said. "She has plenty of sail area, and we need to remember not to overcanvas her. It's not unusual for her leeward decks to be awash, and the crew up to their knees looking for winches and cleats under the water."
Frary's wife Trisha and 15-year-old son Nathaniel were part of the boat's crew.