J-Boat quality and performance come through in this 33-foot daysailer
D
escribing a new boat typically requires an engineer's references to its length, beam, rigging, hull shape, overall construction and performance capabilities, but anyone who has helmed a J/100 for even a few minutes knows that the joy goes far beyond the numbers. Sailing this stripped-down sloop is just plain fun, the contagious kind that puts a smile on your face as you blow past other daysailers in the harbor and head for open water.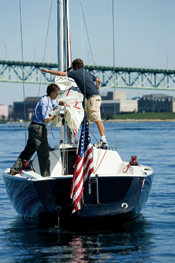 That's exactly what we did last fall in Newport Harbor, a 10-minute walk from J-Boats' headquarters along Thames Street in Rhode Island's sailing capital. Accompanied by Jim Johnstone, the company's production manager and director of sales, we boarded the latest J/100 off the assembly line at the Ida Lewis Yacht Club. With barely 6 knots of wind blowing across the mooring field, we cast off and set sail. Skeptics, myself included, would undoubtedly have rolled their eyes at the notion that this boat could pick up steam so quickly in such light air. But J-Boats didn't design this sleek creature for a nor'easter. It takes advantage of every available puff.
Tacking amid the crowded moorings proved effortless. Any sailor accustomed to sailing a bigger and perhaps less responsive boat immediately would recognize the J/100's ability to maneuver in tight quarters with little wind. A dinghy with two people aboard was sailing just off our bow as we steered toward the Newport Bridge and Narragansett Bay. Assuming there wasn't room to pass without colliding, I instinctively veered to starboard, basically aiming for the dinghy's stern, intending to cross its wake. Jim smirked at my politeness and suggested that I head up instead.
"Plenty of room," he said nonchalantly. "You'll go right past them."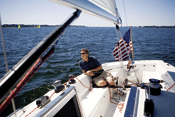 True enough, with the J/100 only a few points off the wind, we cleared the dinghy by a several feet and quickly gained speed upon falling off. The couple waved as we borrowed their wind, seemingly envious of our boat's ability to climb high and find every trace of breeze. Although the warm wind never built to more than 6 knots that day, it wasn't long before we were sailing in the shadow of Rose Island Lighthouse, a picturesque mix of stone and wood, the 1870 mansard structure topped by a tower and beacon. Commuter ferryboats zoomed past, leaving us in their powerful wakes, but the J/100 cockpit remained bone dry, something not every daysailer can manage.
Jim Johnstone is clearly happy aboard this one and prepared to answer questions concerning why J-Boats would build a 33-footer when the company already makes the popular 34-foot J/105. As he put it, "The J/100s really aren't for racing. Sure, you can use them as a weekend racer, have a few beers and go around the buoys, but that really isn't what the J/100 was designed for."
Rather, these boats are for people who have retired from their careers or are contemplating it. They want to stay active by sailing, but don't have the strength, energy or inclination to struggle with a big cruiser, or even a demanding racer.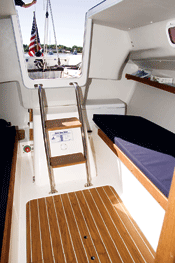 "Sailing the J/100 doesn't take a lot of effort," said Johnstone, sitting back and lightly pinching the tiller extension between two fingers. "It sails itself and it's all go-go even when only slightly off the wind."
The concept is catching on, considering the J/100 was launched less than a year ago and J-Boats has already sold 71, with hull No. 86 on order and scheduled for completion over the winter. In fact, J-Boats in counting on the J/100's success to propel its latest design, the 40-foot J/124, scheduled for launch before Christmas 2005.
As production manager, Johnstone carries a palm-sized personal computer that allows him to track the progress of every boat on the company's assembly line, in three facilities across the globe. His high-tech mobile database also unveils facts such as the average customer purchasing a J/100 is 60 years old with a six-figure income and an adventurous lifestyle.
"Maybe some of these people aren't as physically strong as they used to be, but with the J/100, you don't have to be," he said, noting that the youngest buyer was 39 and not nearing retirement.
What makes the J/100 so easy to sail has a lot to do with the pair of Harken two-speed winches mounted on the cabintop, two more self-tailing winches affixed to the cockpit coaming, a Harken traveler track recessed in the cockpit seats, and an optional, self-tacking jib.
Although the J/100 can be traditionally rigged with foresail sheets running aft to winches on either side of the cockpit, it can also be fitted out with a removable Hoyt self-tacking jib boom system. If that's the case, passengers need not move around the cockpit when tacking. Besides, the self-tacking system is what makes solo sailing a J/100 so inviting, but it can be removed for racing in about 10 minutes.
J-Boats also offers the option of installing a full-width Thurston dodger for protection against the elements, though it gives this handsome boat a somewhat ungainly appearance. Nonetheless, a dodger would be welcome on cold, blustery days, keeping out the spray and allowing sailors to extend their season afloat. On the boat we sailed, hull No. 33, the dark blue hull, plumb bow and sleek sheer were made to look even more racy with the absence of lifelines or bow pulpit.
For those sailors hoping to tweak the sails for highest performance, there's also the Sailtech hydraulic backstay lever and the optional code zero roller furler with large, genoa-like headsail. A traveler and boom vang help tame the main. The boat can be rigged to fly an asymmetrical spinnaker attached to the stem.
Down below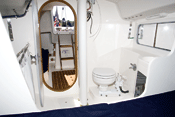 It's obvious the J/100 was designed more for sailing than weekend cruising, judging by its simple interior. There isn't much belowdecks and spartan may be an understatement. The cabin features two full-sized settee berths, access to the two-cylinder 15-horsepower saildrive Yanmar diesel, and a portable cooler-a white, plastic, hinged chest like one you'd buy in a hardware store. The first 10 boats off the assembly line had 10-horsepower Volvo engines, but according to J-Boats President Jeff Johnstone, that specification changed once Yanmar released its more powerful model.
The engine compartment beneath the companionway is sound-proofed and fitted with access panels that can be detached for checking fluid levels and changing filters or belts. The marine head and sink, located just forward of the main cabin and reached via a passageway with pleasantly-rounded teak framework, provide some comfort and privacy. A foredeck hatch provides ventilation. A florescent light illuminates the head, an incandescent fixture lights the cabin, and two swivel halogens make it easier to read in the dark. J-Boats will install a forward V-berth if requested.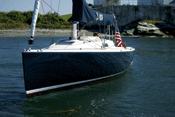 However, as the company literature points out, the J/100 "is perfect for inviting friends and family for a social evening sail without having to house everyone overnight." In other words, there's no stove so dinner will be sandwiches, and few bunks, so plan to head home once the mainsail is flaked.
"This boat is made more for sailing than for sleeping," Johnstone said. "And while it's relatively quick, it isn't a speed demon. It's designed for exciting daysailing, and it's a dry boat, unlike some of the other new daysailers out there."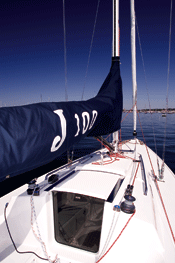 According to Johnstone, slightly larger daysailers with more built-in amenities are perhaps better suited for poking around rocky coves, but the J/100 is distinctly a get-up-and-go boat meant for capturing every bit of wind and skimming across the water.
It's the kind of boat that can travel 15 to 20 miles and still get home by dinner, he said, adding that the Yanmar saildrive is quieter than a sewing machine yet strong enough to push the boat along at 6.5 knots if needed.
On deck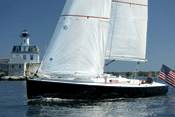 Above deck, there's plenty to admire, starting with the roomy, self-bailing cockpit that can easily accommodate eight, the coamings just high enough to provide adequate angled back support. The cockpit is just less than 10 feet long so there's plenty of legroom. The helmsman has a clear view over the cabin and a comfortable seat near the tiller, and with the tiller extension attached, there's seldom need to move about unless tacking. The VHF radio, remote hydraulic backstay adjust, jib primary winches and mainsheet system are all within easy reach of the helm. Spinlock rope clutches and Harken cam cleats mounted atop the cabin keep lines orderly and under control. The cockpit equipment also includes a Henderson bilge pump and an emergency tiller. Installation of sailing electronics like wind, speed and depth gauges is the owner's decision, the matter handled at the dealer level.
The J/100 boasts a tapered carbon fiber mast, Hall aluminum boom, Navtec rod rigging, low-stretch sheets and halyards, while below the surface there's a high-aspect spade rudder, lead keel with bulb for stability, and a folding propeller to reduce drag. The transom has been closed off for sleeping safety, according to J-Boats. A drop-down swim ladder molded into the stern makes it easy to get back aboard, a feature seldom found on day boats.
Sailcloth on the J/100 can vary widely, depending on personal preferences, where the boat will be sailed and how it will be primarily used. That, too, is a post-production decision.
All deck hardware-chocks, cleats, chainplates and padeyes-is stainless steel. The boat is a little shy on grabrails, and those aboard are somewhat of a reach from the cockpit for anyone going forward in a bouncing sea.
The details
The hull is built with patented SCRIMP resin-infusion composite construction, a method which purportedly creates a fiberglass laminate twice as strong as one made through ordinary hand lay-up. The SCRIMP process removes the air in cored laminate construction and eliminates secondary bonds between layers of fiberglass.


On the numbers side, the J/100 is 32.8 feet in length overall, 29 feet at the water line. The beam is 9.25 feet, the standard draft 5.75 feet, with a shoal keel option reducing the latter to 4.15 feet. The boat displaces 6,500 pounds, or three and a quarter tons. The sails, when 100 percent unfurled, cover 478 square feet.
Under sail
But these cold facts can't fully describe what it feels like when this boat finds its happy spot. There's a slight tug, not unlike the kind you might experience when catching a brook trout, and then you know you're in the groove, the sails trimmed, the hull slicing across the bay, and nothing but two fingers on the tiller extension where the pressure is barely noticeable. And that's why the J/100 has been generating such excitement at the docks. It's just the sort of vessel sailors have come to expect from J-Boats.

Jim knows all about that excitement. Johnstone family lore is filled with it, dating back to the heady days of the mid-1970s when Rod Johnstone built the first J/24 in his garage in Stonington, Connecticut.

"Think about it. Here were all these young guys designing and putting together this new kind of boat in a garage, and nobody wanted to build it," Jim said. "They finally convinced Everett Pearson to do it."

The 24-footer, Ragtime, had made an impressive showing in regional races in 1976. After that, with designer/builder Pearson on board and agreeing to produce the boat in return for the U.S. building rights, Rod went into the J-Boats business with his brother, Bob.

The initial batch of J/24s began popping out of a makeshift factory in an old textile mill in nearby Fall River, Massachusetts, and a legend was born. The J/24 went on to become the most popular recreational offshore keelboat in the world.

Johnstone pulled out his palm-sized computer again, fingered the small keyboard and announced that J-Boats has now sold more than 5,300 J/24s, and more are on the way. The spreadsheet told the story, even showing a slight hold-up in production of the latest J/100s due to a quality-control issue.

"Some of the floorboards weren't finished properly, so instead of sending the boats out that way, we slowed down the line to make them right," he said. "It'll cause about a two-week delay, but we want these boats to be perfect. Some of the customers are anxious to take delivery, but in the long run, it's better that everything is right from the start."

It's this sort of attention to detail that has made the name J-Boats synonymous with quality, and the J/100 is the
latest example.