Fast features and a flexible interior combine to make this a true
crossover boat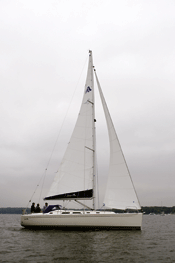 The Hanse 400 is something of a throwback. Don't misunderstand me; this sleek new design from Judel/Volijk & Co. is thoroughly modern, from its efficient fractional rig to innovative epoxy construction and flexible interior arrangement plans. With its reverse sheer, long waterline and low-profile cabintop the Hanse 400 has "today" stamped all over it. (It's a look I like.) So why is it a throwback? Like many top-quality production boats from the 1970s and 1980s, the Hanse 400 refuses to be easily classified. It's not a dedicated bluewater cruiser and it's not a flat-out racer. It is, however, a lot of both. The marketing team at Hanse Yachts calls it the crossover concept, a fast boat with a terrific interior. In the old days we called it a racer-cruiser. Pardon the cliché but the more things change, the more they stay the same. When it comes to sailing that's not a bad thing.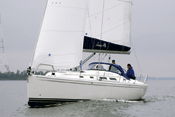 Hanse Yachts has quietly established a presence in the American marketplace. Strolling the docks of major boat shows I am always intrigued to inspect the latest model from this progressive German builder. Hanse's first boat was a 29-footer introduced in 1993. This model, originally built in Sweden as the Aphrodite 291, established Hanse's reputation for melding quality and affordability. The company's next project was converting the former Finngulf 33 into the Hanse 331. The Hanse factory, a former wooden boatyard, is located on the Baltic coast at Greifswald where boats have been built since 1361. Today Hanse builds six original and highly innovative designs ranging from 31 feet to 53 feet.

I recently sailed the new Hanse 400 on a cool day on the Chesapeake Bay. The conditions were light to moderate, a typical bay day with winds fluctuating between 8 and 15 knots. I hopped from the photo boat onto the wide swim step and introduced myself. Within seconds, the self-tacking jib was unfurled, the main trimmed and we were off and sailing on a lively close reach.
The details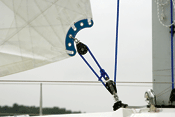 The hull of the Hanse 400 is laminated with epoxy resins and vacuum bagged to keep the resin-to-glass ratio low. The clever sandwich construction features foam coring below the waterline and balsa coring above. Although most Hanse 400s will be sailed as performance cruisers, close attention is paid to paring weight. The use of epoxy typically results in a 10- to 12-percent weight savings over traditional fiberglass laminating techniques. A grid of floors and stringers stiffens the hull and provides support for the lead ballast that includes a cast iron keel shaft. Two keel options are offered, the standard, rather narrow-chord fin with a draft of 6 feet, 5 inches or a shoal model with a 5 foot, 4 inch draft.

Hanse is unique among production builders in that it allows owners to virtually custom design the interiors of their boats. The new 400 has 18, that's right, 18 interior variations. Hanse has developed computer operated jigs in a sophisticated wood shop that facilitate this kind of customization. This kind of fresh thinking no doubt attributed to the Hanse 400 being named the European Boat of the Year in the class for boats up to 12 meters.
On deck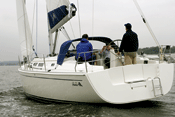 Back on the bay, I made my way behind the pedestal and took the leather-covered wheel. The 400 responded to small course changes immediately and accelerated smartly. The rod link steering system is not only highly reliable, it takes a lot of the slop out of the helm. The rudder features an aluminum shaft. This is another example of Hanse engineers looking at ways to save weight. A little here, a little there, but it all adds up to better performance. I confess, I prefer harder stainless steel when it comes to rudderstocks. However, self-aligning needle bearings keep the rudder true, limiting potential wear and tear and more and more builders are employing aluminum alloys for rudder stocks.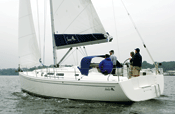 The visibility from the helm was excellent. Indeed, the overall cockpit design is very well thought out. All control lines are led aft under fiberglass covers, keeping the deck clean and uncluttered. While midboom sheeting, with the traveler forward of the companionway, is standard, a clever cockpit mainsheet arrangement for racing is optional. This is a good way to hush critics of midboom sheeting like me. Harken winches and hardware are standard. There's a large locker to starboard, but this depends on the interior selected. The opening transom makes for easy access to the swim step, which includes a hot and cold water deck shower.

Wide side decks and well-placed stainless steel handrails made it easy to work my way forward. There is a good-sized external chain locker but if you intend to use the 400 for serious cruising you'll need to beef up the anchoring arrangement. I like the integrated fitting forward for housing the whisker pole and the amidships cleats for spring lines. The standard deck equipment is top quality.

The 9/10 rig includes a double spreader, deck-stepped spar with an air draft of 64 feet. Technically the 400 will slip under the 65-foot fixed bridges on the Intracoastal Waterway, but you'll need nerves of steel and some flexible antennas. An efficient single-line mainsail reefing system led to the cockpit is standard as is a rod kicker. The working jib led to a forward traveler is completely self-tacking. The headsail lead tracks are well inboard and we were able to drive the 400 well inside of 40 degrees apparent without stalling. A 140-percent North Sails genoa and a gennaker are options but highly recommended. The rig has room for plenty of adjustment, and the split backstay features a six-part adjuster led to port. Harken roller furling gear is standard.
Down below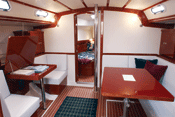 You'll either be completely enchanted by the interior styling of the Hanse 400 or it will catch you off guard and take some getting used to. I like it. No, make that, I really like it. It's clean, practical, bright, well executed and very original. It's an alluring blend of Scandinavian simplicity and German practicality, and it works. The trim wood is beautifully finished in light silk cherry or the standard classic mahogany. Bulkheads are white laminates, creating a sense of space and light. The concern for weight applies to the interior as well. Doors are foam-filled sandwich construction and the cabin sole is synthetic. As mentioned earlier, there are many different arrangements to choose from but a few basics are included in all the plans.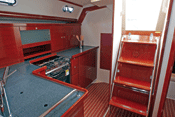 Once you drop below the galley is to starboard. It features a long counter aft and forward facing double stainless sinks with lockers below. The plumbing fixtures are elegant and simple, like you'd find in a Berlin apartment. A two-burner stove is located outboard. The 12-volt fridge, with access from both the top and front, is standard. The dark laminate counter tops are trimmed with handsome fiddles and a practical stainless handrail. The main head is opposite the galley and includes a large shower stall.

A couple of different arrangements are available in the saloon. Most 400s include a U-shaped settee draped around a dining table to starboard. To port, you can opt for a settee, seats with a fold-out table between or swivel seats. There are modular style lockers with shelves between. The nav station, or office desk, is usually located in the forward cabin. And speaking of cabins, there are several different options. Our test boat was fitted with a single aft cabin to port, tucked under the cockpit and a huge storage/work area to starboard. This is an ideal arrangement for cruising. Twin aft cabins are also possible, a combination best suited for chartering. In either case, the aft cabins include a hanging locker, a double berth and decent storage.

The forward cabin may or may not include an en suite head. I'd opt against it and go for the additional legroom instead. Do you really need two heads in a 40-foot boat? The double berth can be either a traditional V-berth style or an offset Pullman. You can choose between two hanging lockers or one locker and a lovely curved writing desk that, as mentioned above, doubles as the nav station. Considering I don't have enough hang-up clothes to fill one locker this choice is a no-brainer for me. There are shelves above the bunk and storage below.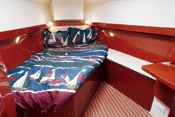 Ventilation is adequate with several opening portlights and a couple of overhead hatches. The systems are well engineered and, for the most part, easily accessed. The electrical panel includes gauges for both fuel and water. Two 70-amp-hour batteries are standard and would need to be upgraded if you planned to spend much time aboard. Tanks are stainless steel, but they're not very big. Total water capacity is 300 liters, or about 80 gallons, while the fuel is just half of that.

A Yanmar 3JH4, 40-horsepower diesel with a saildrive and two-blade prop is standard. The engine is accessible from behind the companionway steps and through panels in the aft cabin. The engine room is well insulated and during our trials I was impressed by the lack of noise below. These new Yanmars are wonderfully efficient, and combined with the 400's easily driven hull shape this translates into excellent fuel efficiency. The engine didn't have to work very hard to push the 400 along at more than 6 knots.
Under sail
The fickle winds sprang to life and we took advantage to fall off onto a reach. Even with the small headsail the performance was impressive. We clipped along at 5.5 to 6 knots on a deep reach and immediately sped up when we brought the wind forward a bit. Sail handling is a snap, and it won't be difficult for a reasonably experienced sailor to singlehand the 400 under most conditions, especially if an autopilot is fitted. The ability to singlehand a boat means that the designers nailed the proportions just right. We executed a few quick jibes before hauling the sheets in for a few tacks. The 400 came through the wind efficiently, pivoting on its fin in a snap. The acceleration was impressive, especially considering that a fleet of obnoxious powerboats had raised a decent chop.

With a base price less than $200,000 it's clear that the new 400 model continues Hanse's tradition of combining innovation and quality in an affordable package. I look forward to seeing more Hanse models at next year's round of boat shows.