The Gunboat line of multihulls offers just about anything a person could want in a multihull: speed, good looks, a comfortable, spacious interior. If there was one drawback to previous models, it was that they were too large for most owners to handle without a crew.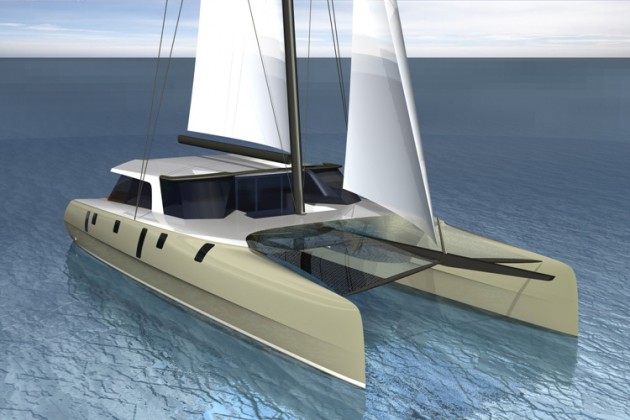 Enter the Gunboat 60, a boat that's big enough to be comfortable and offer great performance, but small enough to sailed without a crew. It has the benefit of following in the footsteps of previous, larger Gunboats and encompasses all of the tweaking you might expect.

The interior spaces are comfortable and quite nice, but not over-top-luxurious. Of course the boat has a large saloon and cockpit partially covered by the coachroof. Two large tables offer plenty of space for dining or entertaining. Four cabins offer adequate space, although some bunks are mounted quite high and require the use of built-in steps to climb into bed.

But as nice as it may be, you don't buy a Gunboat for the interior. You buy it for the performance and the 60 promises plenty of that. Vacuum-bagged composite construction with an epoxy foam core with carbon fiber skins along with additional laminate for impact resistance makes for a strong, stiff hull with a loaded displacement of 33,060 pounds.

A square-top mainsail anchors the 2,239 square feet of upwind sail area (that number jumps to more than 5,000 square feet of sail area in downwind mode) and a forward working cockpit allows for convenient sail handling. Teak decks are standard along with solar panels and multiple autopilots.

Even though you can sail this boat without a big crew, owners will likely be so anxious to show her off that there will be plenty of hands on board.
---
Gunboat 60
LOA 60'; LWL 59'9"; Beam 28'3"; Draft 9'2" (board down), 2'8" (board up); Mast Clearance 85'5"; Displ. 33,060 (max load); Sail Area 2,239 sq. ft.; Auxiliary Volvo Penta 55-hp; Fuel 200 gal.;
Water 200 gal.
Gunboat
P.O. Box 240
Newport, RI 02840
(401) 662-0204
www.gunboat.com