Surrounded by plains, one sailor finds serenity in Lake Oahe
To the east of the Missouri River in central South Dakota, corn stalks rustle and golden wheat fields shimmer in the midsummer heat. A weathered, abandoned homestead seems to visibly continue its collapse next to a row of modern metal silos, standing like soldiers with bright cone hats.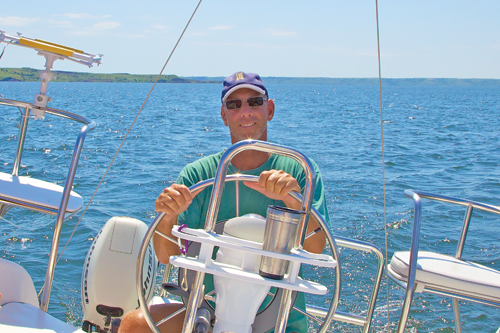 A lone combine kicks up a cloud of dust. To the west, several arid, flat-topped buttes call attention to the distant, unglaciated West River plateau, and a frantic prairie chicken darts across the two-lane road.

None of this seems out of place. It is, after all, the Great Plains. This is where east meets west-where farm country meets ranch country, and where the promised land of the pioneers meets the ancestral land of the Lakota.

Then a truck roars past, pulling a center-console fishing boat. Another sits at a rural intersection, towing a glittery bass boat. You notice the road signs, each extolling the pleasures of nearby resorts and rental cabins. And you spot one pointing the way to a marina.

These things seem more out of place. But if you follow the signs to Spring Creek Resort & Deep Water Marina, in less than two miles you'll find yourself standing on the shores of Lake Oahe-a sparkling Missouri River gem that stretches 231 miles north from Pierre, South Dakota, to Bismarck, North Dakota. And this is, in fact, big water.
Named for the 1874 Oahe Indian Mission and filled behind the earthen Oahe Dam in the 1940s and '50s, Lake Oahe is the fourth-largest reservoir in the United States. It has a 2,250-mile shoreline, 51 recreation areas and 1.5 million yearly visitors. And for more than two decades, it has been the chosen cruising ground of longtime sailor Scott Shephard.

Shephard, who was born in Sioux Falls and grew up in eastern South Dakota, became enthralled with sailing after reading Richard Henry Dana Jr.'s Two Years Before the Mast at age 15.

"I went to the library and checked out all the books on sailing," he said. "Then my interest waned until I was 24 years old, standing at the 17th tee on a Watertown golf course. I saw a sailboat for sale.

"This is why my wife has been, ahem, challenged to live with me," he continued, grinning broadly. "I hadn't thought about sailing since 9th grade, but then I bought this 16-foot Chrysler Buccaneer."

Shephard sailed the boat on a Watertown-area lake, teaching himself how to handle her and learning from his mistakes. Then, one winter, he traveled to Minnesota for the Minneapolis Boat Show. An Omaha, Nebraska-based boat dealership followed up with him about a month later.

"It was about a 19-foot Star Wind, and two weeks later, I owned Ariel," he said. Shaking his head, he added, "It was February, it was cold, the snow was falling. It was the most ridiculous thing I've ever done. But my sailing has always been a bit serendipitous. The boats always came to me."

That includes his current boat. Three seasons ago, Shephard attended a conference in Rapid City, South Dakota, and came across a wing-keel Catalina 250 named Wandering Star.

The cruising ground that would hold his heart for so many years also emerged by happy accident. In the early days of sailing the 19-foot Ariel, a friend told him he needed to try Lake Oahe.

"All I'd ever heard about the lake is what a dangerous place it is," Shephard commented. "I'd heard about wicked storms."

Indeed. Not only can stiff prevailing winds cause problems at unprotected docks and in exposed anchorages, summer storms frequently blow up without warning in the west and roar unimpeded across miles of treeless prairie. Microbursts, sizable hail and lightning strikes are all realistic hazards, and there's enough fetch to produce sizable rollers.

But then there are the benefits. At full pool, Lake Oahe is up to 150 feet deep in places and has few navigational hazards. Just feet from shore, you'll still find yourself with plenty of water under the keel or centerboard, and the muddy bottom will be forgiving in the event of a mishap.

Spring Creek Resort & Deep Water Marina has a well-protected launch ramp with two docks, short-term slips for transients, lakeside cabins for rent, a restaurant and lounge, a convenience store and, for anglers, a fish-cleaning station. If you decide to launch elsewhere, however, you'll have plenty of spots from which to choose. Boat ramps are scattered along thousands of miles of lakeshore, and the U.S. Army Corps of Engineers maintains them well.

You can sail upriver for days, with myriad coves and inlets to explore. If you have a centerboard or swing-keel boat, nose her onto the beach and climb the lakeside bluffs, which provide views that Louis and Clark would recognize. In West River, you can set foot on the wildly beautiful Cheyenne River and Standing Rock reservations; you may even pay your respects to the legendary Lakota chief Sitting Bull at his monument near Mobridge. For Shephard, Lake Oahe's water clarity clinched it.

"I saw my feet on the end of my legs, and I couldn't do that on my lake," he recalled, chuckling. "I thought, what a special place."

Shephard sailed Ariel on Lake Oahe for 20 years, primarily on his own. For that reason, he said he's also a somewhat conservative sailor.

"All the years I've been sailing out here, my range has been about 15 miles," he acknowledged. "I'm still not really comfortable anchoring with serious wind and storms. Twice I've been on the boat in bad weather-once with 70 mph winds. The next morning, the dock was detached from shore, and a fishing boat was on the beach."
To Shephard, though, logging miles and checking off destinations aren't what's important. The experience is.

"I'm kind of an oddity out here," he said. "People don't usually see sailors singlehanding a boat like mine. They don't wonder how I do it, but why. For some, it's unsettling. They'll ask, 'Where are you going?' It doesn't matter … I'm just going."

Shephard was occasionally joined by his two sons, the younger of whom now has a captain's license and works for a Seattle-based adventure cruise company. He said they enjoyed sailing, but his wife didn't particularly enjoy the 19-foot Ariel.

"With Ariel, she sailed maybe twice," he explained. "The sailing wasn't so bad, but there wasn't a lot of space. She does like this boat, and that's changed our sailing relationship."

The couple has enjoyed their summer weekends aboard Wandering Star, particularly on those scorching Dakota days where the mercury soars into the 90s, even to 100 degrees. Shephard said the water keeps them cool during the day, and at night, there's enough air moving to sleep aboard comfortably.

"I don't mind the heat, though," he said, reflecting on the Great Plains' long, snowy and bitterly cold winter months. "All winter, I think about the first day I get on the boat, the first hot day. There's greater appreciation if you don't have it all the time."

Shephard also has been enjoying Spring Creek, which he said he didn't expect.

"I wasn't looking for a marina experience," he said wryly. "Sailing is a solo experience for me, not a social one. But with the new boat, I realized I didn't want to be putting up the mast and launching every time I went sailing. So I called Spring Creek, and from the first minute, this has been a great place to be. People aren't pretentious about who they are or what boat they have."

Along with sailing, Shephard has enthusiastically pursued another passion on Lake Oahe: photography. In fact, this year he will teach photography and media at the Lake Area Technical Institute in Watertown. He reflected on the enormity of this sea change, after 30 years of teaching high-school English, philosophy and history in the local high school.

"I'm self-taught in photography as well, and with this 're-careering,' I do wake up with a little fear," he admitted. "But a little fear isn't a bad thing."

Although he has traveled to a variety of places over the years, including Mexico, Croatia and Slovenia, and plans to pursue his bluewater cruising certification next year in Newport, California, Shephard said he still chooses to live and sail in South Dakota.

"For me, it's about the water, the sun, the smell of sweet clover, the birdsong," he said, gazing across the lake's sparkling surface. "This is a spiritual place. There's an emptiness here that's really pure."