Sister sailors love the challenge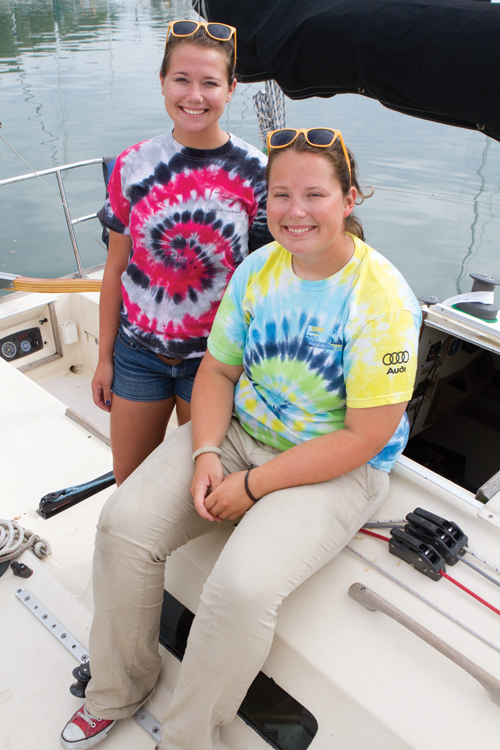 The J/30 is sailing on the final downwind leg of the last race of the season in the hotly contested women's series and although the boat is not in contention for the season championship because of missed races, it's looking pretty good in this race. It's not easy sailing: a leftover lumpy sea and a dying breeze require a good deal of concentration and it would be great if the boat could make it to the finish without having to jibe.

The crew is in full race mode, constantly looking over the transom to see how the competition is doing. And then, a question pierces the concentration.
"Who is your chemistry teacher this year?"

So goes life sailing on a boat sailed by teenage girls from 14 to 18 years old. Other quirks to expect: a constant supply of Tootsie pops, a cornucopia of snack foods and sodas that appears in the cockpit as the race committee's finish horn quiets, and a fair amount of gossip. And one other thing: a whole lot of great sailing.

The leaders on Rafiki are a pair of sisters younger than most of the sails on their boat. Whitney Kent, 18, is a freshman at the University of Wisconsin-Milwaukee and Alison Kent, 17, is a high school senior. Both started sailing Rafiki two years ago after their stepfather Eric Jones, a yacht broker, found the J/30 languishing in a boatyard.

Since then the pair have been the core of a crew of teenage friends on Monday nights, and a crew made up of other family members and good friends for other series, and even a crew of their own. This summer the two sailed the Queen's Cup, a nighttime race across Lake Michigan, doublehanded, something their parents didn't allow until after a thorough quiz of what they would do in various scenarios, their mother Cheri Kent said.

The race was one of the fastest on record, with big seas and fluctuating winds, challenging even for the fully crewed boats.

"We took turns sort of dozing in the cockpit while the other person steered," said Alison, affectionately known as Gator. "Our arms were so tired."
Whitney said she likes the doublehanded sailing challenge.

"It's really fun when it's just the two of us," she said. "It's certainly harder, but I think it's more rewarding. It's fun to try to do everything on the boat."

Rafiki finished in ninth place in the doublehanded division, but the boat has its fair share of brag flags, all won with Whitney at the helm and Alison on the bow. On weekends and Wednesdays, Jones serves as tactician and their mother Cheri trims sails.

And the family sailing connection doesn't stop there. The girls get plenty of inspiration from their father, Tim Kent, who sailed in the 2002-2003 Around Alone race. His daughters said they have fond memories of meeting him at stopovers around the world.

"When you're a parent and your kids are young, you try to do things to inspire them," Tim said. "That's one of the reasons I did the Around Alone: to prove to them they could do anything they wanted. Now the tables are turning and they are the inspiration."

Cheri, who sails most Monday nights with the girls and two years ago sailed the family's C&C 41 in the Queen's Cup with just her daughters, said sailing is second nature to Whitney and Alison. Family photos from the time the two were babies bring back fond memories of bathing them in buckets on the foredeck and matching Barbie life jackets.
"I always thought we might lose them to soccer at some point, but the best thing ever is that we all still sail together as a family," she said. "Watching their progression as sailors has been super cool and as a mom I'm very proud."

One of the benefits of growing up in a sailing family is that the friends the girls have grown up with, both on land and water, are now fellow sailors. Among the Monday night crew on Rafiki are sisters Kate, 17, and Elizabeth Hayes, 14. A treasured photograph of the four girls taken more than a decade ago at a yacht club party is a reminder of the bond their shared love of the sport has fostered.

Not only do the Kent girls, who also teach sailing and sail dinghies, do well on the race course, they are also respected by their fellow competitors. Last year Rafiki was named Corinthian Yacht of the Year at Milwaukee's South Shore Yacht Club, and Whitney received the Sportsmanship Trophy.

In September the Kent and Hayes sisters sailed in the J/30 National Championship in Annapolis, Maryland, with a crew filled out by class Co-president Dave Erwin, five-time J/30 national champion Scott Tonguis and two others. Whitney served as helmsman and skipper, Alison as bow person and Kate and Elizabeth as trimmers. Erwin and Tonguis, who had only heard about the Rafiki team but had never met the girls, wanted to give the girls the opportunity to sail at the class's biggest event.

The team, sailing a borrowed boat renamed Rafiki for the event, kicked off the regatta with a win in the first race, and after a couple of challenging days, finished fifth in the regatta.

The national championship was just one more experience chalked up in the lives of the Kent girls, who have already packed in a lifetime of sailing. Whitney sailed her eighth Chicago to Mackinac race this summer with the new owners of a boat sold by the family shortly before they acquired Rafiki. And while she enjoyed sailing with a new group of people, Whitney and her sister agree there's something special about sailing with family.

Of course, that can be a double-edged sword, they said.

"You go through moments when you love each other and moments when you can't stand each other," Whitney said. "We work pretty well together most of the time, but it's also easier to snap at each other because, well, we're related."

And indeed it's obvious that most tasks on Rafiki are handled with aplomb and a certain amount of mental telepathy amongst the sisters. Whitney, a calm presence in the cockpit (who on the final night of sailing handed the helm over to regular crew member Megan McMahon, 16) talks her crew through upcoming maneuvers and confidently calls tactics, while Alison nails every sail change and end-for-end jibe and calls the spinnaker drop without more than a handful of words exchanged with her sister. The two have been sailing together so long, they just know what the other wants. It's not until they're doing the more mundane tasks of sailing­-folding the sails after the race or cleaning up the cockpit-that there is so much as sign of a minor sibling spat.

Alison said sailing with her family-something she admits some friends from school simply don't understand and probably never will-makes her a better sailor.
"I don't really see it as family time," she said. "I see it as the crew. I take criticism a lot better from them. It is much easier for me to have my family tell me something I could improve on than a stranger. They've really helped me become a better sailor."

And, conversely, their parents think sailing has made the girls better people.

"These kids grew up around grown-ups," Tim said. "They are not intimidated in a sport in which most of the people doing it are twice their age, which I think is an unintended consequence of how they grew up. We're all going to end up racing against those kids and I have a feeling we better all prepare ourselves to end up getting beaten."