True love blossoms on Lake Michigan daysails, but as the captain says, 'Always ask on the way in'

Sailboats and romance naturally go together. The atmosphere, the serenity, the scenery and the gentle motion of a well-sailed boat often combine to put a couple in the mood to express their feelings for each other. And whether they are sailors or not, many people think few things could be more romantic than a proposal at sea.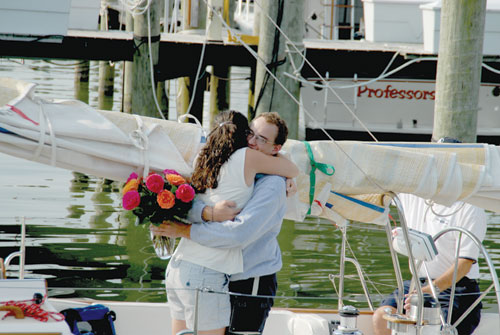 I get a number of requests to aid with marriage proposals each summer at Nancy Anne Sailing Charters, the small daysailing charter operation I run out of Holland, Michigan. Usually suitors call and say something like, "I'd like to ask my girl to marry me and I'm wondering if I can do that on your charter boat, preferably at sunset on Lake Michigan, and could I bring some champagne and chocolate covered strawberries? I'll have the ring and I'm pretty sure she'll say yes, but I want to do it someplace really romantic, not just in a restaurant." Of course I'm happy to oblige, but I always offer two pieces of advice: Bring the champagne ahead of time so she doesn't know what's going on, and propose on the way in. No one likes to think about it, but if, on the off chance her answer isn't the one he's looking for, it could be a pretty uncomfortable-and long- sail in on an Alerion Express 33.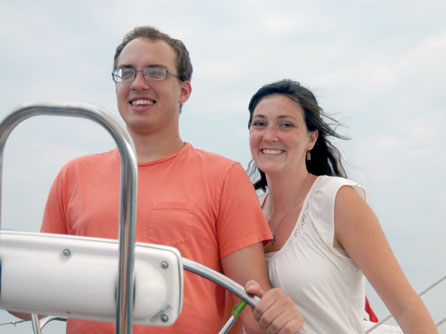 Each of the seven proposals and the subsequent engagements have been successful so far, knock on teak.Sometimes I think about offering to round up several witnesses from nearby boats, and using the captain's prerogative, marry them on the spot, saving considerable expense, not to mention reducing the possibility of one of the parties changing their mind once ashore.

I've spoken to several slightly nervous young men about arranging a proposal but last summer I received my first call from a father trying to arrange a proposal opportunity for his daughter and her longtime boyfriend. David Terhune from nearby St. Joseph, Michigan, wanted to organize a rather elaborate proposal for his daughter Becca. Her boyfriend Ben Stam was going to medical school in Oklahoma and Becca was frequently out of town. Terhune's plan was that he would invite his daughter to go for a father-daughter outing on Nancy Anne while Ben, who would fly in for the weekend from Oklahoma, would be hiding down below until the right moment.

Ben showed up early according to the plan and we hid him down below bearing the ring and a vase of roses. Terhune's plan got even more complicated, as he didn't want to be on board for the sail so that the hopefully newly engaged couple could enjoy it in private. He planned to guide the boat out of the slip from the dock, acting as though he would hop on at the last minute. Amazingly, all went according to plan, and Terhune showed off his acting chops when he shouted that I left the slip too fast and couldn't make the boat. I responded with my pre-arranged line: I'd have to circle around and bring the boat back into the slip.

On cue, Ben popped up through the companionway, roses in hand. "Perhaps I could be of some help here," he said. It was clear that Becca was having a tough time figuring out exactly what was going on and I worried for a moment that she might go into shock.

"Ben, what are you doing here?" she asked. "You're supposed to be in school in Oklahoma! What is happening?"

"I've come to ask you to marry me," Ben said. "Will you?"

Becca's enthusiastic "Yes!" accompanied happy tears, kisses and a fond embrace. On the finger pier, a video photographer appeared, capturing all this for posterity. David Terhune is one well-organized doctor.

Later in the summer, we had another young man, Mike Vagle, with marriage to Maggie Meyer on his mind and a request that we time and position the boat such that he could pop the question exactly at sunset. For this trip I brought my grandson Everest along to serve as first mate, to fetch refreshments and relieve me at the helm.

This particular evening, the wind had piped up a bit and the big lake was getting bumpy. We decided to come "inside" and sail on Lake Macatawa before anyone suffered from mal de mer and ruined the occasion. The sun was setting but if I positioned the boat just right in Macatawa Bay relative to the channel leading to the big lake, we would be able to see the sun setting on Lake Michigan while sailing on the bay. Of course, I couldn't keep the moving boat just where we wanted and take pictures too so Everest offered to take the pictures. It turned out he was pretty good at it, capturing the sun setting between Mike and Maggie as the matrimonial offer was made and accepted, at just the right moment, accompanied by happy tears, of course.

One of the great things about the daysailing charter business is the people you meet.During the last two seasons on our Alerion Express 33, I estimate that we've had more than 600 guests, most of whom have never been on a sailboat before.Little kids, teenagers, young professionals, executives, old folks, some even older than me, all have sallied forth, with some trepidation, and not one, not one of them has been unpleasant company.

But the best of them have been the 25-year-old "kids" who, with big plans, stars in their eyes, their bright future stretching out in front of them, have always brought a hint of a tear to this old captain's eyes.