Simple sailing by day and comfortable quaint inns at night, a daysailing cruise up the Hudson River proves rich in history and fun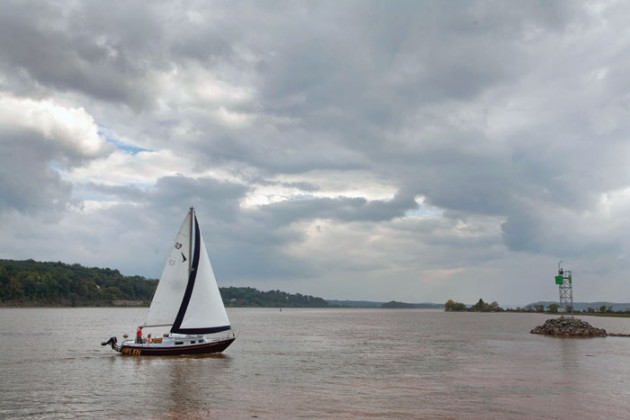 The Hudson River is full of history, intrigue, culture and cuisine, stretching from the commotion of Manhattan to the wilderness of the Catskills, from glitzy Vanderbilt Mansion to notorious Sing-Sing prison. Pirates, folklore, ghosts, Indians, sports, industry-the Hudson has it all.

But on top of that, the Hudson is the river of my youth. We spent lazy summer afternoons canoeing to Bannerman's Island, scaling the ruins and leaping into the murky moats and fishing, hiking and biking its shores. In the spring we eagerly watched for migrating birds at Kemey's Cove, and in the winters, when the river froze, we'd gather at the magnificent sight and thunderous "boom" of cracking ice. For the first three decades of my life, I never lived more than 8 miles from that beautiful river.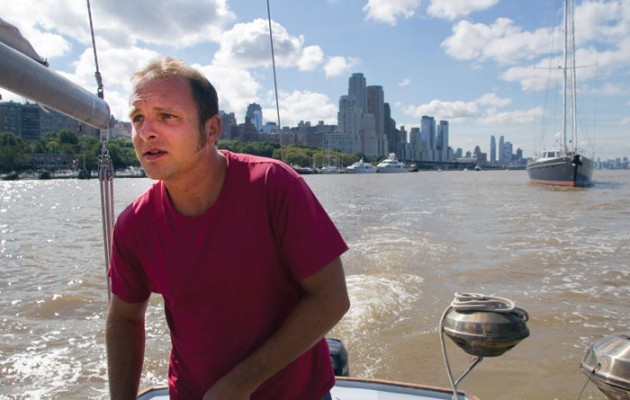 But in the late 1980s I moved to California and began to sail. And since that time I have harbored a not-so-secret desire to explore my favorite river by boat. The opportunity for that pilgrimage came last fall with Tivoli Sailing's Capt. Jerome Crandall Hollick, who was a most enthusiastic river ambassador.

As has become his tradition, Hollick brought his Seafarer 29 Helen to Manhattan at the end of the summer season for a holiday of daysailing. We signed on to help deliver the boat back to her homeport some 100 miles upriver, but the truth was, Hollick had a plethora of river-ly delights lined up for us over the coming week.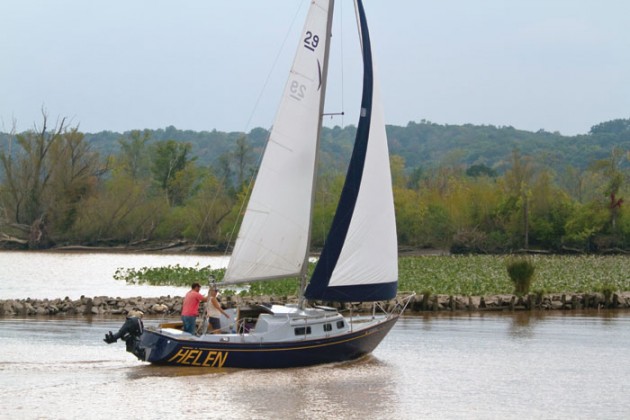 We met him at the 79th Street Boat Basin, where the distant rumbling of trucks was the only hint we were still in New York City. Operated by New York City Parks and Recreation, this modest marina has reasonably priced (for New York) slips at $2.75 foot, which includes shore power, facilities and what Hollick called, "my favorite: unlimited ice and hot showers." Moorings are available at $30 per night.

No time was wasted in departing past the heavily treed upper west side, Riverside Church, Columbia University and Grant's Tomb. The George Washington Bridge seemed enchanted as we eased beneath it and left the bustle of the city behind, crossing into another world.

Helen sailed sweetly in the light easterly breeze. A neat little masthead sloop that sleeps four (snugly), she is easily singlehandled, with lazy jacks and a furling jib. When she's not skimming along under sail, she has a Mercury 15-horsepower four-stroke outboard Hollick calls Rick James because, "It's very temperamental, but when it's on, it's ON!"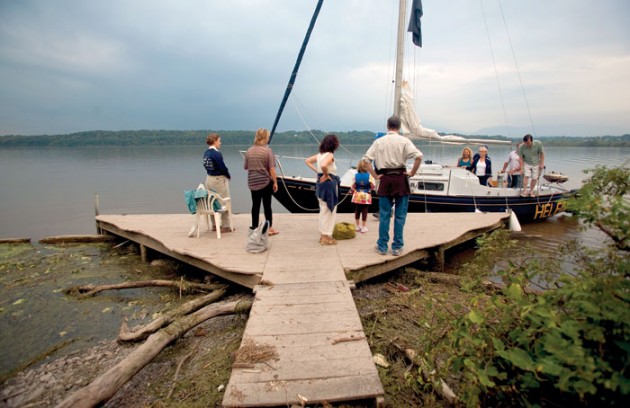 Place names along the Hudson reflect the influence of Native Americans and various other cultures that followed. At Spuyten Duyvil ("Devil's whirlpool") near the confluence of the Hudson and Harlem rivers we veered west to a tiny marina beneath the Palisades. The owner shooed us away, so we cranked up the centerboard, drawing just over 2 feet, and came in to Englewood Boat Basin for fuel. Few other sailboats seemed to visit here, although seasonal slips are cheap and the marina has a Travelift.

Hollick founded Tivoli Sailing five years ago, focusing on sailing lessons, catered charters and summer programs for kids. Despite an easy-going manner, he's worldly and well-informed. He talked of youthful summers racing on the cape with his grandfather and a grandmother who competed in the Olympics as a last-minute sub on a men's bobsled team. Daring is in his genes. From his British father (an NPR journalist) and elegant French mother, he inherited an appreciation of fine cuisine. "My parents don't 'eat' as much as 'make love' to their food," he said.

So it was no surprise when lunchtime came and Allison, our galley goddess, began grilling organic sausages on the transom to enjoy with fresh baguettes slathered with truffle mousse pâté, caprese salad and an Italian Soave Classico. Each and every meal was paired with a wine carefully selected from Partition Street Wine Shop in Saugerties. "You don't need to be a big luxury yacht to serve luxury food," Hollick said.

We sailed along the Palisades, where 100 years ago violent blasts of dynamite were commonplace as trap rock was quarried for construction and ballast. Now protected, these monolithic stones resemble the Moai heads of Easter Island, with hidden waterfalls rushing behind the dense greenery. Across the river at Nyack, in Tarrytown and beyond there were even more small marinas, clubs and anchorages. Sailing is the Hudson's little secret-no doubt part of the renaissance-on-the-river enjoyed since the Clean Water Act of 1972.

The Hudson has always been a river of change it seems, beginning with its flow. Created by glacial ice, the resulting fjord is below sea level all the way to Troy, so it's flooded by the sea and is a finger of ocean that travels some 50 miles upstream. The water is brackish (and biologically productive) all the way to Newburgh, and tidal 100 miles more. Natives called it Mohicanituk-the river that flows both ways.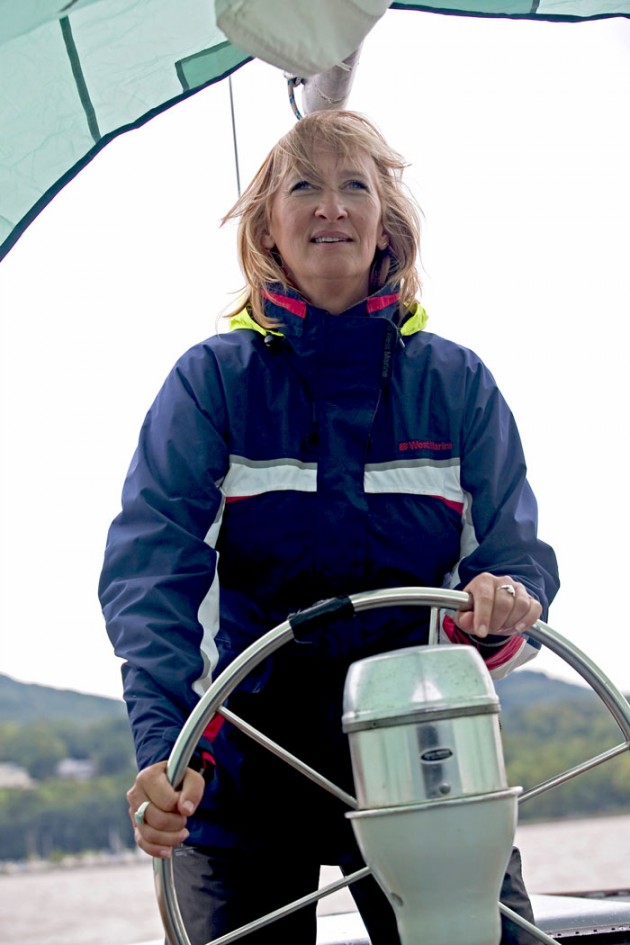 Its unique topography and sinuous course combine with the wind, tides and current to produce sometimes nasty conditions, as is evident in names like World's End, The Devil's Horse Race, Storm King and Seylmakers' (sailmakers) Reach where Benjamin Franklin himself watched a gust of wind shred a mainsail. These capricious conditions long fueled legends of spirits and ghost ships akin to the Flying Dutchman. It's said that Half Moon, Henry Hudson's 1609 exploration ship, haunts the river, sails full of wind even on calm days, she could race upstream against the ebb tide, defying gales and cannon fire, and disappear into the wide Tappan Zee.

So this day's breeze was customarily fickle, one minute delightful, the next minute gone. It freshened in the late afternoon and we enjoyed a brisk sail up Haverstraw Bay. Perhaps we crossed over a scuttled pirate ship along the way? Local legend tells that Capt. Kidd sank a ship laden with booty nearby. But our treasure was merely a golden sunset, the air scented by wood-burning stoves against the cold, cold night.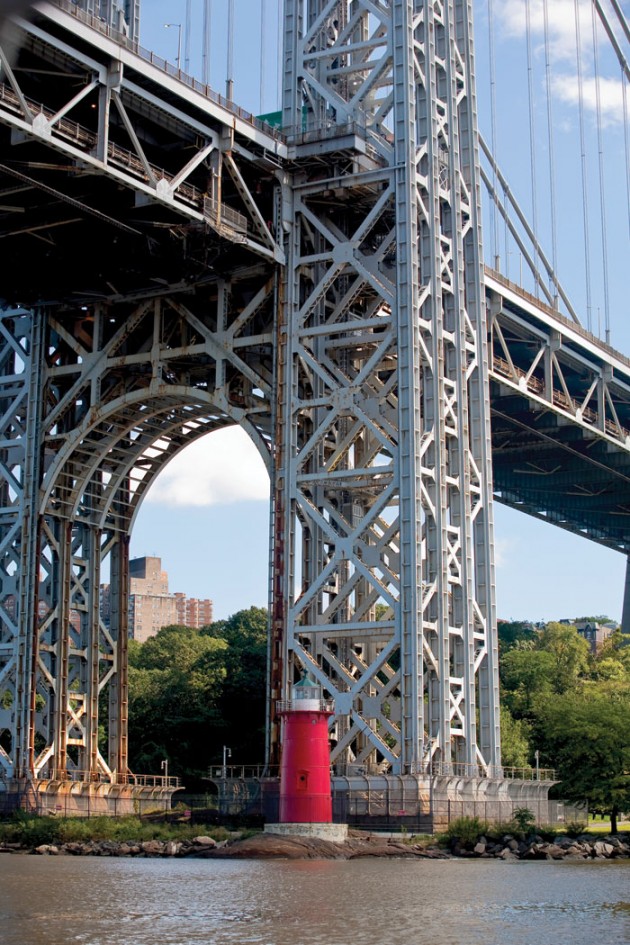 It was pitch dark by the time we tied up at a vacant dock at Bear Mountain State Park, with rack of lamb and potatoes roasting on the barbecue astern. Afterward we wandered up the trail through the deserted grounds and patronized an ice cream vending machine. We called it a night.

"There certainly are enough trains," photographer Bob Grieser announced the next morning as he emerged from the V-berth. Rich with natural resources of ore, lumber, coal and water, industry and transportation worked hand-in-hand to develop the Hudson's shores. The glorious era of sailing ships gave way to steamboats in the early 1800s, and by 1900 freight had shifted from river to rail. These days the rumbling of trains regularly resounds on both banks.

Continuing north, our route was a lesson in American history. Iron chains once stretched 600 yard across the river at West Point to confound British war ships. Benedict Arnold's scheme to surrender West Point was an act so vile his name is synonymous with treason. General Washington headquartered along these shores, and at every turn it seemed the quiet hills were steeped in history.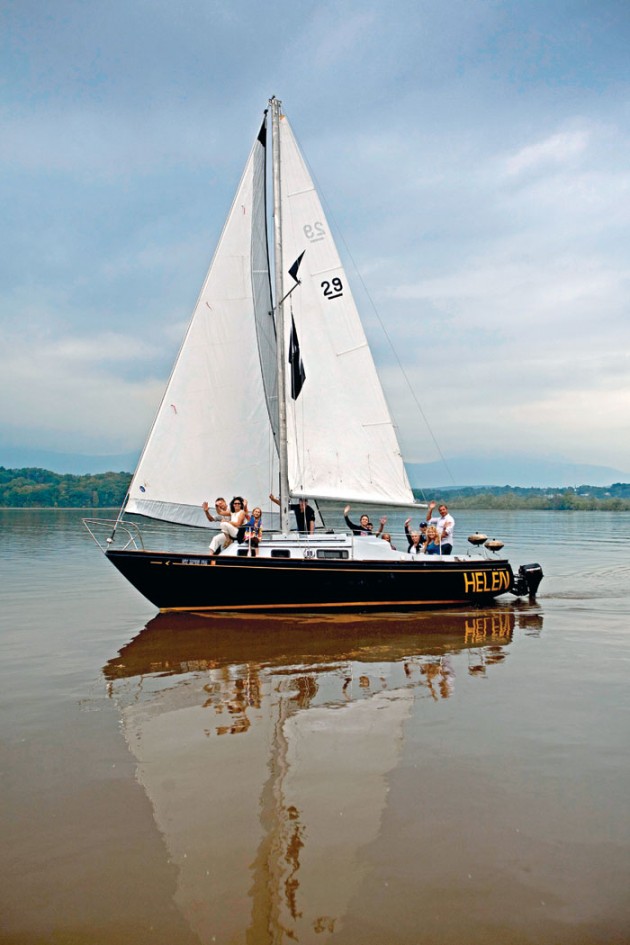 Other wars have been fought on these shores as well. The Hudson River has spawned leading environmental organizations, including the Natural Resources Defense Council and Riverkeeper. Critical precedents they set in the fight against pollution here helped establish the foundation of American environmental law.

We rounded Storm King Mountain in a light rain, ran abreast Bannerman's Island (called Pollopel Island on maps), where my cousin Sandi came down to river's edge to wave us along. Sailing on to Poughkeepsie, we tied up at the free public docks to meet my parents for a lunch of shepherd's pie at Mahoney's Irish Pub. I was enjoying my rolling-on-the-river family reunion, and by the time we shoved off again, it had stopped drizzling.

I imagined myself in Henry Hudson's shoes, when 400 years ago the Half Moon first traveled these waters. Explorers could smell the sweetness of the New World hundreds of miles offshore. "The lands are pleasant with Grasse and Flowers and goodly Trees as ever we have scene, and very sweet smells come from them," reads an entry in the Half Moon's log. Another explorer, Adriaen van der Donck, wrote of the astonishing numbers of birds along the Hudson, saying, "They resemble the clouds in the heavens, and obstruct the rays of the sun."

I'd stepped off the boat in Rhinecliff to spend the night with my sister Vicki, while the others tied up across the river. Many Hudson Valley villages have enjoyed gentrification in recent years, but when I rejoined the boat in Kingston, I found the waterfront at Roundout Creek utterly unrecognizable, with the establishment of the Hudson River Maritime Museum, shops, a park and esplanade.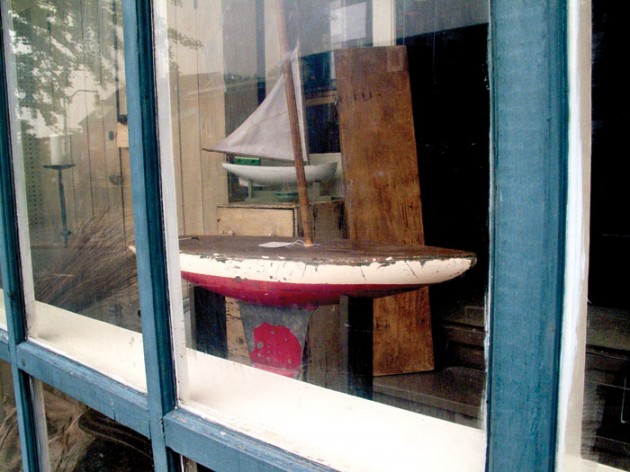 The rambling museum, with plenty of indoor and outdoor exhibits detailing the life, sports and industry of the river, was a great spot to spend a rainy day. It's open daily May through October, with the slated addition of an education center and home port for the sloop Clearwater.
From here it was a short sail to Tivoli, passing more of the glorious estates from grander days. Rockefellers, Vanderbilts, JP Morgan, Jay Gould, even President Franklin Roosevelt made their homes along the shores of the Hudson.

With more inclement weather forecast we decided to spend the first of several nights in B&Bs. At first I didn't want to come in from the soft, sweet rain, but as the deluge increased I eagerly tucked in. The Suminski Innski is a circa 1847 Greek revival with an eclectic blend of antiques and curios, plaster-framed mirrors of gigantic proportions, and portraits with eyes that follow you eerily around the room. Delightful. It was also walking distance to the Black Swan Inn, where our crew participated in the exceptionally raucous trivia night, finishing third despite several mugs of the local India Pale Ale, Hurricane Kitty.

We cheated and sailed straight across the river the next day, to enjoy the recent transformation of Saugerties. Old storefronts have been spruced up from their polished wood floors to their lofty tin ceilings, and a robust locavore movement was evident too, sprouting eateries from Love Bites and the Dutch Ale Haus, to sweet shops like the Hudson Valley Dessert Company and Lucky Chocolates.
This foodie mecca was also the setting of our next B&B. Smythe House is the luxurious, century old home of David and Justine Smythe, a professor and alumnus (respectively) of the Culinary Institute of America. Score! The next morning, when we couldn't decide between a breakfast of savory crepes with orange cream sauce, or eggs en cocotte, David brought us both.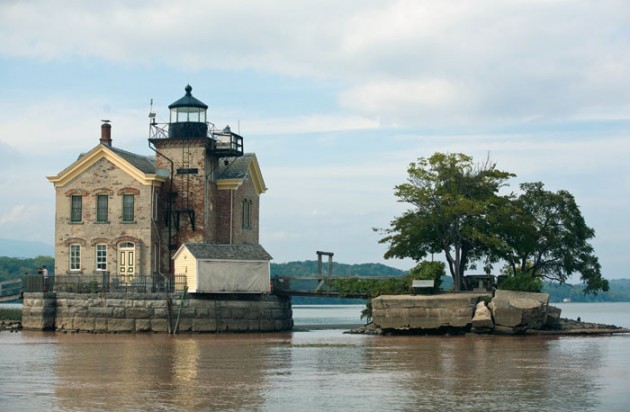 Eventually, we had to get back to the river for our penultimate leg to Catskill. We took a pass at the Saugerties Lighthouse, one of eight on the 130-mile long Lighthouse Trail that marks the Hudson from top to bottom (the Statue of Liberty being the most prominent), and continued north.
This stretch was dominated by the Catskill Mountains, including 35 peaks roughly 4,000 feet high. Wrapped in fog, the Catskills had a mysterious air. It was here that Rip Van Winkle fell asleep for 20 years in one of Washington Irving's many tales about the river and its people (another is the popular Legend of Sleepy Hollow).

In addition to folklore, the river also spurred its own genre of painting called The Hudson River School. This form of landscape art originated in the mid-1800s, and is typified by bucolic coexistence between people and the natural world. It seemed fitting that we dodged the rain that night to stay at the Post Cottage in Catskill right next door to the home of Thomas Cole, regarded as the founder of The Hudson River School.
As much as we love Helen, she could have fit in her entirety in my immense guest room (with private bath and fireplace). After another breakfast fit for a queen, we were off on the final short jaunt to Hudson, where we caught a ride back to Rhinebeck for dinner at Gigi Trattoria.
But first was a visit to Cole Palen's Old Rhinebeck Aerodrome, where hangers of flying craft from the early 1900s include an old World War I Sopwith Camel, the kind of plane Snoopy flies against the Red Baron. The flying demos and the slapstick review were reminiscent of the Keystone Kops, but the icing on the cake was a chance to fly.

We went up in a classic 1929 New Standard open cockpit biplane, bouncing along the dirt runway, lifting off with squeals and flip-floppy stomachs. Soaring over the colorful foliage the Hudson looked like a thin shimmering serpent snaking through the forests and farmland. I could just make out where our voyage began and ended. What had taken almost a week by sail and would later take two hours by train I could see in one glance. But it was time well spent. It was a fabulous homecoming, and a beautiful new perspective on an old love.

For more information on Tivoli Sailing rail-to-sail trips from New York City, catered day sails and custom excursions visit www.tivolisailing.com. And for information on the museums visit Hudson River Maritime Museum at www.hrmm.org and Old Rhinebeck Aerodrome at www.oldrhinebeck.org.