Dogged determination is the key to Paul Callahan's success in overcoming injury, saving a nonprofit organization and representing the U.S. at his second Paralympics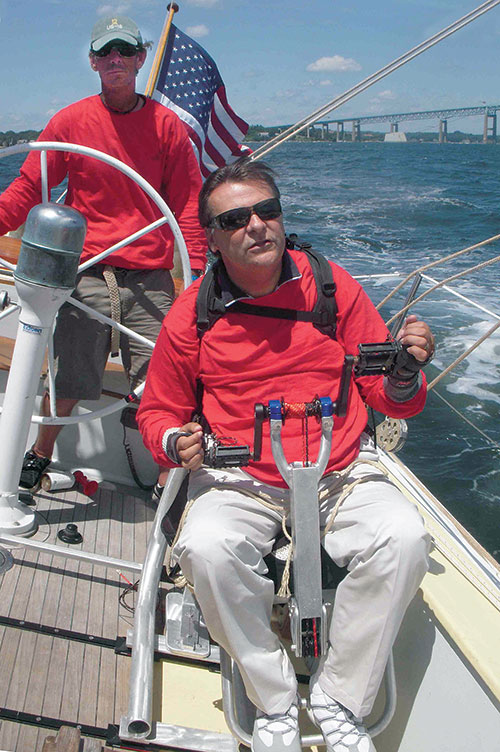 Paralympians overcome great adversity to compete, but few have dedicated their lives to helping other people with disabilities like U.S. sailor Paul Callahan.

Every sailor remembers a particular day on the water that sums up their love of sailing. For Paul Callahan, his moment was off Nantucket, Massachusetts, with a crew of disabled children on the former America's Cup 12-Meter Easterner. A high-functioning autistic boy was watching him steer using his special gear, luffing the jib and dipping the windward rail alternately to maintain a straight course.

"The child came and put his hands on mine and before too long I rested my arms and he was in full control," Callahan said. "He was facing aft but steering a straight course just by the feel of the wind."

Callahan was impressed and put the boy on the main wheel. A low-functioning autistic child joined him. "This time facing forward, the high-functioning child taught the low-functioning child what to do and between them they steered a straighter course than almost anyone of any standard I have seen."

Where many people would gear their lives toward the Paralympic campaign, 55-year-old Callahan's campaign in the three-person Sonar is part of a greater quest in life: to inspire people with disabilities to overcome adversity. He does this through the nonprofit organization Sail to Prevail out of Newport, Rhode Island, which will soon expand and set up offices in Florida.

In a letter, severely disabled 27-year-old Sean Feighan wrote of his experience at Sail to Prevail, "I experienced a connection with the world around me in a whole new way. I felt the power of the wind moving the boat and myself through the water with an ease that unified my senses."