Readers pick their top spots for cruising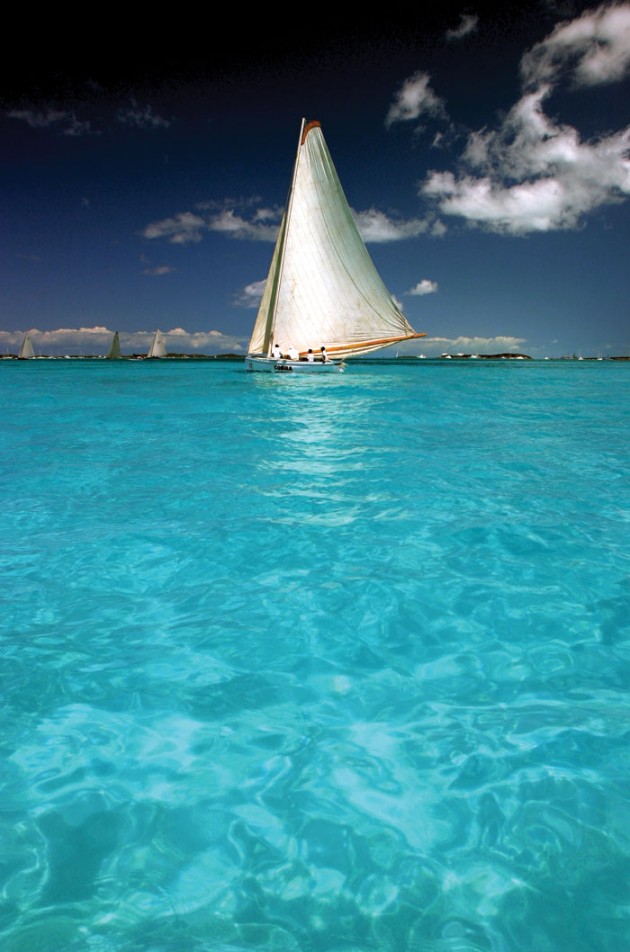 There's a reason these locales are favorites for charter cruising, and SAILING readers share why these exotic destinations are the best for getaway vacations

The Bahamas
Gulf Stream

Greetings: "What you sayin', bui/bey?" These sinewy islands and cays, just a short hop east of Florida, feature moderate breeze and shallow, smooth waters with a gentle surf, making this destination ideal for young families, or anyone wanting to simply take it easy.

What's to love: "The Bahamas have everything you want, whether it's lazing on a white sandy beach with clear blue water lapping at your feet, or partying with the locals," according to Richard Keeling, who would know about these things. The 38-year-old around-the-world yacht racer from Cheshire, England, continues, "Add crystal clear waters for diving, and great fishing, and you have an amazing cruising spot."
Best for: "People who want to stay close to home," said Paula Keriazes, of New York. Just a half-hour flight from Miami, charter bases in the Abacos are only minutes from the airport.

Downside: "The Bahamas are right in the middle of the hurricane path," Keeling said. Pick your weather window carefully.

Surprise: Wild pigs at Staniel Cay swim up to your boat looking for food. "Beware, they can bite!" Keeling said.

Some Charter Options: Festiva, Fun in the Sun, Go Cats, Sailtime Miami, Sunsail, Swift Yacht Charters

---
British Virgin Islands
Caribbean
Greetings: "Hello" There are several great reasons the BVI are hands-down the most popular charter destination, according to Carol Hansen. "Tropical sunny weather with year-round temperatures in the 80s, and inexpensive flights, easily reached from North America," are just a few. This ring-around-a-rosie of islands surrounds a playground of protected waters with nearly-impeccable sailing conditions. We'll give it a 10!
What's to love: Cruising is ultra-civilized in the BVI. "There are so many spectacular anchorages and mooring options, conveniently close, with great sailing in between," says school administrator Betsy Linn, of Marina del Rey, California.
Best for: Family reunions. "My parents joined my husband and our three young sons in St. Thomas, and we all enjoyed the scenic inter-island ferry, before boarding our chartered catamaran for the BVI. All three generations had a ball sailing, snorkeling, swimming, and free-diving the underwater wrecks. The Baths and Bitter End Yacht Club are some of our favorite spots," Linn said.
---
The Grenadines
Windward Islands Caribbean

Greetings: "Hello" "Stretch out and get your sail on," in the Grenadines, said Capt. Woody Henderson, who runs sailing events at AdventureVoyaging.com. This spell of paradise from St. Vincent to Grenada offers the best and most exhilarating open water passages, in the serene end of the Caribbean.

What's to love: The close proximity of this chain of islands means you can change your scene as often as you change your flip flops, from artsy Bequia, to funky Canouan, to upscale Mustique. Go hiking on St. Vincent. Watch the colorful boat building in Carriacou. Swim with turtles in stunning Tobago Cays. "And the islands are within half-a-day sailing of each other, often less. It's a dream," Dufour said.

Downside: "Not for novice sailors," Henderson said. "Or is that a plus?"

Surprise: Anchor in the crystalline bay off Petit St. Vincent-an exquisitely manicured privately owned resort island. "Live like the rich-and-famous without leaving your boat," Dufour said.

Some Charter Options: Go Cats, Miramar Sailing, Star Clippers, Sunsail, TMM Yacht Charters
---
Downside: "A run-in with tiny stinging jellyfish was not so fun!" Linn admits. Wear a T-shirt or Lycra skins to avoid them, and remove tentacles and flood the area with vinegar if you get zapped.
Surprise: Everyone speaks English and uses U.S. dollars. It made vacationing so easy.
Some Charter Options: Conch Charters, CYOA, Festiva, Island Yachts, Miramar Sailing Ltd., Star Clippers, Sail Caribe, Sunsail, Swift Yacht Charters, TMM Yacht Charters
---
Phuket
Andaman Sea, Thailand

Greetings: "sawat dee khrap" Clear on the other side of the planet is a land with moon-like monoliths and glimmering cuspated temples, where you anchor off beaches peppered with curious monkeys, and shy smiling residents who speak in a bewildering tongue. Thailand is, without a doubt, an exotic charter cruising destination.

What's to love: "Phenomenal anchorages and snorkeling all to ourselves," said Jane Frey, a West Coast physician who sailed from one mystical island to the next aboard a spacious catamaran. Frey and friends enjoyed a jungle tour and kayaking off uninhabited islands; elephant rides and pearl farms. Anchorages are a hop, skip and a jump apart, with easy line-of-sight navigation, but no marks: you must be moored by nightfall. That gets you there in time for the sunsets, which she adds, "were spectacular!"

Downside: "Giant watermelon-sized jellyfish shot our plans to swim in the bathlike waters near James Bond Island (Ko Tapu)," said crewmate June Marchigiani. "But the Andaman Sea was cooler and clear a little farther south."

Surprise: After getting away from it all, enjoy shopping and shows in Phuket, and "great Thai massages," direct from the source, Frey adds.

Some Charter Options: Go Cats, Ocean Voyages, Sunsail

---
Tahiti
South Pacific
Greetings: "Iaorana," "bonjour" Sprinkled far between Australia and South America is an archipelago of islands and atolls, antithetically lush and alive in the midst of vast blue nothingness. When they dream, sailors dream of cruising the South Pacific fueled by hearty breezes redolent of fragrant flowers, ripe fruit and smoldering coconut husks that permeate the air.
What's to love: "Tahiti is "the perfect storm" for a vacation. Tepid turquoise water and alabaster beaches mixed with warm and friendly people, plus fabulous French cooking and wine," said Owen Provence, the owner of a media communications firm. Reach off in stiff trade winds, from palm-fringed isle to palm-fringed isle, stopping to enjoy mouth-watering fare: like the non-stop parade of fresh fish, shrimp and lobster, drenched in a velvety vanilla sauce, at Chez Louise in Taha'a.
Best for: Totally checking-out. Flights are distant and pricey, and Internet is exorbitant, but this merely enhances the inclination to, "really go off the grid," once you get there, Provence said.
Downside: "Watch out for clandestine sea urchins. Bring along some tweezers and a strong alcoholic beverage in case you come across the wrong end of one."
Surprise: "Every night as the stars appeared I sought out the Southern Cross, and pinched myself, to prove I really was in the middle of the South Pacific, and not just dreaming," Provence said. "I was floored by the 'Oh, My God' sunsets that seemed to be in a competition, to out-do the previous evening's spectacle. Every night. Just beautiful."
Some Charter Options: Go Cats, Ocean Voyages, Sunsail
---
St. Lucia
Windward Islands
Greetings: "Sa ka fet" If you think of the Windward Islands as a necklace curving from Dominica at the north, to Grenada in the south, then St. Lucia is the precious gemstone in the middle. Fanned by Atlantic breezes year round, it's deemed the most idyllic winter getaway, from the white sands of Reduit Beach, to the 3,000-foot top of Mount Gimie.
What's to love: "The people are warm and welcoming," said Debra Rigas, a navigator of the Pacific Northwest and author of Everyone's A Guru. "Wade in the rivers with laughing children, dance in the streets in the small towns-the locals are genuine and approachable and offer friendly conversation and a glimpse into life in St. Lucia."
Best for: Adventurers. The north-south orientation of the island makes for an exquisite point of sail in the northeasterly breeze, but be sure to stop and enjoy the natural beauty and plethora of activities St. Lucia offers. "Hike the rainforests, snorkel in clear waters, take a dinghy into the lesser-seen bays and inlets; sit beneath the banyans at Pigeon Point at sunset and enjoy a rum drink in the harbor afterward."
Downside: "Don't assume that beautiful yellow pepper sauce ain't spicy," Rigas warned. "It's made with tiny Scotch Bonnet peppers that'll send your tummy into orbit."
Surprise: "I'll never forget a seven-course meal in Soufriere. The cuisine is amazing," Rigas said. Work up an appetite by day, and enjoy the creole specialties, fried fish and jerk chicken by night.
Some Charter Options: Miramar,
Star Clippers
---
Belize
Central American Caribbean
Greetings: "Hello" A tiny nation with big appeal, Belize stands out for its untouched natural beauty and biodiversity. Charter from several jumping off points along the 180-mile Central American coast and leave civilization behind. The Mesoamerican Barrier Reef System is second only to Australia's Great Barrier Reef and offers snorkeling and diving for all levels of expertise, sure to please your entire party.
What's to love: "If San Pedro and the Blue Hole are the obvious destinations, also quite charming are Cay Caulker and Nicolas Cay in the Sapodilla Cayes Marine Reserve, where we loved the diving and snorkeling," said Marie Dufour, who visited with her husband JP. Both are retired health professionals who volunteer wherever they can. "On the south end of the reef is a marvelous secluded anchorage, where you might very well be the only boat." When you've had enough solitude, seek out local restaurants where you can bring your own seafood and have a chef grill it up; or head to Syd's for steamed conch.
Best for: Experienced mariners. Navigation aid are few.
Downside: Be prepared to grease palms. Expect to pay marine park fees of $5 to $10 nightly, but up to $40 per person at the Blue Hole, according to Dufour.
Surprise: "Wildlife was beautiful and exciting, both underwater and above," said Dana Point cruiser Reylyn Yarussi. "Nesting season at Half Moon Cay is a spectacular experience: boobies and frigates abound."
Some Charter Options: Go Cats, Ocean Voyages, Sunsail,
TMM Yacht Charters
---
St. Maarten
Dutch West Indies
Greetings: "Bonjour" "Hallo" Sint Maarten/St. Martin enjoys two distinct cultures, one Dutch the other French, on one great island. Elegant dining, trendy nightclubs, and duty-free shopping combine with world-class sailing to make this a vacation "must" for couples and singles.
What's to love: "I begin almost every Caribbean trip on this island; I always feel at home," said Katrina Masterson, 29, a Manhattan media planner. "I love that it's half French and half Dutch, which gives you a European touch. I'm partial to the French side because you can get lattes and crepes almost everywhere you go. And the nightlife is awesome!"
Best for: The bargain hunter. "Cheap and easy flights, and you can choose from a ton of charter boats that are trusted and at a great price," Masterson said. And there are plenty of reasonably price hotels.
Downside: "When the cruise ships visit the Dutch side, it feels more like I'm back in the city, than a Caribbean paradise. And for some reason there seem to be no ATMs, so bring extra cash," Masterson said.
Surprise: St. Maarten is famous for races like the Heineken and Golden Rock regattas, but here, Masterson adds, you can also up the ante. "Charter the Americas Cup 12-meter yachts and match race your friends. What a blast!"
Some Charter Options: Festiva, Go Cats, Miramar Sailing Ltd., Sail-Akka, Star Clippers, Sunsail, Swift Yacht Charters
---
Charter Companies
Charter Companies
Conch Charters Ltd, www.conchcharters.com, 800-521-8939; CYOA www.cyoacharters.com, 800-944-2962; Festiva www.festivasailingvacations.com, 866-575-3951; Fun in the Sun, www.funinthesunyachts.com, 800-327-0228; Go Cats, www.gocats1.com, 800-592-1254; Island Yachts, www.iyc.vi, 800-524-2019; Miramar Sailing Ltd., www.miramarsailing.com, 268-721-3456; Ocean Voyages, www.oceanvoyages.com, 415-332-4681; Sai-Akka, www.sail-akka.com, 721-581-8834; Sail Caribe, www.sailcaribe.com, 787-889-1978; Sailtime Miami, www.sailtime.com, 847-508-8804; Star Clippers, www.starclippers.com, 800-442-0551; Sunsail, www. sunsail.com, 800-797-5310; Swift Yacht Charters, www.swiftyachts.com, 800-866-8340; TMM Yacht Charters, www.sailtmm.com, 800-633-0155