Easy does it
This classy new daysailer and weekender keeps sailing simple with thoughtful design and classic looks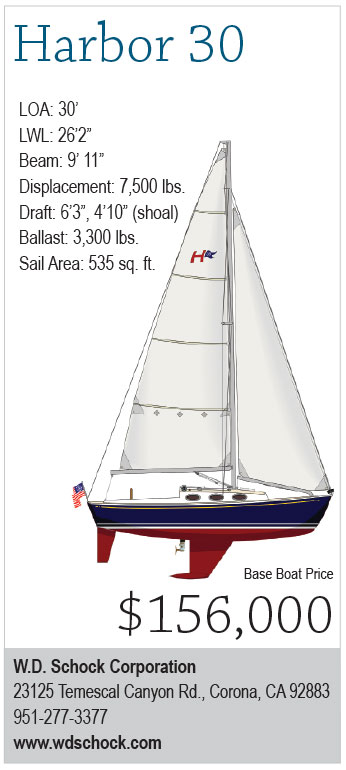 I fully expected the Harbor 30 to be an expanded version of the Harbor 20. Now granted, I am a big fan of the Harbor 20, or "Ocean 20" as we nicknamed it in Santa Barbara because the fleet bluewater races this small boat even when it's blowing. It's simple to rig and sail, and stable with its generous freeboard and ballast, making the 20 suitable for all ages, weights and abilities. In fact, there are many reasons the Harbor 20 shone after its introduction in 1997, with more than 340 boats launched. But for all its simplicity, its bulletproof construction and user-friendliness, it is, after all, a small daysailer.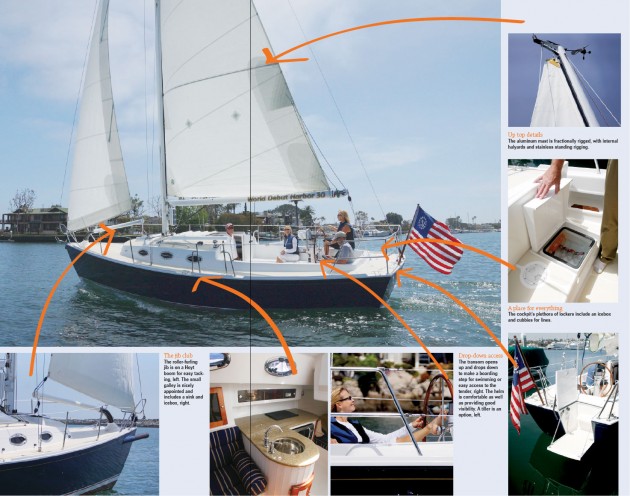 So imagine my surprise when I spied the Harbor 30 in Newport Harbor, California. We nearly drove right by without recognizing it with its graceful lines redolent of a classic built a half a century ago. With neat proportions, a balanced fractional rig, an elegant rake to the bow and stern and fine finishing touches, it is a looker.

The details
The Harbor 30 comes from W.D. Schock Corp., a California company that has been building boats since the late 1940s. Schock first earned acclaim for the popular Lido 14, introduced in 1958, in addition to several models under the Schock and Santana brands in the 20- to 40-foot range. A pioneer in fiberglass production, Schock helped bring affordable boating to the masses. So this upscale daysailer, combining classic looks with the most modern of systems, build and conveniences, is an unexpected, yet pleasant, twist in the company's longstanding history.

Design work was done by Steve Schock, a marine architect and youngest son of founder Bill Schock, but the yacht was introduced under the command of Alexander Vucelic, who acquired the company in 2011.

Construction is hand-laid fiberglass on end-grain balsa core, with care taken to add G10 (layers of fiberglass mesh impregnated with resin binder, which is heat and pressure cured into a high-strength laminate reinforcement) in areas of high stress beneath hardware and deck mounts. The hull is reinforced with carbon fiber, with vinylester resin and a high gloss gelcoat. The superstructure is equally impressive, with chainplates bolted to the carbon ribs. The 7,500-pound displacement is more akin to a race boat than a cruiser.

The finely shaped, hydrodynamic 900-pound keel bulb is positioned at the bottom of the keel for a total of 3,300 pounds of lead ballast. The Harbor 30 draws 6 feet 3 inches. A spade rudder is constructed of laminated fiberglass with a tubular stainless shaft. Spars are aluminum, and standing the rigging
is stainless.

On deck
The boat was smart looking, with a navy gelcoat and pristine white deck. The decks provide ample, unobstructed footing and there are appropriately placed hand holds along the way. The self-tacking Hoyt jibboom and traveler may make the foredeck somewhat unfeasible for lounging or reading, but the spacious cockpit makes up for it.

The yacht has generous freeboard, with sturdy stainless stanchions and gate braces that add to a sense of security. The bow features a stainless anchor roller, roller furling mechanism and optional spinnaker pole, which retracts directly into the forepeak.

Moving aft is a roomy self-bailing cockpit that is nearly 8 feet long, sufficiently wide and sheltered by a generous combing that offers a comfortable backrests.
There are several cubby holes and large lazarettes throughout the cockpit, and I'm reminded of an episode of "Let's Make a Deal," as I pop them open one by one. Door No. 1 is storage space, while door No. 2 reveals a hidden swim ladder and platform with a with hot and cold shower. This fold-down swim platform provides solid footing and foundation for getting back aboard from the dinghy or after a swim.

Door No. 3 opens to a systems and storage locker large enough for a man to stand up in, allowing easy inspection and repairs. Every pump, hose, mechanism, gadget, and so on, is accessible in this manner. The aft lazarette houses the emergency tiller, plus stainless racks to hang lines neatly and at hand.
The compartment behind the portside bulkhead can be reached either from the cockpit or a cabinet door below. A miscellany of systems is found tucked inside this stall, including the holding tank for the head.

The varnished wood steering wheel is appropriately sized for helming from various posts behind the wheel or on the rail, yet not so large as to overwhelm the cockpit. A tiller is an option. A Raymarine multifunction display graces the binnacle, and is mounted on a swivel so the helmsman can view it from any position. You can also pivot the instrument to eliminate glare from the sun. Gauges, VHF and ignition switch are close at hand.

Halyards and reefing lines, even the cunningham and lazy jacks, are led along the cabintop to the cockpit. Once made fast, the loose lines tuck into glassed-in pockets fixed into the bulkhead. Jib sheets, jib outhaul and control lines for the optional retracting bowsprit and asymmetric spinnaker are led farther aft, adding to the appeal for short-handed mariners. The test boat has self-tailing power Harken winches.

Down below
The Harbor 30 is bright with a subtle elegance, thanks to LED lighting and white beadboard interior. Wood trim finish, and a teak-and-holly cabin sole give the interior warmth and class. On either side of the saloon there are long upholstered settees. There are generous amounts of storage space below this seating, and there is also a L-shaped quarterberth aft.

To starboard is a tidy galley featuring an attractive Corian counter top with a rounded peninsula housing a sink with hot and cold water. The galley has a sizeable built-in insulated icebox, a two-burner propane stove and microwave, but no oven. I was pleased with the fully enclosed head opposite the galley. It's spacious, with an expansive counter top.

The Harbor 30's systems are practical for its purpose, with a 20-gallon fuel tank and 30-gallon water tank. The engine is a 20-horsepower, three-cylinder Yanmar diesel. There is a 60-amp alternator and two 12-volt batteries.

Under sail
We were foiled in our attempt to catch an afternoon Southern Californian westerly, and sadly the wind was faint. So we hoisted the loose-footed main, unfurled the fractional jib and tacked up the harbor. The boat lifted in the lightest zephyr-it was a delight.

During the sail we let the headsail mind itself on the aluminum Hoyt jib boom. The self-tacking jib is smaller and flatter, it helps point higher, tack sharply and power up swiftly. Complemented by a big main, the combined sail area is 535 square feet. It responded easily, and accelerated impressively.

It was a gorgeous California day, so I had invited my friend and fellow sailor June along on the field trip. June said she was surprised how swiftly and easily she became attuned to the helm. It was fairly neutral, with little weather helm in the eight knots of wind. We sailed the length of Newport Harbor, out the jetty around the bell buoy, then ran back in, picking up the swells at the harbor entrance and gently surfing in. The Harbor 30 was remarkably stable at any point of sail, and spritely despite the light airs. Even petite June had a clear view ahead over the cabintop.

The Harbor 30 is easy to handle, stable, allowing for easy movement above and below decks. It is a boat to enjoy now, and for years to come. Sailors looking to downsize will favor in the shorthanding sailing and racing ability. And it is an ideal coastal cruiser for a couple, or small family. Base price for the Harbor 30 is $156,000 but Vucelic puts the sailaway price at just under $200,000.

The Harbor 30 has the lines of a classic, the interior of a cruiser, and the chassis of a racer. This comfortable and elegant 30-footer holds the promise of wide appeal.