Catalina Yacht's latest 5-series boats are the culmination of 40 years of experience designing and building cruising sailboats. The third boat of the series is the 39-foot Catalina 385, a down-home cruiser that comfortably accommodates a family for an extended cruise.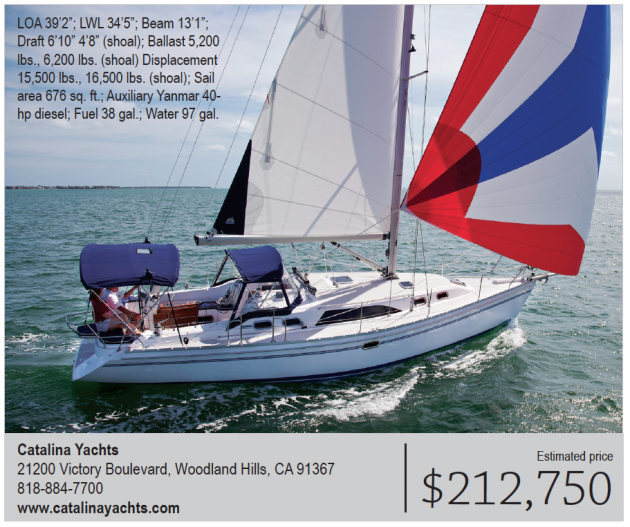 That's possible because the 385 is not a compromise racer-cruiser, it's a full blown cruiser with all the amenities, including a windlass, air conditioning and a microwave. With the optional dodger and bimini, the 385 feels much larger than its length suggests.

The nearly masthead rig is classic cruiser. The main has vertical battens and rolls into the mast, and the headsail is also on a furler. The asymmetrical spinnaker is flown off a short, removable bowsprit. The lines lead back to clutches and self-tailing winches on each side of the companionway.

The traveler is forward of the companionway hatch leaving the cockpit open all the way back to the wheel. Aft of the wheel, a removable center helm seat opens to a swim step. The cockpit has a folding table and seats up to six. The stern rail is like a Swiss army knife, incorporating observation seats, cup holders and a dinghy bracket. Around the side from the stern rail are 30-inch lifeline gates.
If the breeze dies, the 40-horsepower engine and three-bladed propeller will push the 16,000-pound boat to the next destination. The wing-keel version draws less than 5 feet, and the fin keel draws nearly 7 feet.

No breeze may not be a bad thing. Motor to the marina, turn on the air conditioning and stereo, and enjoy the belowdecks comforts provided by the spacious cabin. The L-shaped dinette allows people to enjoy conversation. Cedar boards line the hanging locker, located across from the shower.
The single head-and-shower combination has entrances from the forepeak and the saloon, which is a simple way to add privacy without adding another head and losing valuable space that might be better used elsewhere, like the berths.

Forward of the V-berth is Catalina's StrikeZone collision bulkhead, a watertight compartment meant to protect the crew and bow upon impact with a semi-submerged object, dock or another boat. StrikeZone is a comforting feature, one of many on the 385.