Fast-track learning vacation style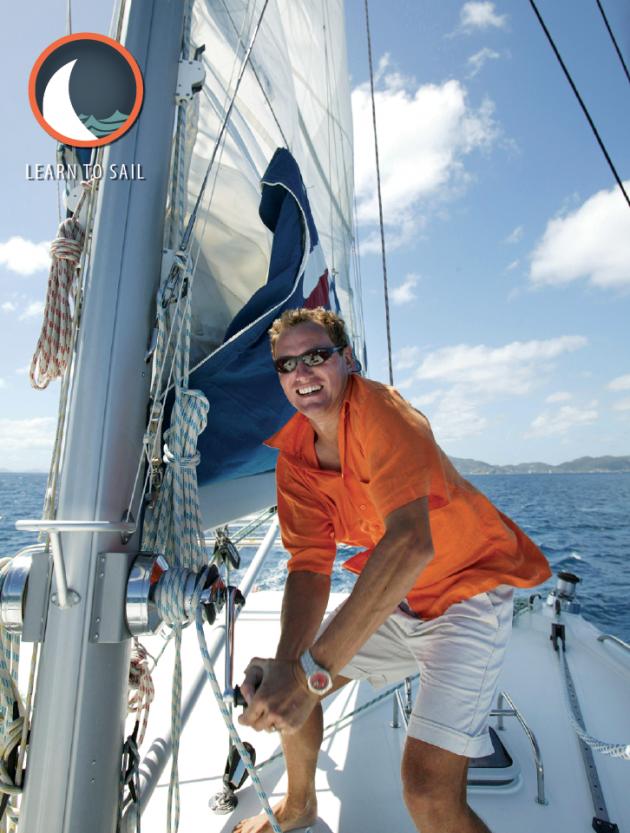 Escape the confines of a classroom and the crowded cockpit of a daysailer and discover what life on board is really like
Sailing lessons.
The phrase evokes a variety of images: Kids playing bumper boats with Optimists off a yacht club breakwall; classroom chalkboards covered with diagrams; would-be crewmembers soaking up their first racing experience. All are legitimate, real-life methods for learning to sail… but what if there were another way?

There is. It's called a learn-to-sail vacation, and several sailing schools around the country offer their own versions of it. Just imagine: Start each day with a steaming mug of coffee in the cockpit; complete coursework and tests under a shady bimini, pausing only to watch wildlife frolic around you; practice new skills every day on a boat that has become your home away from home; and fall asleep to the sound of water purling against the hull.

Believe it or not, all of that happens while you're going to sailing school. Whether you want to bareboat charter, buy your own boat or simply cross "learn to handle a sailboat" off your bucket list, a learn-to-sail vacation fits the bill.

SAILING recently spoke with several schools to learn more about the types of charter-style, live-aboard courses they offer. And, we talked to a few former students to find out what they've taken away from their experiences.

Where vacation meets education
Steve and Doris Colgate's Offshore Sailing School is the true pioneer of destination-based sailing courses offered through partnerships with resorts or charter companies. Founded by Steve Colgate in 1964, the school now provides sailing programs in New York, New Jersey, Chesapeake Bay, Florida and the British Virgin Islands. Destination courses take place at Offshore's home base on Captiva Island, Florida, as well as in St. Petersburg and Fort Myers Beach, Florida; St. Michaels, Maryland and the BVI.

"Students of all ages gravitate to our destination resort locations and the Live-Aboard Cruising course because they are combining their vacations with gaining new skills," Doris Colgate said. "We find this a highly effective way to teach sailing at beginner, cruising and racing levels because the students are learning in a relaxed atmosphere, generally in a warm climate, away from their jobs and daily routines."

An additional benefit is the downtime. While they pursue their US Sailing certifications, students also have the opportunity to explore local sights, relax and study. They also may bring along partners, loved ones and friends, who can enjoy vacation time while the students are in school. It's an environment, Colgate explained, that fosters excitement and relaxation at the same time.

Offshore's three Florida locations and its BVI location are open year-round, and customers eagerly travel to these world-class destinations from all over the country. Colgate noted that some vacationers are eager to experience Chesapeake Bay, and will attend courses at St. Michaels as well.

Those customers, Colgate said, tend to be an even mix of singles, couples and families. Summer and school-vacation periods bring more families who wish to take advantage of the Kids and Teens Learn Free program, during which youngsters learn alongside their parents.

"Couples like our resort-based and live-aboard courses because they want to learn together and gain confidence in each other," Colgate observed. "We get a fair number of women traveling alone who feel comfortable vacationing this way. About two-thirds of our single students are men, many planning to take their partners or families on sailing trips in the future."

Fort Lauderdale, Florida-based Bluewater Sailing School also provides a variety of live-aboard cruising and sailing courses in multiple locations. The school has programs at its home base as well as in Rhode Island, the Bahamas and the Virgin Islands, and it offers sailing certification at every level of the American Sailing Association curriculum.

Founded in 1989, Bluewater Sailing School is owned today by David Pyle, a former charter captain, delivery captain and sailing instructor, and his wife Monica. The school's most popular course is in bareboat skippering. By the end of the week, students will be certified to bareboat charter and to handle big cruising boats.

"It's designed for beginners, but most of our students have had some experience with the water," David Pyle said. "Half have some sailing skills, whether it's from sailing small boats or chartering with friends."
According to Pyle, approximately 20% of those students will return for more advanced courses. Maybe 5% will go all the way to Celestial Navigation and Offshore Passagemaking.

"It's a very broad pyramid," he said with a chuckle. "The majority of people want to be able to bareboat charter."

Families and groups of friends account for about 20 percent of the school's clientele. The remaining 80 percent are split between couples and singles. Sometimes, the singles later become couples; Pyle recalled at least one couple who met during a live-aboard course and later got married.

Especially for women
Helping people become the sailors they want to be is a shared goal among all sailing schools, but one in particular has tailored its mission specifically to women. Now celebrating its 29th year, Annapolis, Maryland-based Womanship offers a complete sailing-and-cruising course called Living and Learning Aboard that allows each student to learn at her own pace and in her own way.

"I learned how to sail in 1979," said founder Suzanne Pogell. "The whole classroom thing went right by me! And when I was on a boat, it was August, when there's no wind in Annapolis. We tacked and jibed so much, I thought you made the boat go by flapping its wings.

"Then I joined a cruising club, and working in concert with Mother Nature was so exciting," she continued. "The first time at the helm, I was hooked."

So Pogell became committed to creating a school "by women for women." She said she knew she wanted to teach sailing in a hands-on way, giving students the opportunity to learn skills in the order they need to be performed. And she primarily sought female instructors.

"Women are different," she explained. "I knew I wasn't going to run down the dock offering to be crew unless I knew what I was doing. So many women feel the same way.

"In our courses, the instructors are the catalysts, but the students quickly start to work together and take charge of the boat on Day One," she added.

This year, live-aboard courses will be offered in Annapolis, the Florida Keys, the BVI, Long Island Sound, Narragansett Bay, Vancouver, British Columbia, and the Gulf Islands. For those seeking even more distant adventures, Womanship also has courses in Belize, Greece and Turkey.

Womanship also offers courses specifically for couples. The school's Couples Learning Getaways take place in Annapolis, the Florida Keys and the BVI.

A more intimate experience
Not all schools are national in scope, however. The United States is home to some highly regarded regional schools and programs that offer many of the same benefits as the large schools while also providing a more intimate experience.

Just five years old, Black Rock Sailing School has six boats, three instructors and courses in Boston and the Virgin Islands that allow students to earn their ASA certifications. Brenton Lochridge, who founded Black Rock in 2008, said his vision was to create a small school that would ensure a high-quality experience, from instruction to the boats themselves.

"We're in the north, so in order to make the numbers work, we have to have courses in the Caribbean during the winter," he said. "We have a 49-foot Hunter that we'll run from Boston to Bermuda, switch crews, then go on to St. Thomas. Then we run our courses there, and it's definitely fun for our students."

Lochridge observed that many of his students have to sell the lifestyle to their partners. So, he said, the partners come along for the ride.

"I have such a cool job," he said. "I get to meet such a wide variety of people and watch them change their lives. And now they're out there, living the dream, making it happen."

On the opposite side of the country, another small regional sailing school is doing its part to help would-be sailors make the dream happen. Founded by Kurt Jerman in 2011, San Diego, California-based West Coast Multihulls is a charter and school operation devoted to catamarans and trimarans. (Jerman has owned and operated a dealership of the same name since 1999.) The goal is to get sailors of all ages out on the water at whatever commitment level suits them: group sails, family day charters, lessons, purchases, even coastal cruises to Mexico.

"We create a fun environment with lots of opportunities, and we build lifelong clients and friends out of the deal," said Randy Fraser, marketing director. "This is a niche that was underserved, and our combined 100-plus years of multihull sailing experience makes us a logical choice on the West Coast."

Fraser said the staff has had "numerous opportunities to blur the lines between the pleasure of a crewed charter and the focus of an ASA course" in the two years since the school started.

"We find our clients get more out of the experience, and it helps to justify the expense for them," he noted.

West Coast Multihulls has done a variety of courses in Southern California destinations such as Catalina Island, Mission Bay and Dana Point. Last year, it ran a BVI flotilla comprising four large catamarans, one of which was a dedicated lesson boat. In a week, the group completed three ASA certifications, and the newly minted crew spent their last day handling the big cat on their own.

And yes, there is time for pleasure rest and relaxation while attending the courses. As Fraser said, "It would be tragic to take the time to sail to Catalina and not enjoy its many pleasures." There is plenty of time for paddling, swimming, shopping and dining ashore. Not only do these diversions offer a break from the class routine, he explained, they actually help develop critical ancillary skills such as dinghy handling, outboard maintenance, anchoring and mooring skills, and radio skills. It's all part of becoming a well-rounded sailor.

Due to the school's focus on helm time and one-on-one instruction, classes are typically limited to four people.

He said the school's students come from a range of sailing backgrounds. Many are new to the sport and the lifestyle.

"Whether they have a purchase in their future or are simply looking forward to chartering confidently in exotic locations, a weekend or two in San Diego gets them prepared to chase their sailing dreams," he said.

It's a strong bond
It's clear that the sailing schools' staff members are believers when it comes to the effectiveness of teaching sailing skills in a live-aboard or destination environment.

Black Rock Sailing School student Susan Lyons took the Basic Keelboat course in Boston Harbor, and as winter approached, she said she could think of nothing better than improving her skills while enjoying the Virgin Islands. So she signed up for Basic Coastal Cruising and Bareboat Charter this past January.

"Living on the boat for eight days accelerated learning like I had not imagined," Lyons reflected. "On a daily basis, we were sailing in different wind and weather conditions, using our navigational skills and learning about the boat's engine, electronics and equipment.

In addition, to the Virgin Islands's strong, steady winds, Lyons said she and the other students reveled in the seemingly endless supply of beautiful views, harbors and beaches.

"We anchored off the beaten path and managed to avoid the hoards of tourists," she recalled. "Whether it was hiking around an island, snorkeling through the Caves or exploring the Baths, each day brought new wonders. With each evening, we were able to wind down from an action-packed day in a new harbor while enjoying happy hour and each other's company.

"We started out as an undisciplined crew who relied on our instructor to set the course each day," she said. "By the time it was over, each one of us could captain the 49-foot boat. When we returned, we were all still reminiscing via email about what a terrific trip we had."

Another Black Rock Sailing School student, Eric Teale, also recommended a winter course in the BVI. Not only will you receive the instruction and learn the sailing skills, he advised, you'll enjoy one of the world's top cruising grounds. And the best part? The camaraderie of your classmates.

"Many of the folks I met during Black Rock's classes in the BVI and Spanish Virgin Islands have turned out to be sailing buddies here in the Northeast," he said.

Carla Webb and her husband Matt decided to learn to sail aboard a monohull when they moved to San Diego from Switzerland. He adored it, but she didn't enjoy the heeling. So when they learned that their daughter's college soccer coach was teaching multihull sailing at West Coast Multihulls, they dove in. They took their ASA 114 course on a getaway trip to Catalina Island aboard a Seawind 1160.

"I was amazed at the instructors' patience and their willingness to let you slowly fall in love as you become more competent," Carla Webb said.

Webb said it was valuable to be on the boat for an extended period of time. Not only could she really test her new skills in a hands-on environment, she explained, it gave her the chance to make some great friendships.

"It's a strong bond as you learn together and rely on each other," she said. "(We'd have) long talks while the sun went down, sharing stories and dreams of our next adventures. Since then, some of us have purchased our dream boats, so the fun will continue!"

One of the Webbs' new friends was fellow student Thad Nelson, who had been interested in sailing for a long time but knew his wife would need a stable platform if she were ever to embrace the lifestyle. Enter West Coast Multihulls.

Nelson said he took part in a learn-to-sail vacation that incorporated ASA 104 and 114 on a trip to Catalina. The Thursday-to-Sunday adventure incorporated a West Coast Multihulls rally with seven other cruising cats and their owners.

"I'd expected to learn how to sail and handle a sailboat," Nelson commented. "What I didn't expect was the huge learning curve! Issues came up while sailing, as they always do; having the instructors there felt like advance learning beyond the textbook. They exceeded my expectations, as now they are friends and valuable resources."

Nelson said that he and fellow student Stuart Robertson still sail together; in fact, the duo delivered Nelson's new Fountaine Pajot Lipari 41 She's No Lady to Oakland for the Strictly Sail show in April. And, Nelson said he's looking forward to catching up with the Webbs this summer.

"Carla and Matt Webb ordered a cat," he said, "and I know we'll be rafting up with them in Mission Bay this summer."

Time and again, students who have attended learn-to-sail vacations proclaim enthusiastically that the experience has changed their lives. Lasting friendships, instructors who become valued resources long after the course ends, new skills, perhaps new boats, colorful memories, an awakened and now lifelong passion for the sailing life-the list goes on and on.

One former Offshore Sailing School student probably said it best: "I learned more than I ever could have imagined… this was by far one of our best adventures. An amazing vacation ended with an acquired skill that will last us our lifetime. I am a new person."