Raising sailors the Island way
The U.S. Virgin Islands sailing community has made teaching and inspiring young sailors a priority-and it's paying big dividends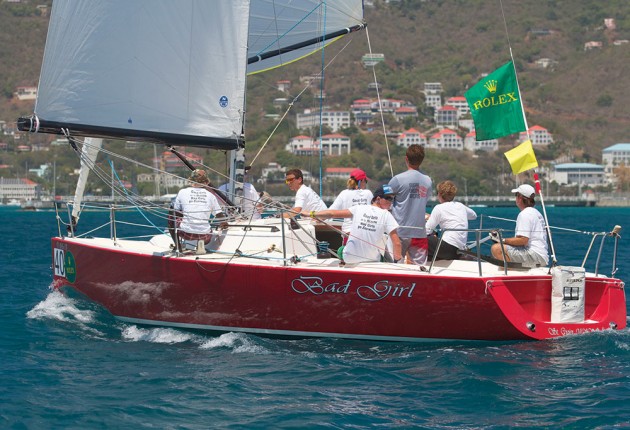 About 15 years ago, legendary three-time America's Cup skipper Dennis Conner was competing in St. Thomas, and was asked to talk to three young boys who had just returned from a day of sailing off Cowpet Bay-a beautiful area on the east side of St. Thomas, that overlooks the islands of St. John and distant Tortola. Conner was urged by his hosts to say something inspirational to the youngsters but instead the young sailors said that he took a different route.
"It's too bad you boys will never amount to anything as sailors," the sailors remembered Conner saying. "There is too much wind here. You will never become really good."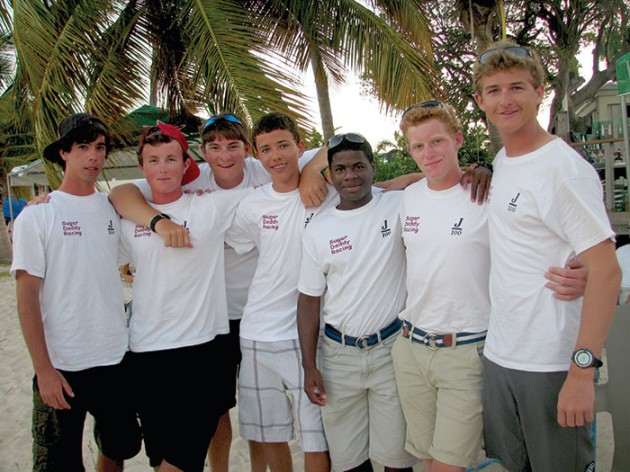 The three boys are now in their 20s. They are All-American sailors and U.S. Virgin Islanders Taylor Canfield, Tom Barrows and Cy Thompson, who captained their sailing teams at Boston College, Yale University and Roger Williams University respectively.
Canfield is now the sailing director at the Chicago Match Racing Center and recently won two major World Match Racing Tour events, the King Edward VII Gold Cup in Bermuda and the Monsoon Cup in Malaysia, and earned a "tour card" on the World Match Racing Tour for 2013.
Yale All-American sailor and Olympian Barrows is in the midst of launching an Olympic campaign in the 49er class.
Thompson, who competed in the 2012 Summer Olympics in the Laser Class, is now involved in another Olympic Laser campaign.
"I remember when Dennis Conner spoke to us when we were really young," Canfield said. "I think we just looked at him and shrugged it off the way kids do."
But two of the boys' fathers, Bill Canfield and Shep Barrows, did not forget the remark quite as easily.
"We became somewhat motivated by Conner's remark to the kids. He basically put them down the way I see it," said Bill Canfield. "At that time, we really only had the international success of Peter Holmberg, but not a really organized sailing program. But, what was happening was that we would send Taylor to an Optimist regatta and he would take home first place out of like 90 kids.
"With the talented young kids we had at that time, like Taylor, Tom and Cy, we knew we had to do something. We were lucky that in a way our kids motivated us to take the sailing program to the level it is at today," he said.
These sailing program alums are closely followed by other USVI sailors, like William Bailey at Boston College, a team ranked third in the country, and Tyler Rice at Brown University who, along with his collegiate racing, has recently gained interest in match race skippering and took an internship at the Chicago Match Race Center this past summer with Canfield.
And there are even younger sailors following closely up the ranks of the Virgin Island sailing community, and many were out in force during the annual St. Thomas International Rolex Regatta held March 22 to 24. Celebrating its 40th year, the regatta was marked by a youthful verve with the Melges 32 victor being 21-year-old Dalton DeVos. But, the regatta was also filled with local talent, youths raring to go on whatever keelboats they could board, some getting their first major regatta experience at the age of six or nine.
Ian Barrows, 18, and his crew of teenagers and one 9-year-old finished in second place in the IC-24 fleet after a grueling 13 races over three days with one adult on board.
"When I get to college, if anyone asks me what it is we have here in sailing I will simply say 'warm water, nice winds, paradise, really.' But, there is also a lot of knowledge being passed down to us," said Barrows, who will be attending Yale University next fall and is on the sailing team.
"A kid who grows up here will know what to do on the water," he added. "It is definitely different learning to sail here as we start racing at five years old and we always have 15- to 18-knot winds and fairly high seas."
The drive to sail well has caught on amongst youths throughout the USVI as a team of high school sophomores from St. Croix took home first place and a Rolex timepiece on board the J/100 Bad Girl with only one adult-Robert Armstrong-on board.
"I had been racing Bad Girl competitively, but the boat had been out of the water in recent years," said Armstrong of St. Croix. "One day, this group of boys came to my house. They said they wanted to race Bad Girl in the Rolex regatta, and asked if they could. I agreed then that I would put what I could into getting the boat ready and would let them race it if they were really committed. They were. They have been practicing together every week since last summer and have stayed focused. The fact that they won first place is very impressive, especially for a group of 16-year-olds who had the tenacity to knock on someone's door and say 'we want to race your boat' and then follow through in the way they did."
A youthful drive has definitely caught on with the girls, too, especially for 16-year-old Augustina Barbuto, who not only skippered her IC-24 with a crew of girls ranging in age from 13 to 16, but also helped with crew work and tactics.
"I think the girls all respected me and that is a nice feeling and you don't get to have that feeling all the time. I think I got better over the three days and we all really learned a lot," Barbuto said. "I would like to be a professional match racing sailor and I would like to do the kind of racing that Taylor Canfield
is doing."
Barbuto already has younger girls following in her footsteps. A member of Barbuto's crew was Paige Clarke, 13, who sails both Optimists and 420s and was recently invited to compete in the world class Renaissance Re Junior Gold Cup in Bermuda, where she got to witness fellow Virgin Islander Canfield win the Gold Cup while there.
"This was the first-time I have ever raced in a keelboat and I was really glad that Augustina was my skipper because I really look up to her," Clarke said. "She is also from St. John like me so that was nice having someone from my island."
While there is some good fortune and luck that goes into becoming a world-class sailor here, there are mentors all over the Virgin Islands that are giving kids a chance to sail. High school band teacher Stanford Joines from St. Croix assembled a group of high schoolers whose principal allowed them to get out of school on Friday so they could compete in the regatta.
"I have been doing this regatta for 22 years and each year I take a different group of West Indian kids with me," Joines said. "Some have sailing experience and some are getting it for the first time. I can say for a fact that more of them have ended up having some kind of maritime career, many more than have had careers in music, and I am the band teacher!"
One of the key factors contributing to the evolving skills of these young sailors is great local regattas like the Rolex and other events like the Carlos Aguilar Match Race held each December. The event is held to commemorate the life of a sailing mentor Carlos Aguilar, who was passionate about youth sailing and match racing and took a lot of pride in the success of those he mentored. His life was cut short when he was shot in 2007 during a home invasion at his house in St. Thomas, and as a way of honoring his memory, the Carlos Aguilar Match Race event is held in the Charlotte Amalie harbor. While high level match racing events are not usually available to young sailors, many of the top youth from the USVI have the goal of racing in, the "Aguilar," as they call it.
"My dream right now is to drive in the Aguilar this December," Barbuto said. "I am going to practice all summer and fall for this next event and hope to win it."
While she spoke, her 9-year-old brother was listening, perhaps waiting for his opportunity. At 80 pounds, he had just sailed the whole regatta with Ian Barrows. Barrows may join his older brother Tom in his next Olympic campaign.
Bill Canfield notes that with the sailing program in place at St. Thomas Yacht Club, headed up by Margo Lunch, a teacher at the Antilles School, his biggest concern is that parents on the island today are no longer as knowledgeable about sailing. This is one reason Canfield encourages high school-age youths to become coaches to the younger kids as a way to keep the adults at bay and try and prevent burn out among the youngsters.
"Years ago, when we started to ramp up the sailing program, we were all competitive sailors ourselves who knew, loved and understood the sport. It is more difficult to duplicate that today. I would like to see parents focus less on whether their child wins that day or loses," Canfield said. "I would like to see them learn the sport."
There is no doubt that many who have contributed to the success of these sailors believe in staying true to what it means to be a Virgin Islands competitor; helicopter parents need not apply.
"One of the reasons these kids are so good is because they learn to become watermen first. They know seamanship. They don't really learn windward leeward courses at first but instead it is the time they spend on the water that advances their skills at a very young age," said Melges 32 sailor Anthony Kotoun, who is in his 30s but grew up in St. Thomas and now lives in Newport, Rhode Island. "What I find is that in the U.S., you may see a batch of say 50 kids go through the Optimist dinghy programs and perhaps three out of the 50 will continue to pursue sailing. Here, we may see 12 kids excel at a young age and as they mature you will see 10 of those 12 kids continue sailing competitively into adulthood."