One classic race, two very different views, a great day on the water for all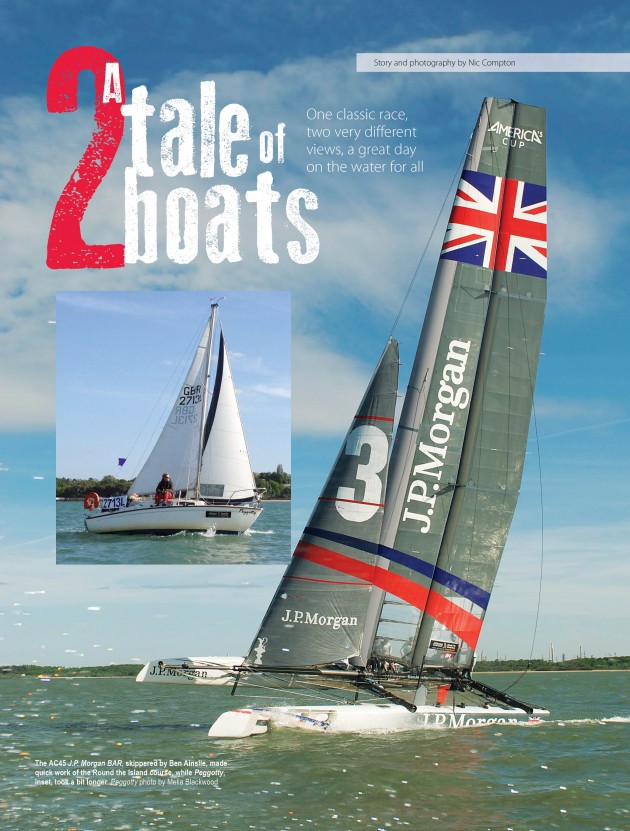 3:30 a.m. June 1, 2013, Cowes, Isle of Wight
Matt Cornwell wakes up in his shared dorm at the UKSA training school in Cowes, overlooking the Medina River. After wolfing down a bacon sandwich and a cup of strong coffee, he climbs aboard a RIB and is driven out to a bespoke mooring on the river, laid down specially for the occasion by the Cowes harbor commissioner.
Matt grew up in Lymington and has taken part in a dozen Round the Island Races, the annual romp around the Isle of Wight, off England's southern coast. He's raced on slow boats and on fast boats, and always enjoys it. Two of his fastest runs were on Extreme 40 catamarans in 2008 and 2009 when he came within 18 minutes of the fastest time for the course, but the record itself has eluded him so far.
This year, his steed is even more spectacular. Cornwell is bowman onboard Ben Ainslie's AC45, the scaled-down version of the America's Cup AC72 catamaran used in the pre-Cup World Series. It's the first time an AC45 has taken part in the Round the Island Race and, with five-time Olympic champion Ben Ainslie at the helm, expectations are high.
For Cornwell and the crew, the question is whether they should be there in the first place. Just a few weeks before, Andrew "Bart" Simpson died training on the Swedish America's Cup entry Artemis Racing. Ainslie, a close friend of Simpson's, led the tributes for the dead man at the funeral back home in Dorset. The Round the Island Race is the very next day.
"It was a difficult decision," Cornwell said. "At first we thought we shouldn't take part, then we spoke to people who were close to him, and we realized it was the one reason to do it: in his memory and in his honor. So we decided just to come out and enjoy the day, and not to worry about the record."
Read more in the September 2013 issue of SAILING Magazine.