Southern France is known for its sunny beaches, and the yacht designers at Finot-Conq must have had those destinations in mind when they designed the beachable Pogo 30. The 30-footer, a fractionally rigged racer-cruiser built by Chantier Naval Structures, has an optional hydraulically operated keel, an 8-foot ballasted fin that rotates back under the boat in shallow water giving the boat a 3-foot shoal draft. Cruisers can sail to a beach, raise the keel, and then "park" on optional aluminum beaching legs.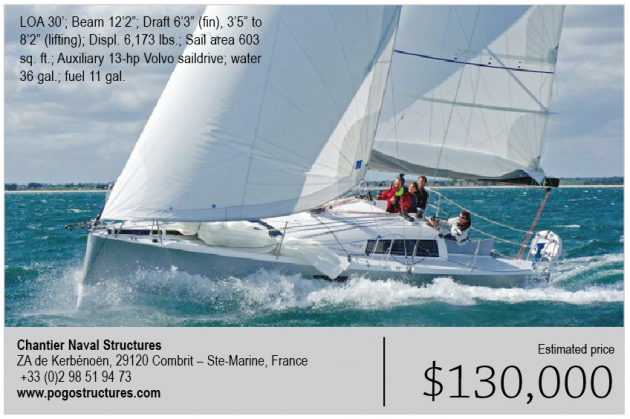 The boat is listed on the "cruisers" page of the Pogo website, but it's no beach toy. The hull has the pie shape of Volvo ocean racers; the widest part of the boat is just forward of the transom and the bottom is relatively flat. The standard keel is a fast, fixed fin drawing a modest 6 feet 3 inches, and the hull is rated class A for bluewater, with built-in foam flotation. At nearly 6,200 pounds displacement the Pogo 30 has some heft for the open ocean, but not too much; it is on the lighter side of the equation, with the D/L at about 113.
Twin rudders control this beamy speedster, and the twin tillers leave a nice open space for swimmers to pass through on the way to the open transom. The mainsheet comes off the transom to the end of the boom, sheeting mid cockpit.
The cockpit itself is T-shaped, leading to winches mounted on either side of the companionway. Three companionway steps lead down into the cabin-and back into the comfortable world of cruising. European wood veneer is gives the interior a warm feeling, and cabin and hull portlights provide a lot of natural lighting. Sailors can socialize around the large drop-leaf table that runs down the center of the cabin, and there is room for six close friends to sleep aboard.
The nav station, with its own seat, is across from the one-burner galley. The galley and head portlights open for air, and there is a large hatch forward for ventilation or passing spinnakers up on deck.
The 30 comes with symmetrical or asymmetrical spinnaker options. The easy handling asymmetrical spinnaker, tacked onto the fixed, short sprit will probably appeal to most cruisers, and the hull's modest weight makes the sail efficient for going fast too. The mainsail has a square-topped option and the spreaders are swept, so sitting at the dock or underway, the rig looks very modern and fast.
But with any luck, the Pogo 30's mooring will be empty, the boat pushed by an easy breeze to rest on a nice secluded beach. If the wind drops off, the 13-horsepower Volvo-Penta saildrive will provide plenty of push for the final gentle glide onto the sand.