The Hunter 31 can easily be added to the list of "everyman sailboats" because of its relatively affordable price, the sheer number of hulls currently on the used boat market and the sloop's overall versatility as both daysailer and family cruiser.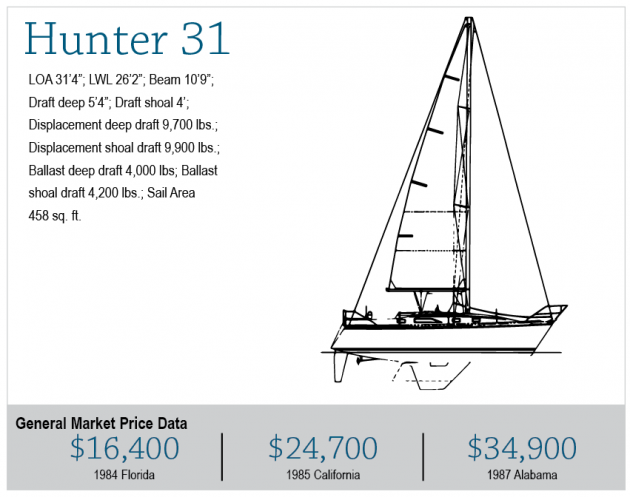 First impressions
Would-be boat owners looking for a bargain are likely to gravitate to the Hunter 31, which has a racy look with masthead rig and swept spreaders, and plenty of room above and below deck for friends to come aboard. The Hunter 31 doesn't look like a slow-moving tub or a traditional sloop from the 1960s or 1970s with overhangs and varnish-begging brightwork. Instead, it has the more contemporary lines found on boats made during the 1980s, with generous freeboard, a stainless steel destroyer wheel, tinted hatch covers, bow and stern pulpits, reverse transom and an aluminum toerail track similar to those pioneered by C&C. The deck is uncluttered given the overall length of the boat, although the sheer isn't the most elegant ever drawn.
The 31 was designed by Cortland Steck, who grew up racing dinghies from age 7 and later sailed larger boats offshore. In 1979, he graduated from the Westlawn School of Yacht Design and five years later established Cortland Steck Yacht Design. Steck has amassed more than 5,000 designs to his credit, including the Hunter 20, 34, 40 Legend, Starwind 223 and Hunter 25.5.
Construction
Many owners agree the Hunter 31 wasn't built with the notion that it would still be sailing far into the next century. Clearly not as rugged as some production boats, with the exception of its rock-solid hull, the overall build quality is the target of frequent criticism by owners. Complaints range from substandard winches to delamination on portions of the balsa-cored deck.
The hull was made of hand-laid, pre-cut fiberglass to ensure consistency. Hunter bonded a full-length internal frame and stringer system of unidirectional fiberglass directly to the hull to increase stiffness without adding undue weight. The chainplates were fastened to this framing system and led upward through the deck just outside the coachroof, creating more interior space and minimizing deck clutter. This design distributed the load to the frame and
stringer system.
The keel is cast iron so rust will always be a factor where it's bolted to the hull. The rust tends to form on the crack where the metal meets the fiberglass. Although this joinery is covered with a thin layer of gelcoat at the factory, once the material wears away, cracks develop and a rust line becomes visible. Maintenance of this area is essential by carefully grinding and cleaning the boat after haul out, then recoating.
What to look for
Delamination may be found beneath the mast and compression post along with a weakened crossmember. Look for discoloration or mold.
The shower sump and icebox drain into the bilge, which is shallow and compartmentalized, an arrangement that allows stagnant water to become trapped and inaccessible. Owners report this can cause rotting of the cabin sole.
The bilge area under the engine can also collect water from rain entering through the companionway. This water can drain into the main bilge area, adding to what is already accumulated from the sump and icebox.
Leaks under the steering pedestal and at the cabin windows are common. These seals should be cleaned and recaulked. Some owners have replaced the fuel tank, claiming it's flimsy. As one owner wrote in an online forum, "I replaced that cheap plastic, sorry excuse for a fuel tank." Another sailor resorted to using a portable fuel tank rather than replace the original.
The fuel filter gauge is inside the starboard storage locker, where it is difficult to access or see. The integrated water and waste tanks are sensibly molded into the hull, but their screwed-down lids should be removed and resealed after 20 years to keep leaks and odors in check.
Prospective buyers should examine the cable-linked steering for wear.
On deck
The masthead rig features swept spreaders. The deck is uncluttered, except for lifelines, genoa track and shrouds, the latter attached nearer the coachroof than to the outside rail. The shroud placement allows crew to move more easily fore and aft for sail changes or foredeck work. The lifeline stanchions are mounted outboard, creating additional room on deck. The T-shaped cockpit is somewhat cramped due to the pedestal steering column, wheel and engine controls. The cockpit lockers are large enough to stow all sails and other equipment.
Down below
There's a big-boat feel once you go below. Headroom is 6 feet 3 inches in the spacious saloon, but the V-berth is tight for two adults. The head with sink and toilet is just outside the V-berth and fitted with a privacy door.
The overall layout is social, with a U-shaped galley to starboard that allows the cook to converse or otherwise take part in the goings on. The galley has a four-burner stove, two-basin sink and an icebox. It is abutted by a dinette that seats four.
The port side features a settee and full navigation station with chart table and light. The aft cabin is roomy. Teak paneling warms the saloon and other bulkheads. Plentiful windows provide light and cross ventilation. The boat carries 35 gallons of water.
Engine
The hulls made from 1983 to 1985 were fitted with a 13-horsepower, freshwater-cooled, Yanmar diesel. Later boats were beefed up with a 16-horsepower engine. Both versions proved reliable, but underpowered when motoring to windward or in a choppy sea. Engine power has been a source of owner complaints. Panels allow for good engine access. The boat carries 18 gallons of fuel.
One owner praised the 13-horsepower engine, noting Yanmar suggested running it full bore and then backing off 10% to find the ideal rpm. "Mine runs like a top and is happy at 3,000 rpm," he said. "I can make 6.1 knots in a calm to slight chop, running at 2,900."
Underway
The Hunter 31 gets good reviews for its sailing abilities. Although the light-displacement sloop can be tender in a gusty wind, overall it's a forgiving boat with a balanced helm. Owners contend it's a no-brainer to sail and a joy to singlehand.
Opinions vary about the boat's proclivities when sailing downwind because the puffed-out mainsail hits the swept-back spreaders and doesn't always fill properly.
A few Hunter 31 skippers advocated using instead a combination of genoa and spinnaker when possible.
The boat performs nicely on its mainsail, but once the wind exceeds 20 knots, one or two reefs are highly advised. It tracks admirably once in the groove but can be slow to heel and may round up in a heavy gust. A broad reach is not its fastest point of sail.
Generally, owners find little fault with the boat's sailing characteristics. As one put it, "More than once I looked like a sailing genius because the boat handles so well."
Conclusion
Although the original sales brochure described the Hunter 31 as a bluewater boat, it seems more suited as a coastal cruiser. Given that a used Hunter 31 can be purchased on average for $20,000, one in good condition with upgrades already installed would be a bargain.
Bottom line: For not much more than the price of a used car, you can have a heck of a lot of fun on this boat.


---
PRICE: The price for a used Hunter 31 ranges from nearly $35,000 for a model in excellent condition with upgrades, to $16,400 for a boat in poor condition. Most 31s are priced around $20,000.
DESIGN QUALITY: Designed by Cortland Steck, the masthead sloop features a choice of deep or shoal-draft keel, fiberglass hull, spade rudder and has a pleasing overall length-to-width ratio of 3-to-1.
CONSTRUCTION QUALITY: The Hunter 31 was built from 1983 to 1987 in Alachua, Florida, by Hunter Marine USA. Complaints have been voiced about undersized winches, a weak mainsheet traveler and poor craftsmanship in some areas below deck. As one owner put it, "Details were compromised due
to pricing."
USER-FRIENDLINESS: Owners seem to agree the Hunter 31 is an easy boat to sail, simple to rig, somewhat tender but able to point high in a moderate breeze. By all accounts, it's made to singlehand. Mast height from the water is 47 feet 4 inches, enabling the boat to fit under most fixed highway bridges.
SAFETY: The Hunter 31 is often referred to as high and dry, mostly due to its generous freeboard. However, owners claim it gets pushed around by heavy seas, and its underpowered diesel leaves much to be desired. Grab rails on the coachroof provide a modicum of safety on deck.
TYPICAL CONDITION: The boats vary in condition. If maintenance has been kept up, the boat may be a good value, particularly if equipment upgrades were also made. Potential buyers should keep in mind the youngest 31 is now 27 years old and could be showing its age.
REFITTING: Common upgrades include adding a wind speed indicator and gauges for water, fuel and holding tank. Installing a beefier mainsheet traveler; larger winches and anchor roller are typical improvements.
SUPPORT: In 2012, Morgan Industries, parent company of Hunter Marine, filed for bankruptcy and was renamed Marlow-Hunter, which can be reached at www.marlow-hunter.com. For retail parts, contact www.shop.hunterowners.com. The Hunter Owners' Association, www.hunterowners.com is also a resource of support and information.
AVAILABILITY: Dozens of Hunter 31s are currently on the market, mostly listed. In early 2014, a project boat was being offered at $10,000 and eBay was auctioning a 1984 model for $6,900.
INVESTMENT AND RESALE: Because of its low-price on the used boat market, there is only moderate resale value.