This beautiful classic continues to win races and the hearts of offshore cruising sailors
The origin of the celebrated Pearson Rhodes 41 can be traced back to the 1950s and construction of the Bounty II design, a cruising sloop designed by naval architect Philip Rhodes that was made of a promising new material called fiberglass. The fractional-rig Bounty II was a project of Aero Marine Plastics in California. By today's standards, the thickness of its hull is excessive, exceeding one inch in some places. But boatbuilders were still experimenting with plastic and had few measures by which to gauge how it would hold up.
Although the Bounty II was popular, Aero Marine, a subsidiary of Grumman Aircraft, went out of business in 1960. A group of Grumman executives bought Aero Marine the following year, and the tooling equipment, molds and other assets were shipped to Portsmouth, Rhode Island, where boatbuilding cousins Everett and Clint Pearson rebranded the boat the Pearson Rhodes 41.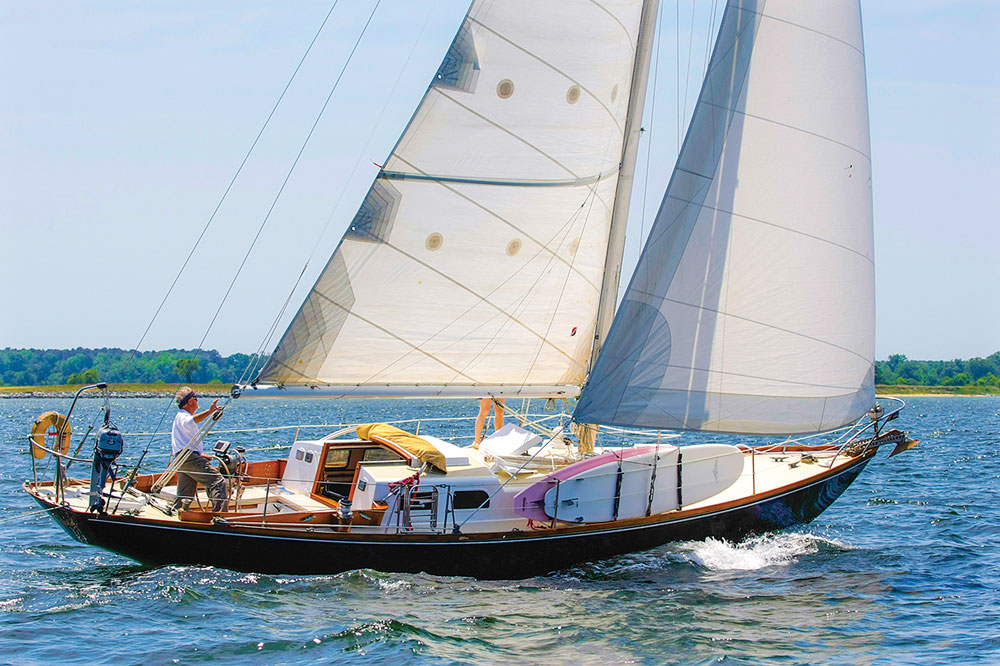 Rhodes was asked to make some design changes, such as replacing iron with lead inside the encapsulated keel, increasing the freeboard and eliminating unnecessary bulwark. The mast was moved slightly aft and lengthened. Once converted to a masthead rig, the boat could accommodate larger headsails. The engine was relocated from the bilge to behind the companionway, and additional wood trim was installed to create a more traditional interior. The large windows on each side of the cabinhouse were changed into two smaller windows, which also strengthened the coachroof. According to Rhodes, the changes made the boat faster, more efficient and in compliance with the latest Cruising Club of America racing rules.
Fifty Pearson Rhodes 41s were built from 1962 to 1968, primarily as traditional sloops but also as cutters and yawls. Most of these boats have been well maintained by their owners.
First impressions
The Pearson Rhodes 41 is a graceful and slender boat, with generous overhangs fore and aft that give elegance to a boat that a half century ago might have had women in summer dresses and men in navy blazers swilling champagne on deck.
"The dream to cruise the world sent me in search for a well-built, bluewater-capable sailboat. I wanted a vintage vessel, long overhangs, simple and tough. My search ended when I found Valkyrie," wrote Russell Gray, former owner of a 1963 Pearson Rhodes 41.
George Dunnigan, who for 35 years sailed his PR41 Lightfoot in the Chesapeake Bay area and to Bermuda in summer, praised the boat for its good looks and sailing ability. "I love everything about that boat. My kids grew up on it," he said.
Naval architect Bob Perry noted how the boat's beautiful lines reflect those of Rhodes' earlier wooden sloop Altair. Perry recalled that in 1956, Rhodes' talented son, Bodie, scaled Altair's lines into a slightly smaller sloop, which became the prototype of the 40-foot fiberglass production racer-cruiser.
The racer part of the boat's description was spotlighted in 1995 when the Pearson Rhodes 41 White Wings placed sixth in the biennial Marion-Bermuda Race. And again in 2000, when Restless won the Newport-Bermuda Race in the Class 1 division.
Construction
The Pearson Rhodes 41 is bulletproof. Its hull is made of solid fiberglass with the fiberglass deck cored with balsa. The keel-stepped mast supports double spreaders. Some of the early PR41s were outfitted with wooden booms and tillers. The hull-and-deck joint is tabbed and securely sealed. The change from an encapsulated iron keel to one filled with lead gave the boat increased weight and stability and helped it handle the taller rig.
What to look for
Given that the boat was constructed more than a half-century ago, it's quite possible the engine may need replacement, along with the standing rigging. Although the hull is solid fiberglass, the fiberglass deck is cored with balsa wood, which makes it potentially vulnerable to water intrusion over time. Electronics should be assessed since many changes in technology have occurred since the original equipment was installed.
Annapolis yacht broker Jason Hinsch agreed age is a factor, but not a big enough one to deter sales.
"It's an antique for sure. Any boat made in the 1960s would have had to be maintained by an owner who was on top of it. Otherwise, they'd be gone at this age. But the Pearson Rhode 41s are out there."
On deck
Despite its slender appearance, the PR41 has wide side decks and its roomy cockpit has protective coamings. Some models were fitted with a tiller. The traveler is mounted behind the helm. Common upgrades included the addition of roller furling and, in some cases, in-mast furling. Traditionalists tend to appreciate the teak toerail, cabintop handrails, wooden cockpit coamings, and trim around the companionway. Some models had an 18-foot wood boom.