Robustly built, this traditional cruiser is made for bluewater sailing
If Gozzard Yachts had a mantra, it might be comfort and safety. The late Canadian boat designer and builder Hedley "Ted" Gozzard harbored strong opinions on how a sailboat should be laid out and constructed and the Gozzard 44 Mk1 cutter is a prime example. His son, Michael, now at the helm of Gozzard Yachts, updated the company's flagship vessel, and created the Gozzard 44 Mk2 bluewater passagemaker. Over the years, both father and son have earned marine industry kudos for the company's boats.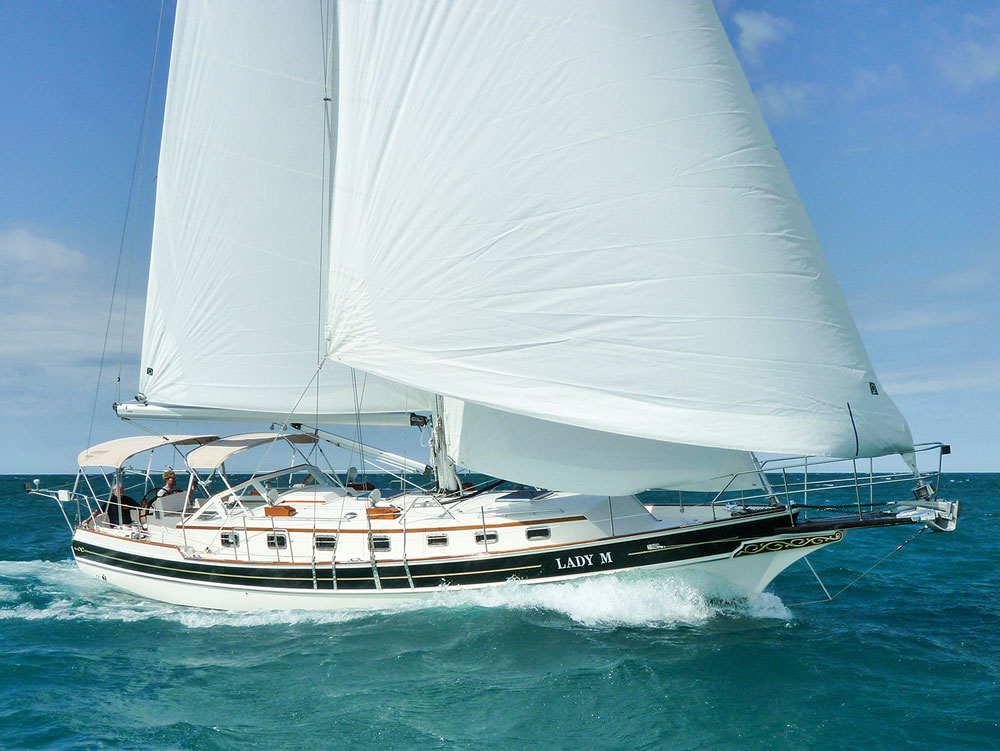 Ted Gozzard was 80 years old when he died in 2014. Born in England, he found work as a carpenter's apprentice upon arriving in Canada in the 1960s. In the early 1970s, he and his brother, Haydn, founded the Bayfield Boat Yard in Ontario, where they designed and built fiberglass cruising sailboats. The facility's production line was able to make one boat per week, launching more than 1,500 full-keel cruisers from 25 to 40 feet. But Gozzard had a different vision of boatbuilding in mind. In 1980 he founded North Castle Marine Ltd. and Gozzard Yachts in Goderich, Ontario, Canada, to build semi-custom boats.
Gozzard's innovative ideas included a windshield, a pod island in the cockpit, open transoms and an interior that could be customized. "The cockpits were so wide there was nothing to put your feet up against, so he created the pod." Michael Gozzard said. "The hard windshield was designed in 1985 to allow seeing straight over the top."
Down below, Ted Gozzard also designed a flexible space that could serve as both sitting area and sleeping quarters. His designs were typically hand drawn.
Today, Michael Gozzard has maintained that innovative spirit, redesigning the 44 Mk2 with a deeper draft and the use of more composites in place of wood. "It's a much more modern boat than the Mk1," he said.
First impressions
"The minute we looked at the boat we knew it was right," said Will Linne, who sails his Gozzard 44 Mk2 with his wife Tara on Chesapeake Bay. "It has a classic old style, which is what we wanted."
The Gozzard 44 was an evolution of previous designs, with its clipper bow, quarter rail, trail boards and 6-foot bowsprit. The boat's appearance has instilled confidence in its ability to handle the world's oceans.
Construction
Launched in 1993, the Mk1 had a draft of 5 feet 3 inches that was increased to 5 feet 6 inches on the Mk2 in 2001. Four feet were added to the mast height. The wetted surface of the hull was drastically reduced with a new keel and rudder design.
Nearly all Gozzard boats had traditional full keels prior to 1980. The design then shifted to a modified fin keel with a Brewer Bite and a skeg-hung rudder.
"The Mk2 was a complete redesign of the under body and rig and the boat really took a step up in structure," he said. "Corecell and a lot more composites were used instead of wood. These modifications resulted in better pointing ability, slightly better righting moments and better directional stability."
"It's bulletproof," Linne said. "The hull is almost 2 inches thick. There's no flexing like we could feel in our Hunter 376."
Michael Gozzard said it takes nine months to build a boat. New owners discuss the construction with the designer and builder to ensure the boat meets their needs.
What to look for
Like any boat nearing three decades old, some equipment may need replacement or upgrading, particularly electronics and communication devices. The boat's Westerbeke diesel may need attention, depending on how well it has been maintained. Check belts and hoses for wear, and the engine for fuel leaks. Sails, too, are likely due for a close inspection, as are through-hull fittings.
On deck
With a beam of nearly 14 feet, there's plenty of room for crew to go forward for sail changes, anchoring or other tasks. Gozzard's attention to detail is evident on deck where cambered side decks with substantial bulwark offer sure footing when heeled. Similar thought was given to the so-called cockpit pod, which gives crew a surface on which to brace their feet when seated.
"It's a very social space. We've had up to 10 people in the cockpit at once," said Linne, noting the helm has a square block in the middle of the cockpit, a center console that encloses the genset and also serves as a wood-topped table.
Linne said the foredeck has enough room to lash down a dinghy when making an offshore passage. Sturdy stanchions, lifelines, bow pulpit, bowsprit and a stern rail with dinghy davits, all add to the boat's sense of security. Roller furling on the genoa and staysail make tacking a breeze. The cabin has a low profile to reduce windage and increase visibility. The foredeck anchor windlass is recessed. There are four winches on the cabintop.
"The standing rigging was well thought out," Linne said. "It's a cutter, with a self-tacking staysail that runs on a half-moon shaped track. The boat is all furling rig, so depending on the conditions, it's easy to furl the genoa before we tack and the staysail goes over on its own."