This midsized Canadian cutter is robustly built for bluewater passagemaking
More than 40 years after the first Cabot 36 cutter was built in Canada, the boats remain cherished by their owners and the stuff of dreams for sailors looking to purchase one.
Only 49 of these bluewater cruisers were constructed in Sydney, Nova Scotia, beginning in 1974. Production continued until 1978, when Cabotcraft Industries went out of business due to a soured economy and unfavorable market influences. A massive spike in the price of crude oil had increased the cost of fiberglass resin. The change put the price of midsized sailboats like the Cabot 36 out of range for average-income sailing families.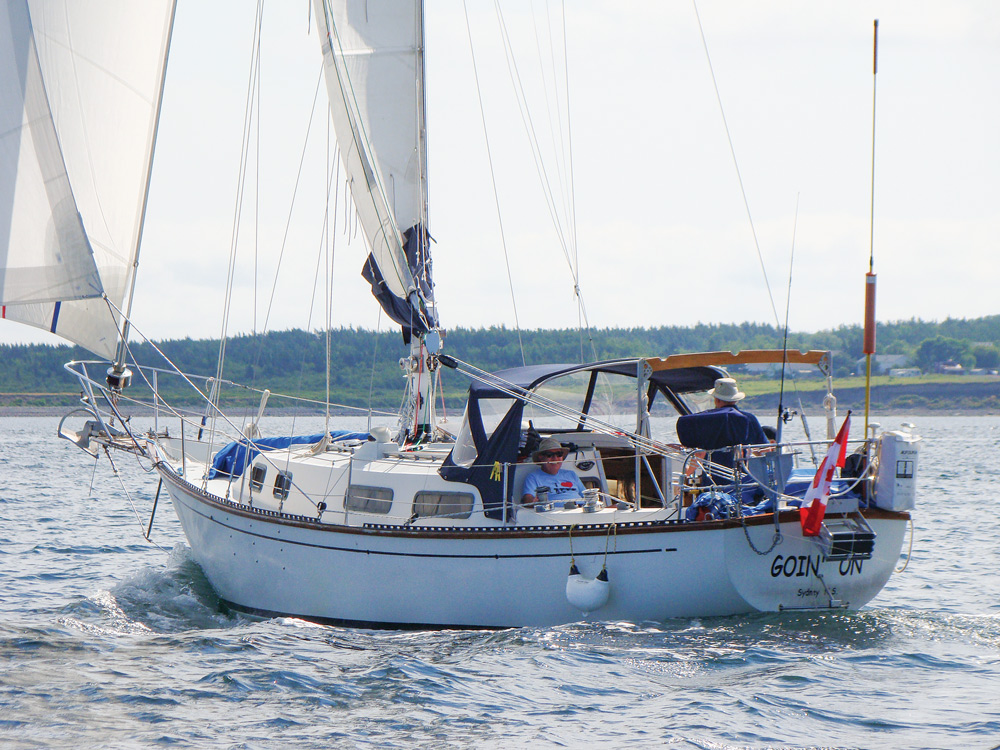 The boatbuilding company was a financial partnership between the Canadian government's Cape Breton Development Corp. and two Toronto businessmen, Fred Karp and Jerry Goodes. Cabotcraft Industries set up shop in 1973 in a World War I-era naval building. Canadian boat designers Ted Brewer and Robert Walstrom were hired on to draw the plans. According to the unofficial company history, getting the first boat to the Annapolis boat show in 1974 was a memorable feat. Towed from Maine to Maryland by an aging 1950s Mac truck, the boat arrived on time and was well received.
By 1975, the production line in Sydney was capable of working on 10 boats in various stages. But the cost of doing business remained high and it was often difficult to obtain the necessary materials. In July 1978, after 49 Cabot 36s were built, some as kit boats, the company went out of business.
Attempts to revive production began when Brian Smyth, a Cabot 36 aficionado, entrepreneur, and chief engineer at Yachtsmith International in Dartmouth, Nova Scotia, purchased the molds along with a business partner and planned for a new line. At least one new Cabot 36 was constructed in 2005.
First Impressions
The Cabot 36 has the classic, conservative appearance of a sturdily constructed ocean cruiser. The boat has an upswept bow and chopped-off stern. Out of the water, the hull is distinguished by the so-called Brewer Bite, which looks like a bite was literally taken out of the full keel.
Brewer was convinced the "bite" would give the boat the windward advantage of a fin-keel boat and make steering in reverse a more pleasant experience. The "bite" allows for the rudder to be mounted at the aft end of the keel while keeping the propeller and rudder fully protected.
In a review about keel design, Brewer wrote that the "bite" is a way to modify a full keel. "The size of the cutout depends on how insistent my client is on having a full keel, and I try to make the cutout as large as I can decently get away with," Brewer said.
Brewer didn't claim to have originated the bite, noting "the late L. Francis Herreshoff used a not dissimilar profile many years earlier in the design of the lovely 57-foot ketch Bounty."
Construction
The Cabot 36 is a traditional fiberglass boat built from a mold. Its deck and hull are cored with Airex rather than marine plywood or balsa wood, like many other boats of its era. Airex is a strong material but does not absorb water and so does not bear the threat of seawater infusion and subsequent delamination.
The modified full keel has lead ballast to help it stay upright in a blow. Owners have described the boat as "fortunately overbuilt," its solid construction evident above and below deck. Jim Marsh, John Perring, and Walstrom did the lofting from Walstrom's plans and Brewer's line drawings.
What to look for
Given its age, an original Cabot 36 would likely require upgrade in its electronics, communication equipment, navigation instruments, and perhaps some engine work. The dodger and bimini might also need replacement, as would any sails that have outlived their performance capability.
Canadian Wilson Eavis, who lives in Sydney where the boats were made, owns hull No. 45, the 1977 Cabot 36 Goin' On. According to Eavis, the boat was sailed on the Great Lakes, so it was not outfitted for ocean passagemaking.
"We could tell she was gently used with her original sails and a brand-new, oversized diesel engine with just 27 hours total running time," he said.
Since Eavis and his wife were planning a five-year global cruise, they bought new sails, solar panels, anchors, communication equipment, auto-pilot, chartplotter, windlass, compass and a deck-wash system.
"We swapped out some old gear for new equipment, as technology is advancing so quickly in the cruising world," he said.
Not every Cabot 36 would require such extensive upgrades, but at minimum the standing rigging should be carefully inspected for wear. Attention should also be paid to the deck and cabintop for leaks, particularly at stanchions, chainplates and other deck fittings. The engine might also show signs of wear or lack of maintenance, evidenced by oil or fuel leaks, brittle fuel and exhaust lines, thinning belts, loose mounting bolts, and other telltales.
On deck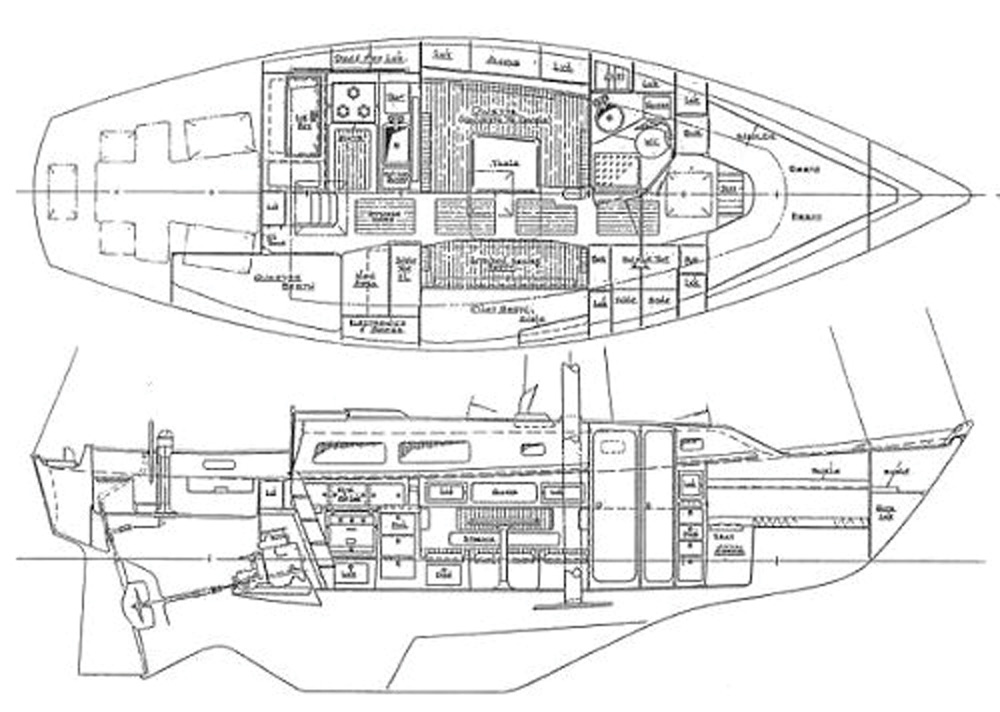 A stainless steel bow pulpit and stern rail add to the boat's overall appearance as a heavy-duty cruiser. Stanchions, lifelines, dodger, bimini and roller-furling headsails were all part of the package. The deck features an aluminum track along the toerail to accommodate sheet adjustments and gear attachments. The mainsheet and traveler are located aft of the helm seat.
The T-shaped cockpit has adequate room for crew, enhanced with a raised helm seat. The seat can be reversed to serve as a bench across the stern. The cockpit has teak floorboards to keep feet dry and further enhances the boat's nautical look. There are five opening bronze portlights for illumination and ventilation.
Down below
Down below the Cabot 36 exudes what owners describe as a feeling of coziness. Most of the fiberglass hull interior has been covered over with rich teak bulkheads and cabinetry. The woodwork is handcrafted and the joinery finely made.