Rooting for the home team
The young Bermuda racing team takes on the Red Bull Youth America's Cup
Bermuda's 22-year-old MacKenzie Cooper was on top of the sailing world as his Team BDA stormed across the finish line in first place in the first race of the Red Bull Youth America's Cup finals in June. Held in conjunction with the America's Cup on Bermuda's Great Sound, the youth series pitted 12 teams from around the world against each other in an exciting fleet racing format that saw eight finalists on the line in a jaw-dropping display of speed, seamanship and sportsmanship. As Cooper's boat crossed the line, the stands erupted in a sea of Bermuda flags while most of the tiny country's population of 65,000 stopped what they were doing to cheer on the local favorites.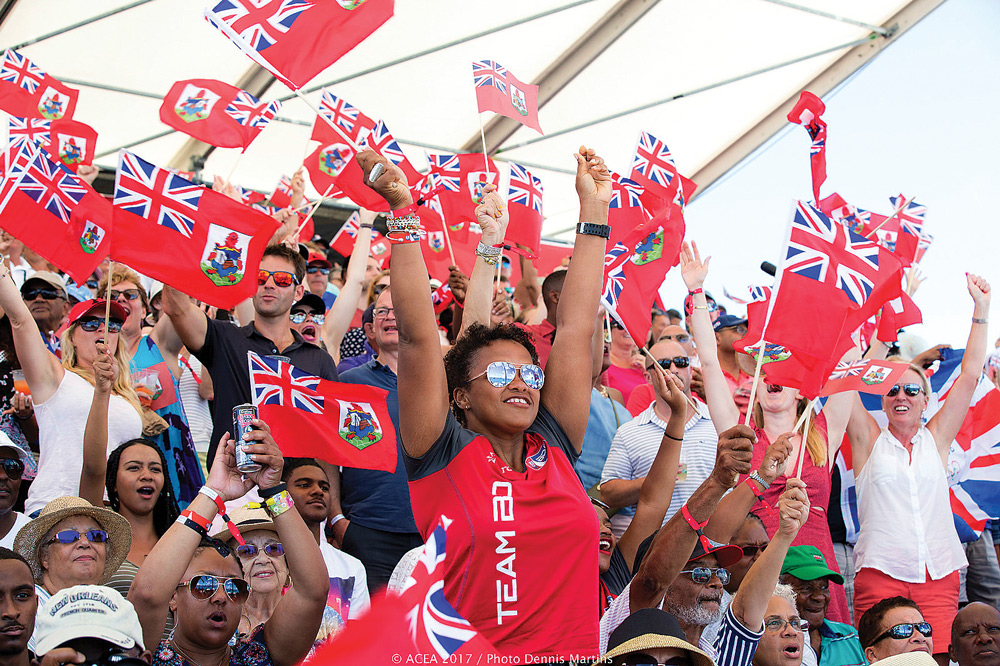 ACEA 2017/Dennis Martins photo
"It was just phenomenal to see the level of support the Bermudians gave us," said Cooper.
The young sailors were afforded rock star status on this Lilliputian island where almost everybody knows one another and where national pride runs deep for all things Bermudian. But despite the well-wishes of the populace, the upset they were all hoping for was not to be, as a couple of lower tier finishes in the remaining five races relegated the local heroes to a tie for last place in the overall standings.
"They have a saying at the America's Cup that 'There is no second place,' but I am here to tell you that in the youth series, there are a number of levels of achievement that are significant," said Team BDA's coach Richard Clarke, himself a five-time Canadian Olympian. "Our team's presence in the finals stands as proof that in sailboat racing, all things are possible given the right amount of talent, coaching and resources."
The Red Bull Youth America's Cup series was conceived as a proving ground for future America's Cup sailors by former Austrian Olympians Hans Peter Steinacher and Roman Hagara. The Bermuda edition of the series is the second iteration of the event. The first was staged in San Francisco four years ago, when 10 teams sailed 45-foot catamarans. This time around, they sailed the same boats the Oracle and contender crews campaigned during the Louis Vuitton World Series qualifying races. These 45-foot-long catamarans, with masts as high as an eight-story building, fly on hydrofoils. The AC45F is capable of reaching speeds of more than 35 knots.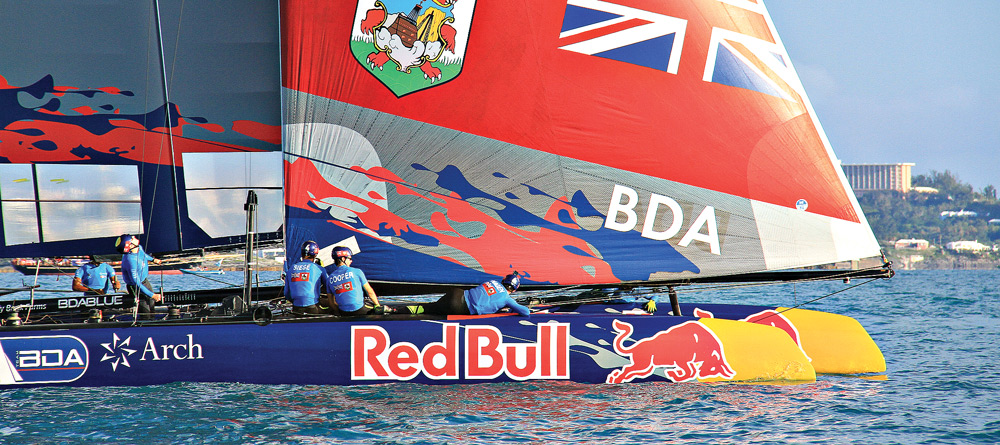 Craig Ligibel photo
More than a dozen Red Bull alumnae are now on Cup teams, including New Zealand's helmsman Peter Burling. Burling credits his Red Bull experience with catapulting him into the lofty heights of successful Olympic and America's Cup campaigns.
This year's event was won by Great Britain's Land Rover BAR Academy in an improbable finishing day that saw Team New Zealand's youth team winning an impressive three races. While the Kiwis were celebrating what they thought was another series victory, events on the course conspired to catapult Team GBR into second place in that final race, giving them the overall series lead on points.
"It was an incredible storybook finish," Steinacher said. "And it just goes to show that in sailing, 'It's never over 'til it's over.'"
When the Red Bull Series was first announced, Oracle Team USA and each of the challenger teams sponsored a youth team with six open spots available to qualified teams from around the world. Sailors are required to be between 18 and 24 and all members of a team need to be passport holders of the country for which they are sailing.
Steinacher smiles when he discusses this latter stipulation. "There are lots of good sailors from the countries in whom sailing is an important sport. Red Bull lets these sailors come together in a show of nationalism that is unrivaled in any other sailing sport," Steinacher said. "Maybe someday, America's Cup teams will have a more stringent passport-holder qualification. But for now, this event paves the way and shows the world how strong a country's sailing skills might be."
Putting together a Bermuda Team was important to Oracle Team USA, which had been in Bermuda training for two years before the Cup.
"We knew there would be a lot of support for a local team, and we vowed to help them in any way possible," said Oracle's Peter Rusch.
The Bermuda team started at a decided disadvantage, having few young sailors with international racing credentials and a sporting community more geared to cricket and football than sailing. A try-out system was devised and 120 athletes and sailors participated in the initial screening, with different physical criteria for athletes and sailors. Eventually, nine were chosen to race with Team BDA.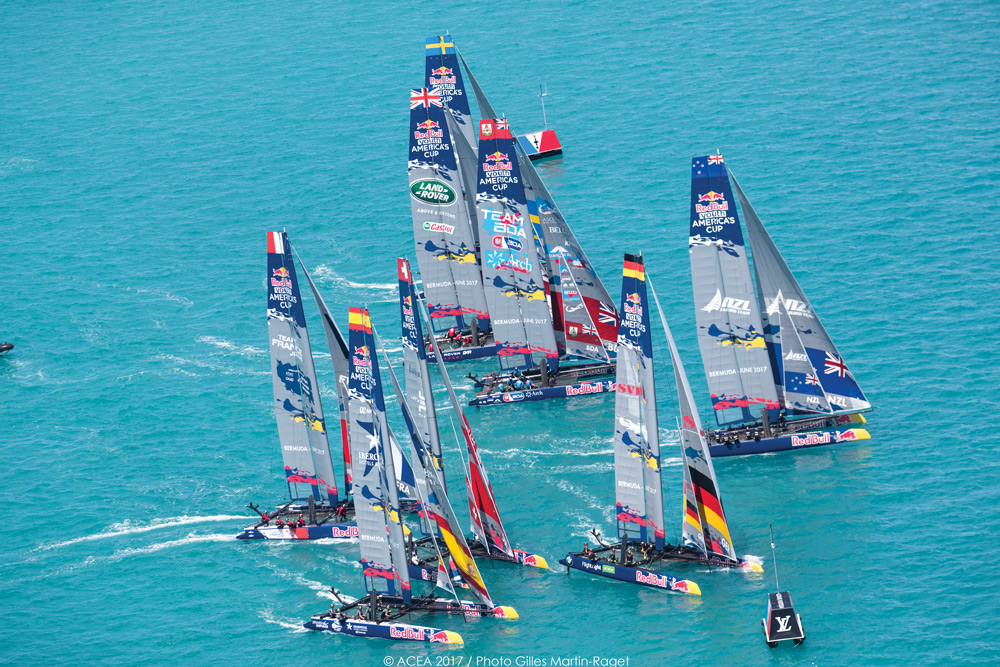 ACEA 2017/Gilles Martin-Raget photo
It was a diverse group of sailors and athletes—former rugby and soccer players, swimmers and collegiate sailors. The normally staid hometown newspaper The Royal Gazette called the group a "mishmash of sailors and athletes who held their own against the best youth sailors in the world." Their diverse backgrounds mirrored the composition of the country they represented.
"On Team BDA, these is no color barrier. No black or white. We are all Bermudians, sailing for our country and the team," said Dimitry Stevens, the team's helmsman who won the starting role in a tough and somewhat controversial dual with local favorite and Bermudian Olympian Ceci Wollmann.
MacKenzie dropped out of college at St. Mary's College in Maryland to mount his Red Bull campaign. Grinder Mustafa Ingham, a gentle giant with an engaging smile and an unassuming attitude, quit his job as a baggage handler at the airport. Others quit their schooling and careers to devote their time to the campaign.
The Bermudians were aided by a pretty significant war chest, rumored to be in the low seven figures. A key component of the team's training was the acquisition of a foiling catamaran, a GC-32, that while not the same as the AC 45s used in the Red Bull series, helped put the Bermudians on equal ground with some of the European teams with GC-32 racing experience.
"The Red Bull rules are tough," Clarke said. "Each team gets to sail the boat for seven days in the spring and seven days leading up to the races themselves. The teams can't even get out on the water during lay days. Thus, being able to sail the GC-32, even though its characteristics are different than the AC 45s, was as big advantage to our guys."
In addition to mentoring Team BDA, Oracle Team USA also helped the United States' entry, Next Generation, with coaching, strategy and training.
The U.S. team did not make the finals. Skipper Carson Crain was downhearted the day after the team finished a disappointing last in the qualifying semifinals.
"It just wasn't our time," Crain said. "Looking back, we didn't have the resources some of the other teams had and that showed in our lack of consistency on the race course."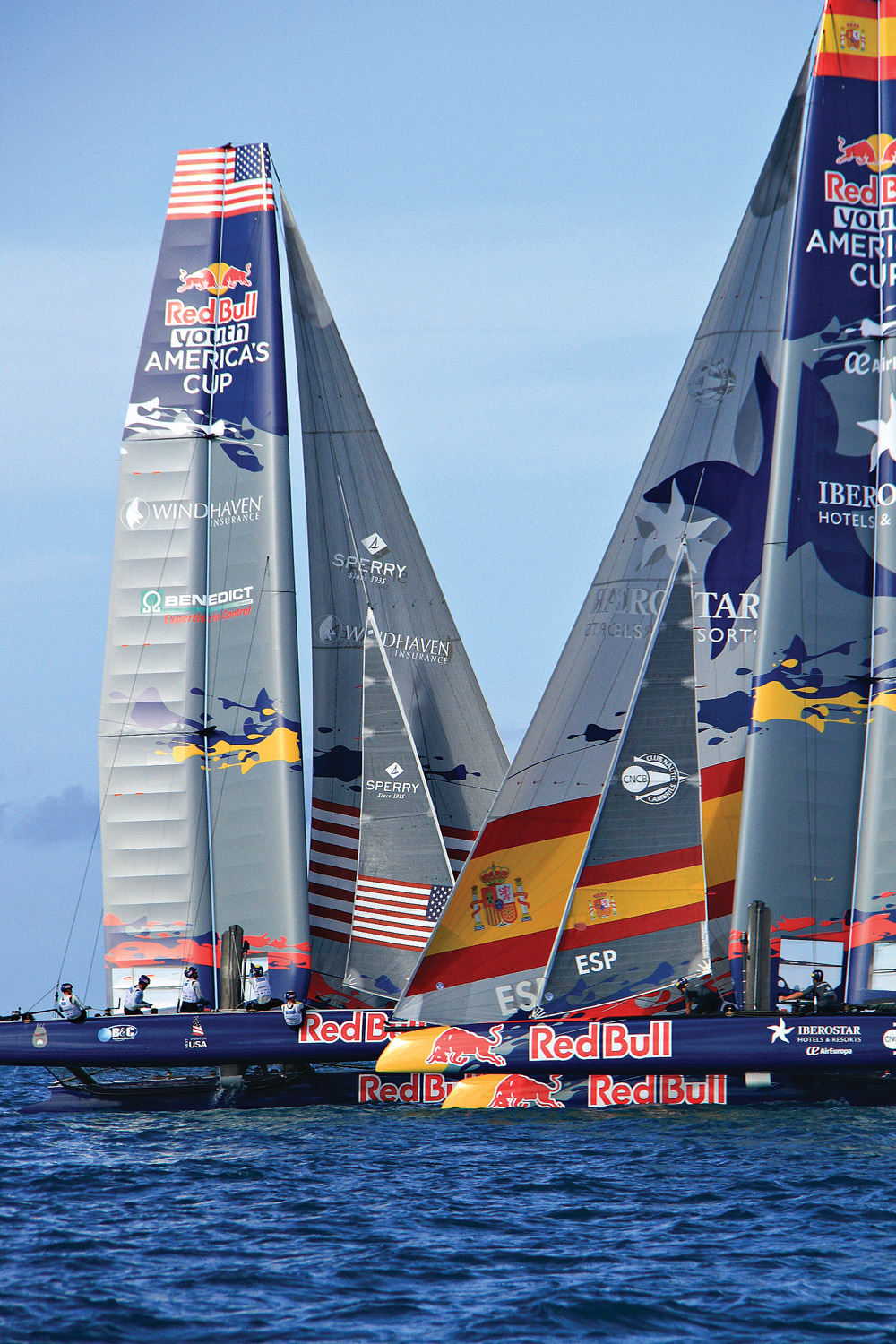 Craig Ligibel photo
Next Generation's Rhodes Garner was more optimistic. While most of this year's team will be too old to compete in the Red Bull series should it continue for the next Cup, the hulking 20-year-old vows to contend not only for a spot on the Red Bull team, but also holds out hope for a berth of the next Team USA that competes for the America's Cup itself.
"Why not?" the brash Garner says. "Peter Burling made the jump. Others can as well."
Another Red Bull graduate is Oracle Team USA's grinder Cooper Dressler. Dressler, a University of California Santa Cruz collegiate, sailed for the American Red Bull effort in San Francisco. After that losing effort, he hung around the base and eventually was offered a job as part of Oracle's shore team in Bermuda. His work ethic, in the gym and around Oracle's dockyard base, convinced Oracle management to give the 26-year-old a spot on the team as a grinder.
"Here is a guy for whom no job was too small, he worked his butt off in the gym and he never asked for anything. He gave 110% every day. Glad to have him on board," said Oracle Team manager and tactician Tom Slingsby.
Dressler is 6 feet 2 inches tall, weighs 220 pounds, has arms like tree trunks and carries an infectious smile that belies his hard-nosed competitive nature.
"The difference between Red Bull and the Oracle teams is that the Cup is just so much more intense. We have to maintain an incredible physical pace for 20 to 30 minutes. That's like running a 100-yard dash at full tilt for half an hour."
No doubt, however, that the legacy that Red Bull alumnae like Dressler, Burling and others have left creates a tremendous path forward for Red Bull sailors who are willing to work hard, sacrifice and never take no for an answer.