Woman sailors are joining professional men-only racing teams after organizations such SailGP, the Ocean Race and the America's Cup force the change with new rules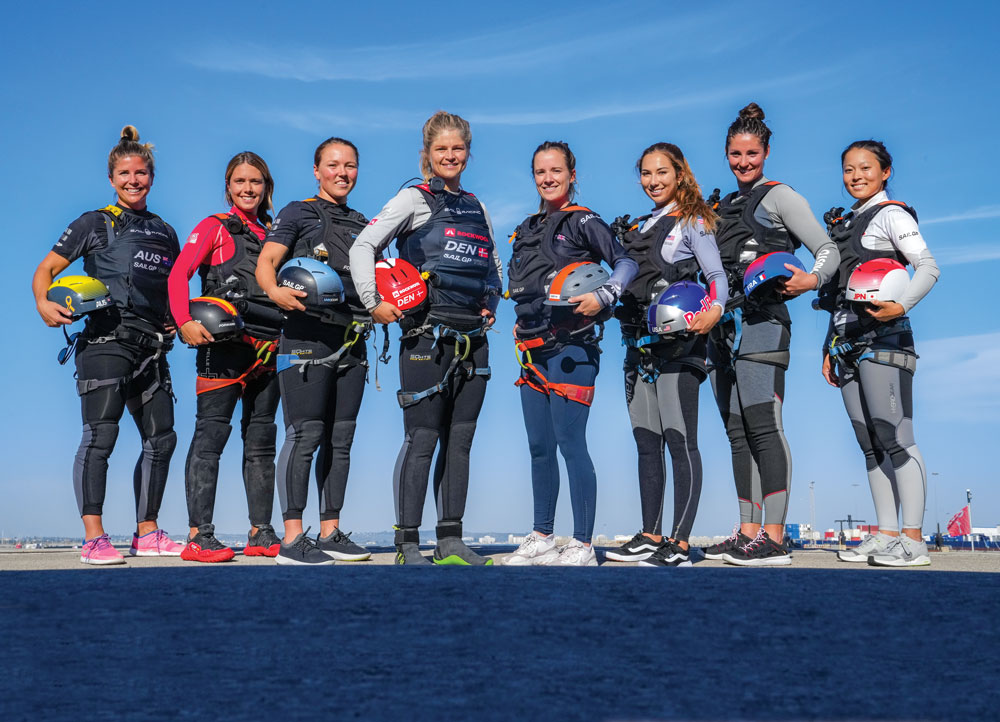 SailGP photo
On a blustery fall day, 12-year-old Chicago area sailor Charlotte Harris spent a frigid couple of hours learning how to foil in Lake Michigan in late October. Her lips were blue, she was shaking like a leaf yet her smile lit up the waterfront. Her coach was newly minted U.S. Sail GP team member CJ Perez, who was selected from a pool of 50 female applicants based on her small-boat foiling expertise to become the first woman to race in a regulation event for the 50-foot high-tech foiling boat worldwide racing tour.
"CJ was awesome as a coach. What a role model," Harris said, after watching Perez call tactics aboard U.S. SailGP in early October in Cadiz, Spain. "I want my dad to buy a foiling boat so I can follow in CJ's footsteps."
In March 2021, 18-year-old Perez won both the Open and Women's titles at the 2021 WASZP national championship held in Tom's River, New Jersey. One week later, she joined seven other women racing aboard the SailGP eight-boat fleet of 50-foot foiling catamarans.
"I always said we'd put female athletes on our boats when we felt they were ready to compete," said Jimmy Spithill, U.S. SailGP CEO and helmsman. "CJ has all the tools. The new directive to add a sixth crewmember on the SailGP boats lets us put our female athletes where they can succeed and help the team win."
"It was an awesome experience," Perez said of the team's first place in the third race on the first day of racing in Cadiz. "When I'm in the sixth position, I act as the eyes and ears of the team, calling puffs, keeping track of the other boats, timing the start. I learned so much today. Can't wait to get back out there and help the team anyway I can."
Perez and her fellow SailGP women sailors are the exception in a male-dominated sport.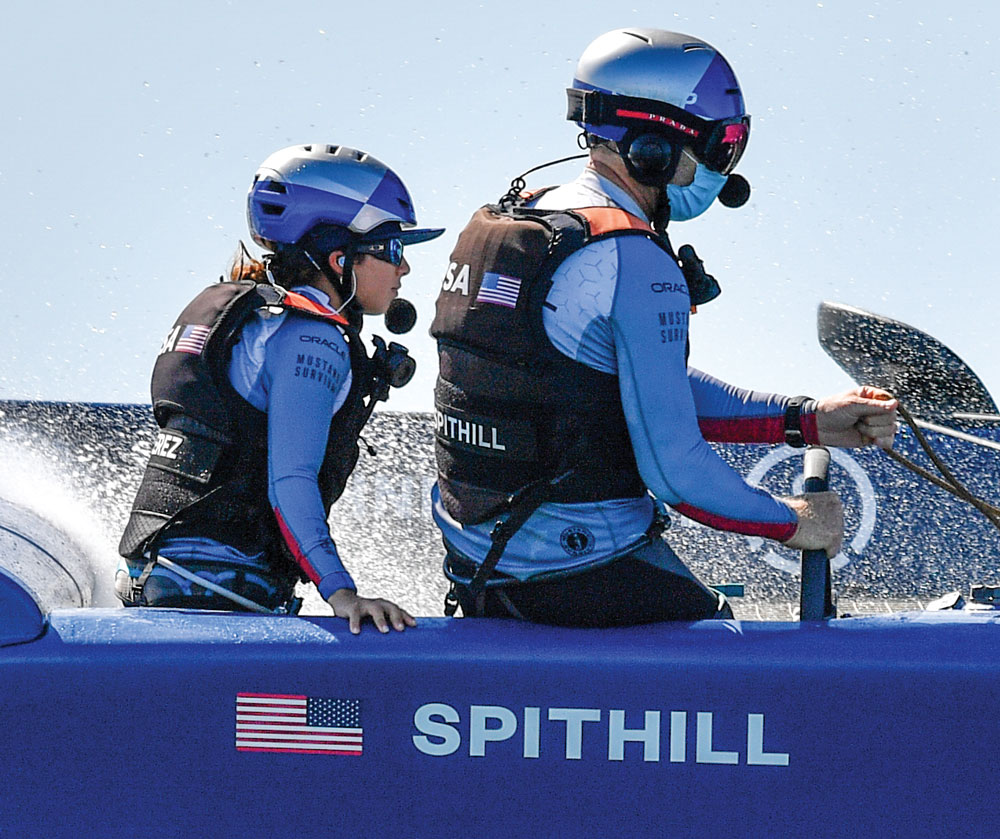 SailGP photo
"Fewer than 5% of the available positions aboard sailboats competing at the highest level of international competition are currently held by women," said Victoria Low, who has worked in the marine industry for 30 years, including with the three all-female teams in the Volvo Ocean Race. Trustee of the Magenta Project, a British-based organization dedicated to increasing women's participation in performance sailing, Low authored the 2019 World Sailing Trust's Strategic Review into Women in Sailing. The report included insight from 4,500 respondents ages 11 to 83 from 75 nations with a variety of experience across the sport. It outlined key actions to balance the playing field, including women mentoring and coaching, and increasing participation by creating specific opportunities for women to compete.
"Women's participation will change with SailGP's initiative as well as the changes to the Ocean Race that gives teams certain advantages if they have woman onboard. Then, there's the proposed America's Cup developmental program that aims to include women and young sailors in a learning situation aboard 40-foot foiling monohulls. We're not there yet. But it's a start."
The America's Cup recently announced a woman-only division in the 40-foot class. The rules for the 2017-2018 Volvo Ocean Race incentivized the addition of women sailors to the teams. All-male teams could only have seven crewmembers, one fewer than the previous race. That maximum crew limit went up to eight or nine for teams taking seven men and one or two women, while evenly mixed teams could sail with five men, five women, such as Turn the Tide on Plastic skippered by Dee Caffari. An all-female team could have sailed with 11 crewmembers. SailGP committed to placing women onboard its fleet of eight foiling catamarans by allowing a sixth team member when the boats are fully crewed and fourth crewmember when the teams race short-handed when the wind is light.