Pacific Seacraft Orion 27
This roomy, capable and well-built cruiser is ocean crossing ready
The Pacific Seacraft Orion 27 has been called many things, from an overbuilt floating apartment to the sort of boat an adventurous sailor might choose to sail around the world. During production in the 1970s through the early the 1980s, it was available as a sloop, yawl or cutter and was designed by Henry Mohrschladt, who along with builder Mike Howarth, founded Pacific Seacraft in 1975.
"That first year we set up shop in a lean-to behind Howarth's father's garage in Anaheim," Mohrschladt said. "We did everything right there."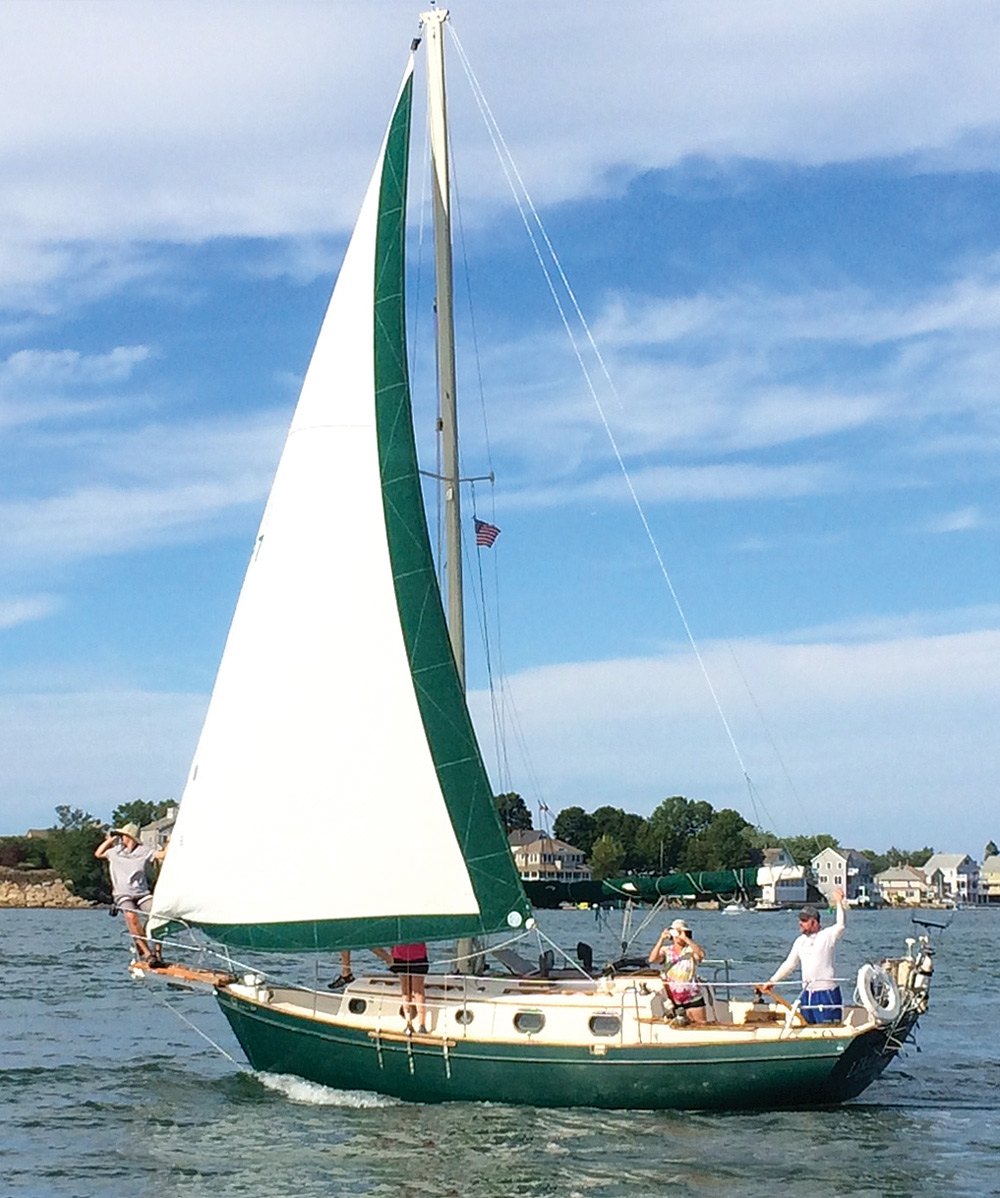 Mohrschladt was a self-taught engineer and boat designer, and Howarth was a carpenter and tooling expert who also installed engines. They debuted the Pacific Seacraft 25 that was inspired by double-ended New England fishing vessels at the Newport Beach boat show in 1976.
"We were so broke, Henry sold his car to pay for the boat cushions," Howarth said. "We put every dime we had into that boat."
Before the show opened, they had to lug a heavy bandsaw to the docks to complete the boat in time, calling in friends and relatives to help with sanding and final tasks. The boat sold for $11,400.
Mohrschladt designed two more boats that helped cement Pacific Seacraft's reputation as a company dedicated to building high-quality and seaworthy cruisers—the Mariah 31 in 1977 and the Orion 27 in 1979.
"I can attest to the unsung hero status of this boat design simply because Henry Mohrschladt designed her instead of W.I.B. Crealock," said Charlie Leahey, owner of the Orion 27 cutter Mary Clare. "It is frankly astounding to me that you can pay more for the smaller Dana 24 because of this one romanticized detail."
Mohrschladt envisioned the Orion 27 as a strongly built, seakindly boat capable of making long passages. He didn't consider it a pocket cruiser like the much smaller Pacific Seacraft Flicka 20.
As demand increased, the men leased space in industrial buildings in Costa Mesa and Santa Ana, eventually purchasing a former Dr. Pepper soft drink bottling facility in nearby Fullerton. The Orion 27 quickly established itself as a popular choice among cruising couples looking for adventure on the open sea. It was jokingly referred to by some critics as "the poor man's Island Packet."
In 2003, Brechin Morgan of Milford, Connecticut completed a four-year circumnavigation aboard his cutter-rigged Orion 27 named Otter.
First Impressions
The Orion 27's conservative lines, beefy bowsprit and eight bronze port lights, externally-mounted chainplates, heavy-duty deck hardware and the gleam of varnished teak on toerail and hatches give the boat its classic looks. The boat has a raked stem and angled transom. It often is sailed with full-batten tanbark sails.
Construction
The Orion 27 is robustly constructed with a solid, deep V fiberglass hull. Decks are fiberglass with a balsa core. The hull is joined to the deck with a double flange bedded in polyurethane adhesive and secured with through-bolted stainless bolts. The hull-to-deck joint is capped in teak. The rudder is attached to the keel and lead ballast is encapsulated inside the hull.
"The quality of the materials used in this boat just isn't found anymore," said Bob Schoonmaker, a chandlery owner on Bainbridge Island, Washington. "In 1979, Pacific Seacraft was in its heyday. You had rugged construction, including heavy bronze port lights that weighed 15 pounds. Americans in those days sailed from Seattle to Hawaii in 27-foot boats. That sort of sailing just isn't done anymore."
In 1981, the overall design was modified as the MkII, characterized by a longer coachroof, an extra pair of port lights, and the addition of two deck hatches.
What to look for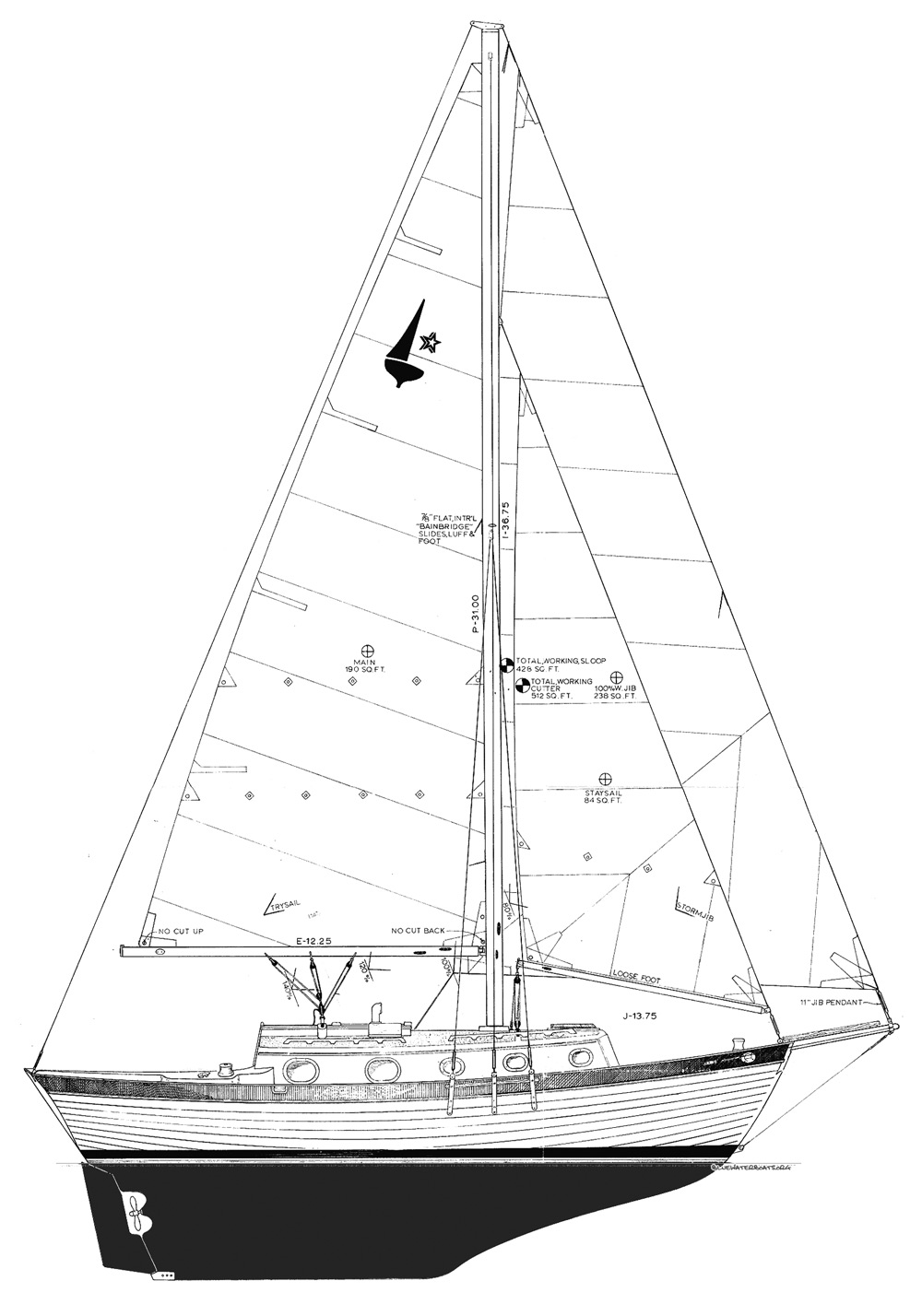 Like any boat built nearly 40 years ago, the Orion 27 may need a few upgrades. Chainplates, which are bolted to the outside of the hull for easier inspection, may need rebedding, as might deck-mounted hardware, to prevent water from entering the deck's sandwiched wood core. Signs of wear caused by compression from the deck-stepped mast could also be evident. Check the bowsprit tension and inspect it for rot.
On deck
The Orion 27 has raised bulwarks that make working on deck very secure. Most Orion 27s were fitted with steering wheels, though a tiller was an option. Stainless stanchions support heavy-duty double lifelines. The six-foot bowsprit with a teak anchor platform helps carry the sail load. Self-tailing winches assist when singlehanding. The coachroof is fitted with grabrails. Deck hatches and two dorades provide ventilation.
Down below
The boat has a thoughtful interior layout. Headroom in the cabin is 6 feet 2 inches and there is plenty of natural light and ventilation. The Orion 27 was offered with two interior options and both feature a V-berth, dinette, galley, head and a quarter berth. The roomier A-layout was more popular and featured a generous U-shaped dinette to port with seating room for six, and a nav station just aft of the dinette. It was functional because the table could be lowered and converted into a double berth. The galley was located to starboard.
The C-layout was designed for long-distance cruising. The U-shaped dinette was scrapped in order to make way for a smaller dinette table and a wet locker at the foot of the companionway stairs. This layout also increased space in the V-berth and created more stowage forward. Exotic wood cabinetry, teak-and-holly accents and a holly sole warm and enhance both layouts.
"I was always amazed that notably bigger designs would lack storage and privacy in comparison," Leahey said. "I suspect that the PS31 and Dana open interior designs came about and superseded the Orion simply because it was far cheaper to build an open interior with less cabinetry."
Engine
The Orion 27 was fitted out with a Yanmar diesel engine, typically a 16-horsepower 2GM or a larger 27-horsepower 3GM. Engine access is limited from the saloon but easier from a watertight hatch in the cockpit sole. It has 70 gallons of freshwater, an 18-gallon holding tank and 20 gallons of fuel.
Underway
"Unlike a racer, it is imperative that a proper cruising yacht be able to provide comfortable passages for its crew. To do this, it must have a kindly motion at sea and be well balanced under sail," said Tracy Buczak, a yachtbroker who has sold many 27s in Erie, Pennsylvania. "Balance is that coveted but elusive quality that makes a boat responsive under almost any conditions. Simply put, the crew does not have to fight the boat every yard of the way. When you are shorthanded and weary on a long passage, a well-balanced boat can make a world of difference."
The Orion 27 sails well in all sea conditions and sports a well-balanced sailplan that makes it fast on and off the wind. Responsive and maneuverable are words often used to describe the boat's sailing qualities.
"I bought my Orion knowing that she can easily take me and my family to explore Alaska's Inside Passage safely while carrying the necessary food, fuel and water to explore isolated areas in safety and comfort," said Leahey. "As far as the cutter rig being a liability, I found it to be her biggest asset. Reefed with staysail, she's a dream in a blow."
Conclusion
Solidly built, the Orion 27 is a capable cruiser that can take you safely to sea in comfort and style for as long as you like.
---
LOA 30'11"; LWL 22'2"; Beam 9'3"; Draft 4'; Displ. 10,000 lbs.; Ballast 3,500 lbs.; Sail area sloop 424 sq. ft., yawl 452 sq. ft., cutter 508 sq. ft.
---
General Market Price Data
$52,000 1982 Washington • $42,000 1980 California • $29,500 1979 Washington
---
SAILING's Value Guide
(5-sailboat rating system)
PRICE: The price of a Pacific Seacraft Orion 27 can range from approximately $52,000 to slightly less than $30,000 for a boat in good-to-excellent condition. 3 sailboats
DESIGN QUALITY: The Orion 27 was designed by Henry Mohrschladt, one of the two original founders of the Pacific Seacraft company. Mohrschladt previously designed the Pacific Seacraft 25 and the Pacific Seacraft Mariah 31. 3 sailboats
CONSTRUCTION QUALITY: The Orion 27 is known for its robust build, overall professional craftsmanship, and use of the best materials available. The hull is solid fiberglass. Decks are fiberglass with a plywood core. Many fittings are bronze, including the portlights. Teak and holly are used plentifully in the cabin. The lead keel is encapsulated. 3.5 sailboats
USER-FRIENDLINESS: The boat is designed for easy handling and singlehanded sailing. The full keel is cut away forward to improve nimbleness and reduce the wetted area. 3 sailboats
SAFETY: The Orion 27 was built for bluewater sailing. The wineglass hull shape delivers a cushioned ride. The boat has thick double lifelines, grabrails, adequate walkaround space on deck, and a snug cockpit. 3 sailboats
TYPICAL CONDITION: Like most Pacific Seacraft boats, a used Orion 27 typically will be kept in good-to-excellent condition, due to a combination of rugged construction, high-quality craftsmanship and owners' pride. 3 sailboats
REFITTING: Finding quality replacement hardware can be difficult because the builder in most instances spared no cost. Parts often become available online. 2 sailboats
SUPPORT: The Orion 27 Club on Yahoo Groups has 400 members, many present or previous owners, and information is available from Pacific Seacraft here. 3 sailboats
AVAILABILITY: There were 115 27s built from 1979 to 1984. Five Orions were on the market in the U.S. in California, Washington, New Jersey, Louisiana and Florida. 3 sailboats
INVESTMENT AND RESALE: As with most Pacific Seacraft boats, the Orion 27 is considered a sound investment offering good resale value. 3.5 sailboats
OVERALL 'SVG' RATING: 3 sailboats