This classic Alden-designed ketch is seaworthy and beautiful
Naval architect John G. Alden never got to see his traditional Fuji 35 ketch make the jump from drafting table to boat-building production line. Alden was born in 1884 and died in 1962, eleven years before the first Fuji 35 was completed in Japan. By then, the Alden Design firm was being overseen by Niels Helleberg, who went on to become the chief designer. Helleberg held fast to Alden's balanced sense of form and function. Alden was known for designing beautiful offshore boats that were fast and seaworthy.
The Fuji 35 boat was offered as a standard ketch or optional cutter. The boat had a nine-year production run from 1973 to 1982. Simple and time proven, like most Alden designs it barely needs an introduction.
Available records indicate 128 Fuji 35s were built. At least 57 with different hull numbers were sold on Yachtworld over the past 20 years, according to yacht broker Kevin McCann in Hyannis Port, Massachusetts.
First impressions
Cheryl Andrews first saw a Fuji 35 in Provincetown, Rhode Island.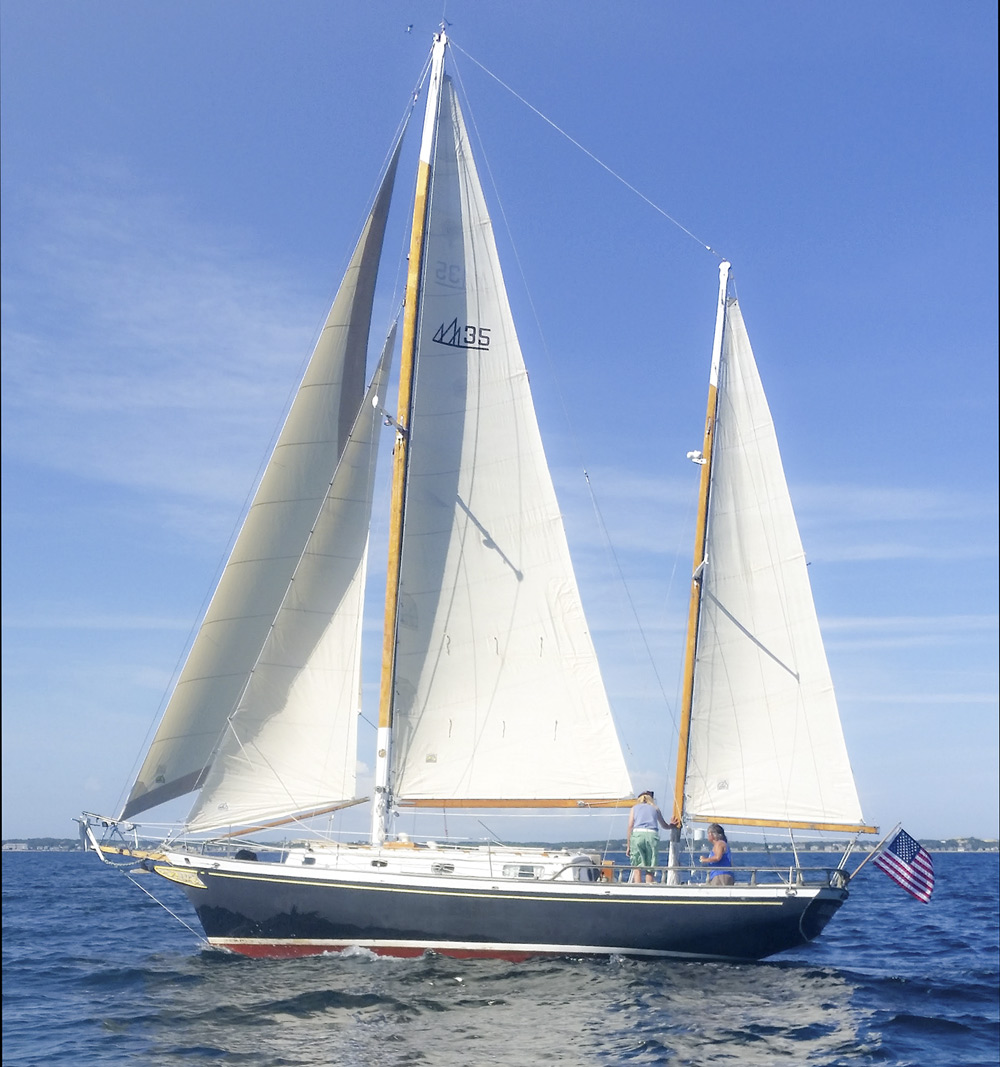 "This guy came sailing in during the schooner regatta. It was so beautiful. It was a Fuji 35 named
Idyll Hour
. We'd been looking at Cheoy Lees, but we had to go see this boat. We went aboard and met the owner and knew right then that it was exactly what we wanted," she said.
Andrews eventually bought a 1974 Fuji 35 and renamed it Sabbatical. She sailed it for 16 years and currently has the boat listed for sale with McCann's brokerage.
"Once we bought the boat, we never wished we had bought something else. The boat is built like a tank. I cried when Kevin told me somebody is seriously looking at it," she said.
Phillip Caputo, owner of the Fuji 35 See Life, summed up the emotions that surfaced upon seeing the boat under sail. In an online post, he wrote, "John Alden sure knew how to design vessels that were so pleasing to the eye."
The Fuji 35 certainly lives up to that description. Long, sleek and narrow, the traditionally designed boat exudes nautical charm, enhanced further by its bowsprit and portholes. Despite the boat's relatively slim beam, the decks on both sides provide adequate space for crew to move forward.
Alden was raised in Dorchester, Massachusetts and family holidays were spent in Rhode Island on the Sakonnet River and on Narragansett Bay. Legend has it he sailed his sister's flat-bottomed rowing boat, using an umbrella as a sail. Upon finishing basic schooling, he studied naval architecture, enrolling in courses at MIT and apprenticed with naval architects Starling Burgess and Bowdoin B. Crowninshield.
Alden was drawn to the shape and seaworthiness of the Grand Banks-style schooners docked along the Boston waterfront. He was known to frequent the wharves, studying the New England fishing vessels. He was inspired by what he saw, a vision later carried over onto his drafting table when designing recreational sailboats. Interestingly enough, Alden was a compulsive doodler as a child and made countless sketches of boats.
Construction
The Fuji 35s were built by Fuji Yacht Builders in Yokosuka, Japan. The hull was hand laid-up fiberglass with polyurethane insulation. Below the waterline, its long keel was cut away slightly at the forward end to improve maneuverability. The carpentry below deck has been described as "a lost art" and "museum quality." Some of the boats were outfitted with wooden masts and booms, while others were made with white painted aluminum masts and booms.
What to look for
The Fuji 35 can be susceptible to water infusion and deck delamination. Potential buyers should check for soft spots on deck. Boats with wooden masts and booms should be carefully inspected for cracks or weakness. Online forums note some owners rebuilt the cabin structure.
On deck
The artistry of John Alden comes alive on deck. The boat's traditional design is enhanced by a beautiful sheer that is extended with a bowsprit. On some of the boats, wooden masts and booms further complete the nautical look. The stainless steel bow pulpit, stern rail and stanchions with double lifelines add to the boat's overall appearance as safe and seaworthy.
There are four portholes on each side of the cabin and the cockpit, with its teak sole and varnished teak coamings, can easily accommodate six sailors. Storage lockers are located under the teak cockpit benches and also under the helm seat. The grabrails on the coach room are also teak. All fittings are bronze or stainless steel. The companionway features a teak louvered door.
The pedestal-mounted steering wheel takes up space in the cockpit, as does the mizzen mast on the ketch.
Down below
Headroom in the saloon is 6 feet 3 inches and there's plenty of space to stretch out on the settees. The boat sleeps six, with two in the V-berth, three on settees in the saloon and one on the aft quarter berth on the starboard side.

The dinette is a folding table between the two settees in the saloon. The galley is located to port at the bottom of the companionway. It's outfitted with a stainless steel sink, icebox and a kerosene-fuel stove with oven. The stove is gimbaled.
The freshwater tank under the cabin sole holds 60 gallons, and a secondary freshwater tank on the port side under the V-berth holds another 26 gallons.
Directly across from the galley is a pullout nav station. There's a hanging locker on the port side, just aft of the V-berth. The head on the starboard side faces the hanging locker. The wastewater tank holds 30 gallons.
There are storage lockers and drawers located throughout. Most of the cabinetry is varnished teak. The joinery was done to perfection.
Engine
Most of the boats were outfitted with a 36-horsepower Perkins 4107 diesel engine. A lesser number of boats had Westerbeke diesels. The original engines had a top speed of about seven knots under power. Many subsequent owners have replaced those engines with a Yanmar diesel. The boat was built to carry 40 gallons of fuel.
Underway
The Fuji 35 has a reputation for being a dry boat, with a cockpit and coamings designed to keep seawater where it belongs. Owners say the boat tracks flawlessly in heavy air and commendably when the breeze slackens.
"She holds her own off the wind in big seas and yet is nimble going upwind during a nice day sail," said Andrews, who sails primarily in Massachusetts Bay and Cape Cod and the Islands. "She has a great personality."
Caputo offered a similar assessment. "I love my 1973 staysail ketch. Not the fastest boat out there, but it will take you anywhere in the world," he said.
Some of the boats were fitted with a self-tending staysail, which can make single-handing or sailing with a short crew much less demanding.
Conclusion
Both the Fuji 35 ketch and cutter are John Alden-designed masterpieces with beautiful lines, seaworthy construction and the ability to safely transport a small crew offshore in style over long distances.
---
PRINCIPAL DIMENSIONS: LOA 34'6"; LWL 26'; Beam 10'; Draft 5'; Displacement 16,302 lb.; Ballast 5,500 lb.; Sail area 538 sq. ft.
---
SAILING's Value Guide (5 sailboat rating system)
PRICE: The asking price of a used Fuji 35 ranges from $55,000 in Patagonia, Chile, to $34,900 in Florida. A Fuji 35 heavily damaged in Hurricane Irma was for sale in Florida for $9,000. (3 sailboats)
DESIGN QUALITY: The Fuji 35 is considered among the best designs by legendary naval architect John G. Alden, known for creating fast, seaworthy, offshore boats. The design was influenced by his appreciation for Grand Banks-style fishing schooners. The Fuji 35 was available as a ketch or cutter. (3.5 sailboats)
CONSTRUCTION QUALITY: With its solid fiberglass hull and, in some versions wooden masts and booms, it was built to impeccable standards by the highly regarded Fuji Yacht Builders in Yokosuka, Japan. (3.5 sailboats)
USER-FRIENDLINESS: Owners report the Fuji 35 is a joy to sail and the self-tending staysail makes it easier to handle when short-handed. The overall design results in a dry cockpit and pleasant sea motion. The boat is known for its seaworthiness and comfort in heavy weather. (3.5 sailboats)
SAFETY: The boat is fitted out with double lifelines and stainless steel stanchions, bow pulpit and stern rail. There's plenty of lead ballast in the keel to help keep the boat upright in a blow. The bridgedeck in the cockpit keeps water from entering the companionway. (3.5 sailboats)
TYPICAL CONDITION: The condition of Fuji 35s varies from pristine to in need of attention. (2.5 sailboats)
REFITTING: The high quality of construction, particularly the woodworking and joinery is difficult to replicate. Many owners have upgraded the Westerbeke or Perkins diesel engines to a Yanmar diesel. (2.5 sailboats)
SUPPORT: Specifications, owner manuals and original brochures are available at www.fujiyachts.net/owners/fuji35owners.html and information on John Alden designs can be found at www.aldendesigns.com. His designs are housed at the MIT Museum's Hart Nautical Collection. (3 sailboats)
AVAILABILITY: The Fuji 35 owners' registry said 128 boats were built. Only four Fuji 35s were available for sale during winter of 2020, and a fifth boat in Indiantown, Florida, was damaged by Hurricane Irma and for sale at $9,000. (2.5 sailboats)
INVESTMENT AND RESALE: The Fuji 35 was originally priced at $28,900 for the most basic model. The price was increased in 1976 to a high of $41,035. A 1974 model completely overhauled was recently offered in Australia for $89,000. (3.5 sailboats)
OVERALL 'SVG' RATING: (3 sailboats)