This reliable 40-footer shows off the best of its cruiser-racer heritage
The C&C 121 doesn't resemble the venerable boats designed and built by C&C Yachts from the mid-1960s into the 1980s, but the sleek, 40-foot sloop is every bit as high quality as its predecessors. Originally unveiled as the 121 Express, it was designed as a performance cruiser, with a fractional rig, internally mounted spade-type rudder and a fixed fin keel.
Designed by Tim Jackett, it was launched in 1999 and remained in production well into the first decade of the new century.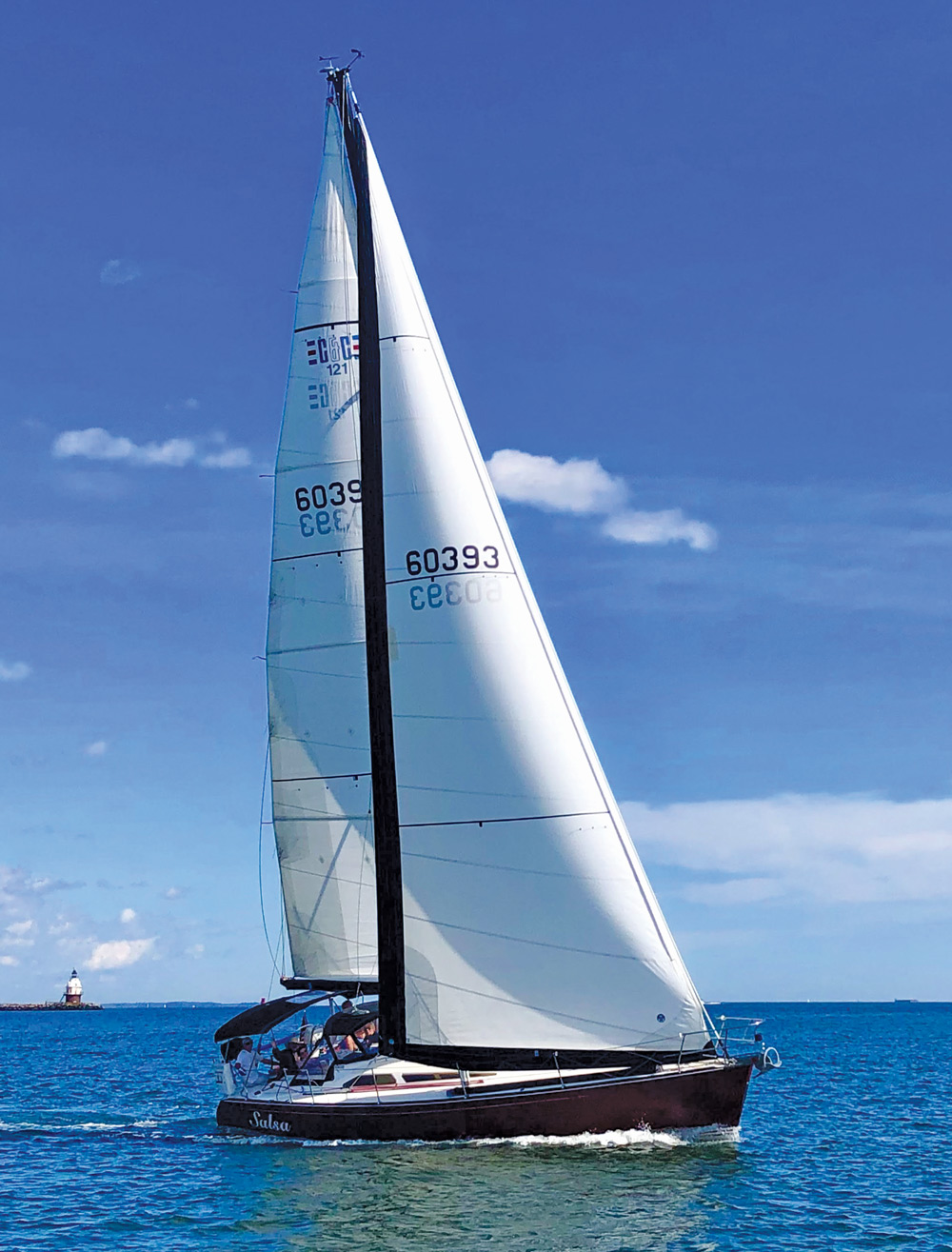 The boat's production run dovetailed with a tumultuous time in the history of C&C Yachts. The former Canadian company was sold multiple times since its founding by aircraft designer George Cassian and mechanical engineer George Cuthbertson. From its inception, the company gained a reputation for building quality boats.
In the early 1990s, the company was purchased by a Toronto group, but a devastating fire in 1994 destroyed many of the molds. Fairport Marine Company bought what was left of the C&C molds in 1998. Jackett, the Fairport company president and chief designer, created several new boats­: the 32-foot C&C 99, the 36-foot C&C 110 and the 40-foot C&C 121. The new designs placed greater emphasis on performance.
"This Tim Jackett design is a true dual-purpose boat," said Rick Fleig, a yachtbroker with McMichael Yacht Yards and Brokers in Rhode Island, whose listings during the spring included two C&C 121s. "It offers both excellent performance and a roomy, comfortable, full interior that will rival any 40-foot cruiser."
First impressions
The C&C 121 looks like a go-fast boat, mostly due to its sleek sheer, low freeboard, and flush deck. Relatively uncluttered, it radiates a sense of cleanliness and simplicity, with control lines running internally under the deck from the base of the mast to the cockpit. The destroyer-type steering wheel —a standard 48-inch diameter or optional 54-inch—along with the boat's wide transom, result in a racer's look.
Chris Krayer, who sails his recently acquired 2004 C&C 121 Salsa along the Connecticut coast and in New England, put it this way: "You know you have a pretty boat when you pull into Edgartown Harbor and get oohs and ahhs as we pass other boats."
Construction
The hull and deck are alternating layers of unidirectional E-glass and Kevlar laminates over foam cores. The interior details include hand-cut cabinet joinery, hand-stitched cushions, separate stall shower, and a hand-polished cherry finish.
According to current and previous owners, models released since 2004 have several advantages over the earlier boats constructed between 1999 and 2003 that were built with polyester/E-glass and had aluminum masts. But beginning in 2004, the boats were built with vacuum-bagged, post-cured epoxy/E-glass, the foam-cored hull strengthened with carbon fiber laminates in high-load areas. The mast was made from carbon fiber and, in some instances, with a carbon fiber retractable sprit for flying asymmetrical spinnakers.
In addition to wood cabinetry and cabin sole, the interior finish on pre-2004 models was basically a grayish gelcoat and gray Formica countertops. That design scheme was lightened in 2004 when the interiors benefitted from cream-colored gelcoat and featured tan countertops.
What to look for
The oldest models have been around for just over two decades and could be showing some wear. The boat is slim on storage space. Water and fuel tanks are sufficient for coastal sailing but might require modification for extended cruising or bluewater passages. The boats built in 2004 and thereafter are considered of higher quality than those that preceded them. If the boat will be cruised, it might be necessary to install a bow roller and windlass.
On deck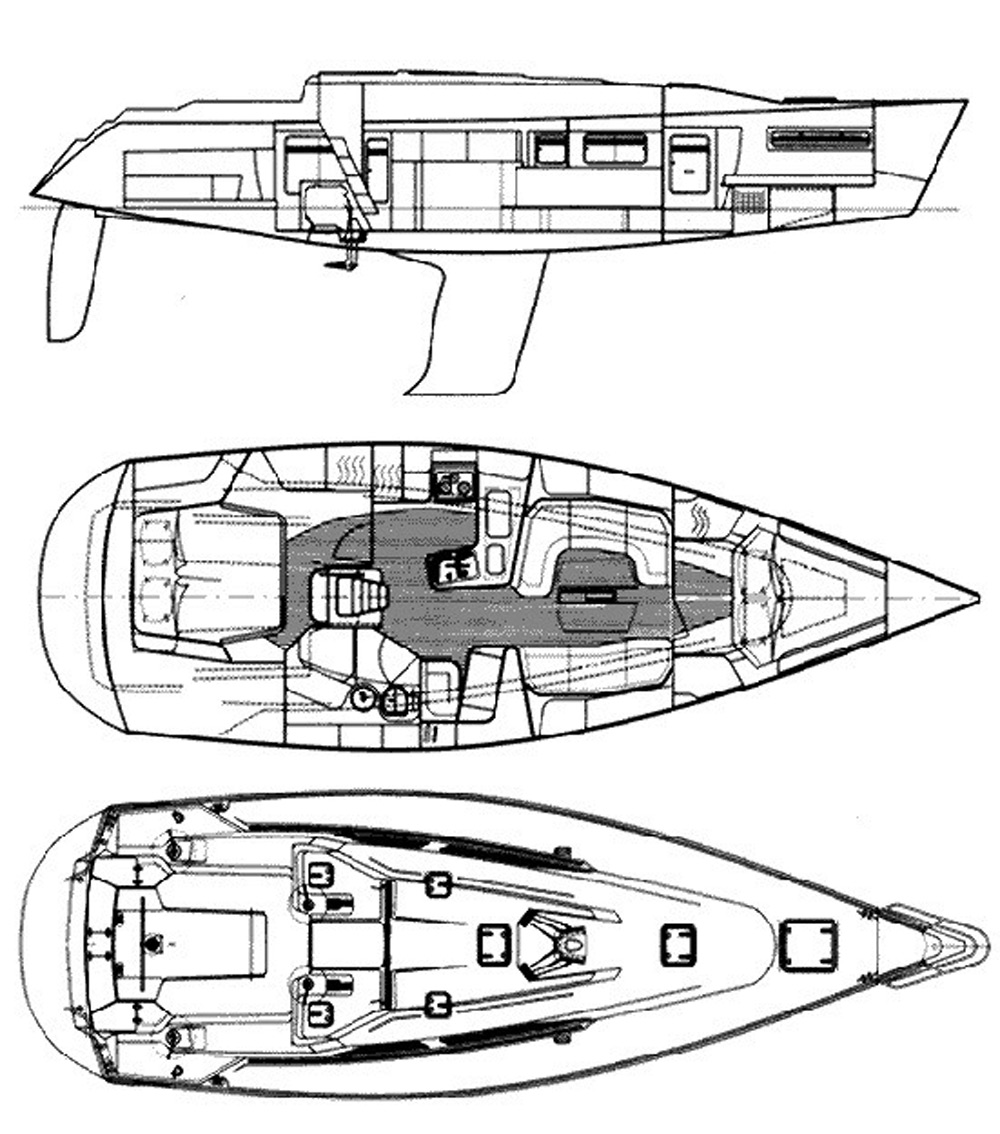 Lean, clean and efficient are terms often used to describe the deck of the C&C 121. Clutter is nearly absent, with lines running internally below deck from mast to cockpit, and hatches are flush with the deck. The molded, nonskid deck provides plenty of traction and a measure of safety. All hardware is top-grade stainless steel. The stanchions support double lifelines, with boarding gates both port and starboard. A bow pulpit and stern rail help ensure nobody goes over the side. The destroyer-style steering wheel gives the boat the look of a racer. Roller furling was standard, and the drum is affixed below deck for better jib performance. The mast, at least those on models built in 2004 and thereafter, are carbon fiber. The traveler runs across the companionway opening for midboom sheeting. The boat has an anchor locker, but no standard bow roller or windlass.
Down below
"I'm 6 feet tall and never feel cramped," Krayer said. "There's good headroom, and the sleeping quarters are adequate. The aft cabin has a low overhead as it's below the cockpit, but the three port lights that open into the cockpit provide lots of air and a feeling of openness."
The U-shaped galley features a double-basin stainless steel sink and a gimbaled, LPG stove and oven. The aluminum water tanks holds 80 gallons of fresh water. The plastic holding tank can handle 20 gallons of waste. The 12-volt refrigeration system is front and top loading. The top-loading freezer is relatively small.
Headroom below is 6 feet 4 inches. The boat sleeps six. The v-berth is large. There's storage in hanging lockers both port and starboard, and cabinets above the berth. Light and ventilation come from a large, overhead hatch.
The boat has an L-shaped settee to port and straight settee to starboard, with a drop-leaf centerline table. Cherry shelves and cabinets warm the living quarters, with overhead hatches and distinctive slash-style side cabin windows let in natural light and air.
A forward-facing nav station on the starboard side contains electrical panels, data displays and communications radio. The galley is opposite on the port side.
The aft cabin to port has a double berth and hanging locker, additional shelves and storage lockers. The head has a separate stall shower with folding Lucite shower door, vanity and marine toilet with holding tank.
Engine
The C&C 121 was outfitted with a freshwater-cooled, 39-horsepower Volvo Penta diesel. An inboard saildrive, it was typically a Volvo D2-40 or a Volvo 2040 B. The engine was rated to push the boat at six knots while running at 3,200 rpm. The 36-gallon fuel tank is aluminum.
According to Krayer, the boat's saildrive propels the hull admirably in all sea conditions. Engine access isn't a problem since the companionway stairs lift to reveal the engine front, and a large hatch in the aft cabin provides reach to the back side.
Underway
The Krayers purchased Salsa last year because she was pretty, sturdy, fast and would allow them to do some bluewater cruising.
"We haven't had Salsa in heavy weather yet, the most being 25 knots on a wonderful sail last fall," he said. "Didn't have to reef or even think about it."
Conclusion
A sleek, high-quality, family racer/cruiser, the C&C 121 is roomy enough for prolonged coastal sailing or longer open-water passages, while still capable of attaining speeds necessary to win on the racecourse.
---
LOA 40' ; LWL 35'6"; Beam 13'2"; Draft 6'6"; Displ. 14,600 lb.; Ballast 5,500 lb.; Sail area 842 sq. ft.
---
General Market Price Data
2000 New York $85,000
2001 Massachusetts $128,900
2005 Rhode Island $184,000
---
SAILING's Value Guide (5-sailboat rating system)
PRICE: The asking prices for a C&C 121 range from $85,000 for a boat built in 2000 to $184,900 for a 2005 model. (3 sailboats)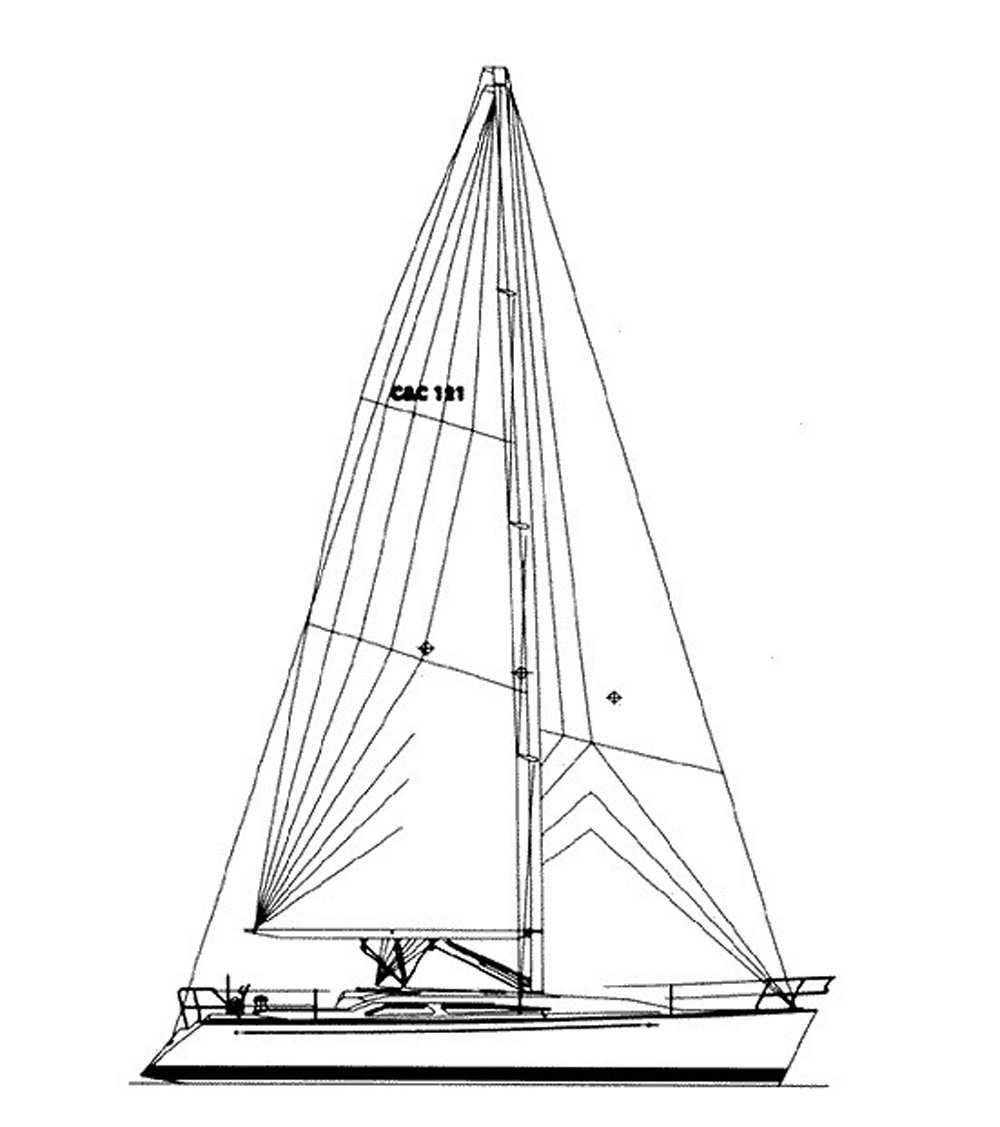 DESIGN QUALITY: The C&C 121 was designed by Tim Jackett, president and head of design of Fairport Marine Company in Ohio. Jackett also designed the C&C 99 and the C&C 110. All three of these boats are more performance-based than the older C&Cs. (3 sailboats)
CONSTRUCTION QUALITY: C&Cs are known for their high-quality. C&C 121s built in 2004 and later are often priced higher than earlier ones due to design changes and incorporation of carbon fiber materials. (3 sailboats)
USER-FRIENDLINESS: With lines led internally under the deck and back to the cockpit, the boat can be sailed shorthanded. The interior is thoughtfully designed for comfort and efficiency. More than adequate headroom and interior space are commendable characteristics. (3.5 sailboats)
SAFETY: Owners report the C&C 121's Volvo Penta saildrive propels the boat nicely in all sea conditions. The boat is equipped with stainless lifeline stanchions and bow pulpit. The galley layout allows the cook to brace while the boat is heeling. (3 sailboats)
TYPICAL CONDITION: Most of the boats for sale in spring 2020 ranged from good to excellent condition, with the exception of one that was undergoing repairs. (3 sailboats)
REFITTING: Some owners have installed a helm seat and added more comfortable cockpit cushions. If not currently equipped, a common refit involves installing a separate shower valve to extend the handheld from the sink to the shower. The boat's limited tankage might also need to be increased if sailing for extended periods in warmer climes. The boat comes with a fixed prop but many owners changed to a folding prop. (2.5 sailboats)
SUPPORT: C&C Yachts is no longer in business. Tartan Yachts may be able to supply some assistance. A C&C owners' associations can be found online. Potential help can be had at www.cncphotoalbum.com, a searchable database of C&C owners, their respective boats and related contact information. (2.5 sailboats)
AVAILABILITY: At least nine C&C 121s were for sail in the United States in spring 2020, in New York, Rhode Island and Ohio. (3.5 sailboats)
INVESTMENT AND RESALE: The C&C 121 tends to hold its value. (3 sailboats)
Overall SVG Rating: 3 sailboats