The redesign of X-Boat's most popular performance cruiser has speed for fast passages in a sleek, modern package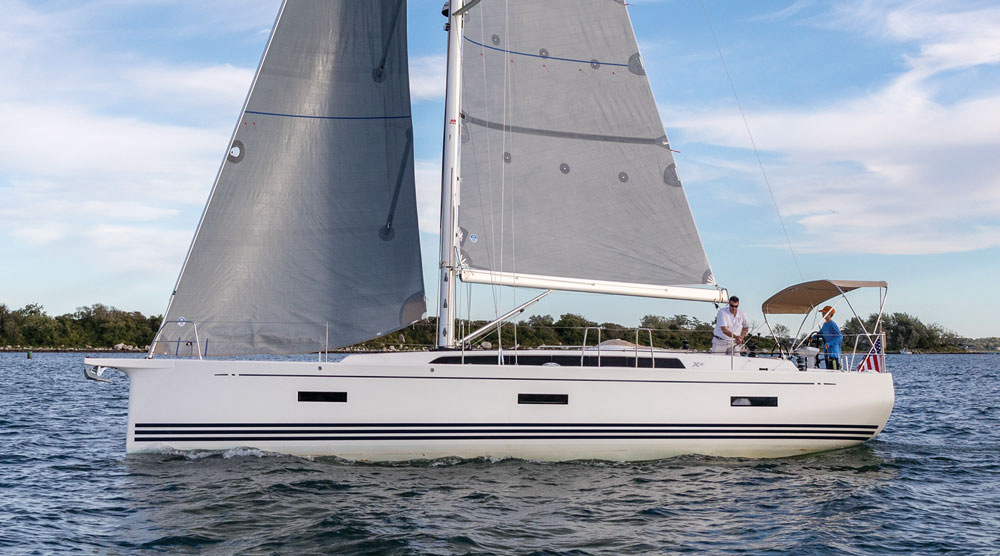 Billy Black photo
Under sail
After several days of beautiful weather that boosted attendance at the Newport Boat Show, a front sagged down, making for gloomy skies that threatened rain and flukey wind for the test sail. The wind played cat and mouse with us as we chased the breeze across Newport Harbor.
It was easy to get underway, and with the addition of power winches, the boat would be a breeze to sail shorthanded. Engine controls were an easy reach from the starboard helm, and in no time we were underway in search of wind. We sailed into Narragansett Bay toward Castle Hill, the start line for the Newport Bermuda Race, looking for wind.
In the puffs, I could feel the potential speed, and the boat easily tracked though the slight swell. The boat tacked crisply through the wind. A bimini that covered the helms didn't interfere with the view of the sails and kept the light drizzle away.
"We raced several races this summer, and didn't do too bad," Rogers said. "I wanted a boat that I could easily race with my friends and family, yet still has all the cruising comforts. It's really easy to switch between modes."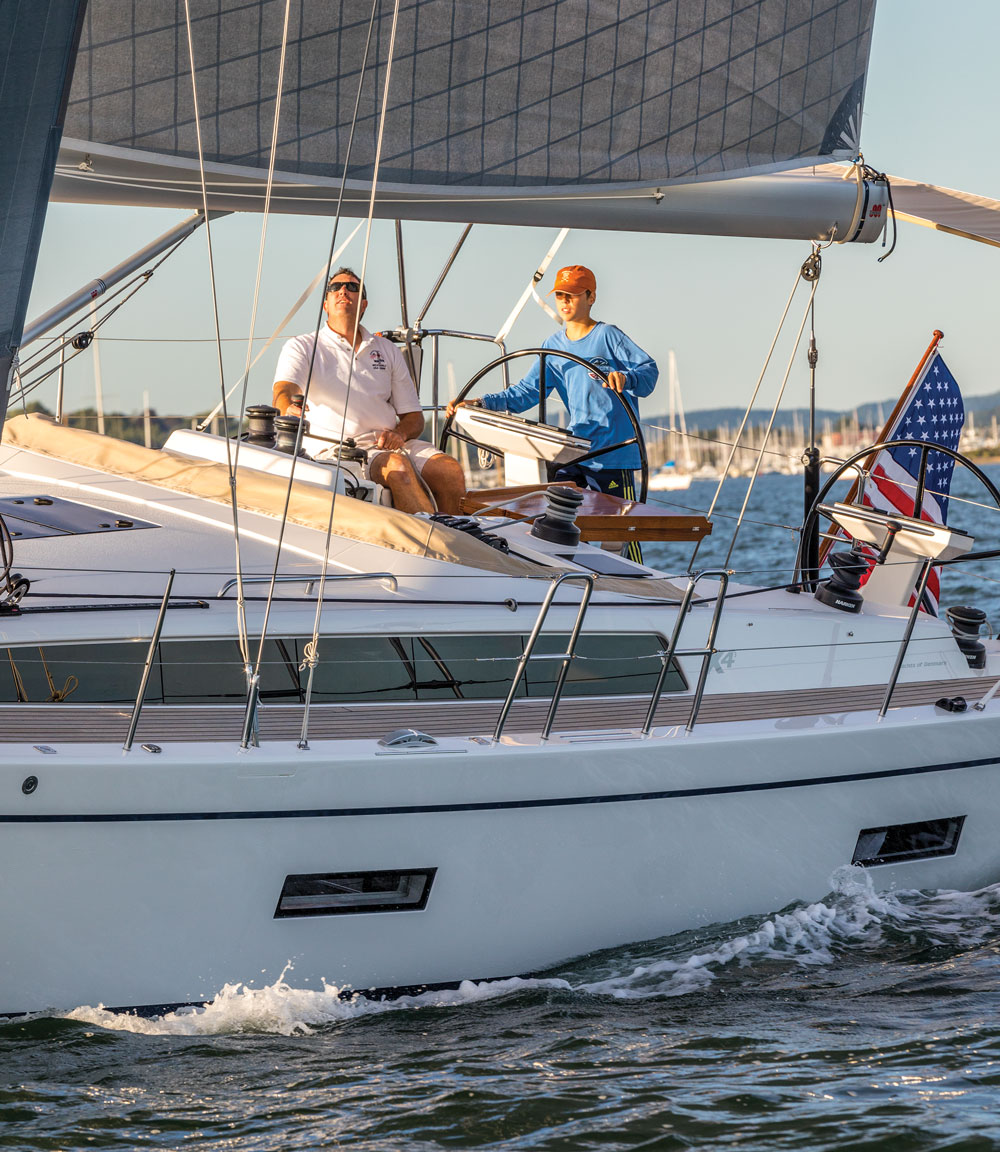 Billy Black photo
Switching between composite twin wheels was an easy reach, and the steering was light and responsive. The bank of displays above the companionway, which featured readouts for the Raymarine electronics, was easy to see from all angles in the cockpit. Rogers added the optional navigation pods at the helm for the Raymarine nav instruments.
While we didn't have the best wind for a test sail, Rodgers has had the opportunity to put his boat through its paces.
"The top speed I've seen was 13.6 with the Code 0 in about 12 to 15 true wind," Rogers said. "It sails good in light air—we ghosted circles around the LM 46 in Annapolis and did a lot of low double digits sailing home off the Jersey coast in 20 knots of wind with the main only."
With regrets, I jumped into photographer Billy Black's photo boat We're Here to head back in. As I watched the X4.3 sail into the sound heading for its homeport of Mystic, Connecticut, I longed to stay aboard to sail this thoroughbred where she was meant sail and stretch her legs.
---
LOA 43'4"; LOD 41'6"; LWL 37'2"; Beam 13'1"; Draft standard 7'2", shallow 6'1", 8'2"; deep 8'2"; Displ. 20,723 lb.; Ballast 8,157 lb.; Sail area 1,076 sq. ft.
---
Sailaway price: $550,000
X-Yachts USA
P.O. Box 182, West Mystic, CT 06388
860-536-7776