Test the dinghy engine before you go. Give the pull cord a yank and make sure it's easy to start, and check the fuel tank level too. If I'm captain, I assign someone else to be the dinghy driver. Better yet, assign one person to learn the dinghy and each day have them teach another crewmember. Let everyone become familiar with starting and running the dinghy: it's great to have alternate drivers if the skipper has too many painkillers.
Presumably your crew includes other capable sailors who are also eager to learn along the way.
"As a woman, I feel strongly about empowering each other, mentoring, and helping establish building blocks for other women," says Capt. Annie Gardner, a lifelong, highly accomplished sailor and owner of Wind Goddess Retreats. Whether coaching a couple on cruising, leading an all-women charter, or an all-gal yacht racing team, she says, "I try to lead by example and model the way and show women they can do it. Of course it takes steps and time to build skills but it's not impossible."
So let's get going. The charter base will probably have staff take the boat out of the crowded marina, and back in on the return. If you are chartering a catamaran, you will learn to love the maneuverability of the twin engines. So scratch those two items off your list of concerns.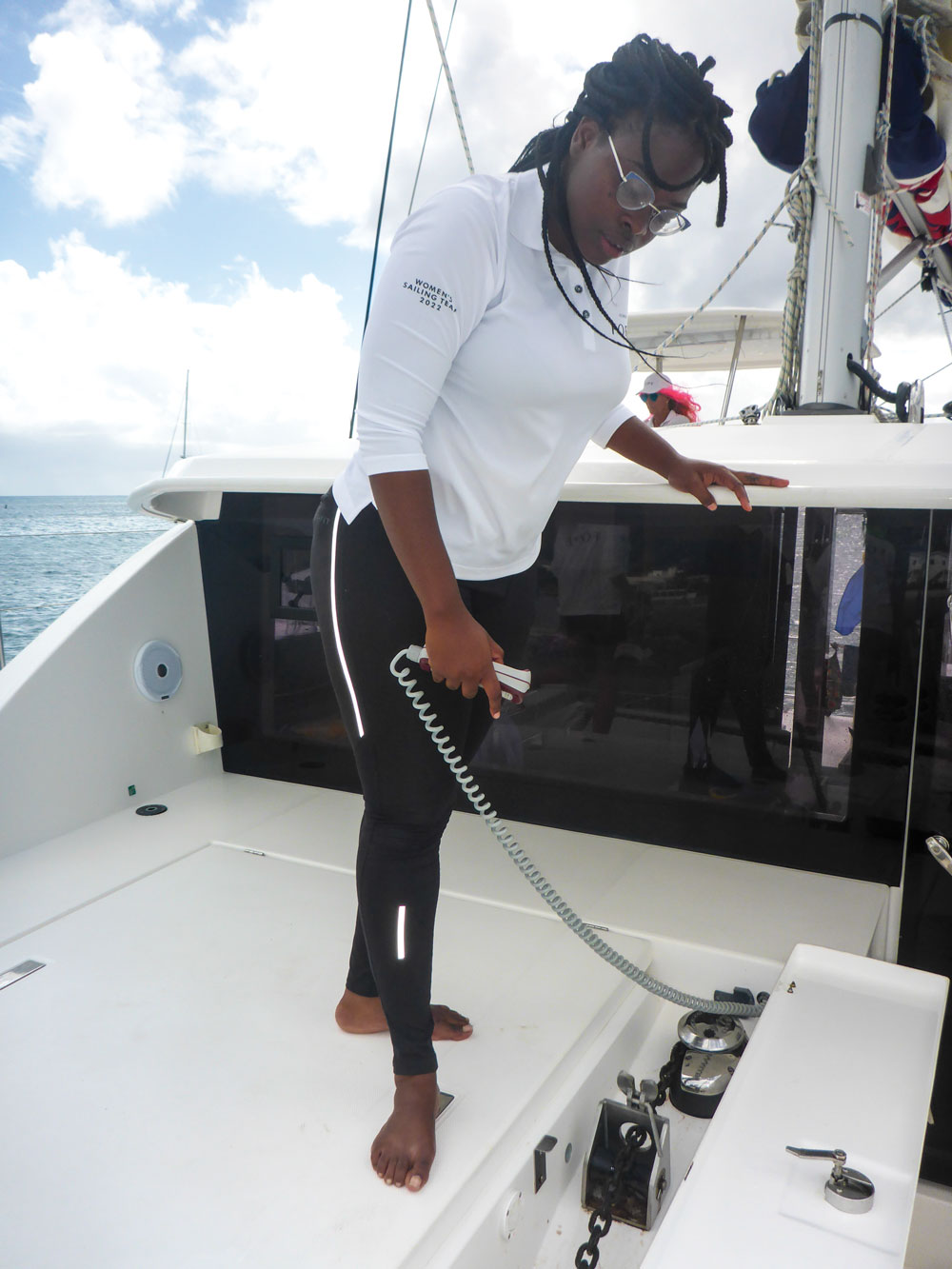 Start each morning with a group chat about the day's movements, study the cruising guide and use sticky notes on the chart and pages for easy reference. Move midday when it's easier to see reefs, rocks and obstructions in the water. You don't want to arrive at your destination to find there are no mooring cans available with night falling. Give yourself plenty of time to get situated if Plan A falls through.
One of my favorite sayings is: "Sometimes you're the windshield, sometimes you're the bug." Don't be embarrassed to go around again if you don't pick up the mooring can on the first pass. When my crew just wasn't tall enough to reach the mooring ball with the boat hook, we put the dinghy in and had them assist from the water. Take your time and get it right. Your priority is always to keep your crew safe, so go around again, or pull up the anchor and do it over. It's fine.
I dive on the anchor, checking to ensure it's dug in. Likewise I swim around the mooring to check that connections look secure and the line isn't cut-up or frayed below the surface. This may seem excessive to some, but it helps me sleep at night.
Don't hesitate to change your itinerary based on based on weather our your changing desire. While sailing with a flotilla in the Grenadines, we strayed from the schedule one day and decided to loll at anchor one extra day in Tobago Cays. Delicious.
In fact, joining a flotilla is a great way to break into chartering. You'll have the support of experienced fleet mates, and sometimes a charter captain running the show, but the autonomy of managing your own boat. It's a win-win.
A few more pointers: Bring the dinghy up every night, along with kayaks and paddleboards. There's no need to tempt locals who might have an eye on your gear, nor test the knot-tying skills of your crew. Twice I've had to go on a kayak hunt in the morning because of boats that slipped away at night. Luckily we found our wayward toys, but it was a waste of precious cruising time.
Mark your dinghy with ribbons and glowsticks to differentiate from everyone else's at the dinghy dock, and make sure you have sufficient waterproof flashlights for traversing anchorages at night.
It is guaranteed that if you leave the hatches open it will rain directly on your bunk. Close and dog all the hatches before you go to eliminate this, and unwelcome visitors who might want to help themselves to your iPhone, camera and anything else that might be tempting. It only had to happen to my crew once for me to make this a steady rule.
Bring a supply of pens and a notebook, sticky notes, an extra handheld VHF (for calling the mother ship from ashore – and vice versa) a drybag, a good book, a playlist and your sense of adventure. A whole new world awaits you once you start chartering on your own.