With the support of people from aroound the Great Lakes, a young boatbuilder restores Port-Huron Mac winner Bernida.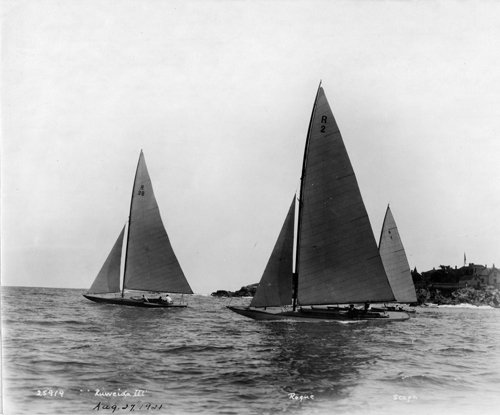 Last July, more than 200 boats departed Port Huron, Michigan, in the 86th running of the Bayview Yacht Club's classic yacht race to Mackinac Island. Like its sister event from Chicago, the Port Huron-Mackinac race is legendary on the sailing circuit for its camaraderie, island festivities and venerable history.

As they charged 251 miles up Lake Huron, the sailors certainly knew that Mackinac Island's famous hospitality awaited them after so many long hours on the water. Many may not have realized, however, that a living piece of race history was afloat in the straits.
She is Bernida, the 32-foot, 2-inch R-boat that won the inaugural Port Huron-Mackinac race in 1925, skippered by captain and owner Russ Pouliot and his crew of four. That first race was legendary, as violent storms caused eight of the 12 starters to abandon the race. Three of the four finishers were R-boats, with Bernida the clear winner after 48 hours on Lake Huron.

Originally christened Ruweida III, this sleek little R-boat has quite a pedigree. Her designer was George Owen, a professor of naval architecture at the Massachusetts Institute of Technology who designed many P, Q and R boats, all built to the Universal Rule. Intended to be a fast yet affordable racer, she came to life at the Boston-based George Lawley & Son boatyard in 1921 and spent her first years in New England waters.

Early in 1925, as Bayview Yacht Club members discussed and began organizing that first race to Mackinac Island, club member Russ Pouliot purchased the boat he renamed Bernida in Marblehead, Massachusetts. Before he raced her, he added two important modifications: a higher, self-bailing cockpit and a special lead shoe for the keel bottom.
After her Mackinac win in 1925, Bernida sat out one year and raced again in 1927, placing first in her class. And then she disappeared.
Bernida's story might have been like those of so many vintage vessels, which have their glory years and then fade away, languishing dockside or in a forgotten boatyard until they're taken apart or rot away. That might have been her sad end-if it weren't for several twists of fate, an outpouring of community spirit and one young boatbuilder who simply wouldn't give up.
Origins of a boatbuilder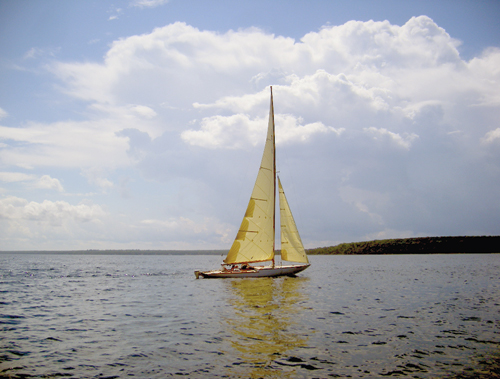 Growing up in Harbor Springs, Michigan, Roman "Emory" Barnwell, 27, had no inkling of the life's path he would eventually take. Although his father owned a daysailer, Barnwell's passion lacked canvas.

"I was into canoeing," he said. "That was my connection to the water."
And his aspirations for a career lacked water entirely. After graduating from high school, Barnwell headed to the land-locked University of Montana in Missoula, where he pursued a degree through the College of Forestry and Conservation.

"Originally I wanted to work in forestry, but when I was a senior, I realized that everyone was going to work for the National Forest Service or the National Park Service," he said. "Then I was over it. I didn't want to work for the government."

Now what? Barnwell said he looked to his roots, and to the hobbies he'd enjoyed as a teenager.
"My last year in college, I started thinking about other options," he said. "I knew I missed the water. That was something about living in Montana-it was so far from the Lakes. The water is part of the culture in Michigan. I knew I wanted to be close to it.

"In high school, I'd always been involved in woodworking," he continued. "And I realized there was freedom in boatbuilding. Really, all my interests collided."
That collision put Barnwell on a plane to England, where he attended the International Boatbuilding Training College in Lowestoft. In a strong economy, he might have gone to work for a shipyard or professional boatyard; at the time Barnwell completed the program, however, the U.S. economy was already slowing down in advance of the recession.
He went home to Mackinac Island.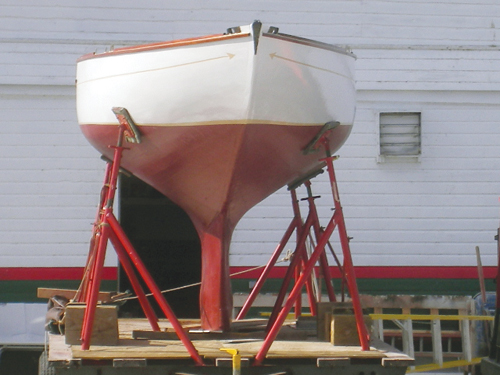 "My family lives here, so I picked up work on the island as a carpenter," Barnwell said. "I did that for a year or so, and I started building some smaller rowing and sailing dinghies, using salvaged material."

One was Leena Bee, an 11-foot lapstrake rowing and sailing dinghy built to his own design. Then his path converged with that of Bernida.
Seventy-five years after the R-boat mysteriously vanished, a man named Toby Murray discovered her in a Frankfort, Michigan, warehouse belonging to Bob Lucas. Mackinac Island Yacht Club Commodore Bart Huthwaite organized the not-for-profit Mackinac Boating Heritage Foundation, which purchased her and began raising the estimated $175,000 required for her restoration.

"They weren't able to raise the money," Barnwell said. "The boat sat outside on a trailer in St. Ignace for two or three years. I told them if they would give me the title, I would restore her. They were done with it, so she became my project!"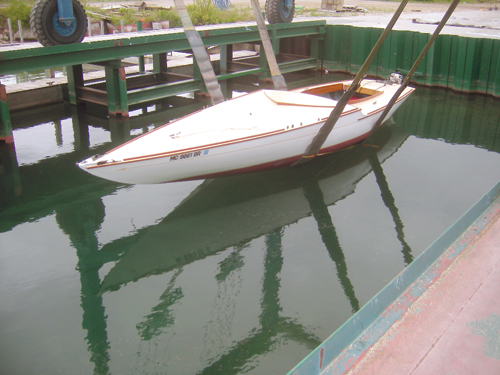 "She was the right project at the right time," he mused. "I learned about her history before I took her on. She was the perfect candidate for a restoration."
Barnwell said he knew from the beginning that he would need sponsors to see the project through. The first person he approached was Bob Brown, general manager of the Arnold Transit Company, whose well-known ferries link Mackinac Island with St. Ignace and Mackinaw City.

"Bob's a big fan of wooden boats, and right away, he was on board," Barnwell said. "Nothing would have happened without the Arnold Line; they really were stewards of the whole project. They gave me access to their maintenance shop and the work space on the Coal Dock, which really made this a unique project. The Coal Dock gave us so much exposure; people could see and experience the restoration, and it got so many members of the community involved.

"Part of the project's appeal," he added, "was to restore Bernida on the race's finish line."
Resurrecting Bernida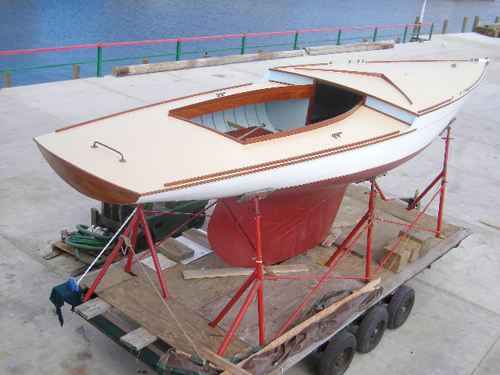 Work began in earnest in fall 2008, when Bernida traveled to the island on a freight vessel and took her place beneath the Coal Dock tent. During that first year, Barnwell said, his efforts were touch and go.

"I was still working construction full-time to make money for this, which meant working nights and weekends," he explained. "By January 2009, I realized I had to go full-time on the boat to get her ready to sail by summer 2010."

Barnwell's first task was to take Bernida's ballast keel and decking off so he could access her innards. After gutting her, he reframed the hull with new, steamed, white oak frames and replanked the Honduran mahogany timbers.

"We replaced 90% of the frames, including the Y-shaped floor timbers on the keel," he said. "Then we worked on plank repairs; 20% to 30% of those needed replacing. She needed a whole new deck too."

Proper stewardship was important to Barnwell. He obtained Bernida's original drawings from MIT, which he said was essential to the restoration process.
"When we rebuilt the deck and cockpit, we knew where everything should go," he said. "I wanted to restore her as a piece of history, to give her the correct 1920's look and feel."

With a chuckle, he added, "I wasn't trying to make her a hot rod."

The last major element of Bernida's restoration came as a somewhat unwelcome surprise.

"I'd been told her spars were in great shape, but I didn't take the time to crawl up in the rafters of the warehouse to take a look," Barnwell recalled. "When I did finally go up there, I saw that the hollow spruce mast was rotten from the inside out."

With a sigh, he continued, "We were so close to the end, but here was a month of additional work."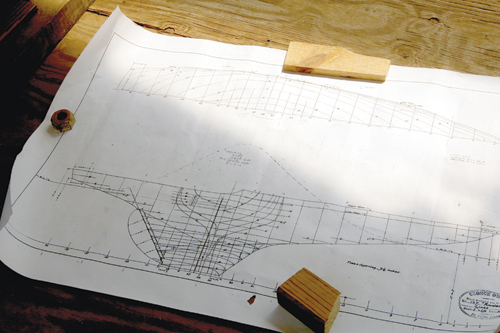 Putting together a new 50-foot Sitka spruce mast proved interesting, as the building Barnwell used was nearly the same length as the spar, leaving him just an inch or two to spare. He crafted a new boom as well, and then he turned to new rigging and sails.

"I wasn't in a position to buy sails," Barnwell said, "but can you imagine-here's this restored historic racer, with no sails!"
Enter Al DeClercq of Doyle Sails in Detroit, who donated sails to the project.

"He really wanted to be involved and support the project, and he made things really happen," Barnwell said. "We couldn't have done it without him."
In June 2010, Bernida was ready for her long-anticipated relaunch.

"We launched the hull in St. Ignace (site of her winter storage space), motored her over to the island and then added the spars and rigging," Barnwell said. "We met our goal; we had her sailing by the Bayview Mac race finish."

While Barnwell officially is the boatbuilder responsible for restoring Bernida, he consistently says "we" rather than "I."

"This whole project has been a series of people stepping up," he said. "This isn't anything I did on my own. I had a lot of volunteer support; that's the only way we got anything done."

As it turned out, despite her East Coast roots and her Detroit-area celebrity, Mackinac Island embraced Bernida as one of its own. Volunteers worked during evenings and on weekends; some even would stop by during the day as their schedules allowed. Barnwell estimated that as many as 20 to 30 people had a hand in restoring the R boat.
Fundraising, unfortunately, proved more difficult.

"I always felt confident I could handle the restoration," Barnwell said. "It was all about the work. I wasn't prepared for everything else the project would entail, like informing and educating to raise awareness, securing sponsors and fundraising.

"Raising money was like pulling teeth," he continued. "I was kind of turned off by that, a little discouraged. The project has been a lot of time and expense for me, and I needed to offset costs."

But, he said, they were able to continue moving forward with the support of partners like the Arnold Line, Doyle Sails and, unexpectedly, Matt and Rene Graff of Arbor Brewing Company in Ann Arbor, Michigan.

The company created a special beer, the Arbor Bernida Restoration Ale, to support Barnwell's restoration efforts. It sold the golden ale exclusively on Mackinac Island, where the sale of each keg meant an additional $15 for Bernida.

"We raised about $1,200 that way, and it definitely raised awareness," Barnwell said. "Every bar in town sold that beer, and it was a fun way for people to make a contribution and feel involved."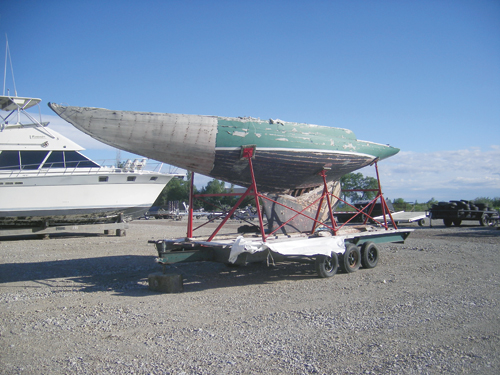 For the love of boats

Bernida sailed a few times last summer, and now she rests in winter storage, awaiting the next sailing season. Her hull is a fresh white, her deck cream, with her keel and bottom finished in red. Parts of her Honduran mahogany and western cedar cockpit boast a light blue tone, and she's accented in gold.

"I would love to keep the boat, to be her steward," Barnwell said softly. "I had so much fun restoring her; it was a good experience and a successful project. But I'm 27 years old-I can't afford insurance, storage, launching. I spent so much time and money of my own already. I need to find another party."

In the meantime, Barnwell has been busy with a new set of projects. One is a 22-foot picnic launch with cypress hull planking on steam-bent white oak frames, powered by a 13-horsepower diesel. As with Leena Bee, the launch is a Barnwell design.

"I was working on her last winter, as Bernida was wrapping up," he said. "I'm also working on a small rowboat for a friend. I still have the support of the Arnold Line, which allows me to work full-time. They like the history and the boatbuilding tradition, so they sponsor me. It's a great partnership."
Barnwell continues to work at Arnold's Coal Dock, where he said he does occasionally draw a crowd.

"I'm not an attraction," he emphasized, chuckling. "But people enjoy watching. They appreciate it, the fact they can experience this."

While Barnwell would be unlikely to use the expression "labor of love" in casual conversation, that's exactly how he's chosen to live his life. He said he prefers to keep his business small, at its current level, rather than trying to expand it, hiring employees and securing his own boatyard facility.

"I want to stay close to the work," he explained. "I like being totally involved, working on individual, fun projects. The bigger you get, the more removed you are.
"I'm not really a business," he said earnestly. "I'm just a guy who builds boats."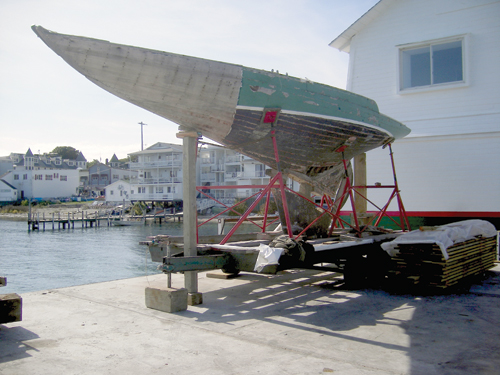 Yet through his skill, tenacity and dedication, Barnwell did manage to pull all the necessary resources together to bring this classic racer back to life. And no matter where Bernida's home port may be, his name is forever bound with hers.
To learn more about Bernida, contact Roman Barnwell at (906) 430-0553 or roman@