Tartan 40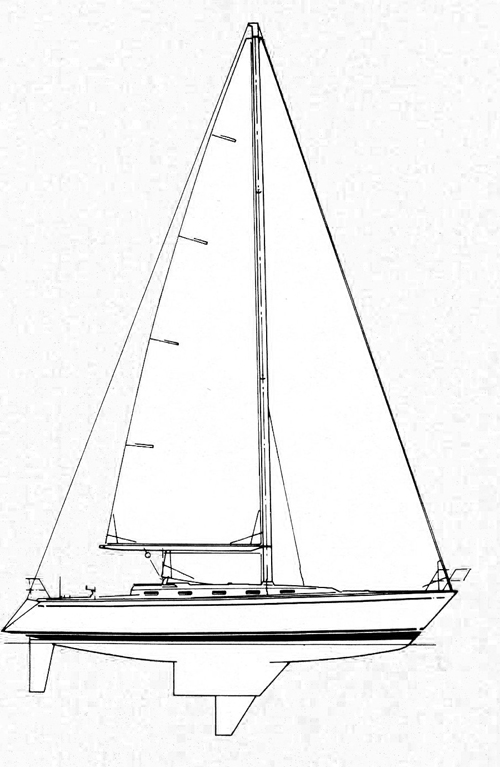 Classic S&S-inspired design moves on to a new life as a world cruiser
F riends in Miami just purchased a handsome 1989 Tartan 40. The successful sea trial and survey were the culmination of a systematic, two-year plan to find the right boat for extended cruising. Ricardo Paris attended my boat buyer's workshop a couple of years ago and we discussed his sailing agenda. He wanted to spend some time researching different boats and to take the measure of the market while working to build a "boat fund." He and his wife Claire plan to hit the high seas in a year or so, but they wanted to buy the boat now to get familiar with it and to properly refit it for serious cruising.
Ricardo zeroed in on the Tartan 40 after considering many boats, including an Albin Nimbus 42, Hood Wauquiez 40, Nordic 40 and Jeanneau 42. The Tartan is an excellent choice. Although officially designed by Tim Jackett, the Sparkman & Stephens influence is obvious; just look at the rakish bow, low freeboard, reverse transom and subtle sheer. Jackett's designs during the 1980s were a masterful synthesis of classic S&S lines with modern features that sailors were demanding. The 40 is one of his best efforts.
The overall excellent sailing performance coupled with a seaworthy hull shape and solid construction convinced Ricardo and Claire to pull the trigger. The lovely teak interior is not overly spacious but is more than adequate for a couple. The size was also appealing. At 40 feet it is big enough for any bluewater challenge they might encounter but still manageable for a daysail on Biscayne Bay. A sail area-to-displacement ratio of 17.1 speaks to performance, while the displacement-to-length ratio of 250 and ballast/displacement ratio of nearly 43% translate into stiffness, stability and the load-carrying capacity necessary for long-term cruising.
Ricardo and Claire really piqued my interest in this beautiful old boat. For the purpose of this article, we are going to take a look at retrofitting a Tartan 40 for cruising. Our "hypothetical" boat will be a 1986 model. There were 72 Tartan 40s built between 1984 and 1989. They are not easy to find on the used market and tend to hold their value. We purchased our boat named Retro, for $125,000; a price that reflects the soft secondhand boat market. The boat, like most Tartans on the market, is well equipped and well maintained. It has newish canvas and sails and the Universal 50-horsepower diesel has relatively low hours and is in good running condition. Our monetary goal is to complete the retrofit for 20% to 25% of the purchase price, or around $30,000. Our sailing goal is to have the boat ready for a summer-long cruise in the Bahamas, and to be in excellent shape for day and weekend sailing and shorter cruises throughout the rest of the year.
Prioritizing needs and wants is always the key to spending wisely. The Tartan 40 is a powerful sloop rig and one of our main objectives is to make the boat as easy to handle as possible without sacrificing performance. Sail controls need to be efficient. With that in mind, we decide to convert the traditional boom and slab-reefing mainsail to a Leisurefurl in-boom reefing system.
This is not an impulse decision. The Leisurefurl boom, installation, and the new mainsail and electric winch that the system requires will consume a big chunk of the retrofit budget. Still, it is a big upgrade and one that will pay dividends everyday. In-boom furling is efficient. It allows the main to be effectively reefed to any size to meet the conditions, you can carry just the right amount of sail while maintaining excellent sail shape. It is also safe because it keeps the crew off the deck; all reefing is done from the security of the cockpit. And finally, it's simple and clean and does away with the hassle of fitting the mainsail cover over a bunched up sail and around the lazy jacks.
Alan Massey of Leisurefurl recommends the Offshore Model for the Tartan 40. The boom and extrusions are spar-quality T-5 aluminum, while the gooseneck fittings are investment cast 17-4 stainless steel. Each boom is custom engineered at Forespar's plant in Southern California. Roger Underwood and his team of experienced riggers at Nance and Underwood Rigging and Sails in Fort Lauderdale will handle the installation. Underwood, who has installed many Leisurefurl systems, estimates 25 hours of labor will be required for the job. The total cost of the boom and installation is $13,500.
Underwood will also supply the necessary electric winch. Yes, an electric winch is critical. Forespar's Sales Manager Bill Moser says, "the electric winch puts the leisure in Leisurefurl." We choose the new Unipower900 radial electric winch from Harken. It is not the cheapest but it is surely the most innovative. Compact, light and strong, the Unipower radial winch has an ingenious design that places part of the electric motor within the winch base housing. The winch and installation tally $4,500.
A new mainsail is essential. Massey explains that by the time you alter your existing main you are usually almost 70% of the way to the cost of a new sail anyway. Peter Grimm of Super Sailmakers in Fort Lauderdale explains that sailmakers have to understand the difference between building a good mainsail and a good Leisurefurl mainsail. Grimm recommends an 8.6-ounce high-aspect Dacron weave that will resist stretch, a critical issue with the Leisurefurl boom. He also recommends a two-ply leech that adds bulk to the leech and keeps the luff and leech rolling at the same rate, ensuring a clean roll. And with the two-ply leech the actual weight of the sail can be reduced. Grimm will build a sail with six full battens, the first being 18 to 20 inches above the foot and the others evenly spaced. A vastly experienced sailor, he reminds us that when reefing the sail the batten that you are reefing to ends up lying on the bottom of the mandrel. Because the reduced Leisurefurl sail is almost always flatter than a slab reefed main, or an in-the-mast reef, the performance of the Leisurefurl boom really shines when it is blowing hard. Grimm will not only engineer and build the sail, he promises to sail with us to make sure that it is cut, fit and furling just right. This is $4,000 well spent.
The survey indicated that the standing rigging is in good shape so we'll focus on updating the running rigging. We will change out the headsail sheets along with the main and jib halyards. Bob Pingel of Custom Line Splicing in Milwaukee recommends Sta-Set from New England Ropes for new jib sheets. "Dacron double braid is strong and durable," Pingel explains. He can make up two 60-foot, half-inch sheets with whippings for $190. A new main halyard is essential with the Leisurefurl system and Pingel says that New England's VPC will fit the bill. A double braid line with a Dacron cover, the low-stretch Vectran/Polypro blended core is an excellent value. VPC is also a good choice for the new jib halyard. Pingel can supply both halyards, including a Wichard 2475 shackle for the jib and heavy-duty Tylaska H8 shackle for the main, splices and whippings for $675. The total running rigging bill comes to $865.
We are feeling very good about our rig updates, now it's time to consider a new autopilot. Most serious cruisers will tell you that the most important piece of equipment on the boat is the autopilot, especially for those sailing with small crews.
We choose the well-proven Raymarine SmartPilot. These pilots have been steering sailboats all over the world for many years and Raymarine's service and customer support is superb. There are three components that make up a "belowdecks" autopilot. First, you need a control head. We choose the compact but still user-friendly ST6002, a three-inch LCD unit that is easy to mount on the binnacle. The second component is the drive unit. The Type 1 linear drive electric motor can handle boats that displace up to 22,000 pounds and the Tartan 40 falls well within that range. Finally you need a core pack that includes the course computer and integrated gyrocompass. The X10 Smartpilot CorePack is designed to work with the Type 1 drive. After shopping around we decide to purchase the unit through Defender Marine. The three components total $3,326.
Buying the autopilot is the easy part, installing it is a bit more challenging. Steve Sullivan of Tamboura Marine Outfitters in Manitowoc, Wisconsin, will handle the installation. Steve is highly skilled and can handle a wide variety of tasks, and as an independent contractor his $40 hourly fee is a terrific value. He anticipates 24 hours of work to mount the drive unit, control head and core pack, and another half day or so to "tie it all together." The total cost is $1,200.
Our next job is the dirtiest, and one of the most important: a complete bottom job. Nothing makes a boat sail better than a clean bottom. The Tartan 40 has years of old bottom paint accumulation and is showing a few modest signs of osmotic blistering. It is not serious but now is the time for a dose of prevention. We haul the boat at Spring Cove Marina in Solomons, Maryland.
Alan Richards of Spring Cove suggests that we start by soda blasting all the old paint off. This is an environmentally responsible process that has thankfully replaced sandblasting. The next step is to apply two coats of Pettit Protect. This is a heavy-duty two component epoxy coating. It reduces water absorption and is a good choice for osmotic blister prevention and repair. For antifouling bottom paint, Alan recommends Pettit Hydrocoat. This is a water-based, multi-season ablative paint that is environmentally friendly. It is becoming the choice of many boat manufacturers. The total cost of a new bottom is $3,400, or $85 per foot all in.
Before putting the boat back in the water we decide to replace the three-bladed fixed propeller with a new folding prop by Flexofold. This has been a performance-oriented retrofit and it seems a pity to tow an anchor-like fixed prop when under sail. We opt for a folding prop for several reasons. First the performance is dramatically better than with a fixed prop and a bit better than with a feathering prop. We like the idea of the prop blades folding out of the way instead of pivoting and thus being less likely to snag a lobster pot or other floating obstruction. Tests have also shown the Flexofold increases performance under power, generating the same speeds with fewer RPMs. Dan Tucker of Flexofold sizes the appropriate prop by engine horsepower, transmission reduction and shaft size. A new 16-inch prop sells for $1,985.
We have spent our budget, but our Tartan 40 is in great shape and ready for the islands.
Project list and
cost summary
1986 Tartan 40: $125,000
Retrofit budget:
1. Leisurefurl In-boom
Reefing System $13,500
2. Harken 900UPWC
Radial Electric Winch,
installed $4,500
3. Super Sailmakers
Mainsail $4,000
4. New England Ropes
running rigging $865
5. Ray Marine Smart
Pilot, installed $4,526
6. Petit Epoxy Bottom
and antifouling $3,400
7. Flexofold Folding Prop $1,985
Total retrofit work $32,776
26% of purchase price
Grand total $157,776
Marshall 22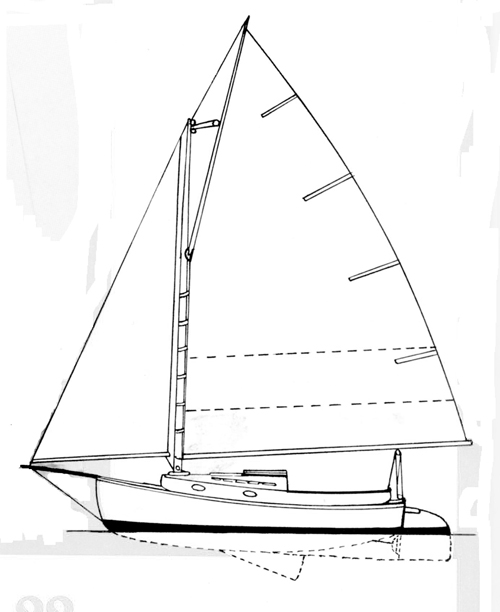 Style, substance and smooth sailing come in a compact package perfect for sprucing up.
There are times when you just want to get out on the water and sail. I am well-past my dinghy days, but I don't need a big keelboat. To paraphrase Sterling Hayden, I only need space for a few pounds of food and six feet to lie down. OK, I want a little more boat than that, but you get the idea. My tastes have turned a bit more traditional in last few years, but my interest in lots of boat maintenance is still pretty low. I want a classy, traditional boat that's also low maintenance. I am willing to give up a bit of speed for a boat that will stir my heart as I gaze at it on its mooring.
I spent a few weekends poking around on a Stone Horse 23, and considered a little Allegra 24, but ultimately settled on a Marshall 22 catboat. The Marshall 22 is a classic catboat-gaff-rigged, very beamy for stability with a two-foot draft centerboard for gunkholing, and just enough cabin space to satisfy my needs, all in a very classy, well-built package. It is also available in a sloop rig that provides a bit more sail area. The Cape Cod catboat was a popular design in the 1800s. It proved robust enough for the trying waters of Cape Cod, and was fast enough and carried enough cargo to be useful. Breck Marshall, the founder of Marshall Marine, set off to study and recreate the classic catboat in 1962. Marshall introduced an 18-foot catboat, the Sanderling, in 1962 and added the 22 to the line in 1965. Both boats are still produced today by Marshall Marine in South Dartmouth, Massachusetts, and the company is now run by Breck's son Geoff.
Our boat is a lightly used, well maintained 1996 model. We found the boat in Connecticut, and ultimately paid $34,500 for it. The boat appears to have spent a good amount of its life just hanging on a mooring.
We decided to call in a diesel mechanic to take a look at the cute little Yanmar diesel just to make sure everything was in order. He checked everything over, changed the oil/filter, primary and secondary fuel filters, as well as the impeller. He even used his oil change pump to clean out the sump of the diesel tank, since the boat sat for long periods of time and there was a little water and growth in there. Everything checked out fine and our bill was just $275.
After getting lazy with the diesel mechanic we decided to put some sweat equity into the bottom paint. The ablative paint was in pretty good shape but a little thin in places, so we decided to sand and put on two coats of Interlux Micron Extra with Biolux. We were able to squeeze two coats out of a gallon of Micron, so the cost was just $220 plus rollers and sandpaper.
Our boat needed a little clean and shine, but after that bottom paint job we were a bit tired so we again called in the professionals. We found a local boat detailer to do a full wash, a buff and wax on hull, and a wax job on the smooth parts of the deck and cockpit. This set us back $425, but the boat looks great.
With our auxiliary propulsion in order, we moved onto the primary system, the sails. Our boat had been lightly sailed but the years had not been kind to our sails. We enlisted the help of Peter Grimm of Super Sailmakers in Fort Lauderdale, Florida. We discussed the project with Peter at length and learned that he had spent many happy days sailing a Marshall 22 with a family friend. He had lots of good ideas for us.
Peter tells us the gaff mainsail on the Marshall is short and wide, which puts heavy diagonal loads on each corner. Adequate patching helps to address this but it is important to choose a good low-aspect fabric to maintain sail shape. He suggested that we choose 6.3-ounce Dacron cloth offered by Challenge Sailcloth. Early gaff mainsails had a hollowed-out leech with no battens, but Peter added three short battens to support a straight leech, adding a small amount of sail area, but, more importantly, extending the life of the leech and maintain sail shape. As designed, our new mainsail is 338 square feet. The sail is designed with a leech profile that has minimal twist since the boat doesn't have a boom vang and the sail will twist open by itself. The body of the sail is pretty full, with a draft-forward profile for additional power, and one reef so the stable boat balances better in heavier wind conditions. The small jib is a tiny 100 square feet, but it helps balance the boat and increases the pointing and reaching ability of the gaff rig.
The new main and jib in white Dacron would run about $3,000. Peter suggested going with a more traditional look by using Egyptian Cream sailcloth. This cost us an extra 25%, but the boat really looks good. Our total bill with Peter was $3,750.
Peter had some additional rigging tips for us. He can remember the work involved with hoisting the main and gaff. The mainsail on the Marshall travels on separate mast hoops that slide up when hoisting. To make hoisting a little easier, Peter found it useful to paint a Teflon coating on the mast and interior of the rings, and replace the halyard and gaff blocks with low-friction ball bearing blocks.
Our running rigging was serviceable but not very pretty. Keeping to its salty heritage, Marshall equips its boats with Dacron three-strand running rigging, but we opted to modernize a bit. We were not willing to go all the way to double-braided Dacron, but decided to go with New England Ropes, Regatta Braid. Regatta Braid is a Dacron single braid. It looks pretty salty yet is a bit less elastic than three strand, and handles a little more smoothly. All the rigging, including the splices, cost us $650 for a peak halyard, throat halyard, mainsheet, topping lift, jib halyard, jib sheets and lazy jacks. Our rigger threw in a set of nicely spliced three-strand docklines.
Strangely, our boat did not come with any on-deck canvas and we really wanted a dodger for those cool passages. I got in contact with Marshall Marine and they were happy to help me out. I picked the options right off the new boat option sheet. I got a factory-fresh dodger, wheel cover and cockpit cushions. I enlisted the help of some boatyard buddies to help me install the dodger. The total cost for these items was $3,500, plus some beer for the install crew.
We don't really need too many electronics for our purposes but decided to get a new handheld GPS and a VHF radio. The Icom M72 was our choice. This is a six-watt submersible handheld with a really good lithium-ion battery. This radio should hold up well under all conditions and the battery will last for several days at a time. We chose a tried and true GPS model from Garmin, the GPS72. This unit is a no-nonsense GPS with a four-color gray display and WAAS technology. It's nothing fancy but we will always know where we are going.
I did choose to splurge a little on a stereo. These days the only thing I use a stereo for is to listen to my iPod; a little music or a podcast accompanies a nice sail very well. I didn't want to bother with an automotive style unit and a boom box or iPod dock was too cluttered for my taste. I found the perfect solution in the Left Coast Stereo. This ingenious little black box attaches to your iPod, a pair of speakers and a 12-volt source. You control the volume and song selection right from your iPod and the rest of the gear is hidden away-the only things visible are the speakers and the little panel where you hook up your iPod. I combined this stereo with a pair of Polyplanar MA4055 waterproof speakers. The whole combination cost me $240. I know I could have spent less on a traditional system that gave the same or more functionality, but I really like the way this unit is packaged up. As a bonus I can use the USB charging port for my phone.
My pretty little catboat is all set to carry me off to whatever destination I want, and I guarantee I will always give her a loving wink as I row away from the mooring.
Project list and
cost summary
1996 Marshall 22: $34,500
Retrofit budget:
1. Diesel servicing $275
2. Bottom paint $220
3. Wax $425
4. Dacron main and jib $3,750
5. Running rigging $650
6. New canvas $3,500
7. GPS $150
8. Stereo $240
Total retrofit work $9,210
26.70% of purchase price
Grand total $43,710
Melges 24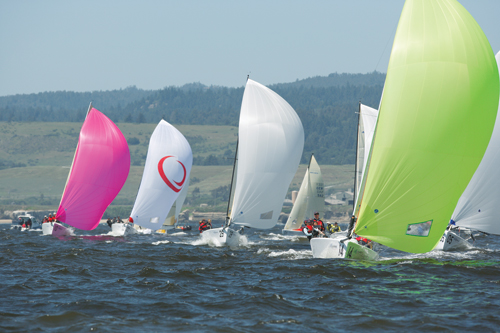 This high-performance one-design class attracts top talent, and for good reason
O ne-design racing gets us excited. There's nothing quite like duking it out on the course against identical boats to get the competitive juices flowing, where it is the skills of the skipper and crew that matter more than the boat's equipment or rating. And there's nothing quite as thrilling as racing neck-and-neck against a mirror-image boat to the finish line, knowing that the winner is the one that crosses the line first, and not the one with the better rating.
Combine the one-on-one competitiveness of one-design racing with white-knuckle speed and you double your fun. We've been racing in our local Tartan 10 fleet on Lake Michigan for years and while we greatly enjoyed the competition and camaraderie of the class, we were ready to add speed to the equation. It was time to look for something sleek, modern and fast, but still with a strong one-design fleet.
In our search for a hot new ride it didn't take us long to zero in on the Melges 24, a high-performance one-design racer with a very strong and very talented following around the globe. Not only would the 24 give us the speed we craved, it would provide entry into a highly competitive fleet that has attracted some of the world's top racers, including America's Cup veterans Terry Hutchinson and David Ullman. This is a boat that will certainly take our racing up to a whole different level. We would be playing with the big boys now, and we'd be doing it on the level playing field of strict one-design racing. Talk about exciting.
The Melges 24 was born of the America's Cup. Not coincidentally, the high-tech sport boat was designed by the firm of Reichel/Pugh in 1992, the same team that designed the boat in which Buddy Melges and Bill Koch won the America's Cup that same year in San Diego. The next year the 24 was officially launched during Key West Race Week and became an instant hit. Just two years later 60 boats would make it to the line in Key West, and by 1997 the class was holding its first World Championship with 98 boats competing in England. Today, more than 800 Melges 24s are sailed competitively in fleets found in North America, Europe, Australia and Asia, with developmental fleets taking root in South America.
In 1997 the 24 was designated an ISAF International Class, furthering its pedigree, and the class is administered by the International Melges 24 Class Association. Strict one-design rules and management by the IMCA provide a strong basis for fair and competitive racing in a continually popular class.
From their base in Zenda, Wisconsin, the Melges Performance Sailing team put together a boat using the latest in boatbuilding materials and design ideas. Unlike previous sport boats of its size, the hull is constructed of lighter, stronger S-glass fiber and vinylester resin. The mast, bowsprit, rudder and keel fin, meanwhile, are all made from carbon fiber. The result is a lightweight, 1,783-pound hull, which gives the 24 a displacement-to-length ratio of 57.58. Compare that to our T-10, which has a D/L of 152.
The boat's low weight combined with its relatively flat bottom and high-aspect-ratio keel fin produces a boat that wants to get up on a plane. Add in a 670-square-foot asymmetrical spinnaker, which was designed to pull the bow up and forward when sailing down wind, and you have an addicting ride.
Besides its speed characteristics and strong class backing, what attracted us to the 24 was its ease of use. Its retractable keel means we can easily trailer it to different venues and launching is a simple matter. It only takes two people to step the mast, although it is easier with three, with two people stepping the spar while another winches it up with the trailer winch. Likewise, the 24 is typically sailed with a crew of four or five, so rounding up a reliable crew will not be problematic.
We did some looking online for a gently used boat, starting with a search of the classified ads on the IMCA website, and were fortunate enough to find a likely candidate a few hours drive away in Michigan. It was an early hull, one of the first 100 built, but it was well maintained and in excellent shape-ready to race. The asking price was $22,000, but the motivated seller was eager to negotiate and we ended up towing it back home for $19,500. As a later hull model would easily go for more than twice that amount, and a new, race-ready 24 costs $70,000, we felt we found a good deal and an affordable entry into one of the hottest one-design fleets around.
Once home the first thing we did was go over the standing rigging. The upper and lower shrouds are 3/16-inch Dyform wire, and with the way the 24 is typically raced these will stretch out a bit over time. We found obvious signs of stretching and wear in the wire so we decided to replace both the upper and lower shrouds. We also dye-tested the older open turnbuckles and found a few hairline cracks. Nothing major, but we decided to replace them as well.
Chicago Yacht Rigging would replace both sets of upper and lower shrouds using new Ronstan calibrated turnbuckles. But following the advice of Kristian at CYR, we first decided to replace the older, original spreaders with new ones, a job we could do ourselves. Unlike the older spreaders used on the 24, these new spreaders from Southern Spars have small removable tips that allow the shroud to be removed from the spreader. This will make changing shrouds easier in the future, as with the older spreaders the only way to change them out was to cut the wire out and swage the new shrouds in with the spreader in place. We ordered from Melges the new set of Souther Spars spreaders, special ordered in white to match our older Omahundro mast, spreader bar, spacer bar and set of clevis pins. The total came to $889 for the spreader assembly, while the new Dyform shrouds with Ronstan turnbuckles came to $875 installed. We also ordered a new Vectran backstay from Melges for $98. The complete backstay included an eye-splice and thimble at the head, and a block and shackle for attachment to the lower bridle.
We next took a look at the headstay. In 2009 the class association decided to change from a removable to a fixed forestay. Besides providing better rig security when the boat is kept at the dock or on a mooring, some sailors feel the fixed forestay makes tuning the rig easier. Others, however, worry how the system, which uses a jib with a zipper luff, will affect their performance. Some even worry about the extra weight of the fixed stay, even though it is minimal. Melges offers a fixed forestay conversion kit for $575, and installing it is a fairly simple process that involves routing a new slot in the mast and inserting a backing plate in which the forestay's T-terminal sits.
After some consideration we decided to forgo the conversion until another year. Partly we decided to wait and see how others fared with the new forestay, taking a wait-and-see attitude. But moreover, we knew we wouldn't be replacing our jib this year, so didn't see the point in it. Instead we ordered a new 3/16-inch 7x19 wire halyard from Annapolis Performance Sailing for $101.
To tune our new standing rig we ordered a Loos tension gauge from West Marine for $95. With all the rig tweaking we'd be doing, not to mention the continual stepping and unstepping of the mast when trailering, a good tuning gauge would be a necessity.
We next turned our attention to the boat's lifelines. The Melges 24 class is unique in that the rules allow crew to hike out hard against the lines, which are loosely strung. For all intents and purposes, the lifelines are hiking straps, so it's not surprising that these lines get a lot of use. To keep our crew on the boat and comfortable, and thereby hiking hard, we replaced the original lines with a new set of Hutchinson Sport hiking lifelines from APS. The kit included padded straps, shock cord to keep the lines taut when not hiking, and pre-spliced Spectra lifelines. The cost was $295, port and starboard.
As mentioned, we decided not to replace the jib, or any of the other sails for the time being. The previous owner had replaced the main and jib less than two seasons back and the spinnaker, a North Sails Code 2A-1, was in good shape. These sails would serve us well as we tuned up our game and in the meantime we would save our allowance for a new suit down the road.
For our running rigging we ordered directly from Melges, purchasing a standard tapered jib sheet, mainsheet, and tapered spinnaker sheet. We also splurged on a new tapered main halyard. All together our running rigging ran us $890.
Following the advice of Melges Performance Sailboats President and Melges 24 Full Throttle team member Andy Burdick, we inspected the keel delrins to ensure they were not dry or cracked. They appeared in good condition, so we simply cleaned them with soap and water, and then sprayed them with Team McLube Sailkote. We also checked the rudder straps on the rudder, as well as the gudgeons, making certain the rudder pins fit well. We checked that all blocks were in working order and running smooth, also treating them with McLube. The keel was looked over to ensure the leading and trailing edges were fine, and the bow sprit seal was inspected to make sure it was in good condition as well. We lubricated the sprit and seal by rubbing them with a little Vaseline.
As a final treat to our new prize we gave the hull the spa treatment. We found a few scratches, which we rubbed out using 3M Super Duty Rubbing Compound followed by an application of 3M Marine Finesse-It II. For best results, we applied the rubbing compound in a back and forth motion, not circular, then applied the Finesse-It glaze circularly. We then polished the entire hull, stem to stern, with Star Brite Premium Marine Polish with PTEF, applying circularly with a clean cotton rag, letting it haze over, and then removing with a micro-fiber towel, buffing to a shiny finish. We may not be professional-level Melges racers yet, but we certainly were looking it.
Our boat was now ready to start mixing it up on the course. The only thing left to do was for our crew to begin dieting to get our weight within the class limitations, which would definitely be the most difficult part of our program.
Project list and
cost summary
1994 Melges 24: $19,500
Retrofit budget:
1. Shrouds and turnbuckles $875
2. Spreaders $889
3. Backstay $98
4. Wire jib halyard $101
5. Loos Model B rig
tension gauge $95
6. Hutchinson Sport
hiking lifelines $295
7. Running rigging $890
8. Team McLube Sailkote $10
9. 3M Super Duty Rubbing
Compound $16
10. 3M Marine Finesse-It ......$26
11. Star Brite Premium
Marine Polish $39

Total retrofit work $3,334
17% of purchase price
Grand total $22,834
J/30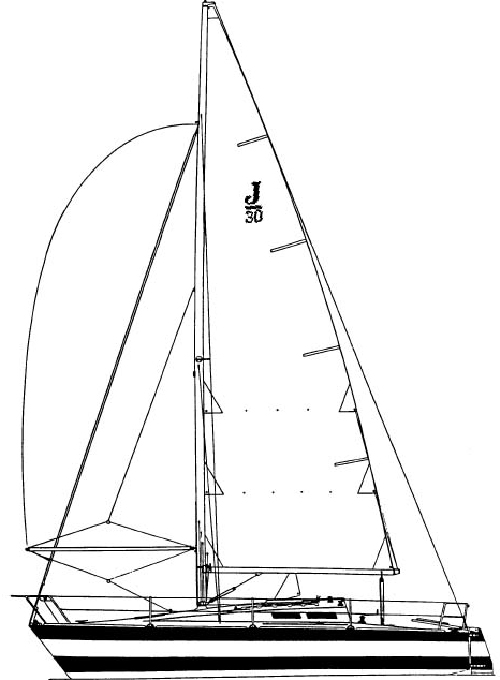 A nice-sized boat for racing, cruising and daysailing, with the family or not
T he kids are outgrowing junior dinghy racing and starting to ask about a keelboat. And they have a point. It might be nice for the whole family to have a small racer that we could all sail together or perhaps the kids could take out themselves.
The obvious answer here is a J/24, but a small, well-performing boat can be fun to weekend cruise, and the 24 is just a bit too small. A 30-footer would be ideal, something the kids could handle around the buoys, but in which we could still cruise on the non-race weekends. We have $25,000 to buy and refit a good boat. This is a lot of money for a secondary boat but good boats will hold their value reasonably well.
Builders in the mid- to late-1980s produced a good number of boats that fit this bill-the Olson 30, Tartan 10, Pearson Flyer, and J/30 for example-and in good numbers. The boats were distributed nationally, but the Olson 30 was more popular on the West Coast, while the others were more Midwestern and East Coast boats.
After spending hours scouring SAILING's brokerage listings, and a few weekends looking at boats, we settled on a 1984 J/30. We found our boat in Michigan, it has been lightly used and of course laid up for the long cold winters. We'll need to do a little work but we are starting with a good foundation. We took advantage of the slow market and grabbed the boat for $16,500.
Designed as a racer-cruiser, the J/30 is essentially a larger J/24. J Boats stretched the J/24 and raised the cabinhouse to give standing headroom-six feet at the aft end of the cabin. The J/30 proved successful, with almost 600 boats sold before production ended in 1989. While the J/30 is a proven performer around the buoys and a capable cruiser, it proved its mettle during the 1979 Fastnet storm. Two J/30s successfully came through the storm, one in the race with full race crew, the other being delivered singlehanded from Bermuda to later participate in the OSTAR singlehand race. Both boats were knocked down and ran for a bit under bare poles, but came through the storm in good form.
After carefully evaluating the boat we decided to start by race-prepping the hull. The prior owner had planned to template the keel and rudder, and as such had stripped the foils and already fabricated the templates. I don't know if templating is that much of an advantage but since the prep work was done I decided to go for it. This process involves contouring the keel and rudder to the design specs using prepared templates and known stations on the surfaces. If there are high spots you sand them down, if there are low spots you build them up with thickened epoxy. The process took us three weekends total, with some stops at the boatyard midweek to slather on epoxy so it had time to cure by the weekend. The cost was $275 in materials-epoxy and thickener, solvents, and sanding disks.
To finish off our newly templated and faired hull, we needed barrier coat and some slippery bottom paint. We opted for Interlux Interprotect 2000E and two coats of VC17m Extra with Biolux. The barrier coat and bottom cost us $325, plus rollers and tape.
Now that our hull was in order we needed sails. Once again we enlisted the help of Peter Grimm of Super Sailmakers in Fort Lauderdale, Florida. Peter has raced the J/30 extensively since the boat was introduced in 1979 and had lots of good thoughts for us.
The J/30 was designed to be a class boat and as such did not pay a lot of attention to PHRF rules. The class-legal No. 1 genoa is 163%, the No. 2 is 145%, and the No. 3 is 105%. The standard factory spinnaker pole on the J/30 is 12.5 feet, while the J dimension is only 11.5 feet. The typical max girth PHRF allows is 180% of J, but on the J/30 this dimension works out to be 180% of the spinnaker pole length. All of these dimensions, though over normal PHRF allowances, are legal in a base PHRF rating on the J/30. Unless your sailmaker is well versed in the details of the J/30 you could cheat yourself with undersized sails.
Peter suggested a few options for sail material. The trade-offs are costs and how careful you want to be handling the sails between races. He suggested the fastest sails that make fiscal sense for the average sailor are laminates made from an Aramid (like Kevlar or Twaron) or Pentex, both of which have come down in price over the years as more manufacturers offer load-path technology sails. Peter's club race fabric uses Twaron fibers inserted between Mylar films to create a fast sail with good lamination. But he cautioned that all laminates require extra care to reach a reliable four- or five-year lifespan. A mainsail and class genoa in the fancier cloth would cost us about $5,900.
Peter offered premium Dacron sailcloth as an option if we didn't want to have the crew roll and remove a laminated mainsail at the end of the race day. He reasoned that on a well-sailed J/30 with the proper rig setup and sail shape controls, experienced sailors can go just as fast with Dacron as their friends with the laminates who think fancy sails don't need attention. In fact, he often tells many club racing sailors to take the money they'll save buying Dacron instead of laminates and spend it on good beer to keep a regular crew happy. Dacron saves a few hundred dollars per sail.
We opted to go with Aramid sails for the main and genoa, and will fill in with new jibs as the seasons progress. Our total bill for the two was $5,900. Peter threw in oversized spreader and stanchion patches to help protect our new genoa.
Our spinnaker was a little tired and Peter suggested using top-quality three-quarter-ounce nylon. He chose Contender Nylite 60, which is often referred to as a cruising fabric but in fact is great for club racing; it's very durable with good tear resistance. Contender also offers a high-end fabric called Superkote 60 but the cost difference is substantial. A spinnaker in Nylite costs $1,700, while upgrading to Superkote will cost us $2,500. Peter didn't feel that the cost difference was justifiable, and we tend to agree. Peter pounded this home by saying, "Bottom line, a club racer will not win or lose because of the difference in spinnaker fabric."
Peter offered us a few more tips on setting the boat up. He suggested that it would be a good idea to label all the rope clutches and cam cleats. Marking the halyards allows everyone to know when they have proper settings and makes it easier, even for core crew, to repeat the settings. He suggested that we get a copy of a tuning guide but not to go crazy working on every last detail. Proper headstay length, mast step position and shroud tension are the most critical.
Our sails and hull are in good shape, so we now need to connect them with some top-notch running rigging. The rigging that came with the boat was OK, but modern cordage is far lighter and less elastic. We'd rather use the power of the wind to push the boat than to stretch some old rope.
We started off with halyards, and to keep things within budget we decide to use New England Ropes VPC. VPC has a blended core of Vectran and polypropylene covered with a high-quality Dacron cover. It is a very nice rope and costs just $1 per foot in 5/16-inch, but has a 4,000-pound tensile strenghth and very low elasticity. We had our local rigger fabricate a jib and main halyard. The main halyard was 95 feet, with a Wichard headboard shackle spliced on, and a reeving eye on the bitter end to make the halyard easy to install. The jib halyard was similar but used a Wichard Snap Shackle. The spinnaker halyard was made of New England Ropes Sta-Set in 5/16-inch, and we had our rigger include a halyard ball to help reduce masthead chafe. The cost for the halyards was $450.
Our boat came with a nice gross/fine trim mainsheet system but the cordage was a little tired. We decided to replace the gross trim system for now and evaluate the fine trim system in a couple seasons. A single braid works really nice in a mainsheet tackle system and we just saw a cool rope from Yale Cordage called Ph.D at the Annapolis boat show. Ph.D, a Dacron and Vectran single braid, is really lightweight, low stretch, strong and handles really well. The sheet, with an eyesplice and whipping, cost us $160.
Our spinnaker pole was intact but appeared to be a victim of some boatyard wars. We had some room in the budget so we opted to replace it. We started out looking at aluminum poles but found a good deal on a Forte class-legal carbon fiber spinnaker pole. We ended up paying $1,100 for the pole, freight included.
The lifelines on our boat were original and not in the best of the shape. The plastic coating was missing in a lot of places, and bleeding rust in the places where it was intact. We opted to replace them with Spectra 12-strand-this option is just as strong, but a bit less resistant to chafe and UV damage. We chose 3/16-inch Amsteel Blue for the upper lifeline and 1/8-inch for the lower. We lashed the lines in place with some Dyneema core twine. Our rigger charged us $225 installed for all four lifelines.
The electronics on our boat were not real reliable so we decided to replace them all. In the interest of easy installation we opted for a Micronet wireless system from Tacktick. Our system consists of speed, depth, wind with two displays and all the transducers. We added an NMEA interface so that we could interface our GPS into the system-it is handy to monitor VMG and COG on the large cockpit display. This system cost us $2,400 and $75 in installation materials. In addition to the Tacktick gear we added a simple GPS and new VHF radio with a cockpit microphone. We have always had good luck with Icom radios so we decided to go with them again. We chose the M422 radio with a CommandMicII. This combination allows us access to all the important radio functions right in the cockpit. The radio and mic cost us $280. We chose the Garmin GPSMAP 421, which gives us all the GPS functions and basic chartplotting we need to help us get into unfamiliar harbors. We found a good price on the GPS at a boat show and snapped it up for $415.
We are all set to go racing and I have already planned some cruises on the off weekends. We'll see you out there.
Project list and
cost summary
1984 J/30: $16,500
Retrofit budget:
1. Template keel and
rudder $275
2. Paint bottom $325
3. Aramid main and
genoa $5,900
4. Nylite spinnaker $1,700
5. Running rigging $610
6. Spinnaker pole $1,100
7. Electronics $2,475
8. GPS $415
Total retrofit work $12,800
77.6% of purchase price
Grand total $29,300