'I moved to New York City from literally living out of a duffel bag for about three years, traveling from Maine to Puerto Rico to Florida to all over the place," said Bill Bahen, of the end of his tenure with Outward Bound, the expeditionary learning nonprofit organization.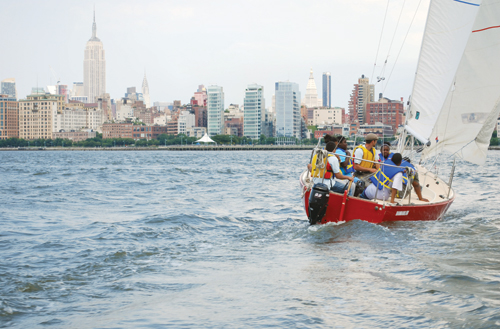 The easygoing Maryland native, who could just as easily pass for a surfer as a sailor, tells his story in the city-owned boathouse from which he runs Hudson River Community Sailing, Manhattan's first nonprofit community sailing center. Stationed on a pier across a six-lane highway from a tony gallery district where paintings of sailboats are about as common as Warhol electric chairs at a Nantucket crafts fair, Bahen is a bit like a gull in a pigeon colony.

"I would volunteer my time down at the Manhattan Yacht Club and because I had my captain's license I was able to work some corporate regattas," he recalls of his initial months of dry dock in New York City. "I just kind of reflected on my time in Outward Bound, and on the times I volunteered at the Courageous Sailing Center in Boston, and I started noticing that no one had set up shop to get a fleet of boats and get kids in the water. I just thought that might be a pretty good idea."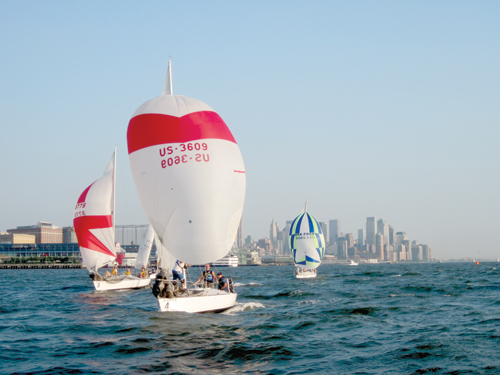 Manhattan has been a major seaport city since the mid-1800s when more people and cargo came through the port of New York than all the country's harbors combined. Yet it never developed a seafaring culture like nearby Boston or Baltimore for reasons ranging from a lack of river access, to a large immigrant population employed in land-based industries that viewed the city's waterways as commercial cesspools. Sanitary reform and subsequent pollution monitoring, the relocation of the city's prodigious shipping industry to nearby New Jersey, and the development of the city's waterfront as public green space have since widened New Yorkers' perceptions of their waterfront's recreational potential and set the stage for organizations like HRCS to expand its role in their lives.
If turning subway-surfing New Yorkers on to the joys of sailing seems like a tall order, it's child's play compared to the prospect of launching a sailing nonprofit at the nadir of the worst economic slump in recent memory. But sometimes a sailor's frankness can work in his favor.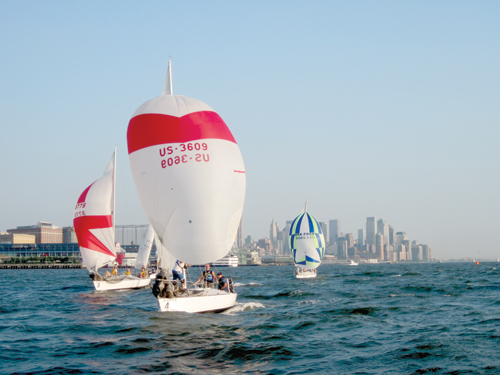 "I didn't know where I was going to do it. I didn't know how I was going to do it. I just began to talk about it and poke around for a space," Bahen said. "One thing led to another. Someone introduced me to New York Lawyers for the Public Interest and Clifford Chance, a law-firm here in town, picked me up. They helped me incorporate and file my 501c3 application to the government. I got my wife, my brother and two other people who I thought would be really good assets here in town to come on as board members. We had our first fundraiser in June of 2008 and 700 people showed up. I made $70,000 and was able to hire some sailing instructors and build content."

Initially supported entirely by donations, Bahen currently derives about 50 percent of his operating budget from adult membership fees. Working on public property enables him to keep his expenses down and offer affordable instruction, equipment and facilities to the public. The resulting revenue is used to help sustain HRCS's youth programs.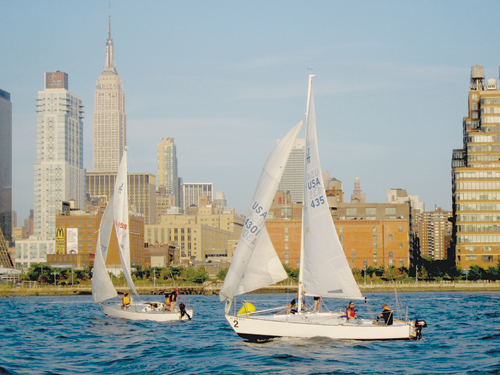 It's a strategy that seems to be working for Bahen and his five-person crew, who put nearly 5,000 New Yorkers, young and old, on the water in 2010. Some of the younger of those New Yorkers were eager to talk about their experiences.

Byanka, 15, enrolled in the seven-week after school sailing program last fall to fulfill a physical education requirement for the New York City Museum School, one of seven local high schools that partner with HRCS to offer students experiential learning opportunities that meet city and state curricular mandates.
Like a lot of the students recruited for the program, she had never been on a sailboat, had little interest the marine environment and didn't think much of the Hudson River.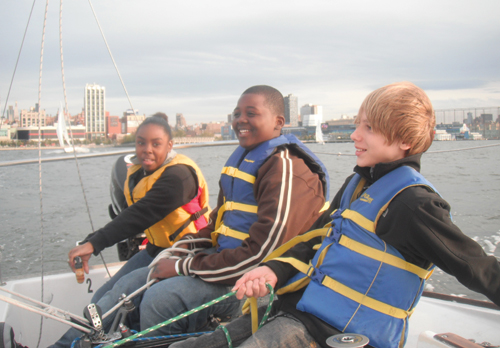 When asked about sailing, Byanka and many of her peers defy the stereotype of the laconic teen who will text 57 words per minute but describe most life experiences to adults monosyllabically.

"You learn the physics of sailing, the science and math," she said. "It's a place to be with other people and it's not a place to be shy. You have to participate. Now, when I look at the water, I see if it's a good sailing day."

Jordan, 14, a freshman at the Manhattan Business Academy, looks at the Hudson and sees a new kind of playing field.

"Before, when I'd see people out here on boats it was mostly adults so I was thinking there's not much for kids to do," he said.

Since learning to sail, he looks forward to spending time on the river.

"Today I wanna try and stand up the whole time on the boat because that was the best part, even when the boat was going fast."

Asaad, 14, of the NYC Lab School, was surprised to learn how demanding sailing could be.

"If you ever watch a movie with sailing in it, it looks like they're just having fun pulling stuff …"

"…and drinking champagne," cracks classmate Alex, 14, who's learned to appreciate the transportation potential of sailing. "It's a great way of getting around without using electronics. I mean like motors or anything like that. And if you're off the radar in some CIA thing you could use a sailboat."
HRCS is one of only two community U.S. sailing centers currently engaging kids academically. The Accredited After School Program for public high school students is the only one of its kind in the country.

"They're getting an experience that most public school students in New York can't ever get," said Sarah Reiley, a teacher at the Manhattan Business Academy.
Freshmen from partner schools sign on for introductory sailing lessons in the fall. Steady attendance and a mastery of basic skills result in a physical education credit toward graduation and an opportunity to enroll in the winter boatbuilding program for a science credit.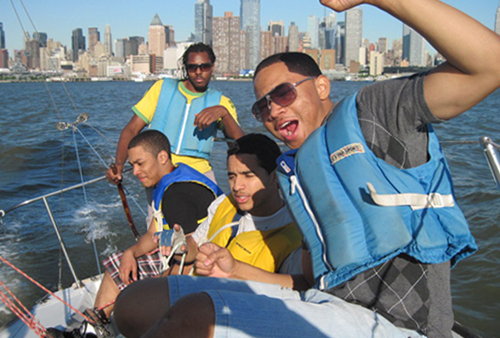 "It's just like they're on a sailing team," Bahen said. "They're running drills all the time. They're being driven to figure out how the boat works and they're out there as a team. It's very athletic and in the fall the wind blows well so it's great."

The subsequent 15-week winter boatbuilding program focuses on the fundamentals of boat construction, tool handling and technical design interpretation. Participating students work together to build an Optimist dinghy, which they launch in the spring.

"The age old question in math and science is, when am I going to use this in my life?" said Alex Baum, who developed and runs the after school program. "Here is a perfect example of where that happens."

Brooklyn Boat Works, a naval architecture firm, provides staff and technical expertise.

"They start with a pile of wood," said Carl Persak of Brooklyn Boat Works. "There's a lot of time spent drawing and cutting and sanding and suddenly-Boom! There's a boat, and it's breathtaking."

David Copeland, 21, co-captain of Columbia University's sailing team, who volunteers as a workshop aide and tutor during his team's off season, sees the program's appeal for city kids in terms of elbow room.

"It's so crowded and there's so little space. I'm from Maine and I had a shop that was twice the size of this building and we had a varsity sailing program, so it didn't seem that special. But my cousins all live in the city and they don't even have gyms."

Space comes at a premium on any island. In densely populated Manhattan, it generally goes to the highest bidder.

Karen Polsonetti, principal at Manhattan Business Academy, which currently has seven freshmen enrolled in the program, said she believes HRCS extends the boundaries of what the school and city can offer young people.

"We don't have a football team because we're in Manhattan and outside fields are hard to come by. All of New York City is competing for that space. We feel lucky to be close to the Hudson River so we can be a part of (a sailing program). I know our students really enjoy it."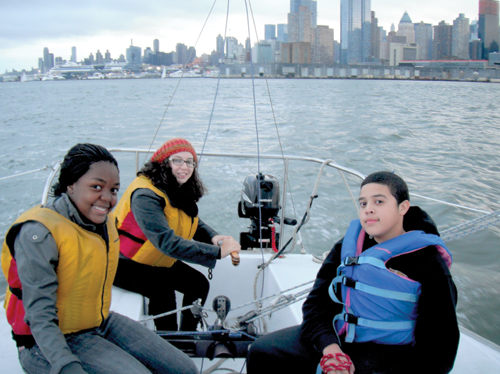 "Right now I'm dealing with the city to make sure they fix my docks," Bahen said from the pier where he keeps the HRCS' fleet of eight J/24 sailboats. "Our boat slips face north with complete exposure on (three sides) so any wave that comes through, typically you're going to get broadsided. It's like a rodeo."
It's not the most common problem for a Manhattan business owner to contend with, but one that's central to why sailing has been slow to take off on the Hudson. Bahen searched a year before finding HRCS's Chelsea home through a Request for Proposal issued by the trust that manages the riverfront. Along with the questionable configuration of the pier, Bahen was aware of the Hudson's breakneck current when he signed on, but the amount of commercial and pleasure boat traffic, which he describes as "outrageous," was an eye-opener.

Still, a 700% increase in his adult sailing program since 2008 leads Bahen to believe that, given the opportunity, more New Yorkers will spend their leisure time on the water and he foresees expanding to new sites in the coming years.

Meanwhile, Bahen is looking forward to setting the current crew of freshmen sailors out on their own and seeing where they anchor in three years.

"If they learn how to sail here and we get them a job at some summer camp or some other community sailing program or some yacht club someplace, those could be game-changers. A kid that can speak well and works hard and makes friends easily, well, you never know where these relationships can lead you in life."