The dream to drop out of the rat race and live the sailing lifestyle is alive and well in the British Virgin Islands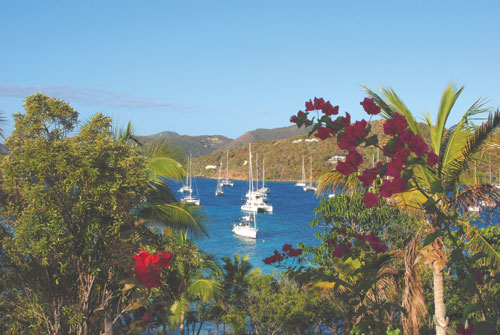 While sailing through the turquoise waters of the Caribbean, it's easy to imagine giving up a traditional lifestyle and living the dream in the British Virgin Islands. Dreams are varied, from living aboard, becoming a skipper, or managing an island, to opening a wine bar or being a dive operator. The dream evolves like the wind, with constant changes in direction. With drive and dedication, the dream is within reach as these sailors can attest.

"I feel like a belonger," said Ron Mobley.

The old immigration signs at the BVI airport read "non-belongers" and "belongers." An apt description for people who visit, and live, in the British Virgin Islands. Mobley has only been living aboard Island Siren for three years in the Trellis Bay area, but he calls himself a belonger.

As a boy, Mobley ran out of gas aboard his boat in the Florida Keys before he even had a car, and thus began his lifelong love of boats. After 35 years in a rewarding fire and rescue career where he was a worldwide disaster team specialist, Mobley is now living his dream aboard his 47-foot Vagabond.

"When I got eligible to retire, I was ready to move on to the next adventure," he said.

That adventure was traveling the world on Island Siren, but as with most dreams, reality sometimes gets in the way. Mobley is still working toward his dream of pulling up anchor and traveling the world, even as he lives it in the BVI. For now, he and his wife Kim are moored in Trellis Bay, while their daughter Katie goes to the International School in the BVI.

Mobley's dream isn't necessarily Katie's, though. A typical teenager, her common refrain is, "You've ruined my life," even while she's raised in paradise.

Retirement didn't include putting Katie through a private high school, and both Kim and Ron have made adjustments. Kim manages De Loose Mongoose and Beef Island Guest House, both visible from Island Siren.

Part of being a belonger is not just living in the BVI, but becoming part of the community. Mobley assimilated by obtaining a hard-earned trade license in the BVI with his partner Dwayne Straun. Their company, Caribbean Emergency Responders Training Academy, keeps him busy a few weeks at a time, but the rest of the time he does anything he wants. Usually, that involves jumping overboard and going for a swim.

Even though Mobley lives on a boat, his vacations from the BVI revolve around boats. Every year, he takes part in the Caribbean 1500, the longest running offshore cruising event in the Americas. While relaxing on the deck of his boat, his favorite local entertainment is watching the mooring ball races for the last ball in Trellis Bay in the evenings.
Mobley claims the liveaboard lifestyle is "simple but hard." Daily tasks become a chore, from running a generator for electricity to getting water from the dock. Even a trip to the grocery store can be a logistical nightmare. In spite of the hardships, he says there's no question of where he'd rather be. "I think I would commit suicide before I moved back to land."
"Couple Wanted to Manage Caribbean Island," was the help-wanted ad that brought another couple south. The Internet connected Karen Dowdy and Joe Clark, first through a dating service, and then with a job listing on Craigslist to manage a tropical island.
Dowdy's dream was a job where she and Clark could be together all the time and not just sharing their life over dinner. Clark is a dream builder and a Craigslist fan, so he got online to make Dowdy's dream come true.
Living near Spokane, Washington, Clark was managing a marina and Dowdy was the vice president of a jewelry business. When Dowdy wanted a light for her saltwater fish aquarium, Clark found one online. She sent him out for a light bulb and he impulsively bought the whole store. It's a trait he can't shed.

When the ad came up on Craigslist, the job sounded too good to be true. Clark thought it might be a scam but put in their application anyway.

Unable to accept hearing nothing from the job posting, Clark continued to research the island job online and found the owner, who told him the job had been filled. Luck, however, was with the Washington couple and within weeks the position was open again. Clark and Dowdy jumped on the opportunity.

Craigslist provided them yet another source to get rid of all their worldly goods, and within eight days they closed up their house and moved to the BVI. Among the big-screen televisions and a mink coat, Dowdy got rid of more than 200 pairs of shoes and has settled down with just 15 pair, mostly sandals. She even traded her Mercedes for a golf cart. On an island, there's no need for a car.

After catering to the sailing crowd on the laid-back Marina Cay for nearly a year, Dowdy and Clark moved across the water to Scrub Island, the latest luxury resort in the Caribbean. They upgraded from managing eight rooms and villas to helping build and manage an exclusive resort. From sailboats to megayachts, Marina Joe, as he's known on Scrub Island, is making dreams come true, not just for Dowdy, but for their guests on the island.

With each other and their dream job, Dowdy is happy they are working together, while Clark is looking to fulfill his next dream on the Internet. This time, it's a boat.

"I have never felt freer than when I was cruising," said Graeme Maccallum, another BVI belonger. As an officer in the South

African Navy, Maccallum gave up a stable but rigid lifestyle for the sailing dream; the wanderlust to go around the world.

Maccallum and his wife Bridgette's dream took a dramatic turn after they crossed the Atlantic in a concrete boat.
Bridgette had never stayed on a boat overnight when they left Cape Town in a 50-knot gale with their jib upside down. They spent 19 days at sea with a family of four in a boat that Maccallum said, "rolled like a pig, was slow as hell, with no draft." The generator broke, they had no refrigeration and they subsisted on salami and Snickers bars.
They survived the journey and ended up meeting an Italian sailor, Feruccio Turek, who saw the stress they were under on the concrete boat and took them under his wing, bringing them aboard his 43-foot sailboat Mi Lady, where everything worked, including the beer fridge.

When the money ran low, Maccallum realized he needed to find a job. He'd heard Tortola did a lot of chartering, but he had never worked as a charter crew and his wife had never cooked professionally. They arrived in the BVI with about $100 in their pockets, a return ticket to South Africa, and all their belongings in boxes.

His first perception upon arrival was, "Where are the boats? All we saw were cows." After sending his resume to the Moorings, and not getting a response, he walked to the marina for a cold call. Maccallum left two hours later with his first charter and remembers, "It's quite eye opening trying to find a job as a charter crew with no experience."
Within a day, the Maccallums had their first guests on the 50-foot Auriga II. He remembers, "The next time we breathed was 18 weeks later." After three years of chartering, Maccallum says, "There's a fine line between living the dream of a skipper and putting money away. It's a good industry to make money, but it's hard work, and it's for a limited amount of time. You burn out."

They were able to put away a significant nest egg, enough to purchase a Beneteau 51 to live on, and start their first business in the BVI. They imported a container of items from South Africa for Proudly African Imports, a store which grew into an Internet café and mail service. Then Maccallum started Caribbean Yacht Management. They added a wine bar, The Watering Hole, on Tortola in Wickham Cay I, a popular spot with the sailing crowd.

Maccallum was living the dream up until a few years ago, when he says, "I've gotten bogged down with too many things. I miss the enjoyment, like in sailing, the joy of seeing new opportunities."

After 13 years in the BVI, he admits, "we're at a crossroads." Maccallum plans to step back from the day-today operation of the business and go sailing again. All the work made him realize the importance of having the opportunity to have a successful business.

"Having that opportunity has made me realize what you lose to become successful. I needed an utter and complete change of life."

Vanessa and Craig Scott's first experience with Marina Cay was when Vanessa saw the island from a catamaran. She pointed at the tropical paradise and said, "I'm going to manage that place someday." That day is now.
When their son Mathew was 2 years old he was diagnosed with a genetic disease, Friedrich's Ataxia, which causes damage to the nervous system. By the age of 15 he had lost the use of his body, except his brain. After he died, Vanessa looked at a picture of a small island with palm trees he had drawn for her. "Someday you're going to live there, Mom," he had said to her. With that memory in hand, she knew she needed a complete change of life to get away from the ghosts.

When the Scotts got the job in August of 2010, they were greeted by Hurricane Earl. The only people on the island, they holed up in a house on top of the island just 200 feet above sea level. When the storm subsided, Craig had 30 messages from colleagues on his cell phone, making sure they were safe. Yes, they had cell service, and because Marina Cay is a self-sufficient island, they had generators for electricity, Internet and water, while the main island of Tortola went without.

The Scotts spent their first two weeks on the island cleaning up from Earl. The famed telephone booth at the end of the pier had lost its door, but Craig dove down to bring it up. Less than a year later, they are happy managing Marina Cay, but as for living the dream? Vanessa says, "We could live the dream if we had the time to. It's a lot of work."
Derek Gardner has had a recurrent relationship with the BVI. In 1994 he was broke but had a dream to live in the Caribbean. He caught a ride on a concrete ketch from Gibraltar and sailed across the Atlantic. It took patience, but within a few months he was working for the Moorings as a captain. But living as a captain wasn't the dream lifestyle for Gardner. Most of the time he took out five charters in a row, with just 24 hours to get the boat ready for the next guests. On the flip side, he says, sailing, bar hopping and snorkeling isn't a bad way to spend your
days working.

Life as a captain lasted just two years before family obligations pulled him back to England. Over the years, he couldn't stop thinking about the life he'd left behind in the Caribbean. The second time around, he needed to get away and says the BVI was "the ideal escape." He ended up at Cooper Island Beach Club, where he's been for four years as head of maintenance and boat captain, ferrying guests and goods from Tortola to the island.
"You've got to have a relaxed attitude or you'll go stir crazy," he says of the island lifestyle. He misses the daily sailing, but he is living his dream, watching the sunsets on an island in the Caribbean.

After earning her MBA from Stephen F. Austin State University, Melisande Rowe was working in a dive shop in Nacogdoches, Texas, when the phone call came from the owner of Sail Caribbean Limited to offer her a job. Rowe left her cowboy boots behind and moved to the BVI.

In the beginning, the PADI Master Instructor taught teen sailing and scuba diving adventures from a 50-foot monohull during the summer for Sail Caribbean. But what she saw was an opportunity to grow a business that wasn't using its assets to the fullest. She put her book learning to use and presented a business plan to the owner to make money year around. Sail Caribbean Divers launched in 2000.

For the first couple years, Rowe commuted to New York, until she was able to relocate permanently to the BVI in 2002. Initially, Sail Caribbean Divers was a husband-and-wife operation, with just Rowe and her husband Mike chartering sailboats, renting power boats and kayaks, and guiding dives. As the business grew the staff expanded and the charter side of the business became less feasible. Rowe went back to her business plan and Sail Caribbean Divers became a full-service dive operator.

"I'm proud of what we've done here, and the business that we've grown," she said. "We've gone from nothing to a PADI 5-star facility and 12 staff and a tremendous reputation."

The five-year plan is alive and well, and Rowe is holding her course, letting her dream revolve around life in the BVI. "I feel very privileged," she says. "I don't have a massive salary, and my car doesn't drive all the time. People have retired to do this and I've spent the first 20 years of my working career doing it. I feel like I should go to work now."