This rugged racer cruiser has a loyal following, making this rare early C&C a desirable used boat
The Invader was launched in 1965 during the golden age of fiberglass boat construction. This recreational cruising boat was one of the earliest C&C designs built.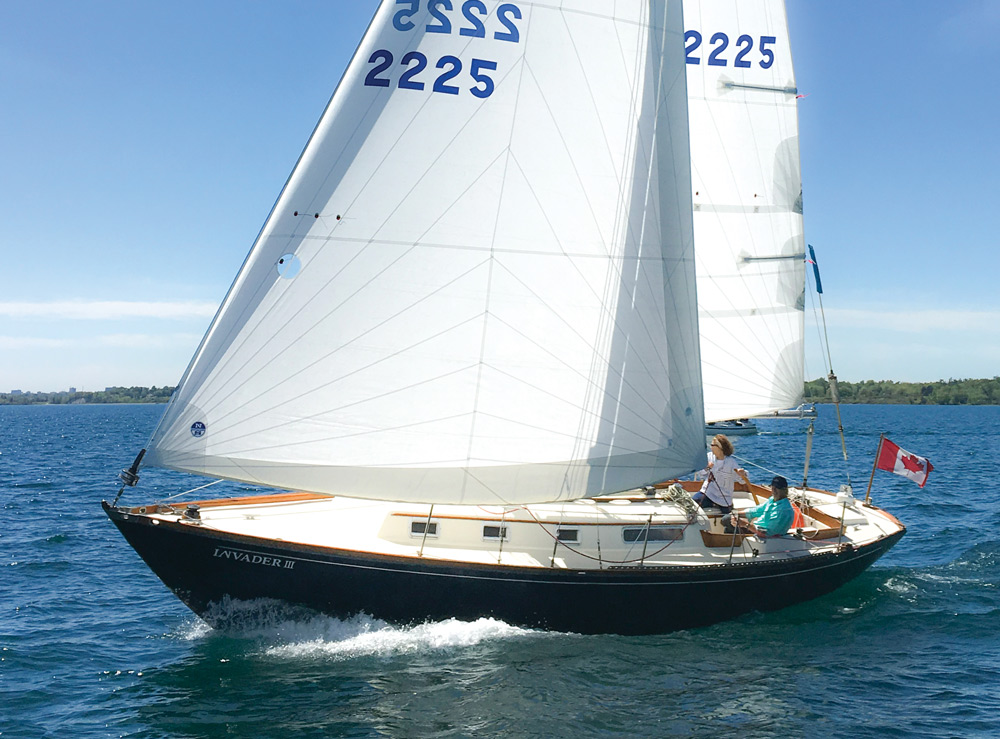 The Invader was designed by George Cassian, an aircraft designer, and George Cuthbertson, who was a mechanical engineer. Both men were then upstart boat designers in Canada and designed the 36-foot Invader at the request of boatbuilder George Hinterhoeller of Hinterhoeller Yachts. The masthead sloops were built in stages at Hinterhoeller Yachts and the Belleville Marine Yard, both factories located in Niagara-by-the-Lake, Ontario, Canada.
The Invader had a relatively short production run, from 1965 through 1968, and only 24 boats were constructed. The following year, Hinterhoeller merged his boatbuilding business with the Cassian and Cuthbertson design team. Among the first orders of business was to redesign the Invader. The Invader's keel was shortened to a stub, adding a centerboard and increasing the sail area. The new model was renamed the Frigate, and 36 boats were constructed.
In 1971, with the addition of Belleville Marine Yard and a third boatbuilder, Bruckmann Manufacturing of Oakville, Ontario, a new company emerged as C&C Yachts. C&C remained at the forefront of yacht production throughout the 1970s and 1980s, becoming the largest production boatbuilder in Canada.
First impressions
The C&C Invader is a head turner, one of those boats people point to when visiting a marina. The sloop exudes the classic good looks of a recreational, cruising sailboat from the 1960s, sporting a graceful sheer that is given a bit of racing flair by its inverted transom and raked mast. Eight fixed portlights add to the boat's traditional nautical appearance, as does the varnished wood deck trim and cockpit coaming. The cockpit is large and inviting, with plenty of room for socializing.
Construction
The Invader was constructed using hand-laid fiberglass cloth and resin in a female mold. The solid hull was manufactured with a isophthalic polyester resin. The deck was constructed as a fiberglass sandwich with a balsa core, making the boat among the earliest with this feature. The balsa core made the boat lighter and faster. The boat's through-hull fittings are bronze and beefy. The deck hardware is mostly stainless steel or high-grade aluminum. The encapsulated keel ballast is lead.
What to look for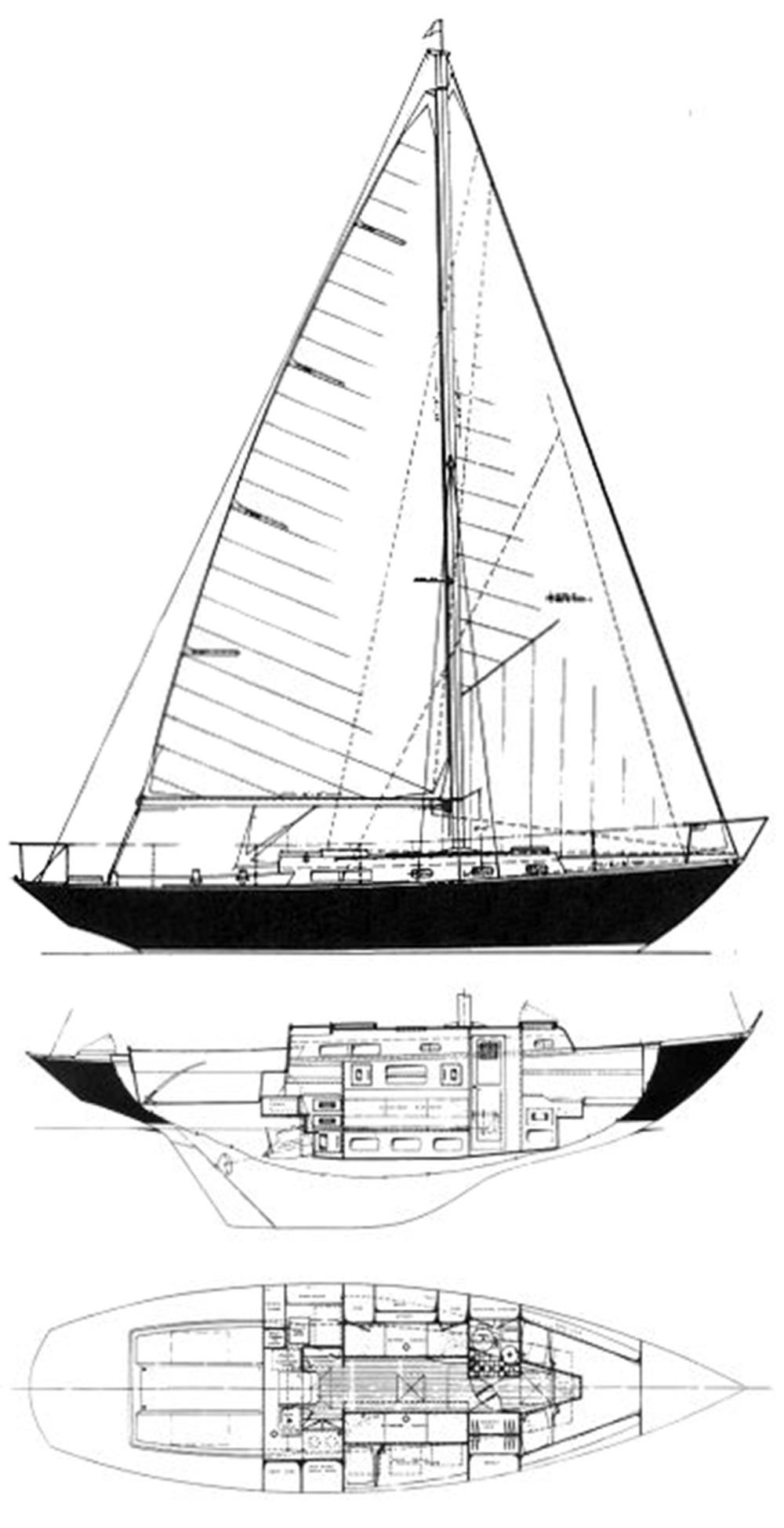 A sailboat's strengths and weaknesses tend to become more apparent after five decades of use and the Invader is no exception. Jo-Ann Brehm of Toronto, Canada, and her late husband, Greg Greason, owned hull No. 1, named Invader III, for more than 30 years. They sailed primarily on Lake Ontario, with Frenchman's Bay Yacht Club in Canada as their homeport, where Greason was harbormaster for 20 years. According to Brehm, they converted the boat's original icebox into a refrigerator/freezer, installed an opening hatch above the saloon for additional light and ventilation, and replaced the fixed portlights with models that opened. They were planning to have the four-cylinder gasoline engine professionally overhauled when Greason passed away in 2019.
The couple also had hoped to install rope clutches and turning blocks to lead all control lines back to the cockpit for easier shorthanded sailing. They encountered no problems with deck delamination­. Water infiltration is always a concern for a 50-year-old boat as is the aging of through-hull fittings, seacocks and valves. Brehm replaced the original cockpit cushions that now double as flotation and reupholstered the interior.
On deck
The sidedecks are wide and the cockpit is by some standards massive, which is both good and bad.
"Usually it was just Greg and I sailing," Brehm said. "If we were flying the spinnaker, I often found myself straddling the tiller to keep the boat going on course while both my arms were engaged with the spinnaker. If the cockpit had been a little smaller, things would have been easier."
The Invader cockpit is fitted with tiller steering and large stowage lockers to either side. According to Brehm, the latter Invaders were designed with taller masts, providing more sail area. The couple upgraded Invader III's lifelines because the originals were not equipped with gates and pelican hooks for easy entry and exit.
"That was important because the Invader has an inverted transom, which is cumbersome if you try to board there with a ladder," Brehm said. "We had to put a ladder over the side, so the lifeline gates were helpful."
Down below
Accommodations have been described as spartan, which Brehm attributes to the designers prioritizing speed over comfort. She jokingly referred to the straight-backed settees as church pews.
"The backs of the settees were not curved. But there was so much storage space and lots of bunks," she said.
The V-berth is short at just under 6 feet and the freshwater tank is located directly beneath it. The settee on the port side in the saloon converts to a double berth, while the starboard side features a bunk bed.
"Our daughter Acia always slept in the top bunk. It was her private space," Brehm said.
Storage is available below each settee. The battery box is nestled beneath the port aft bunk. The enclosed head is located to port and has a Jabsco manual toilet and small stainless sink. The boat has no shower. A hanging locker is directly across from the head.
"It would have been nice to have had a larger head," said Brehm. "A person weighing 200 pounds would have a difficult time with the amount of available space."
The galley is to starboard at the bottom of the companionway. It features a stainless sink and a pressurized alcohol stove.
"Not the best design for a stove, and it wasn't gimbaled," Brehm said.
The icebox, which the couple converted to a refrigerator/freezer, is to port. The electrical panel is located in the galley.
"On the port side, there's a drop-down table that Greg used as a nav station," she said.
Engine
Most if not all the C&C Invaders were fitted out with a 30-horsepower, four-cylinder Universal Atomic gasoline engine. The engine was raw-water cooled and relied for control on a single throttle/shifter cable.
Underway
Owners have commented that it doesn't sail to windward as closely as modern boats, and its sailplan is not terribly efficient in light air, but say its very solidly built, sea kindly and instills a feeling of safety and confidence when the weather is foul."
"The Invader is a heavy-weather boat. It just picks up and takes off. In light air it's harder to make it go, mostly because our sails were old and baggy," Bream said. "But once we bought a set of new sails, we picked up 2 knots of boat speed. It was just amazing, cruising along at 7 knots. What a wonderful boat, and so beautiful under sail."
Conclusion
The C&C Invader 36 is a vintage, classically designed, well-constructed cruising boat that with a skillful skipper at the helm can hold its own on the racecourse.
---
SAILING'S Value Guide (5-boat rating system)
PRICE: The asking price for a C&C Invader in the United States and Canada currently ranges from $24,000 to $35,000. (3.5 sailboats)
DESIGN QUALITY: The C&C Invader is a 36-foot, fiberglass masthead sloop designed by George Cassian and George Cuthbertson at the request of boat builder George Hinterhoeller of Canada. The three "Georges" later joined together as co-founders of C&C Yachts. (3 sailboats)
CONSTRUCTION QUALITY: C&C boats are known for their quality construction. Hinterhoeller Yachts along with the Belleville Marine Yard in Belleville, Ontario, Canada, manufactured the Invader, with its solid fiberglass-hull and sandwich deck of fiberglass cored with balsa. The production run lasted for four years from 1965 to 1968. The C&C Frigate, a centerboard sloop of equal length, replaced the Invader. (3 sailboats)
USER-FRIENDLINESS: Owners tend to agree the Invader isn't the easiest boat to singlehand, but once in a groove the boat sails like a charm. (2.5 sailboats)
SAFETY: It is a rugged vessel built for the open sea. The keel is encapsulated lead so the risk of separation is eliminated. (3 sailboats)
TYPICAL CONDITION: C&C owners tend to keep their boats in good condition, a task made easier by the high quality of materials used during construction. (2 sailboats)
REFITTING: The balsa-core deck may be subject to water infiltration and delamination. The Universal Atomic gasoline engine may need repowering or replacement with a more suitable diesel. Electronics aboard any boat built in the 1960s are surely outdated. There was no refrigeration or self-tailing winches. (3 sailboats)
SUPPORT: Six C&C owners' associations can easily be found online, though none are specific to the Invader. A searchable database of C&C designs can be found at www.cncphotoalbum.com. (2 sailboats)
AVAILABILITY: Approximately 24 Invaders were built between 1965 and 1968. Four are currently on the market in the U.S. and Canada. (2 sailboats)
INVESTMENT AND RESALE: The C&C Invader tends to hold its value, commanding asking prices currently as high as $35,000, which is respectable for boats that are more than 50 years old. (3.5 sailboats)
OVERALL 'SVG' RATING: (3 sailboats)
---
General Market Price Data
$24,000 1965 Vancouver
$34,227 1966 Ontario
$35,000 1967 Virginia
---
LOA 35'8"
LWL 24'
Beam 9'2"
Draft 4'9"
Displacement 10,000 lb.
Ballast 3,800 lb.
Sail area 529 sq. ft.