Fit and refit for the next 100K miles
Through more than 400 sailors on 80-plus training passages and six ocean crossings, John Kretschmer's sturdy Quetzal has served her owner admirably. John chronicles the refits he's made to his beloved boat over the last decade to keep her sailing hard
In 2007 we made our third transatlantic crossing and it was one for the archives. In preparation for this passage, I added a Forespar whisker pole and had the standing rigging replaced. And I am glad I did because it was a rough crossing. We encountered a Force 11 storm just west of the Azores and were knocked down. I had converted the staysail to roller furling, and the new Harken ESP unit was performing brilliantly. The sail was deeply reefed and the boat was nicely forereaching in very rough conditions when the toggle connecting the stay to the chainplate exploded. Kaboom! It was a nightmare as the sail, stay and drum cavorted about the boat like a battering ram. We finally corralled it and lashed it in place. That same night we tore off the bimini, wiped out the dodger, and ripped the head door off the hinges. It was an expensive and slightly terrifying evening. The guilty toggle, an expensive and supposedly stainless steel part, turned out to be an inferior low-grade metal manufactured in China.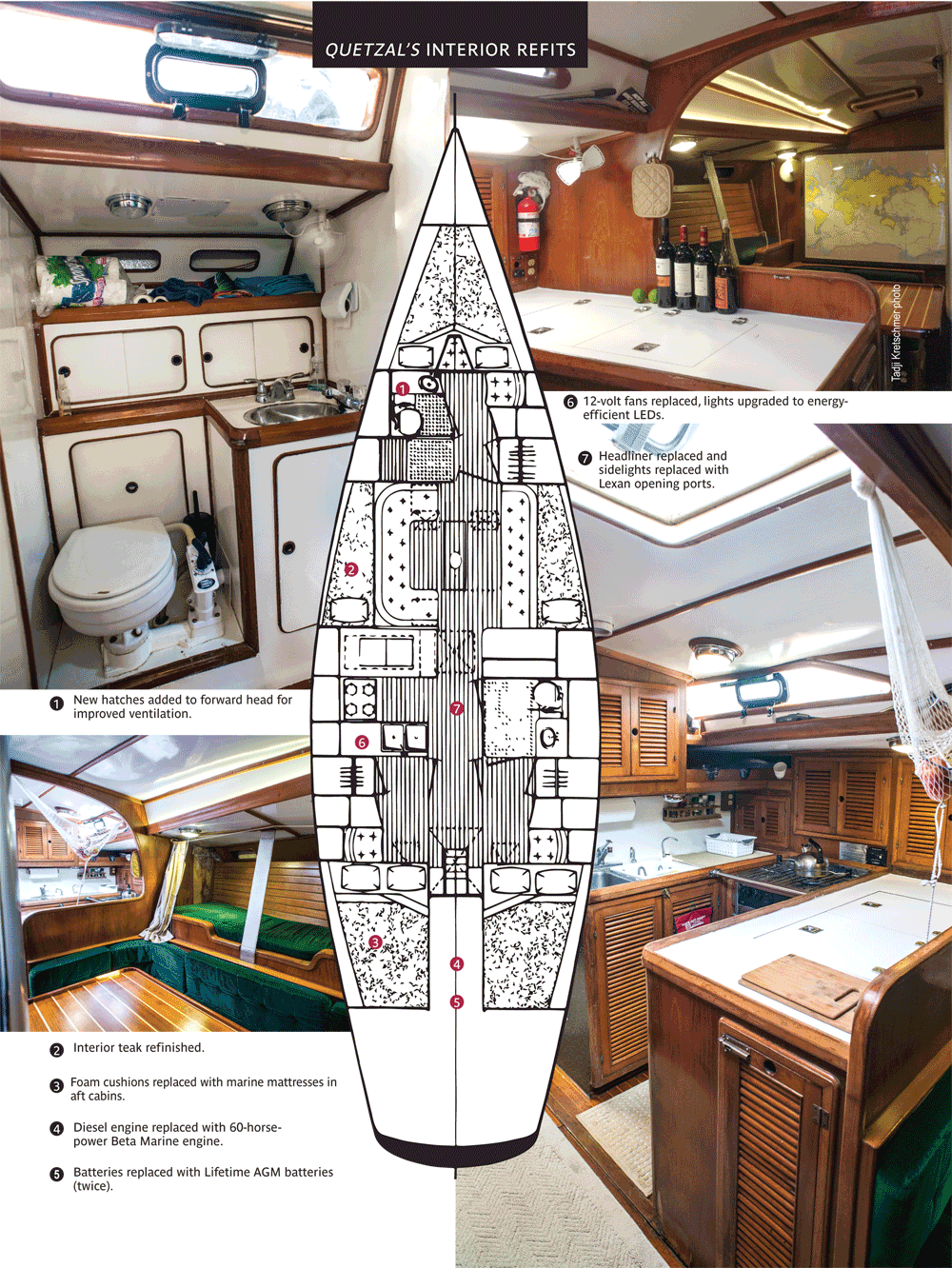 We limped into Spain and
Quetzal
was quickly refit. A new bimini and dodger were ordered and the staysail stay replaced. These were hasty repairs, and didn't hold up well. Since then I have replaced the canvas twice. Island Nautical Canvas in City Island, New York, did an excellent job of using the old dodger, bimini and connecting piece to build new ones. Disaster struck later that summer in northern Italy when a freak tornado knocked
Quetzal
over in the boatyard where she was being stored while we were away chartering in Thailand. Bob, Rick Thompson and Dan Stillwell, three great friends, flew to Italy on their own time and money and worked like slaves helping me install a new mast and rig. The new Selden spar, rig and Furlex furling gear turned out to be substantial upgrades but by the time we crossed the Atlantic again and made our way back to the U.S. East Coast, Quetzal was crying out for love in other areas.
In Fort Lauderdale, my friend Steve Sullivan of Tamboura Marine Outfitters and I spent several weeks sprucing things up. First, we removed the Plexiglas sidelights and had them remade in Lexan and fitted with four opening ports, a big improvement in ventilation. Then we installed a new pedestal guard and instrument pod. We also changed some of the headliners below, replaced the 12-volt fans, and started the process of converting the light fixtures to LEDs. Bob Pingel came down later that spring on a mission to find the missing volts. Somewhere between the batteries and the electrical panel Quetzal was losing voltage. When the solution was not obvious, we decided to reconfigure and rewire the boat. We replaced the three-way battery switch with heavy-duty on/off switches from Blue Seas. We also added an automatic charge relay, also from Blue Seas, that senses which battery bank needs power and directs the charge accordingly. Finally, we changed the wires leading from the batteries to the panel, starter and ground, and along the way we found our volts. This system, nicknamed the bulletproof electrical system, has held up very well.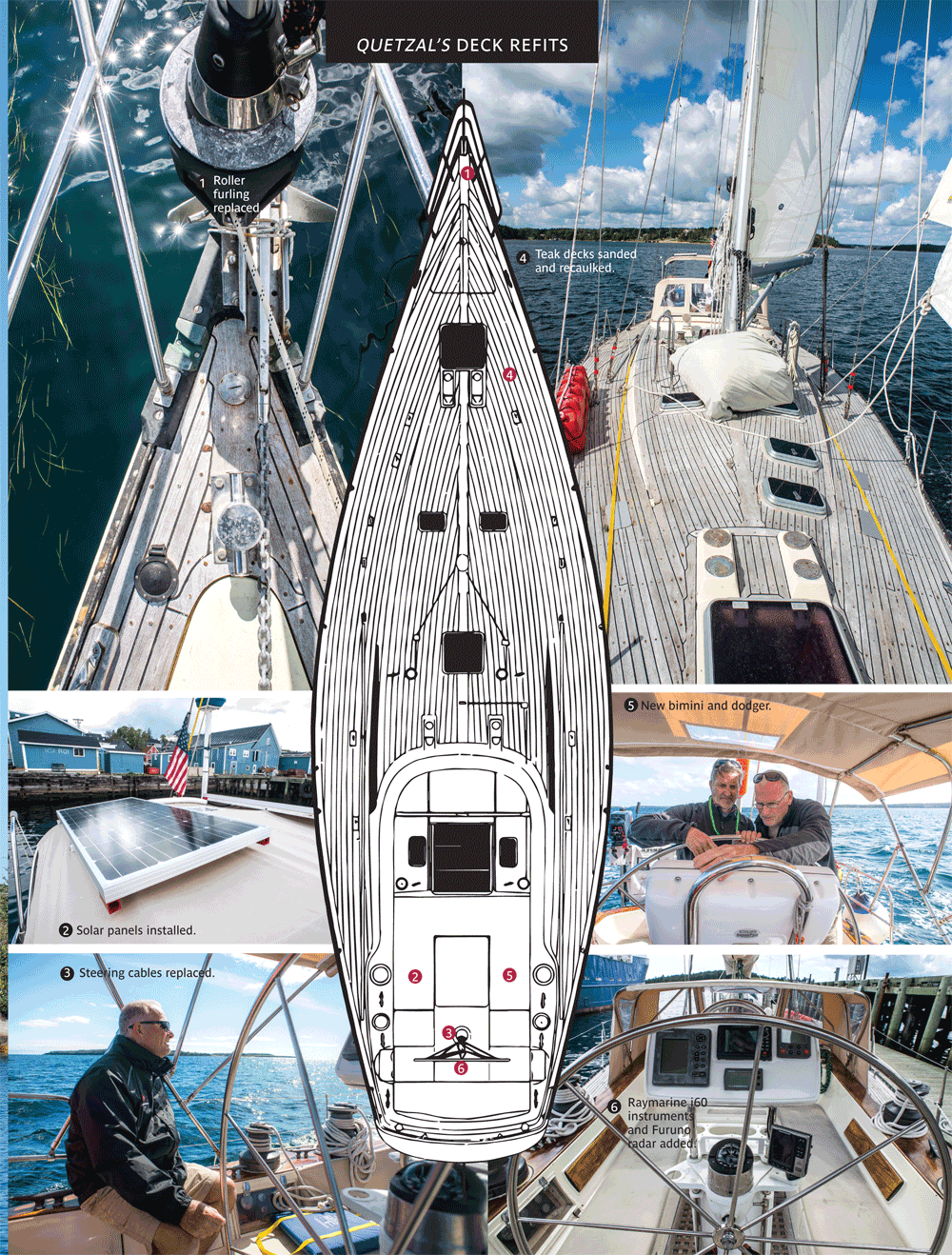 The next big project in the ongoing process of keeping Quetzal ready to cross oceans and cruise coastlines was replacing the diesel. I chose the Beta Marine 60-horsepower model and had it installed professionally at Spring Cove Marina in Solomons, Maryland. Spring Cove is Quetzal's home away from home and I have had a lot of work done by their talented crew. Full disclosure, the marina and yard are managed by my sister Liz and brother-in-law Trevor, but it's the quality of their work that always brings me back. I chose the Beta for two reasons. First, I was familiar with Kubota diesels, and the Beta is a marinized Kubota, and I knew that parts would be affordable and available worldwide. Secondly, Stanley Feigenbaum at Beta Marine U.S. is a font of knowledge and offers excellent customer service.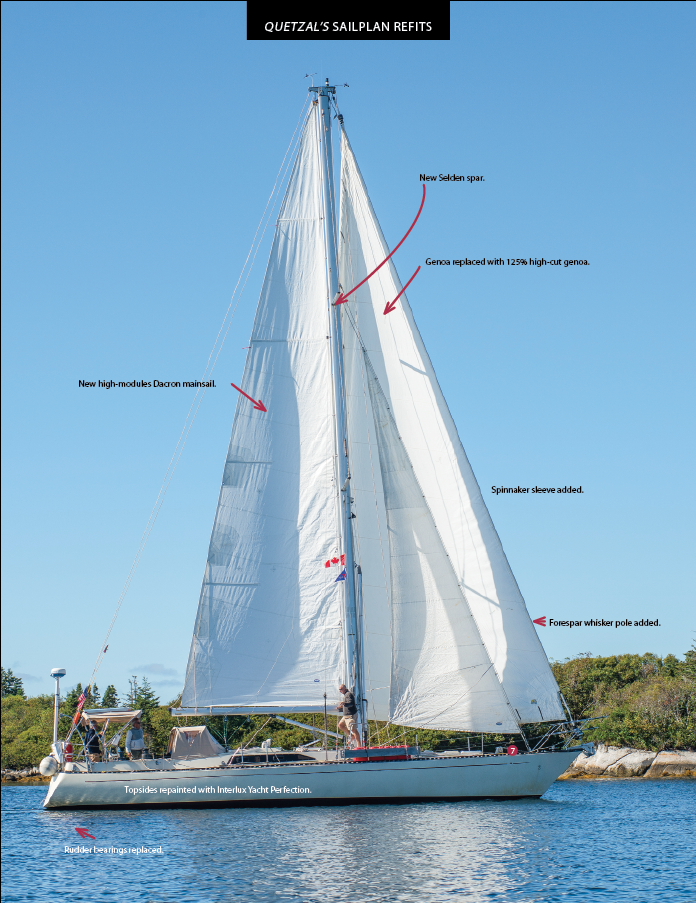 Walter Cooper photo
Quetzal crossed the Atlantic again in 2011 and wintered over in Malta. I had the yard drop the rudder and replaced the bearings—a big job. Later that spring in Turkey, Steve Sullivan once again flew over to look after Quetzal. He replaced the steering cables, installed a new Raymarine autopilot, cut new hatches into the forward head and shower compartments and brought the varnish up to snuff.
Quetzal's latest retrofit took place at Spring Cove Marina this past summer. In addition to typical annual maintenance, my wife Tadji and I worked furiously completing a mix of cosmetic and system upgrades. Tadji refinished the interior teak and also replaced peeling veneers with an adhesive backed veneer from Ovis. We replaced the foam cushions in the aft cabins with marine mattresses. I changed out all the plumbing hoses and finished replacing the headliners with fiberglass reinforced plastic panels. The yard replaced the fuel lines and installed a Racor filter system and a Filter Boss manifold. Two friends, Ron Sorensen and Danny Peter, flew in for a week of work and we replaced four overhead hatches, matching the Vetus hatches installed in Turkey, removed leaking deck prisms and put in a new refrigeration system. We even replaced the worn out QUETZAL lettering, on the stern.
I have been responsible for putting more than 100,000 miles, some of them plenty hard, on Quetzal, but as we pulled away from the marina, fresh from another summer of refits, she felt like a brand new boat.