Beneteau's newest 41-footer redefines the cruiser-racer concept with a harmony of elegant styling, bold hull design and an easy-to-sail rig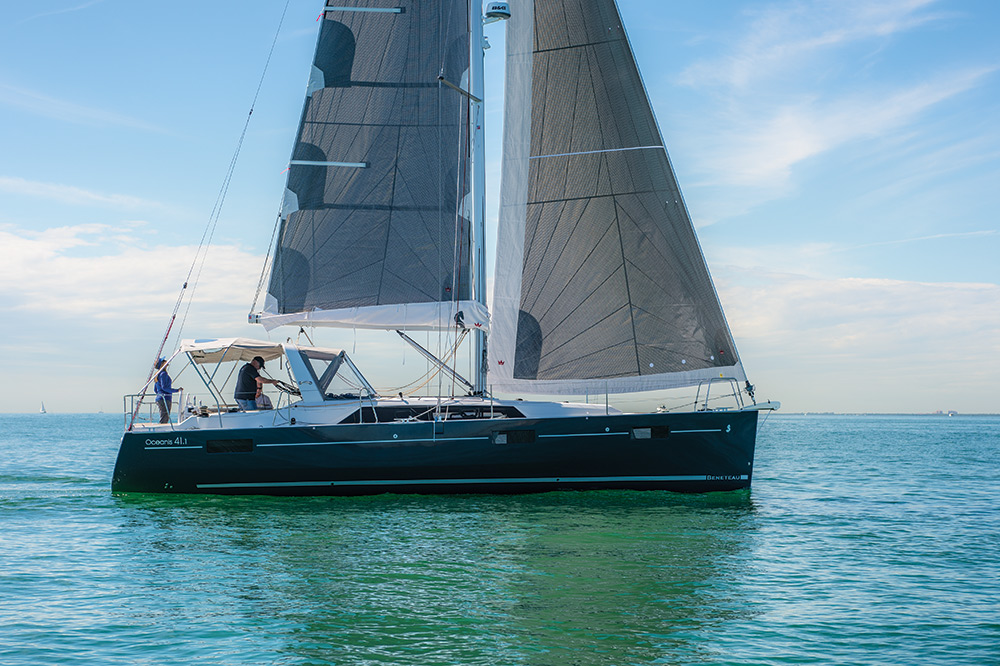 Walter Cooper photo
B
eneteau introduced its latest model at the Strictly Sail Miami boat show in February, and while the sleek Oceanis 41.1 had a steady stream of admirers, dreamers and serious buyers, I confess it left me feeling just a bit nostalgic.
Don't get me wrong, the 41.1 is undeniably modern. Silky smooth lines with a full-length chine, a low-slung cabintop gracefully disguising generous freeboard, wide beam carried aft and long ends leave no doubt that the Finot-Conq 41.1 hull design will look fresh a decade from now. What intrigued me was the multifaceted aspect of the design.
"Who buys this boat?" mused Chris Doscher, Beneteau America's sales manager, repeating my question. "A person who still wants to be very competitive in Wednesday night racing but may not be able to round up a crew, so it's super easy to handle. Someone who wants to occasionally put an ocean racing project together, wants to weekend aboard frequently and spend a couple of weeks every summer cruising. I guess it's a person who wants today's comforts in a boat that performs all the time, almost like the old days."
He may have been describing the glory days of the racer-cruiser, when all-around performance, seaworthiness and creature comforts were not mutually exclusive.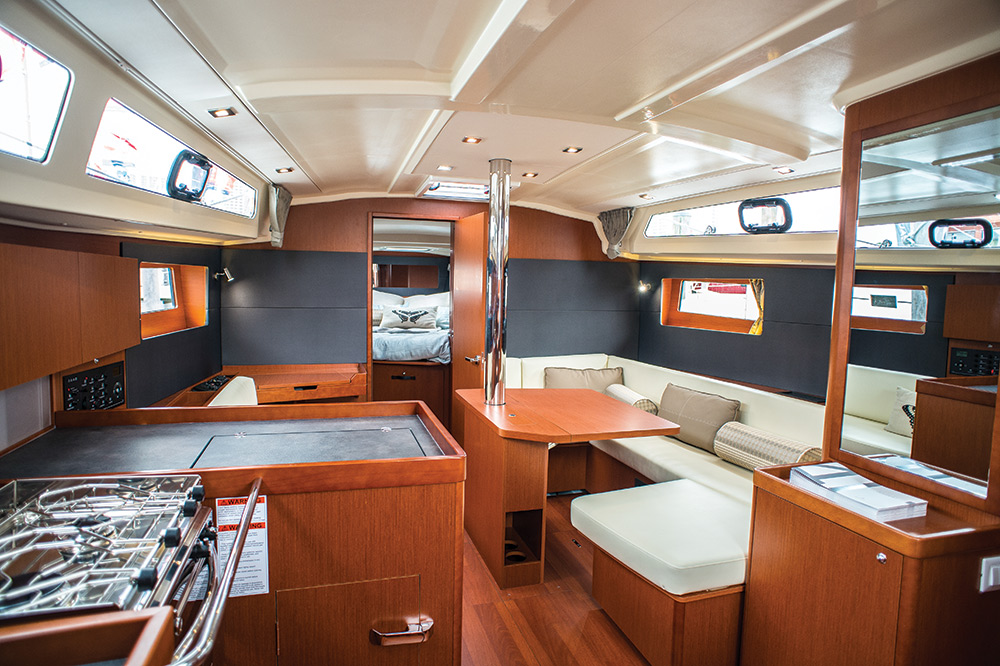 Walter Cooper photo
Under sail
We sailed the 41.1 after the show and after days of stiff easterlies and whipping banners, the wind went light for our test. As frustrating as light air can be, it always reveals a boat's efficiency, because although all boats sail well in 12 to 15 knots, 5 to 8 knots is another story. Valerie Rozzo and I joined Doscher and we motored into Biscayne Bay. Not surprisingly the 41.1 steamed along at nearly 7 knots leaving a clean wake. The 45-horsepower Yanmar, located behind the companionway steps, was particularly quiet. Fuel capacity is 53 gallons, providing a range of 300 to 400 miles depending on conditions, probably a full season's worth of motoring in most cases.
Clear of the bridge we chased zephyrs and found a few. The 41.1 mast is placed a bit farther aft than most fractionally rigged, mainsail-driven boats. The designers claim it provides better balance, which I found to be the case. It also offers the possibility of rigging a mobile staysail, an important feature for taking the boat offshore.
The mainsail is controlled by an interesting combination of a continuous German sheeting arrangement and a mainsheet arch that results in a complete lack of sheet clutter in the cockpit and eliminates the need for a traveler. The standard headsail is a working jib designed for self-tacking on a recessed track mounted just forward of the mast. A genoa is optional with sheet leads led through a turning block and neatly along the cabintrunk. The mainsheet and headsail sheet share the primary winches, controlled by clutches. Halyards, lifts, vang controls and the mainsail furling outhaul if applicable are led to cockpit and terminate at clutches and winches on either side of the companionway.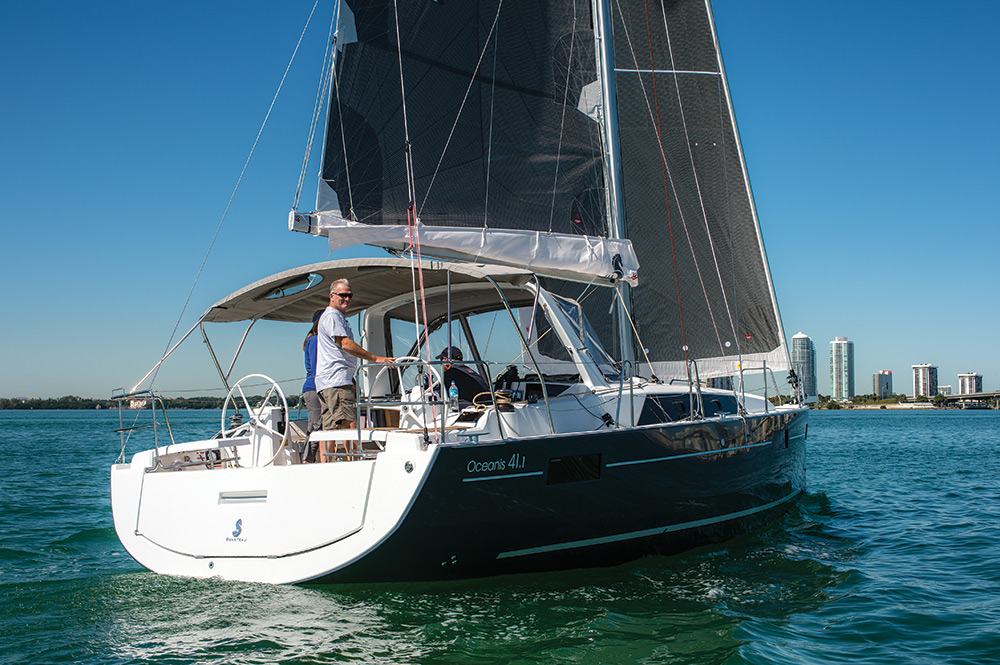 Walter Cooper photo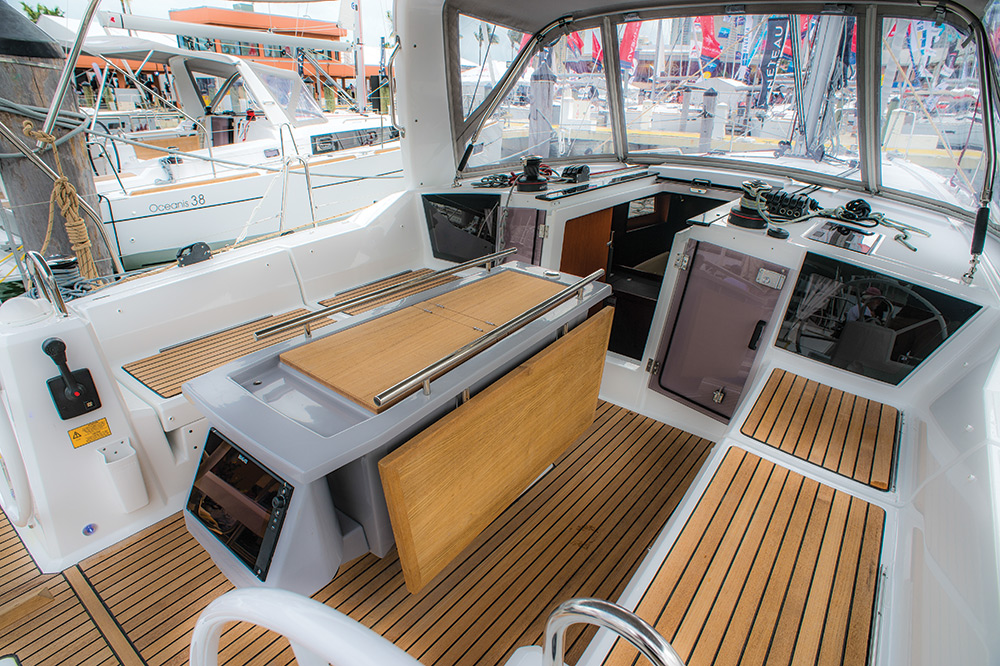 Walter Cooper photo
On deck
The cockpit is huge and this is where you really feel the beam. A close examination of the lines drawings reveal that nearly full beam is maintained from amidships all the way to the stern. Twin wheels are widely spaced for good visibility and include clever fold-up helm seats. The transom folds down, unveiling a large 22-square-foot swim platform beautifully trimmed in teak, complete with an access step. The cockpit table can sit six comfortably when both leaves are extended. The chartplotter is designed for a swivel mount at the end of the table, visible from both helm stations.
Beneteau has always done a great job of molded nonskid, and the 41.1 is no exception. Making your way forward there are stainless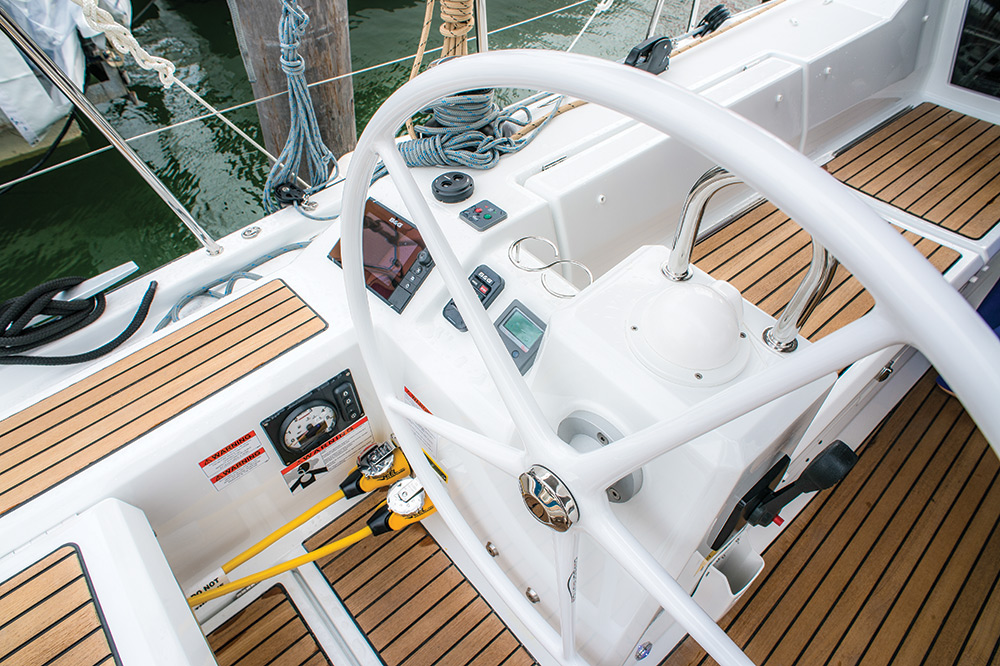 Walter Cooper photo
handholds on the cabintrunk, although another set would be nice. Teak decks are an option that really dress up the boat.
The boat was fitted with a double anchor roller, a windlass and deep chain locker. The hatches are flush mounted which saves on toe banging but requires careful installation to prevent leaks. With that said, I've delivered countless Beneteaus over the years, including transatlantic passages and they are among the driest boats I've sailed. When it comes to banging my toes, well that's another story.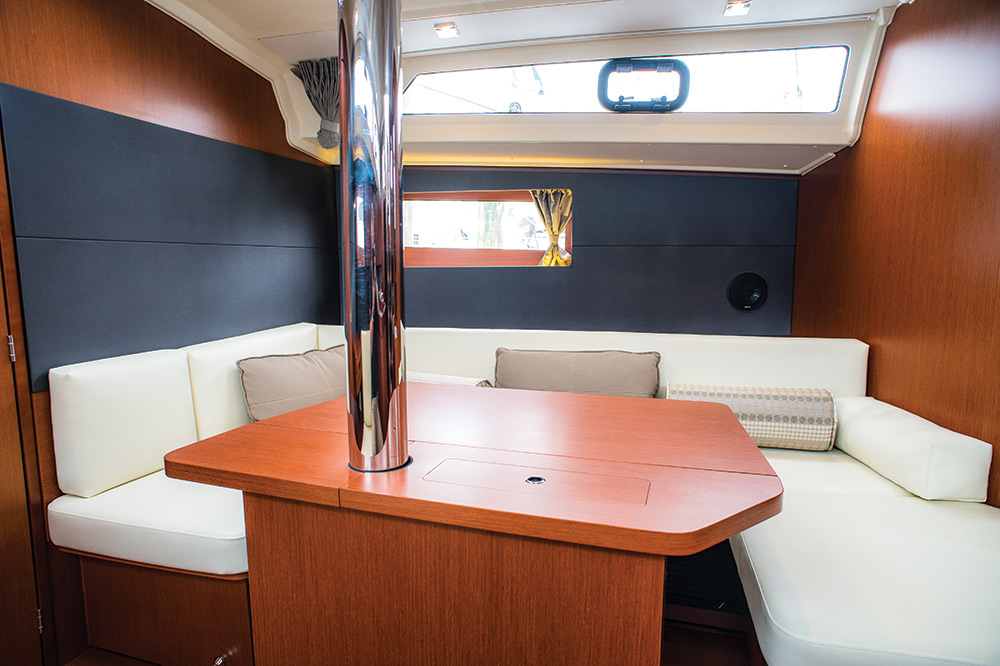 Walter Cooper photo
Down below
The 41.1 is offered in four interior configurations. The center of the boat, housing the saloon, galley and head, remains the same on each model, so let's start there. The first thing I noticed was the gentle slope of the companionway steps, around 45 degrees and framed with a stout grabrail.
The galley lines up along the port side and forms a shallow L shape. There is a front opening 34-gallon refrigerator, a deep, top-opening 22-gallon freezer, a two-burner gimballed stainless steel stove with oven, a microwave and dual stainless steel sinks. Overhead lockers run the length of the galley providing storage. The solid surface counter tops are bordered with handsome mahogany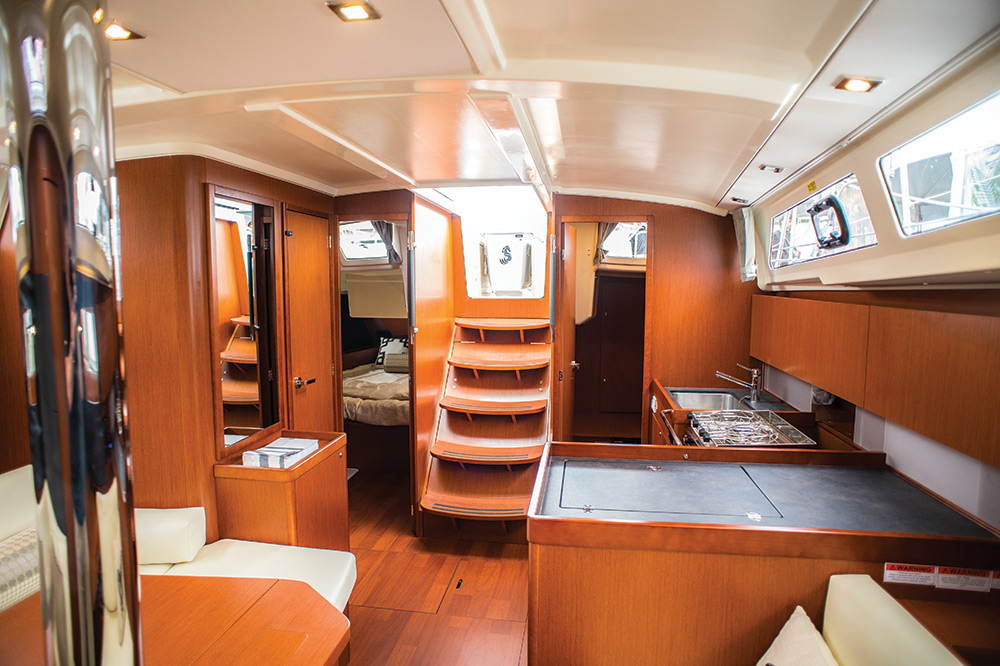 Walter Cooper photo
fiddles. Two opening portlights above the galley provide light and ventilation.
The saloon features a dinette-style table to starboard that opens up to seat as many for dinner as you ever want to have aboard a 41-foot boat. There is storage above and tankage below. Opposite, a short settee is a comfortable spot to sit and also provides access to the clever sliding chart table. There are dark and light wood trim options, either dark Alpi mahogany or light blond oak. The joinerwork is superb. All models feature a spacious starboard side head and separate shower.
The owner's stateroom is forward and is available with either a centerline queen berth or an angled double to port that frees up space for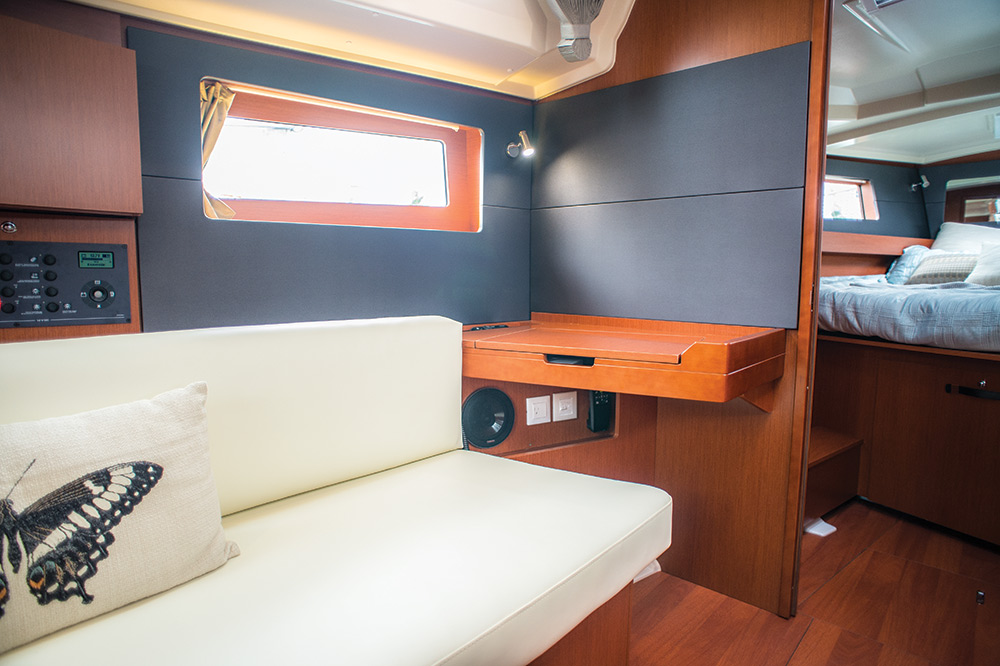 Walter Cooper photo
an additional head. In both arrangements there's a desk/dressing table, hanging locker and storage above the bunk.
The other interior options include one or two quarter cabins aft. In the one-cabin model, the port side that would be the second cabin is given over to storage. The two-cabin, one-head model with a large area to store extra sails, the rolled up dinghy and maybe an awning would be my preference. It depends on your needs, of course, but extra sleeping cabins often end up as storerooms anyway.
The systems are first rate. Beneteau has honed production to a fine edge and the Oceanis series has always been a showcase for fine craftsmanship. A larger freshwater tank is optional, but even at 87 gallons it's still on the small side for extended offshore cruising. A watermaker is an obvious option if you don't mind the weight. Also, beefing up the battery capacity would be a nice upgrade if your plans lean more toward summer cruising.
Back on the bay things were picking up. A steady easterly breeze filled in and we managed to get the boat up to near 6 knots sailing very close to the wind in 8 knots apparent. I was longing to feel the impact of the full chine that not only adds interior volume but also limits heeling and helps keep the boat dry by deflecting spray. The designers claim that any heel beyond 15 degrees is excessive and there's no doubt the Beneteau 41.1 is meant to be sailed on its lines, which incidentally is the best way to sail almost every boat, certainly most modern boats.
We brought the boat through the wind to avoid a shoal, tacking efficiently in the light air. I was impressed with the acceleration and despite a faltering breeze we squeezed out 5 to 6 knots on a close reach. It would have been nice to have a kite aboard but the boat was still being set up and had been rushed to the show.
Unfortunately, the wind gave out completely turning Biscayne Bay into a beautiful turquoise mirror. In spite of the light air I was quite impressed with the 41.1's performance; many boats would have languished as if tied to the bottom in those conditions.
Beneteau hit the target with this new design. It's a multifaceted boat that will be inspiring to sail in a full range of conditions. That seems like it should be the mantra for all boats, but sadly its not. It won't be long before 41.1s turn up at marinas all over the country and I intend to bum a ride aboard when it's blowing.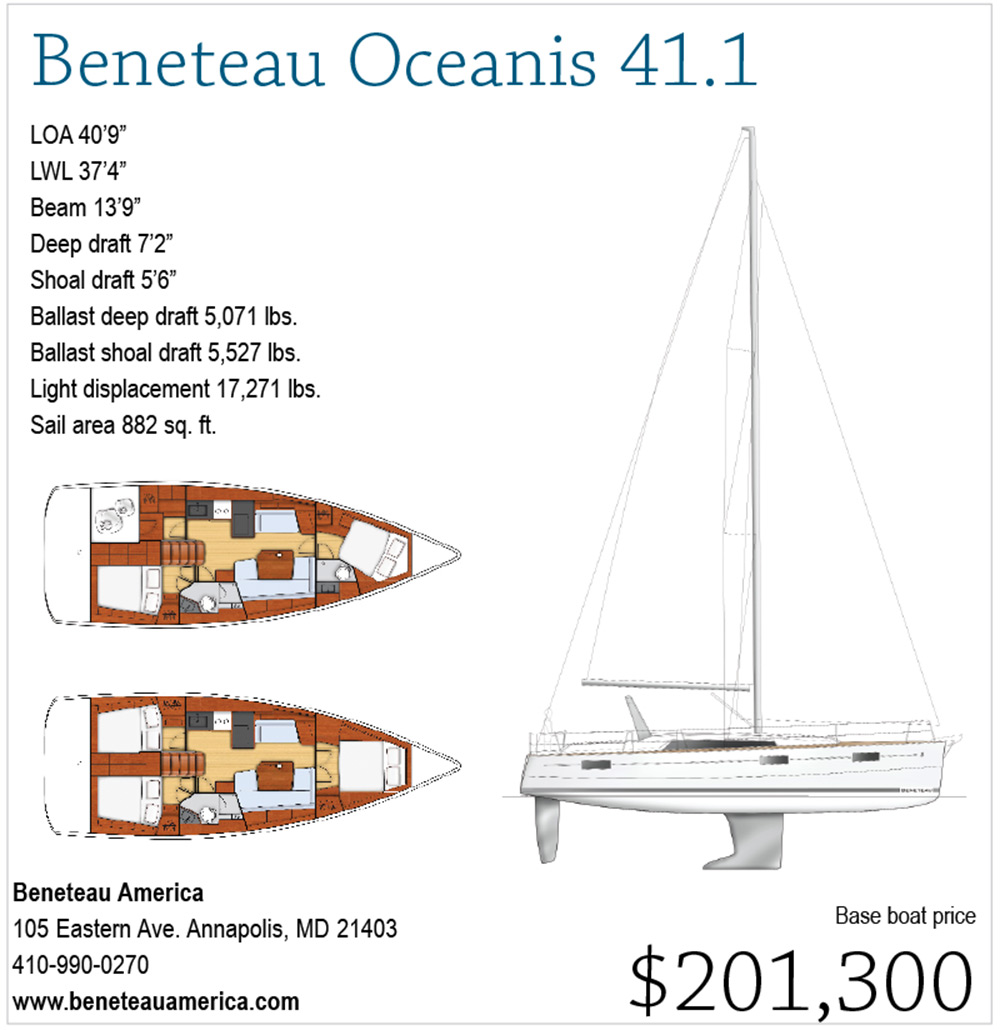 ---
Beneteau America
410-990-0270