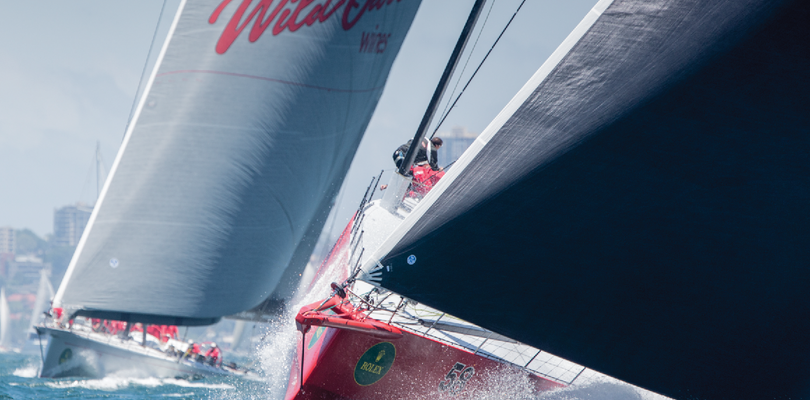 Daniel Forster/Rolex photo
The next day as the wind lightened, Wild Oats XI overtook Comanche as they passed Gabo Island at the eastern approach to the Bass Strait. Even the talents of skipper Ken Read and navigator Stan Honey could not stop the boat from sailing into a hole, which hampered the 22-foot-wide boat and allowed the more svelte Wild Oats XI to slip past making 15 knots to Comanche's 6. Eventually the westerly wind began to build and Wild Oats XI extended her lead the second night, taking advantage of a high-pressure ridge in the Bass Strait.
After crossing Storm Bay, Wild Oats XI made good time up the Derwent River under spinnaker sailing between 12 and 16 knots, while Comanche was averaging 14 to 15 knots. Wild Oats XI hung on to win her fifth consecutive line honors.
"The boys did a wonderful job in overcoming Comanche, which led for the first night. I can't believe I'm standing here today," Richards said. "To win a Hobart is a great honor, but to win line honors for an eighth time ... I'm so proud."
"Wild Oats deserves all its success," Read said. "They deserve their eighth record, Lord knows we tried hard to take it from them."
As the front-of-the-fleeters were celebrating on Constitution Dock, the rest of the fleet was barreling in, surfing downwind in champagne conditions. As the wind and seas increased, so did the damages—broken booms, blown-out sails.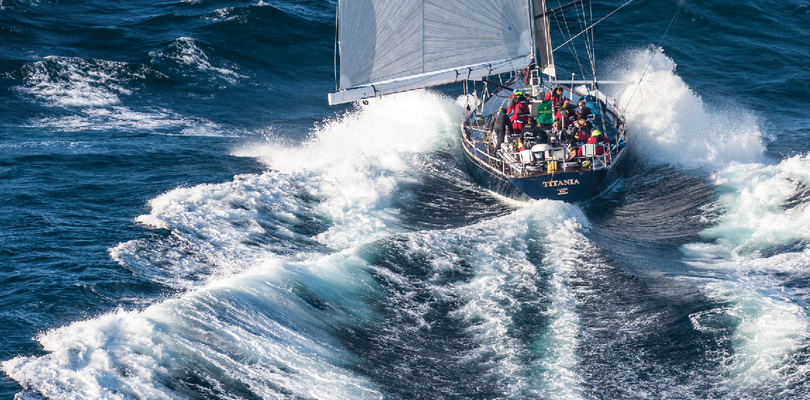 Carlo Borlenghi/Rolex photo
Robert Date, owner of the RP52, Scarlet Runner, racked up an expensive repair bill when an out of control jibe flattened the boat a couple of times, pushing the helmsman through one of the carbon fiber steering wheels, cracking it.
"Two to three grand," said Jono Morris of McConaghy boatbuilders. "A couple of spinnakers and other sails later and we added another 20 to 30 grand each."
Broaching to Hobart became the standard as the race for overall honors and the Tattersall Cup set up between Simon Kurts' three-timer winner, the 41-year-old classic wooden S&S 47 Love & War, a three-time winner of the race, and Roger Hickman's Farr 43 Wild Rose.
"We had a massive broach in 30 knots with the spinnaker up," said Jenifer Wells, Wild Rose's navigator. "We laid her over a couple of times, broke the steering cable and it was looking very dicey. We got out the emergency tiller and pulled the kite down, repaired the cable and we were back racing in 12 minutes."
The repair was quick enough to minimize the lost time and Wild Rose, which was originally named Wild Oats and owned by Oatley, won the race overall, making two boats with the Oatley name attached winning line and overall honors. This is not the first time Hickman has won the race with the yacht that he affectionately refers to as "the old girl," having won under IOR in 1993 with his partners Bruce Foye and Lance Peckman.
"I feel lucky and privileged to have Bob Oatley's boat," Hickman said after his 38th Sydney Hobart Race. "I did three Hobarts with Bob on this boat. When I bought boat from him in 1991, he almost gave it to me.
"I was a young merchant navy officer then. I was honored and privileged to sail with him and the others. Six years later when I went to buy the boat, I only had half the money, so I asked Bob if he could wait while I tried to raise the rest. He said to me, 'Roger, you were the only guy to ever go to the bar and buy me a drink, don't worry about the rest.'
"Bob Oatley has helped me and Ricko (Wild Oats XI skipper Mark Richards) and so many others get where we are today. So now we have Wild Oats XI and Wild Rose in the winner's circle—the Ricko and Hicko show."
The 70-year-old race is steeped in history, and many of the earliest racers such as Wild Rose are still competing. Skipper Mike Freebairn's Sparkman & Stephens 48 first competed in 1971 as Syd Fischer's original Ragamuffin. Now named Spirit of Koomooloo in honor of Freebairn's Koomooloo that sank during last year's race, the wooden boat made her 22nd trip to Hobart this year.
Another storied racer, Southern Myth, a 40-foot wooden Laurent Giles design built by Searles Shipwrights in Adelaide in 1953, competed in 13 Sydney to Hobart under her first owner Norm Howard.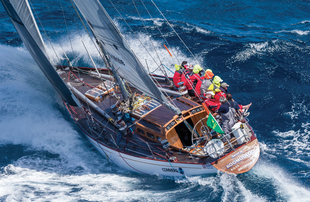 Carlo Borlenghi/Rolex photo
Howard introduced three generations of South Australians and hundreds of Sea Scouts to ocean racing with more than 280 crew members from 1954 to 1994. Many prominent South Australian yachtsmen, including a young Sir James Hardy in 1955, have sailed upon her. Peter Riddell, her current owner, completed a rebuild in 1994 in time to sail the 50th anniversary race.
This year, Southern Myth had the dubious honor of being the pickle boat, and while the 100-footers were off race record pace, it was a personal best for the final finisher, crossing the finish line in 4 days, 2 hours.
"We have a fantastic crew," Riddell said. "It demonstrated to me what real sailing's about. I'm not interested in the money and the glitz and the rest of it.
"Irrespective of where we came in the race, looking back on the history of Southern Myth, we've just done the fastest trip to Hobart. This is a great feeling."