A cruising couple found a higher purpose and aims to change the lives of eastern Caribbean children
"I was always intrigued with Robin Lee Graham and Dove," he said, "so I built my own cruising boat."
T.L. built a Bristol Channel Cutter, a heavy 28-footer with a full lead keel. He did all the woodwork himself, and he estimated that the boat took about five years to complete. Harriet arrived on the scene toward the end of that process.
"He was four-and-three-quarter years into this, so I really lucked out," Harriet said. "He was already varnishing when I came in. He was the perfect guy."
T.L. and Harriet embarked on their big cruise in February 1987, sailing from California to Mexico, the South Pacific and New Zealand, where they lived ashore from November 1988 to February 1991. From there, they sailed to Australia and joined the Osaka Cup race to Japan, where they sold the boat. It was time to return to the States.
"We moved to Boston but it was always our plan to go cruising again," he said.
This time, however, cruising was going to look different. As Harriet noted, they already had done "the dream kind of thing," and they knew that they could cross oceans on their own. This time, they wanted to do something more–and they had a plan.
"In Tonga we were struck by the fact that the people were quite poor and needed the basics, yet they were so generous," she said. "It was hard, because we had no way to help."
So, as they made plans for the next big cruise, they established a not-for-profit organization with, as Harriet put it, "a very broad mission statement."
"We wanted to see what needed to be done," she explained.
T.L. and Harriet traveled to Brazil, where they purchased a very different boat from their original liveaboard home. In 2007, they set sail aboard a custom 46-foot performance-cruising catamaran, and they went east rather than west.
"We were cruising in the eastern Caribbean, and we stumbled onto the issue of illiteracy and the lack of age-appropriate books," Harriet said. "There was nothing for children, just castoffs from tourists. We thought, this is ridiculous, and then we decided on our focus."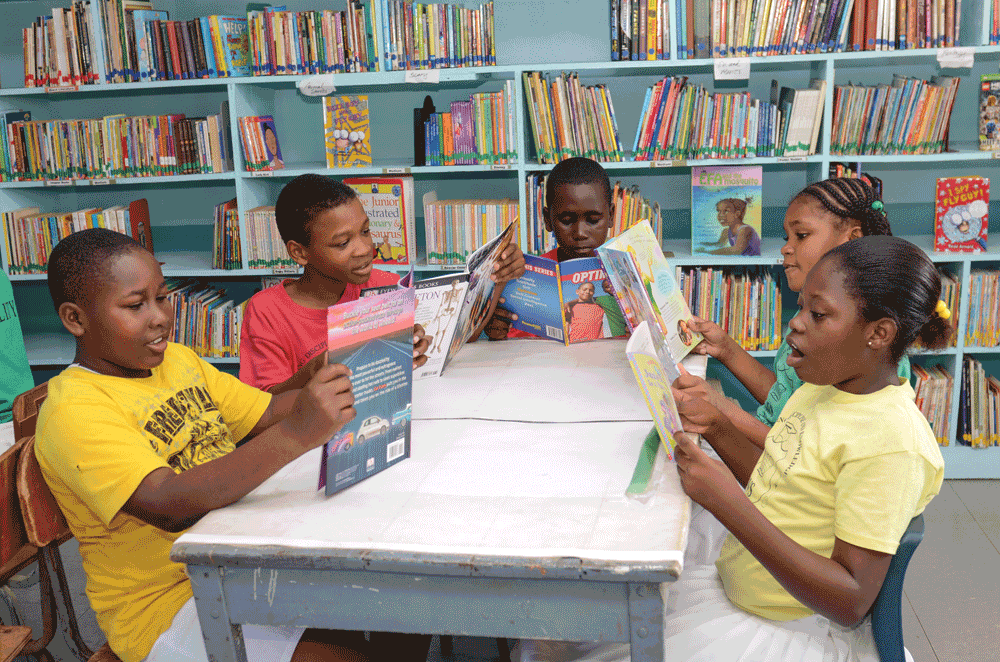 They started Hands Across the Sea, which is dedicated to providing children with access to books, reading, and the advancement of literary skills. In its first year, the organization shipped 25 boxes of books to three schools. In 2014, it shipped nearly 40,000 books to Sailors Among Us By Heather Steinberger They come bearing books 105 schools in six island nations across the eastern Caribbean.
The Linskys focus on providing new books to children. According to Harriet, they're combating a firmly entrenched legacy of donation dumping.
"Lots of well-meaning people leave behind books for schools that aren't appropriate," she said. "Even when they do donate children's books, they're old, with yellowed pages or library discard stamps, and they only feature white children with blond hair and blue eyes."
Instead of soliciting in-kind donations, Hands Across the Sea asks for financial contributions and seeks grant funding. It purchases new books in bulk from publishers at a 50% to 60% discount. The books go to a warehouse, where staff members sort, pack and ship them to the schools.
"We have a library methodology," Harriet said, "with a cataloging scheme and a manual, and we ask the teachers and principals what they need to sustain their school libraries."
The rapid growth of Hands Across the Sea in the last eight years has prompted the Linskys to add a program director in Grenada and part-time staff in St. Kitts and Nevis, Dominica, St. Lucia, St. Vincent and the Grenadines and Grenada. It also has prompted them to spend seven months each year on location. While a Massachusetts condo is home during the summer and early fall months, the couple cruises the eastern Caribbean from November to May, connecting with schools, communities and supporters.
"We visit 20 to 30 schools per island and work with donors, so we leave the boat at 7:30 a.m. and are gone all day," Harriet said. "It's hectic."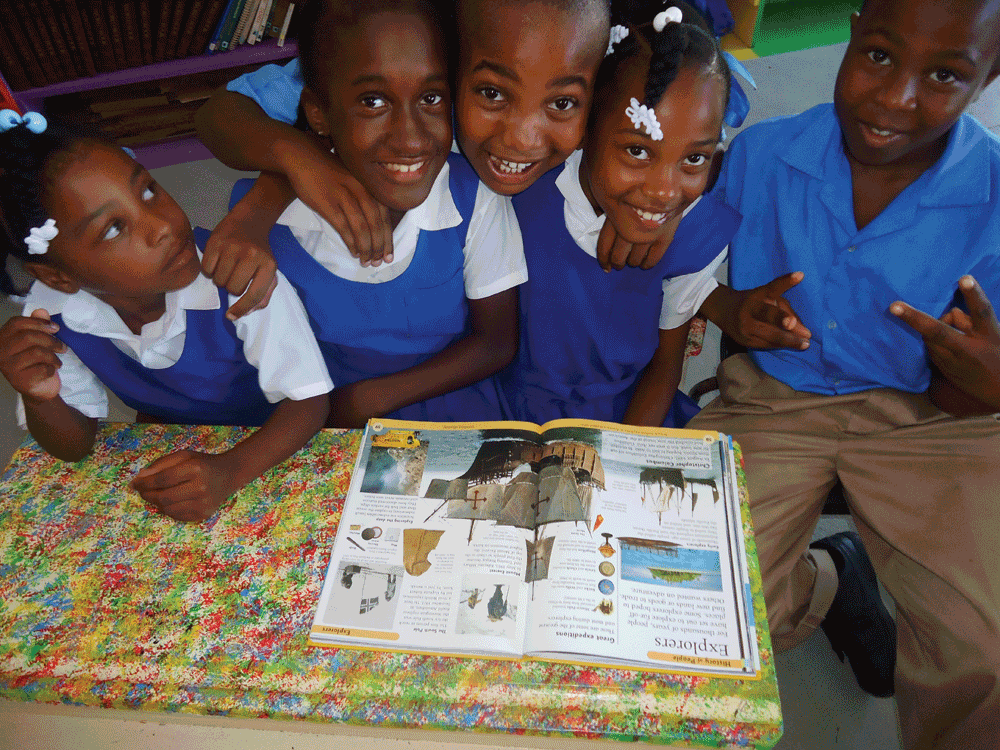 "It's not cruising," T.L. said. "It's running a charity full time, and we just happen to be on a boat. The amount of administrative work really surprised me, especially when you start dealing with international shipping, back orders, reports from schools, grants and donors. Each donor gets a signed card from the school with a photo of the kids."
"As we get bigger, it does become overwhelming," Harriet reflected. "From the accounting and bookkeeping to the outreach and relationships, it's a lot of work. But we're incredibly grateful, and it's an amazing journey. We feel proud when we take a step back."
"There's no blueprint for something like this, that's for sure," T.L. mused.
Despite the amount of work involved, Harriet called their experiences with Hands Across the Sea "positively joyous." She remembered a little boy in St. Lucia, who chose one of the brand-new books in his school library.
"He said to the librarian, `You mean I'm the first person to ever read this book?'" she recalled. "It was so special."
"And these kids know what they want," T.L. added. "When we were in St. Vincent, a lady opened a reading program at her family's rum shop. We asked what books they wanted, and one little guy shouted, `The Incredible Hulk!'∫
A couple of years ago, at a Peace Corps library in Spring Village, St. Vincent, Harriet said she met a 6th grade boy who was engrossed in a biology book.
"He was really interested, so I asked him what he wanted to be," she said. "He said a policeman. I looked at his library card, and he'd been reading books about earth science, astronomy, the human body. So I said, why not be a doctor or a scientist? His face lit up. No one had ever said to him that you can be anything you want. Today, he's reading at grade level and is excited about reading."
Hands Across the Sea's goal is to ensure that every primary and secondary school throughout the region has a library. To date, it has reached approximately half. Harriet and T.L. said they have three major challenges: funding, staffing and public awareness.
More funding will allow the organization to serve more schools, hire more people, and move the needle on developing a measurement protocol to assess the libraries' sustainability.
Then there's public awareness.
"People don't realize the need in the eastern Caribbean," T.L. said. "We're here, the Peace Corps is here. High school is now universally available–most people used to leave school after 6th grade–but they're still behind. The average income is $8,000 per year. We encourage people to go beyond the marinas, beyond the resort walls."
And to really open their eyes.
Go to www.handsacrossthesea.net for more information on the organization.