Ludicrous speed on hard water
For hardy sailors, the racing season really gets going—and going fast—when freezing temperatures create the perfect iceboating conditions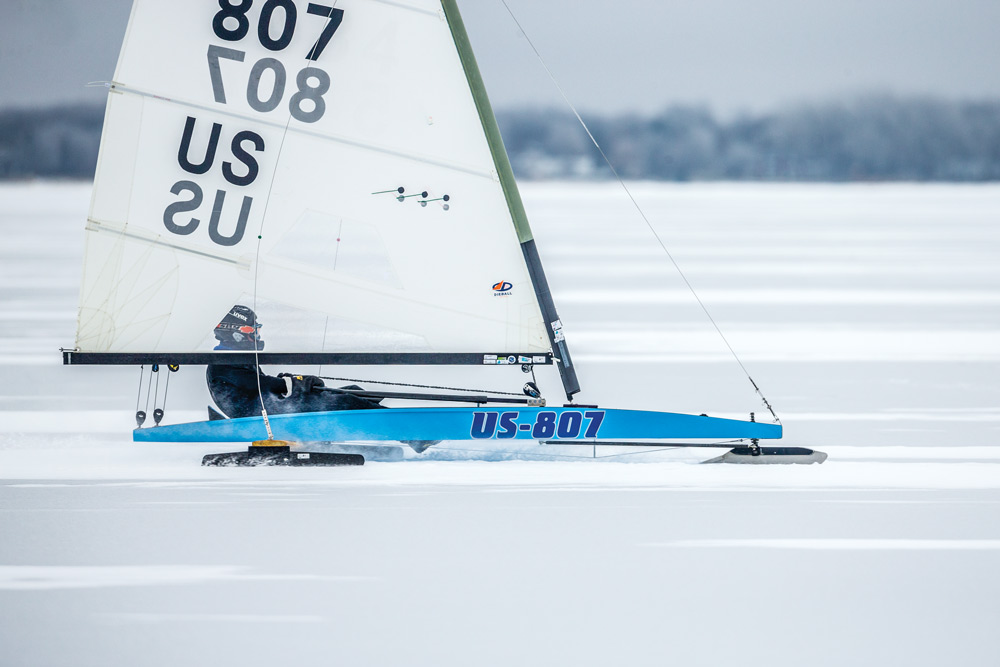 J.H. Peterson photo
Plunging temperatures, bitterly cold winds and rock-hard waterways. Just right for sailing … that is, if you've got a serious need for speed and don't mind the windburn. When winter weather has most soft-water sailors curled up in their easy chairs dreaming of warm summer afternoons, hardcore iceboaters around the country are converging on any lake that boasts smooth, stable, snow-free ice. Their boats feature three skates, or runners, and they are wicked fast.
Modern iceboats can reach speeds up to 10 times faster than the wind speed. International DNs can hit 60 knots, while Skeeters can exceed a blistering 100 knots with the right conditions. Not only do racers deal with incredible speeds, they also must be vigilant regarding ice conditions. And if temperatures dip too low, the resulting wind chills can damage the lungs. This is a gnarly sport, by any standards.
Sheboygan, Wisconsin, native Steve Orlebeke started iceboating relatively late, at the ripe old age of 30. A longtime Lake Michigan sailor, he was introduced to this new sport after he started working for Pewaukee-based Harken in the early 1990s.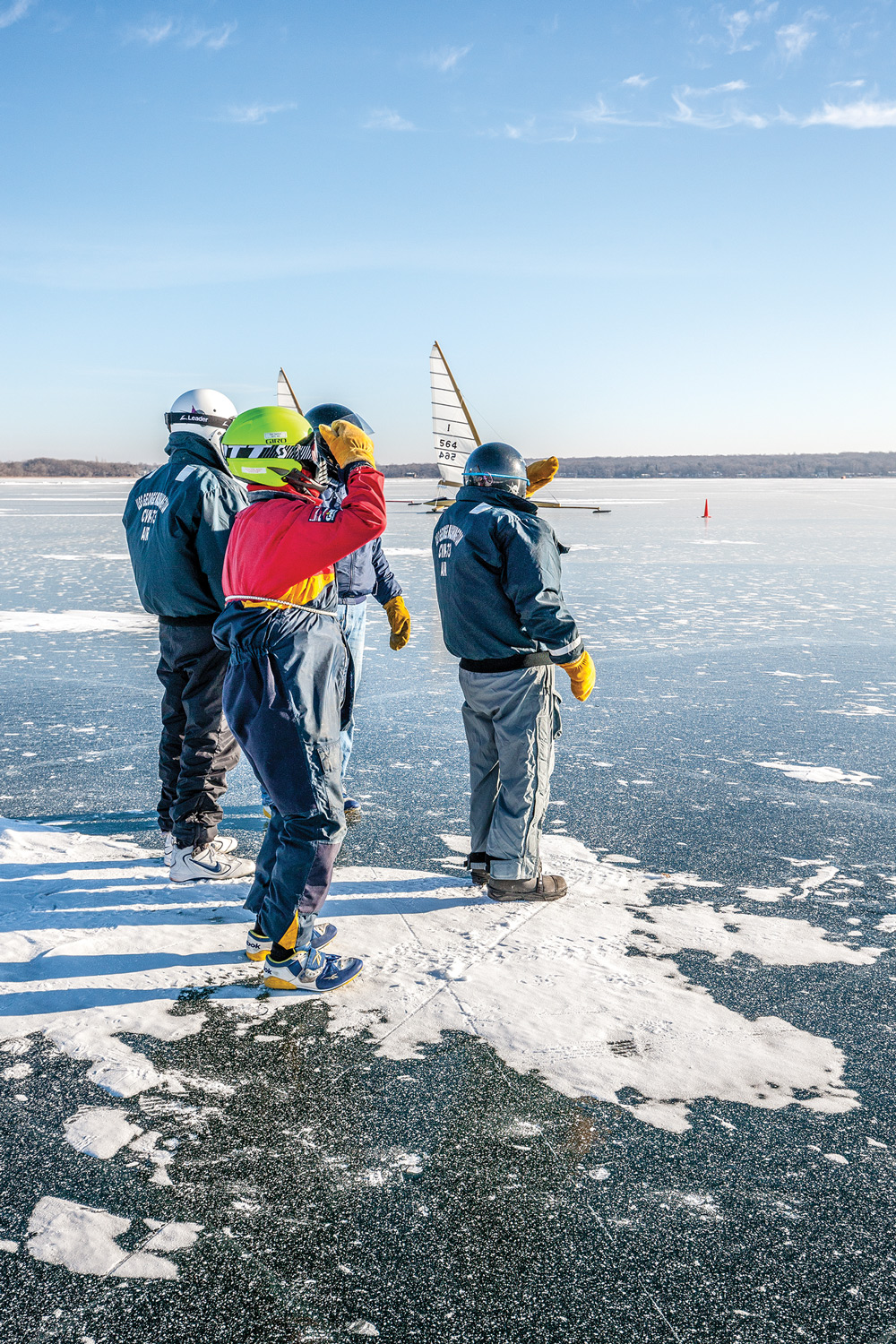 J.H. Peterson photo
"Peter Harken and the people here are really into it, and that's how I got a chance to try it," said Orlebeke, who now serves as Harken's director of engineering. "I just got hooked. I built a DN with a friend in Sheboygan, and I knew a couple of guys here at Harken who were racing. I joined them, and I learned there was this whole other world of racing on the inland lakes. My favorite places are Green Lake, Lake Geneva, Lake Winnebago and the Madison lakes."
In the last 20 years, Orlebeke has become a top iceboater, garnering accolades at the Northwestern Ice Yacht Association and International Skeeter Association championships aboard Peter Harken's E-Skeeter, Honeybucket XIV. Skeeters are known as "Formula One" iceboats and are built with high-tech materials like kevlar and carbon fiber. Boasting a 75-square-foot sail area, they're the fastest boats on ice.
Orlebeke also regularly sails an International DN, which is 12 feet long with an 8-foot cross plank, flexible 16-foot mast and 60 square feet of sail area. As fellow DN racer Griffin Sherry noted, "In that boat, you'll be going 70 miles per hour with 1 inch of clearance with the plank bending. It's the best feeling ever."
DN sailors have three major events on each annual calendar: the North American championship, which drew a whopping 90 boats last year, and the European and World championships. The dates are always fixed, but sailors won't know where the events will take place until roughly 48 hours beforehand. This isn't uncommon in the iceboating world.
"The North Americans, for example, could be anywhere from Minnesota to the East Coast," Orlebeke said. "You have to be flexible and willing to travel at the drop of a hat."
That's because ice conditions are so critical. Iceboaters need smooth ice, no snow and no obstructions. Cracks in particular are out of the question. They can destroy boats and injure sailors.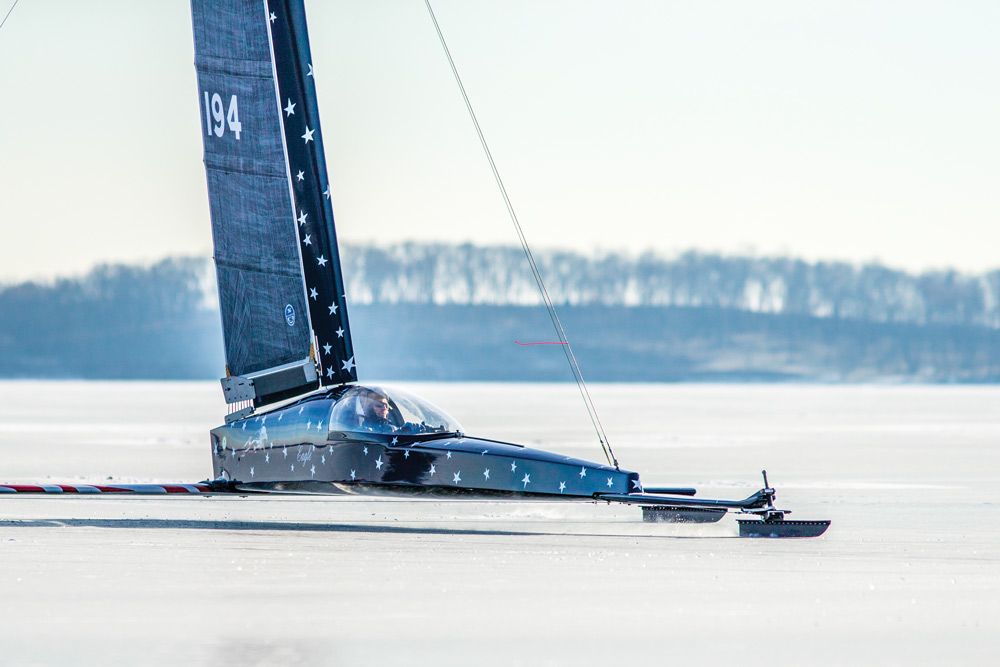 J.H. Peterson photo